6 Best Washington (WA)
Dog Insurance

Plans Compared in 2023

Updated on by Matthew H. Nash – Licensed Insurance Agent

Dog insurance provides a vital financial safety net so that we can get our four-legged friends the care they need whenever they need it without breaking the bank. As a dedicated dog parent and nationally licensed insurance agent, I understand firsthand how mind-boggling navigating the world of dog insurance can be. That's why my team and I have researched all the best Washington dog insurance plans. Whether you're from Seattle, Spokane, Snohomish, Moses Lake or anywhere in between, this article will walk you through the essential details of finding the right coverage for your pup.Read more about our unbiased ranking methodology and advertiser disclosure.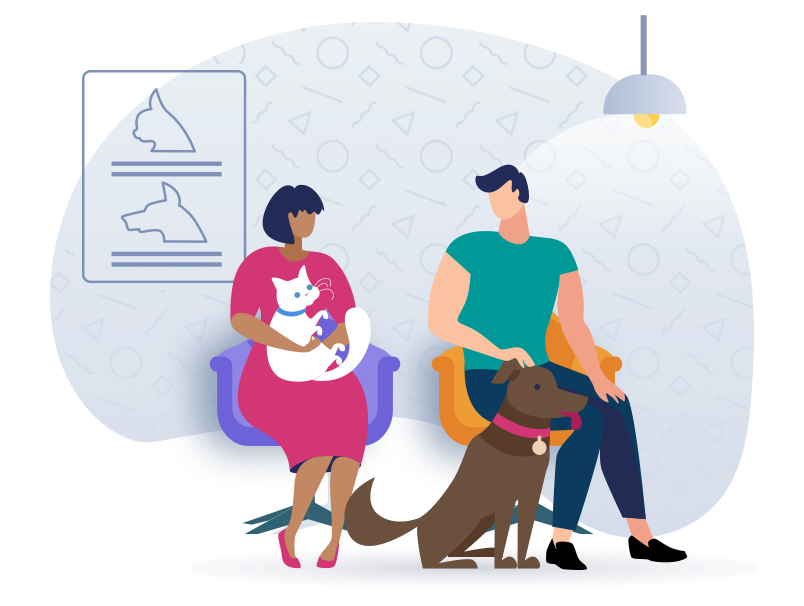 Top WA Dog Insurance Scored, Ranked & With Cost
Use our below table to quickly compare the best dog insurance providers in Washington. The average monthly Washington specific prices shown are based on a healthy 2-year-old Labrador Retriever with a $500 deductible and 90% reimbursement amount who is located in Washington with a 98108 zip code. Costs may vary based on age, location, coverage amount, and depending on the breed of your puppy. Prices are accurate as of January 2023 and are subject to change. For the most up-to-date information, please visit the provider website.
---
How much does dog insurance cost in Washington for the 15 most popular breeds?
The price for Washington dog insurance varies depending on where you live. To give you an idea we've collected costs for three cities shown below. The prices will also vary based on the age, health, and breed of your puppy.
All prices shown below are based on a 90% reimbursement rate with a $500 deductible and a $5,000 annual benefit from Figo pet insurance. Please note: these prices should only be treated as a rough guide as of January 2023 and are subject to change. If you're looking for the most up-to-date cost of dog insurance in Washington we suggest getting a quote directly with Figo or Lemonade.
Mixed Breed

Seattle – $20.83/ mo
Everett – $17.32/ mo
Spokane – $19.65/ mo

Labrador Retriever

Seattle – $28.33/ mo
Everett – $23.56/ mo
Spokane – $26.72/ mo

Golden Retriever

Seattle – $33.34/ mo
Everett – $27.72/ mo
Spokane – $31.45/ mo

German Shepherd

Seattle – $29.56/ mo
Everett – $24.58/ mo
Spokane – $27.89/ mo

Goldendoodle

Seattle – $25.62/ mo
Everett – $21.30/ mo
Spokane – $24.17/ mo

Chihuahua

Seattle – $14.18/ mo
Everett – $11.79/ mo
Spokane – $13.38/ mo

Siberian Husky

Seattle – $27.52/ mo
Everett – $22.88/ mo
Spokane – $25.96/ mo

Yorkshire Terrier

Seattle – $18.04/ mo
Everett – $15.00/ mo
Spokane – $17.02/ mo

American Pit Bull Terrier

Seattle – $28.81/ mo
Everett – $23.96/ mo
Spokane – $27.18/ mo

Australian Shepherd

Seattle – $22.00/ mo
Everett – $18.30/ mo
Spokane – $20.76/ mo

Dachshund

Seattle – $21.01/ mo
Everett – $17.47/ mo
Spokane – $19.82/ mo

Shih Tzu

Seattle – $18.18/ mo
Everett – $15.12/ mo
Spokane – $17.16/ mo

French Bulldog

Seattle – $37.52/ mo
Everett – $31.20/ mo
Spokane – $35.40/ mo

Boxer

Seattle – $44.67/ mo
Everett – $37.15/ mo
Spokane – $42.14/ mo

Labradoodle

Seattle – $25.62/ mo
Everett – $21.30/ mo
Spokane – $24.17/ mo
Not finding your specific dog breed? Lemonade pet insurance is our #1 recommendation for Washington and they'll be able to give you a quick quote for your exact needs.
FAQs for Washington Dog Insurance
What is dog insurance and why is it useful in Washington?
Emergencies and illnesses affecting your dog can and will happen when you least expect them. Having pet insurance enables you to extend your pet's quality of life and gives you more control over costs. Plus, it potentially helps you avoid having to decide between paying huge medical bills or ending your beloved pet's life. This is particularly true with major illnesses such as cancer treatments, which can cost well over $10,000.
Is dog insurance included in my homeowner's insurance?
Pet insurance is for the health and welfare of your pet. Your homeowner's insurance provides liability protection in the event your pet causes injury to a person or damage to their property. As with health insurance, pet insurance is separate from your homeowner's insurance.
How does the dog insurance process work?
Just like human insurance, you buy a policy with an insurance company and pay a monthly amount (the premium) to keep the policy active. If your dog has an injury or becomes ill, you get treatment from a veterinarian. Usually, you are required to pay when the treatment is provided. Then you submit a claim for reimbursement from your pet insurance company.
What's covered in a policy?
The types of coverages in a policy can vary from company to company. Some exclude certain pre-existing conditions; others don't. Typically the coverage is for anything "sudden and catastrophic". Some companies offer "wellness packages" for an additional fee. These encourage you to see a vet more frequently and provide better overall health maintenance. The younger your dog the greater likelihood that you will have not experienced any pre-existing conditions. That's why we recommend getting insurance as early as eight weeks when your dog is still in its puppy phase.
Is dental coverage included?
Dental coverage is included in many plans but not all. The most common coverage is for when a dog has broken a tooth in an accident or chewed on something that caused a break or fracture. We recommend choosing a plan that includes dental work that clearly explains what is covered and what isn't.
What age does my dog need to be to get insured?
As mentioned earlier, younger dogs are easier to insure so their policies are also less expensive. Generally, your pooch needs to be at least eight weeks old in order to get insured and we recommend you do this before their first birthday. Most companies will insure older dogs but the cost will be more and there may be exclusions for any pre-existing conditions.
What is covered and what's excluded in a dog insurance policy?
Coverage varies with each dog insurance provider but typically covers anything that is "sudden and catastrophic". This is usually any accident or illness unless it is specifically excluded. For example, if your dog already has cancer at the time you apply that would be excluded. Many companies now offer "wellness" packages that usually add-ons covering things like vaccinations, routine check-ups, heartworm prevention, etc.
How does reimbursement, deductible, and maximum annual benefit work?
For example, let's say you have a policy with a $250 deductible, 90% reimbursement amount, and $20,000 maximum annual benefit. And let's say something happens that requires a $10,000 emergency vet surgery. In this scenario your "deductible out-of-pocket" would be $250, the insurance company would reimburse you $9,000 (90% of $10,000) meaning the total you would pay would be only $1,250. Some companies pay their portion of the bill (in this case 90%) directly to vets in their network. This way you would not have to pay the entire bill out of pocket up front. One company that does this is Trupanion. The maximum annual benefit is the total amount the insurer will pay within the policy year.
Is it worth it to get dog insurance?
The reality is, sooner or later your pet will have accidents or illnesses that can be very costly, very quickly. A typical emergency vet visit can involve x-rays, blood work, and surgery and cost $3,000 or more. However, if you have planned ahead with pet insurance, your out-of-pocket costs will be much lower after any deductible. So, you need to decide if paying a regular monthly premium is better for you and your pet than the possibility of getting hit with high vet bills.
Is it better to have a lower deductible?
Most deductibles are $250, $500 or even $750. We've found most people choose either $250 or $500. And just like other forms of insurance, a lower deductible means a higher monthly premium payment and a higher deductible means a lower monthly payment. So, you need to choose the option that best matches your financial situation. Some providers offer an easy-to-use calculator when getting a quote.
Are there any restricted dog breeds for homeowners insurance in Washington?
Most states have homeowners insurance restrictions on certain breeds of dogs and certain insurance providers. These may include (but are not limited to):
Akitas
Chow Chows
Doberman Pinschers
German Shepherds
Bull Mastiffs
Pit Bull Terriers
Rottweilers
Wolfhounds
We suggest you contact your local home insurance provider to see what your policy includes or excludes regarding your dog breed and whether or not you will need a specific liability rider.
3 Strategies For Dog Health & Safety in Washington
1. Be prepared for natural disasters
Washington is one state geologically divided by the Cascade Mountain Range. There are huge environmental differences between the more urban Western half and less populated Eastern half. Both parts of the State are subject to wildfires, flooding and earthquakes, so your emergency planning should include pets.
2. Consider your surroundings including wildlife
In Western Washington, with its forested mild maritime climate, you need to be aware of winter temperatures and persistent rainfall. Keeping your dog warm and dry is essential to avoid hypothermia. Be on the lookout for urban-adapted wildlife such as coyotes, raccoons, and skunks, all of which can cause serious injuries to your dog no matter its size. Smaller dogs especially may need cover from eagles.
3. Avoid heat exhaustion and keep your pup hydrated!
Eastern Washington is semi-arid, high desert ideal for growing crops. So, here you need warm weather strategies such as plenty of easily accessible water and shade to avoid heat exhaustion. Also, keep in mind that a dog in a hot car can suffer permanent brain and other organ damage in as little as 20 minutes. Here, in addition to the urban critters listed above, you need to be aware of rattlesnakes, cougars, and even wolves.
5 Commendable Dog Rescue Shelters in Washington
We believe adopting a dog is one of the best ways to find a great companion. It truly is a gift of life to bring a dog into your life and a forever home. If you're planning to add a new pup to your family, here are some unique shelters and dog rescue organizations we recommend you consider.
---
---
---
---
---
Conclusion
Finding the pet insurance that's right for you and your dog, whether it's younger or older, is very much worth your time and thought. Get the facts on plans and costs and make a decision that's right for your situation. Our extensive research found that Lemonade pet insurance consistently performed the best with the lowest monthly premiums. Lastly, whether it's caused by an accident or a severe illness, we think it's wise to "Expect the Unexpected" and have a pet insurance plan to help you and your dog when needed.
SwiftScore Ranking Methodology for Washington
We ranked the best pet insurance policies in Washington based on a variety of important factors including the following:
Average monthly price for a 2-year-old Labrador Retriever with a $500 deductible located in Washington with a 98108 zip code
Coverage and benefits
Key policy details including accidents and illnesses, surgeries, annual check-ups, cancer treatment, lab tests, and more
AM Best rating of the underwriter
Reimbursement percentage
Annual benefit amount
Technology and user experience

Ease of sign up

Policy language clarity
User reviews
Other state dog insurance resources
Alabama | Alaska | Arizona | Arkansas | California | Colorado | Connecticut | Delaware | Florida | Georgia | Hawaii | Idaho | Illinois | Indiana | Iowa | Kansas | Kentucky | Louisiana | Maine | Maryland | Massachusetts | Michigan | Minnesota | Mississippi | Missouri | Montana | Nebraska | Nevada | New Hampshire | New Jersey | New Mexico | New York | North Carolina | North Dakota | Ohio | Oklahoma | Oregon | Pennsylvania | Rhode Island | South Carolina | South Dakota | Tennessee | Texas | Utah | Vermont | Virginia | Washington | West Virginia | Wisconsin | Wyoming