6 Best South Carolina (SC)
Dog Insurance

Plans Compared in 2023

Updated on by Matthew H. Nash – Licensed Insurance Agent

Dogs across South Carolina experience veterinary emergencies every day. And since urgent veterinary care bills are through the roof these days, dog insurance can help alleviate the financial stress. Being a licensed South Carolina insurance agent and dedicated dog parent, I know the ins and outs of policy language and the offerings of the top providers. My team and I compiled everything you need to know about the best South Carolina dog insurance plans. So if you call Charleston, Greenville, Rock Hill, Mount Pleasant or anywhere in between, this article will help you make an informed decision for your beloved pup. We may receive compensation when you click on the affiliate links below.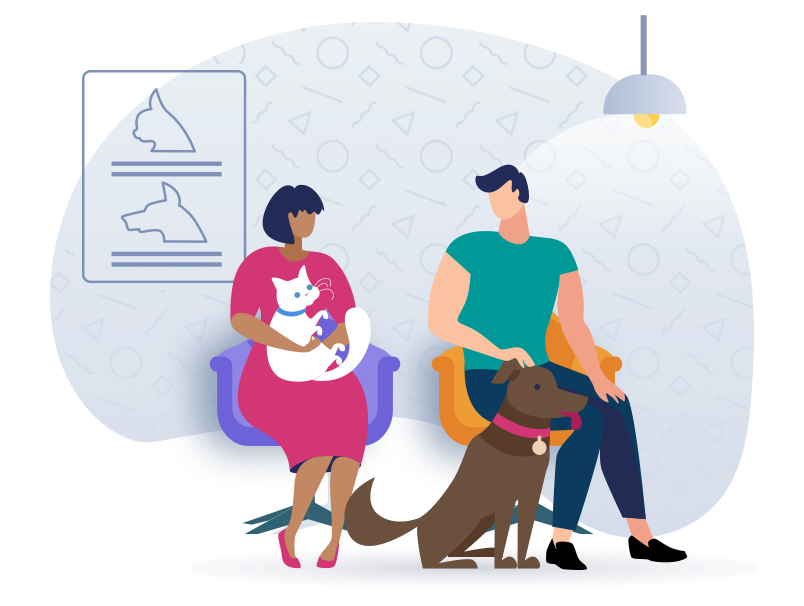 Top SC Dog Insurance Scored, Ranked & With Cost
Use our below table to quickly compare the best dog insurance providers in South Carolina. The average monthly South Carolina specific prices shown are based on a healthy 2-year-old Labrador Retriever with a $500 deductible and 90% reimbursement amount who is located in South Carolina with a 29414 zip code. Costs may vary based on age, location, coverage amount, and depending on the breed of your puppy. Prices are accurate as of July 2023 and are subject to change. For the most up-to-date information, please visit the provider website.
---
How much does dog insurance cost in South Carolina for the 15 most popular breeds?
The price for South Carolina dog insurance varies depending on where you live. To give you an idea we've collected costs for three cities shown below. The prices will also vary based on the age, health, and breed of your puppy.
All prices shown below are based on a 90% reimbursement rate with a $500 deductible and a $5,000 annual benefit from Figo pet insurance. Please note: these prices should only be treated as a rough guide as of January 2023 and are subject to change. If you're looking for the most up-to-date cost of dog insurance in South Carolina we suggest getting a quote directly with Figo or Lemonade.
Mixed Breed

Charleston – $26.62/ mo
Summerville – $26.62/ mo
Myrtle Beach – $25.20/ mo

Labrador Retriever

Charleston – $36.25/ mo
Summerville – $36.25/ mo
Myrtle Beach – $34.31/ mo

Golden Retriever

Charleston – $36.17/ mo
Summerville – $36.17/ mo
Myrtle Beach – $34.25/ mo

German Shepherd

Charleston – $39.10/ mo
Summerville – $39.10/ mo
Myrtle Beach – $37.03/ mo

Goldendoodle

Charleston – $31.46/ mo
Summerville – $31.46/ mo
Myrtle Beach – $29.80/ mo

Chihuahua

Charleston – $16.56/ mo
Summerville – $16.56/ mo
Myrtle Beach – $15.68/ mo

Siberian Husky

Charleston – $36.35/ mo
Summerville – $36.35/ mo
Myrtle Beach – $34.41/ mo

Yorkshire Terrier

Charleston – $22.85/ mo
Summerville – $22.85/ mo
Myrtle Beach – $21.63/ mo

American Pit Bull Terrier

Charleston – $40.24/ mo
Summerville – $40.24/ mo
Myrtle Beach – $38.10/ mo

Australian Shepherd

Charleston – $25.03/ mo
Summerville – $25.03/ mo
Myrtle Beach – $23.70/ mo

Dachshund

Charleston – $23.61/ mo
Summerville – $23.61/ mo
Myrtle Beach – $22.36/ mo

Shih Tzu

Charleston – $21.03/ mo
Summerville – $21.03/ mo
Myrtle Beach – $19.92/ mo

French Bulldog

Charleston – $49.76/ mo
Summerville – $49.76/ mo
Myrtle Beach – $47.11/ mo

Boxer

Charleston – $49.98/ mo
Summerville – $49.98/ mo
Myrtle Beach – $47.31/ mo

Labradoodle

Charleston – $31.46/ mo
Summerville – $31.46/ mo
Myrtle Beach – $29.80/ mo
Not finding your specific dog breed? Lemonade pet insurance is our #1 recommendation for South Carolina and they'll be able to give you a quick quote for your exact needs.
South Carolina Dog Insurance FAQs
Do I need dog insurance in South Carolina? What is it?
To the question, "Do I need dog insurance in South Carolina?" our answer is a resounding YES! We are firm believers that pet insurance is vital to have, no matter where you live. You can never be sure what exactly your dog may get into or what illnesses it may develop. Furthermore, many health issues in dogs are due to genetics and not based on location at all.

We need dog insurance for the same reasons that we, as humans, have medical insurance. If something goes wrong and we require treatment, we need to ensure that we can afford it. For us, it's the doctor's office and emergency room bills. For dogs, it's veterinarian and emergency vet bills.
How does dog insurance work, and how do I sign up?
If you have medical insurance, you actually already know most of what is required to understand dog insurance. They both cover a portion of emergencies and certain regularly scheduled visits. That being said, there are a few potential differences, depending on what pet insurance provider you elect to use.

Many dog insurance companies will have you pay the vet out of pocket and reimburse you afterward. This is as simple as filing an insurance claim and sending it to your provider. As long as you are up to date on your monthly payments, you can expect the insurance company to review your claim and pay you according to their policy.

Signing up for dog insurance is easy! Your first task will be to compare policies and see which one will best suit your financial needs while still giving your dog the care it deserves. Once you choose a provider, all you need to do is sign an agreement with them and ensure you stay up to date on your monthly premiums so that your policy remains active. Always make sure to file a claim when you receive a vet bill to ensure that you are appropriately compensated.
How old does my pup need to be to get puppy insurance?
While most insurance providers don't specify at what age your canine is eligible for dog insurance, they do have age requirements for puppies. Most insurance companies offer puppy insurance starting at eight weeks of age. There are several significant health risks for dogs this young, so we highly recommend purchasing a puppy insurance policy at this time.

To expand on dog insurance not having any specific age requirement, we advise getting insurance for your dog before they are one year old. This should be done as soon as your puppy is eight weeks old, but at least before one year. Insuring a dog at a younger age is less expensive, as they have less chance of having pre-existing conditions or developing a new health issue.

Insurance providers know this and offer low rates due to the lesser probability of you needing to utilize your insurance for anything serious. However, as dog owners, we pay for insurance to ensure we can afford the vet bills if something goes wrong. So, it makes sense to buy into these lower policy rates rather than waiting till your dog is older. Regardless of the age of your canine, you should seek dog insurance as soon as possible.
Is it worth buying dog insurance in SC?
While we recommend that every dog owner buys insurance for their pet, this is especially true in South Carolina. South Carolina is home to some very diverse and potentially dangerous wildlife. We like to think, "That would never happen to my dog!', but eventually must accept that we are sharing the risk with everyone else. The bottom line is that there is a chance that your dog could be seriously injured or worse, and pet insurance is good risk management.

If you are ever met with the grim reality of needing intensive treatment for your canine, you will inevitably be facing massive vet bills. You can be charged several thousand dollars or more for life-saving surgery, treatment, or operation. Dog insurance is essential to making these vet bills affordable for the average pet owner.
What types of vet bills are covered by dog insurance?
Similar to a human's medical insurance options, dog insurance coverage varies between providers. Most insurance companies cover anything considered "sudden and catastrophic," including, but to limited to, infections, broken bones, allergic reactions, and even accidental ingestion of a ball or toy.

Typically, insurance companies will decline to cover any pre-existing conditions. This means that if your dog is already sick or has some other type of ongoing health issue, the provider will not reimburse you for it. They will, however, cover these medical conditions (dependent on policy) if they were not discovered until after you signed up for insurance. Additionally, most insurance providers also offer "wellness" packages designed to assist in paying for necessary regular care, such as heartworm medication, vaccines, and routine exams.
How does insurance reimbursement work?
Let's say that under your current dog insurance policy, you have a 90% reimbursement amount, with a $250 deductible and a $20,000 max annual benefit. For whatever reason, you have to take your pup in for a medical emergency. In this case, your vet bill is $10,000. After you file your claim, your insurance company will reimburse you for $9,000 minus your $250 deductible. This means that, because you have dog insurance, you are only paying $1,250 out of pocket instead of $10,000! As you see, dog insurance is an incredible relief in this type of situation.

One company that offers an exception to this rule is Trupanion who will send payment directly to veterinarians in their network. This saves their customers from having to pay out of pocket.
Is it better to have a lower deductible or a lower monthly premium?
The decision between a lower deductible or a lower monthly payment mostly depends on you. A lower deductible will come with higher monthly premiums, meaning you pay more over time in exchange for paying less when your dog needs treatment. On the flip side, a lower monthly payment can result in significantly higher out-of-pocket costs per vet visit. You will need to assess your financial situation to decide which option is best for you and your dog.

Most providers have a simple online calculator to help you understand the differences between low deductibles and low premiums. For the most part, dog owners elect to have a deductible of either $250 or $500.
Are there any restricted dog breeds for homeowners insurance in South Carolina?
Homeowner's insurance varies from state to state, but most companies do have restrictions on certain dog breeds. These may include (but are not limited to):
Akitas
Chow Chows
Doberman Pinschers
German Shepherds
Bull Mastiffs
Pit Bull Terriers
Rottweilers
Wolfhounds
It is essential to contact your local home insurance provider to find out if your canine's breed is included in your policy or on their restricted breeds list. You may need a specific liability rider if your pup is a restricted breed.
5 Useful Tips for Keeping Your Dog Safe & Healthy in SC
We believe that dog insurance is vital to giving your canine the safety and security it deserves. However, regardless of whether you have pet insurance, no one likes an unexpected trip to the vet. Especially not your dog! Here are some basic tips on ways to keep your pup safe and healthy in South Carolina:
1. Get regular vet check-ups
Among the methods for avoiding an unexpected (and expensive) trip to the vet, is to bring your dog in for regular exams. A skilled veterinarian can detect certain health issues long before you or your pup know that they exist. Regular vet appointments may seem tiresome, but they can save you a lot of money in the long run and even save your dog's life.
2. Be conscious of the SC wildlife
Wildlife everywhere presents a significant threat to our domesticated companions. South Carolina is home to many dangerous and venomous animals, such as poisonous snakes, brown recluse and black widow spiders, alligators, and more. You should always pay attention to your dog's whereabouts because it only takes seconds for one of these creatures to seriously injure or even kill your pet.
3. Watch out for food allergies
As different as dogs and humans are, it is no surprise that our pups cannot eat all of the same food we do. Canines have numerous food allergies, and many of our favorite snacks are considered poisonous. We believe that a treat every once in a while is okay! However, it is essential to do the research and find out what foods your dog can safely consume.
4. Know the weather before venturing out
South Carolina is home to a humid, subtropical climate. For the most part, you are looking at hot summers and mild winters, with snowstorms being quite rare. The state's temperature peaks in July, so keeping your dog properly hydrated is a must. Furthermore, South Carolina commonly experiences tornadoes in the spring and hurricanes in the fall. If you are ever forced to evacuate your residence, ensure you don't forget to help your furry friend escape as well.
5. Keep your pup cool
Heat-related illness is a severe threat to dogs, and it needs to be treated as such. Humans can last much longer in high temperatures than dogs can, especially during physical activity. So, if you are beginning to feel too hot, your pup is already in danger. Watch for warning signs that your dog is overheating, and if you notice a change in behavior, take your pet to veterinary professionals immediately.
5 Unique Dog Rescue Shelters in South Carolina
We recommend dog rescues and shelters for any current or future dog owner looking to add one more pup to their family. Many canines are eagerly awaiting adoption that may otherwise never experience life outside of the shelter again. Below, we have put together a list of five unique dog rescues that would make excellent choices for choosing your next loyal friend.
---
---
---
---
---
Conclusion
Like other big decisions in life, the choice to get dog insurance can be somewhat intimidating. After all, we love our dogs and want to be sure we are getting them the best care we can afford. We hope that, with our comprehensive guide, you are now more comfortable making this decision.

If you don't have dog insurance, now is the time to consider it. The sooner you sign up, the better your options, including lower monthly payments. Also, an insurance company will be much more optimistic about insuring a younger pup. You never know when tragedy will strike. Dog insurance will allow you to stay ahead of the game and potentially save your best friend's life.

We have found that Lemonade Pet Insurance consistently offers the best coverage compared with their low monthly premiums through extensive research. Therefore, we highly recommend going with Lemonade Pet Insurance for all of your dog insurance needs.
SwiftScore Ranking Methodology for South Carolina
We ranked the best pet insurance policies in South Carolina based on a variety of important factors including the following:
Average monthly price for a 2-year-old Labrador Retriever with a $500 deductible located in South Carolina with a 29414 zip code
Coverage and benefits
Key policy details including accidents and illnesses, surgeries, annual check-ups, cancer treatment, lab tests, and more
AM Best rating of the underwriter
Reimbursement percentage
Annual benefit amount
Technology and user experience

Ease of sign up

Policy language clarity
User reviews
Other state dog insurance resources
AL | AK | AZ | AR | CA | CO | CT | DE | FL | GA | HI | ID | IL | IN | IA | KS | KY | LA | ME | MD | MA | MI | MN | MS | MO | MT | NE | NV | NH | NJ | NM | NY | NC | ND | OH | OK | OR | PA | RI | SC | SD | TN | TX | UT | VT | VA | WA | WV | WI | WY