6 Best California (CA)
Dog Insurance

Plans Compared in 2023

Updated on by Matthew H. Nash – Licensed Insurance Agent

As a licensed California insurance agent, devoted dog owner and resident of the Bay Area, I understand the challenges people face when choosing the right plan for their dog or pup. Understanding complex policy language and comparing each provider's advantages can be overwhelming. Therefore, my team and I distilled all the essential information for picking the best California dog insurance plan to make your life easier. Whether you're located in Los Angeles, San Jose, San Diego, Redding, Anaheim, Fresno or somewhere in between, this article has the ins and outs on monthly premiums, the top insurers and what they offer, along with answers to your questions about dog insurance basics. Read more about our unbiased ranking methodology and advertiser disclosure.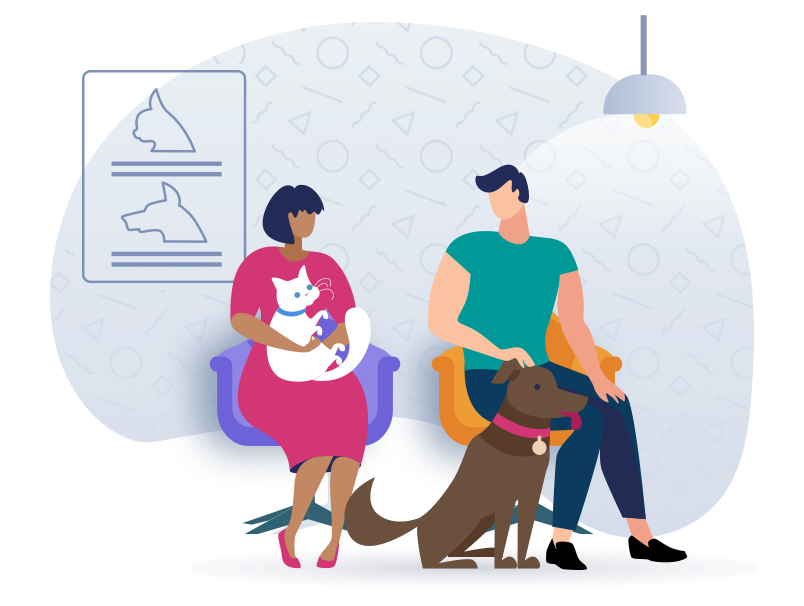 Top CA Dog Insurance Scored, Ranked & With Cost
Use our below table to compare the best dog insurance providers in California quickly. The average monthly California-specific prices shown are based on a healthy 2-year-old Labrador Retriever with a $500 deductible and 90% reimbursement amount who is located in California with a 90210 zip code. Costs may vary based on age, location, coverage amount, and depending on the breed of your puppy. Prices are accurate as of July 2023 and are subject to change. For the most up-to-date information, please visit the provider website.
---
How much does dog insurance cost in California for the 15 most popular breeds?
The price for California dog insurance varies depending on where you live. To give you an idea we've collected costs for three cities shown below. The prices will also vary based on the age, health, and breed of your puppy.
All prices shown below are based on a 90% reimbursement rate with a $500 deductible and a $5,000 annual benefit from Figo pet insurance. Please note: these prices should only be treated as a rough guide as of January 2023 and are subject to change. If you're looking for the most up-to-date cost of dog insurance in California we suggest getting a quote directly with Figo or Lemonade.
Mixed Breed

Beverly Hills – $43.82/ mo
Fresno – $38.77/ mo
San Francisco – $47.00/ mo

Labrador Retriever

Beverly Hills – $59.68/ mo
Fresno – $52.80/ mo
San Francisco – $64.01/ mo

Golden Retriever

Beverly Hills – $59.56/ mo
Fresno – $52.69/ mo
San Francisco – $63.86/ mo

German Shepherd

Beverly Hills – $63.39/ mo
Fresno – $56.96/ mo
San Francisco – $69.04/ mo

Goldendoodle

Beverly Hills – $51.82/ mo
Fresno – $45.85/ mo
San Francisco – $55.56/ mo

Chihuahua

Beverly Hills – $17.20/ mo
Fresno – $24.11/ mo
San Francisco – $29.23/ mo

Siberian Husky

Beverly Hills – $59.85/ mo
Fresno – $52.96/ mo
San Francisco – $64.18/ mo

Yorkshire Terrier

Beverly Hills – $19.35/ mo
Fresno – $33.28/ mo
San Francisco – $40.35/ mo

American Pit Bull Terrier

Beverly Hills – $66.26/ mo
Fresno – $58.61/ mo
San Francisco – $71.05/ mo

Australian Shepherd

Beverly Hills – $41.20/ mo
Fresno – $36.45/ mo
San Francisco – $44.18/ mo

Dachshund

Beverly Hills – $38.88/ mo
Fresno – $34.39/ mo
San Francisco – $41.68/ mo

Shih Tzu

Beverly Hills – $34.64/ mo
Fresno – $30.64/ mo
San Francisco – $37.13/ mo

French Bulldog

Beverly Hills – $81.95/ mo
Fresno – $72.50/ mo
San Francisco – $87.89/ mo

Boxer

Beverly Hills – $82.29/ mo
Fresno – $72.81/ mo
San Francisco – $88.23/ mo

Labradoodle

Beverly Hills – $26.66/ mo
Fresno – $45.85/ mo
San Francisco – $55.56/ mo
Not finding your specific dog breed? Lemonade pet insurance is our #1 recommendation for California and they'll be able to give you a quick quote for your exact needs.
California Dog Insurance FAQs
What is dog insurance, and why do I need it in California?
Dog insurance is best understood by comparing it to the health insurance that we use as humans. If your pup gets sick or hurt in any way, your insurance will step in and compensate you for whatever percentage is outlined in your insurance contract. The net amount will depend on whether or not you have met your deductible. Also, dog insurance does not just cover injury and illness! Certain vaccines, flea treatments, and even regularly scheduled checkups are covered, dependent on your specific provider!

California is a state in which we highly recommend purchasing dog insurance. The cost of living in California affects the prices of everything, and vet bills are no exception. If your dog requires specific therapy, like cancer treatment, you could be looking at costs that exceed $10,000! In fact, there are many injuries and illnesses that can push your vet costs into the thousand-dollar range. Unfortunately, these substantial vet bills often force uninsured pet owners to make the devastating choice to have their pets put down due to their inability to pay. Dog insurance will help ensure that you are never in that position.
How do I acquire dog insurance?
If you are looking to protect your dog fully, you will need to sign up with a dog insurance company. These companies offer a range of pricing differences, so feel free to contact us if you need more insight on that. Once you have dog insurance, you will be paying a monthly premium to keep your insurance policy active. Generally, if your dog makes a trip to the vet for anything other than a regular visit, you will initially need to pay out of pocket. Following that, receiving reimbursement is as simple as submitting a claim to your dog insurance company.

When acquiring dog insurance, please remember that insurance companies frequently exclude certain pre-existing conditions, so we recommend getting dog insurance while your pet is still in the puppy phase, just after eight weeks of age.
What is a good age to insure my puppy?
Dog insurance companies require that your puppy is at least eight weeks old before you apply for puppy insurance. However, keep in mind that most insurance providers do not have an age limit regarding dog insurance. In addition, younger animals tend to be significantly less expensive to insure, so we recommend that you get dog insurance before their first birthday!
What is covered, and what's excluded with dog insurance?
Unless something is expressly excluded, you can expect an accident or injury to be covered by your dog insurance company. However, coverage does vary slightly between providers, so it is crucial to do proper research before signing up with a particular insurance carrier. Generally, anything classified as "sudden and catastrophic" will be covered. This could be many things, like broken bones, infections, allergies, poisoning, choking, or even a heat-related illness. Also, keep in mind that if your dog is already sick with something when you apply for insurance, this would be considered a pre-existing condition and ineligible for a claim. Most providers offer "wellness" insurance packages that cover more routine visits, like check-ups, heartworm prevention, vaccinations, and more.
How does reimbursement work?
The best way to explain reimbursement is by providing a real-life scenario. Let's say your dog is rushed to the vet in an emergency and placed into surgery right away; they save your dog but inform you that you owe them $10,000. For an uninsured pet owner, this would be devastating, but you have dog insurance. Your insurance covers a 90% reimbursement amount, with a $250 deductible. Your annual max benefit is $20,000. Based on this information, your insurance company will reimburse you for $9,000, minus your $250 deductible. You are making your out-of-pocket costs $1,250 instead of a whopping $10,000.
There is an exception to this scenario in terms of the way your vet bill is paid. Trupanion offers payment directly to in-network veterinarians. Meaning you are not initially paying out of pocket.
Is it better to have a lower deductible – what's the sweet spot?
Generally speaking, a lower deductible will equate to higher monthly premium payments, meaning you will have to pay more each month to keep your insurance coverage. Still, you will pay substantially less out of pocket in the event of a tragedy.

Whether you decide to go with a higher premium and lower deductible or a lower premium and higher deductible is your call. We recommend analyzing your financial situation and determining risk vs. reward to make this decision. For example, if you have a low premium and your dog doesn't end up needing critical emergency care, you will save a little money. However, if your pup does need to go to the vet, you may end up losing a lot more money than you would have if you had stuck with a higher premium due to the significantly higher deductible.

Most providers offer a simple calculator to help you make your decision when you are in the process of getting a quote. When making your decision, keep in mind that California vets are more expensive than most other states. You could be paying $3,000 or more for a single trip to an emergency vet. As you can see, dog insurance is a must-have in California. In our experience, the majority of people go with a $250 or $500 deductible. Ultimately, the choice is up to you.
Do home owner's insurance providers have any restrictions on dog breeds in California?
Many states, California included, do have restrictions on certain dog breeds for homeowners insurance and different providers. These may include, but are not limited to:
Akitas
Chow Chows
Doberman Pinschers
German Shepherds
Bull Mastiffs
Pit Bull Terriers
Rottweilers
Wolfhounds
For questions regarding a specific dog breed, we suggest contacting your local home insurance provider. The two things you should ask are whether or not it is a restricted breed and whether or not you need a specific liability rider.
5 Useful Tips for Keeping Your Dog Safe And Healthy in California
As proud dog owners, we love our pets, and we cannot stand to see them hurt in any way. While avoiding a trip to the vet is not always possible, certain precautions can significantly mitigate the risk of an emergency vet visit. Here are the five helpful tips for keeping your dog safe and healthy in California.
1. Learn About Wildlife
As far as wildlife is concerned, California is home to some of the most deadly animals in the United States. Many wild animals in California can critically injure or kill your pup, from black bears and coyotes to rattlesnakes and black widow spiders. An attack by any of these creatures is almost guaranteed to send your loyal companion to the emergency vet. Unfortunately, some of these attacks are inevitable; however, you may see or hear these animals coming if you stay vigilant.
2. Monitor The Weather
California is a hot and dry state, and temperatures can rapidly rise from one week to the next. It is your responsibility to your dog to stay ahead of the weather and ensure that your pup stays adequately hydrated. If it is hot outside, you need to ensure that your pet is not outside for an extended time.
3. Stay Informed About Natural Disasters
In terms of natural disasters, California is one of the most dangerous states in the country. This is due to frequent wildfires, earthquakes, landslides, and even flooding. It is essential to keep up with news and weather reports to be prepared if one of these disasters occurs in your area. A risk to your property also carries a risk of serious injury to your dog, who is confined there.
4. Pay Attention To Your Dog's Mood
A dog's mood is a very early warning sign that something is wrong. If your dog is behaving abnormally, a trip to the vet could save you from a much more severe problem down the road. Early detection is key to keeping your pup as healthy as possible.
5. Train Obedience With Your Dog
The Golden State is full of constant activity, with its large cities and high population. Too often, we see instances where a dog has been seriously injured or killed while running after a vehicle or an animal and ignoring its owner's calls to come back. Obedience training can go a long way to ensure you do not end up in this position.
5 Unique Dog Rescue Shelters in California
If you want to add a new dog to your family, we recommend looking into these five exciting and unique dog rescue shelters in California. We are big advocates of adopting dogs and believe rescuing a pup is among the best ways to meet your new best friend.
---
---
---
---
---
Conclusion
Once you understand pet insurance and why it is essential, we recommend signing up! Don't forget to look into buying dog insurance once your puppy is over eight weeks old. If that time for your dog has already passed, you must sign up for insurance as soon as possible. The longer you wait, the higher chance that your prices are affected even more by age and pre-existing conditions. Our extensive research shows that Lemonade pet insurance offers the best coverage options with the lowest monthly premiums.

Dog insurance is a great decision at any stage of your loyal companion's life. You never know when you might need it, and you don't want to be caught without it!
SwiftScore Ranking Methodology for California
We ranked the best pet insurance policies in California based on a variety of important factors including the following:
Average monthly price for a 2-year-old Labrador Retriever with a $500 deductible located in California with a 90210 zip code
Coverage and benefits
Key policy details including accidents and illnesses, surgeries, annual check-ups, cancer treatment, lab tests, and more
AM Best rating of the underwriter
Reimbursement percentage
Annual benefit amount
Technology and user experience

Ease of sign up

Policy language clarity
User reviews
Other state dog insurance resources
AL | AK | AZ | AR | CA | CO | CT | DE | FL | GA | HI | ID | IL | IN | IA | KS | KY | LA | ME | MD | MA | MI | MN | MS | MO | MT | NE | NV | NH | NJ | NM | NY | NC | ND | OH | OK | OR | PA | RI | SC | SD | TN | TX | UT | VT | VA | WA | WV | WI | WY