6 Best Pennsylvania (PA)
Dog Insurance

Plans Compared in 2023

Updated on by Matthew H. Nash – Licensed Insurance Agent

Should your beloved dog suddenly get sick or injured, having the right pet insurance policy can ease the financial stress that the steep price of urgent veterinary care causes. As a devoted dog owner and licensed Pennsylvania insurance agent, I know how intimidating policy language can be and what a time-consuming finding the best Pennsylvania dog insurance plan can be. To help you through the process, my team and I have researched everything you need to know to make the right choice for you and your pup. So whether you're in Pittsburg, Philadelphia, South Fork, Allentown or anywhere else in the state, this article has everything you need to know. Read more about our unbiased ranking methodology and advertiser disclosure.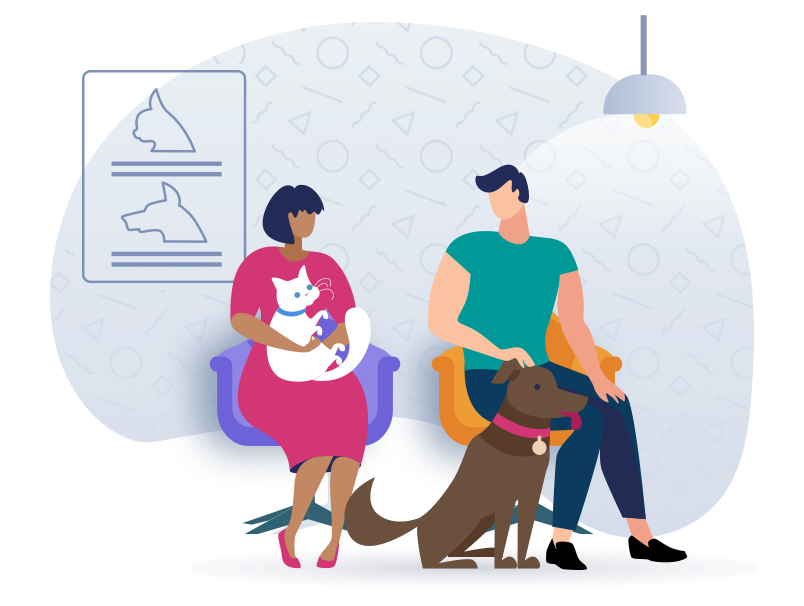 Top PA Dog Insurance Scored, Ranked & With Cost
Use our below table to quickly compare the best dog insurance providers in Pennsylvania. The average monthly Pennsylvania-specific prices shown are based on a healthy 2-year-old Labrador Retriever with a $500 deductible and 90% reimbursement amount who is located in Pennsylvania with a 19128 zip code. Costs may vary based on age, location, coverage amount, and depending on the breed of your puppy. Prices are accurate as of May 2023 and are subject to change. For the most up-to-date information, please visit the provider website.
---
How much does dog insurance cost in Pennsylvania for the 15 most popular breeds?
The price for Pennsylvania dog insurance is almost always the same throughout the state including in Philadelphia, Pittsburgh, Allentown, Erie, Reading, or Scranton, etc. However, the prices will vary based on the age, health and breed of your puppy.
All prices shown below are based on a 90% reimbursement rate with a $500 deductible and a $5,000 annual benefit from Figo pet insurance. Please note: these prices should only be treated as a rough guide as of January 2023 and are subject to change. If you're looking for the most up-to-date cost of dog insurance in Pennsylvania we suggest getting a quote directly with Figo or Lemonade.
Mixed Breed – $25.90/ mo
Labrador Retriever – $35.28/ mo
Golden Retriever – $35.21/ mo
German Shepherd – $38.05/ mo
Goldendoodle – $30.63/ mo
Chihuahua – $16.10/ mo
Siberian Husky – $35.37/ mo
Yorkshire Terrier – $22.23/ mo
American Pit Bull Terrier – $39.17/ mo
Australian Shepherd – $24.36/ mo
Dachshund – $22.98/ mo
Shih Tzu – $20.47/ mo
French Bulldog – $48.43/ mo
Boxer – $48.62/ mo
Labradoodle – $30.63/ mo
Not finding your specific dog breed? Lemonade pet insurance is our #1 recommendation for Pennsylvania and they'll be able to give you a quick quote for your exact needs.
Pennsylvania Dog Insurance FAQs
In Pennsylvania, how much will dog insurance cost me?
For a small dog's basic insurance plan, your average monthly payment will be around $25 for a puppy and $35 for an adult. For a large dog's basic insurance plan, the average will be around $45 for a puppy and $60 for an adult. By location, Philadelphia, PA seems to have higher monthly rates on average for pet insurance than areas like Pittsburg and Harrisburg.
How do I know which vet will take my pet insurance?
One of the upsides of pet insurance is that you get the full say in who you choose as your primary vet and animal care provider! The payment process works in that you pay your vet and submit a claim to your insurance company, meaning your insurance and your vet never directly interact, leaving you to pick the best vet for you and your pup freely.
What does dog insurance cover?
Dog insurance usually covers accidents and illnesses like emergency surgeries, allergic reactions, infections, broken bones, and the like. Normally, things like routine wellness exams, vaccinations, and spay/neuter procedures are not covered by basic dog insurance; however, your insurance company may offer policy add-ons that cover those kinds of expenses. Additionally, if your dog has a pre-existing health condition, this will not be covered by your dog insurance.
How does my insurance determine that my dog has a pre-existing condition?
Any pre-existing health issues your dog has will be listed on your dog's medical record. If those issues remain after the waiting period before your insurance becomes active, then your pet insurance will not cover them.
Which is better, a high or low deductible?
Typically, a low deductible means that you will pay more per month but less in the case of an emergency that requires veterinary attention. Purchasing pet insurance usually involves consistent, monthly payments, so you will need to consider your own financial situation and what will be most affordable for you before deciding between a high or low deductible. Check your insurance company's website to see if they offer an easy-to-use quote calculator that can help as you choose between a plan with a high or low deductible.
How long do I have to wait before I can use my pet insurance?
On average, there will be a two-week waiting period, if not a little longer, before you can activate your pet insurance by submitting a claim to your insurance company.
Are there any restricted dog breeds for homeowners insurance in Pennsylvania?
Because Pennsylvania requires owners of dogs deemed dangerous to have liability insurance, pet and homeowners insurance companies are not allowed to restrict the breeds for which they offer insurance protection. However, most homeowners insurance companies in states other than Pennsylvania often exclude or restrict these dog breeds:
Pit bulls
German shepherds
Akitas
Staffordshire terriers
Chows
Alaskan malamutes
Doberman pinschers
Great Danes
Siberian huskies
Rottweilers
Presa Canarios
Wolf hybrids
We strongly recommend that you contact your leasing and insurance companies if you have any questions regarding your particular dog breed and if there are any specific liability riders you need.
5 Useful Strategies for Keeping Your Dog Safe & Healthy in Pennsylvania
Emergencies aren't the only times we look out for our pet's health and safety, however. Here we have a strategic list of five ways you can help protect your dog during your day to day routines:
1. Be aware of bears
There are roughly between 17,000 and 20,000 black bears that live in Pennsylvania and while bear attacks aren't common, steer clear if you see any cubs while out with your dog.
2. Coyotes are also common
Another dangerous animal to keep an eye out for when on walks, coyotes have become pretty common in Pennsylvania and have been known to attack dogs.
3. Keep poison in a secure place away from counters
Just like with toddlers and babies in the house, be sure to keep household cleaners and human food out of reach–big dog noses have a way of sneaking onto countertops!.
4. Watch out for ticks
Pennsylvania ticks are known for carrying Lyme's Disease, so take care to check your dog after time spent outdoors; you may even want to invest in a quality tick repellent for your dog if they spend a lot of time in the woods or outside in general.
5. Get your pup micro-chipped
Micro-chipped dogs will be possible for the humane society or whoever finds the dog to bring back home even without a collar. Keeping your tags on your dog's collar updated at all times, is also a good idea in case they were to ever get lost.
5 Unique Dog Rescue Shelters in Pennsylvania
Though the catchphrase may feel cliche, we believe that "adopt, don't shop" truly emphasizes the importance of animal shelters in joining otherwise hurting, homeless animals with their new, loving families. We recommend you check out one of these five unique Pennsylvania animal shelters if you are looking to bring a furry addition into your family:
---
---
---
---
---
Conclusion
Purchasing pet insurance for your dog doesn't have to cost you loads of money, nor does it have to cause you loads of stress, which we hope you can see after reading through our research! Further, starting your puppy on pet insurance once they've reached the 6-8 week age requirement can make the process a little more seamless. Although we recommend purchasing insurance while your dog is still young and the rates are cheaper, we still believe that buying pet insurance when your dog is of any age is a beneficial choice, both for your finances and your peace of mind. We never want you to have to go through the pain of needlessly euthanizing your dog or puppy due to financial strain when dog insurance can help deflate those costs. After our thorough research, we found that Lemonade pet insurance provided the best services with the lowest monthly rates.
SwiftScore Ranking Methodology for Pennsylvania
We ranked the best pet insurance policies in Pennsylvania based on a variety of important factors including the following:
Average monthly price for a 2-year-old Labrador Retriever with a $500 deductible located in Pennsylvania with a 19128 zip code
Coverage and benefits
Key policy details including accidents and illnesses, surgeries, annual check-ups, cancer treatment, lab tests, and more
AM Best rating of the underwriter
Reimbursement percentage
Annual benefit amount
Technology and user experience

Ease of sign up

Policy language clarity
User reviews
Other state dog insurance resources
Alabama | Alaska | Arizona | Arkansas | California | Colorado | Connecticut | Delaware | Florida | Georgia | Hawaii | Idaho | Illinois | Indiana | Iowa | Kansas | Kentucky | Louisiana | Maine | Maryland | Massachusetts | Michigan | Minnesota | Mississippi | Missouri | Montana | Nebraska | Nevada | New Hampshire | New Jersey | New Mexico | New York | North Carolina | North Dakota | Ohio | Oklahoma | Oregon | Pennsylvania | Rhode Island | South Carolina | South Dakota | Tennessee | Texas | Utah | Vermont | Virginia | Washington | West Virginia | Wisconsin | Wyoming