6 Best Michigan (MI)
Dog Insurance

Plans Compared in 2023

Updated on by Matthew H. Nash – Licensed Insurance Agent

Finding the best Michigan dog insurance plan often feels as difficult as selecting the right health insurance plan for ourselves. Between struggling with complex policy language and determining the best provider for you, choosing the right insurance policy for your best pal can be equally as challenging. As a nationally licensed insurance agent and lifelong dog parent, I have done extensive research to simplify the process for you as much as possible. Whether you call Detroit, Warren, Ann Arbor, Grand Rapids or somewhere further afield home, this article will answer your questions about deductibles, benefits, exclusions and more. Read more about our unbiased ranking methodology and advertiser disclosure.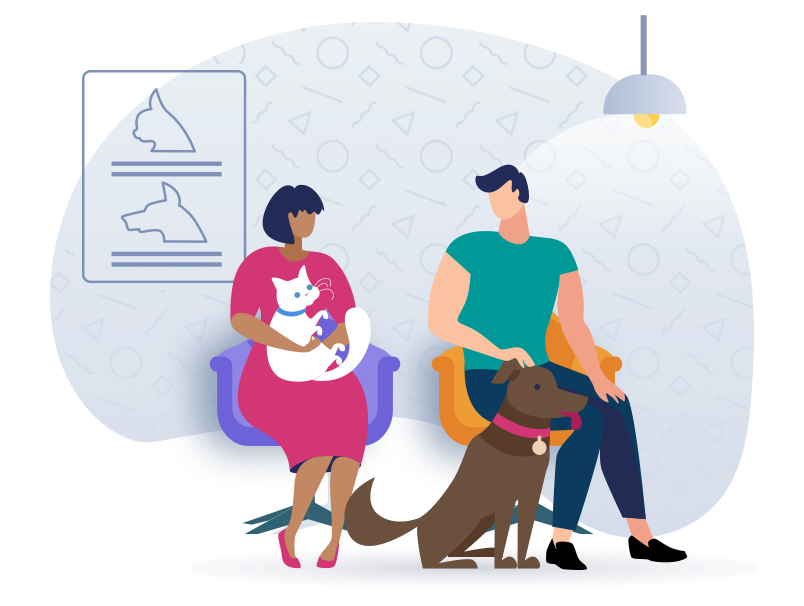 Top MI Dog Insurance Scored, Ranked & With Cost
Use our below table to quickly compare the best dog insurance providers in Michigan. The average monthly Michigan-specific prices shown are based on a healthy 2-year-old Labrador Retriever with a $500 deductible and 90% reimbursement amount who is located in Michigan with a 48201 zip code. Costs may vary based on age, location, coverage amount, and depending on the breed of your puppy. Prices are accurate as of July 2023 and are subject to change. For the most up-to-date information, please visit the provider website.
---
How much does dog insurance cost in Michigan for the 15 most popular breeds?
The price for Michigan dog insurance varies depending on where you live. To give you an idea, we've collected costs for three cities shown below. The prices will also vary based on the age, health, and breed of your puppy.
All prices shown below are based on a 90% reimbursement rate with a $500 deductible and a $5,000 annual benefit from Figo pet insurance. Please note: these prices should only be treated as a rough guide as of January 2023 and are subject to change. If you're looking for the most up-to-date cost of dog insurance in Michigan we suggest getting a quote directly with Figo or Lemonade.
Mixed Breed

Detroit – $24.38/ mo
Grand Rapids – $28.30/ mo
Marquette – $23.52/ mo

Labrador Retriever

Detroit – $33.19/ mo
Grand Rapids – $38.54/ mo
Marquette – $32.03/ mo

Golden Retriever

Detroit – $33.13/ mo
Grand Rapids – $38.47/ mo
Marquette – $31.97/ mo

German Shepherd

Detroit – $35.82/ mo
Grand Rapids – $41.58/ mo
Marquette – $34.57/ mo

Goldendoodle

Detroit – $28.83/ mo
Grand Rapids – $33.46/ mo
Marquette – $27.81/ mo

Chihuahua

Detroit – $15.17/ mo
Grand Rapids – $17.60/ mo
Marquette – $14.64/ mo

Siberian Husky

Detroit – $33.29/ mo
Grand Rapids – $38.65/ mo
Marquette – $32.14/ mo

Yorkshire Terrier

Detroit – $20.92/ mo
Grand Rapids – $24.30/ mo
Marquette – $20.20/ mo

American Pit Bull Terrier

Detroit – $36.85/ mo
Grand Rapids – $42.79/ mo
Marquette – $35.57/ mo

Australian Shepherd

Detroit – $22.92/ mo
Grand Rapids – $26.60/ mo
Marquette – $22.12/ mo

Dachshund

Detroit – $21.62/ mo
Grand Rapids – $25.10/ mo
Marquette – $20.86/ mo

Shih Tzu

Detroit – $19.26/ mo
Grand Rapids – $22.37/ mo
Marquette – $18.59/ mo

French Bulldog

Detroit – $45.59/ mo
Grand Rapids – $52.93/ mo
Marquette – $44.00/ mo

Boxer

Detroit – $45.77/ mo
Grand Rapids – $53.14/ mo
Marquette – $44.17/ mo

Labradoodle

Detroit – $28.83/ mo
Grand Rapids – $33.46/ mo
Marquette – $27.81/ mo
Not finding your specific dog breed? Lemonade pet insurance is our #1 recommendation for Michigan and they'll be able to give you a quick quote for your exact needs.
Michigan Dog Insurance FAQs
According to the North American Pet Health Insurance Association, there were $2.174 billion in premiums sold in 2020 for the pet health insurance sector. Let's take a deeper dive into what dog insurance is and why you need it.
What is dog insurance?
There are 3 main types of dog insurance – accident and illness; accident only; wellness care. Accident and illness are the most comprehensive and could cover things like unexpected injuries, sickness or disease (not previously experiencing), or anything that is different from your dog's normal health. Accident-only focuses on injury-related care but not illness. Wellness is what humans would consider preventative care, and it's equally important for our canine companions to get regular vet checkups, vaccinations, and routine dental work. Some pet insurance offers wellness as a supplement to an insurance plan.
What is covered/excluded with pet insurance?
Things that are typically included: x-rays, diagnostic tests, swallowed objects, toxic ingestion, blood tests, heart issues, medication, dental disease, hip dysplasia, and even cancer. Some policies will even cover exam fees but that is up to the provider. We saw a few companies offer a discount on pet insurance for multiple pets, which is quite helpful for some households.

Services that are considered maintenance are usually not covered through dog insurance. Elective cosmetic procedures, dental cleanings, and spay/neuter are not included in most plans. They also will not cover pre-existing conditions, where your dog has developed symptoms and/or been treated for something prior to starting the insurance or during the waiting period. Most dog insurance has a waiting period ranging from 3-15 days but could be up to 6 months before coverage begins. The waiting period also varies whether it is an accident, illness, or something involving surgery.
What do I need to know about deductibles?
Deductibles are the amount you must pay for covered services before you can start being reimbursed. A general rule of thumb – lower deductibles mean higher monthly payments and a higher annual limit. The annual limit is the total amount you can be reimbursed in a 12-month period. It is recommended that you choose the highest amount you think you will spend on your dog for accidents and illness. If you try to keep your premium cost low, you will typically have a higher deductible to meet before you can be reimbursed, and get a lower annual limit on claims.
How does reimbursement work?
After a visit to the vet's office, you will need to submit a claim to your pet insurance company to be reimbursed. Each company will have its own process but most will require a copy of the invoice. Depending on the insurance and the plan you choose, claims will be reimbursed based on a percentage after you have met the deductible for the year. For example, if you have a $250 deductible with a $3,000 annual limit and 80% reimbursement, once you have paid $250 out of pocket for services that are covered by pet insurance, you can start to be reimbursed at a rate of 80% of the cost until you reach your annual limit.
What is the best age to get insurance for a dog?
The older the dog, the more expensive the monthly insurance costs, and some providers will not cover a pet beyond a certain age. Many pet insurance companies will not provide coverage for a puppy younger than 8 weeks.
Are there breed restrictions (related to homeowners insurance)?
Unlike other states, Michigan does NOT have restrictions in place on home insurance policies based on dog breed. In a bulletin issued by the Michigan Office of Financial and Insurance Services (2003-07-INS), insurers cannot deny, cancel or fail to renew a policy based on the insured's dog breed.

Something to keep in mind – purebred or pedigree dogs are typically more expensive to insure than mixed breeds, who are less likely to have inherited medical conditions or be predisposed to breed-specific ailments.
5 Useful Strategies for Keeping Your Dog Healthy and Safe in Michigan
Because the Wolverine State has wicked winters and stifling summers, there are things every dog owner should keep in mind.
1. Keep good care of your puppies paws
Dogs' paws are very sensitive – snow and ice like we see in Michigan can cut them. There are products like boots and balms that your pet can wear when out walking in winter. If you don't use any of these products on your dogs' paws, at least wipe them off after they have been outside. Many people use ice melting aids that are not pet-friendly and can be harmful when ingested.
2. Be careful of hot pavement!
During summertime in Michigan, if the pavement is too hot to touch by hand (or for your feet), it is too hot for your dog! Try to walk them in the early morning hours or later in the evening after the sun has gone down.
3. Ticks are a preventable problem
Warm weather also brings out fleas and ticks. Since Michigan is the Great Lake State, and while it's wonderful to have all of those bodies of water around, it is a cesspool for ticks and bacteria that may cause leptospirosis, a disease that mainly affects the liver or kidneys. Make sure your dog is up to date on flea and tick medication, and current on all vaccinations, including one for lepto.
4. Watch out for the summer heat
It cannot be overstated that extra precautions need to be taken in the summer months in Michigan. The temperature climbs quickly and can prove deadly if your dog is left in a hot car. According to the National Weather Service, the inside of a car can reach 100 degrees in about 25 minutes, even if it's only in the mid-70s outside. Cracking a window does not lower the temperature a significant amount.
5. Keep your best friend hydrated
Your dog should have plenty of water on hand, day and night, so they do not become dehydrated, as temperature and humidity can fluctuate quickly in Michigan. If you take your dog on hikes, bring some extra water and a collapsible bowl for your pup.
5 Dog Rescue Shelters in Michigan
If you are looking to expand your family to include a dog, check out these amazing Michigan-based animal organizations located in a community near you. The best way to find your new companion is through adoption!
---
---
---
---
---
Conclusion
As you can see, there is a lot of information out there about dog insurance and many factors to consider. If you are looking to add a dog to your household, now is the time to select pet insurance. Remember, most policies require a dog to be at least 8 weeks old but it is never too late to get insurance for your pet. A dog owner with pet insurance is well prepared financially for those unforeseen veterinary costs that add up over a dog's life.
We have found Lemonade pet insurance to consistently offer the best policy for the lowest monthly prices.
SwiftScore Ranking Methodology for Michigan
We ranked the best pet insurance policies in Michigan based on a variety of important factors including the following:
Average monthly price for a 2-year-old Labrador Retriever with a $500 deductible located in Michigan with a 48201 zip code
Coverage and benefits
Key policy details including accidents and illnesses, surgeries, annual check-ups, cancer treatment, lab tests, and more
AM Best rating of the underwriter
Reimbursement percentage
Annual benefit amount
Technology and user experience

Ease of sign up

Policy language clarity
User reviews
Other state dog insurance resources
AL | AK | AZ | AR | CA | CO | CT | DE | FL | GA | HI | ID | IL | IN | IA | KS | KY | LA | ME | MD | MA | MI | MN | MS | MO | MT | NE | NV | NH | NJ | NM | NY | NC | ND | OH | OK | OR | PA | RI | SC | SD | TN | TX | UT | VT | VA | WA | WV | WI | WY