5 Best South Dakota (SD)
Dog Insurance

Plans Compared in 2023

Updated on by Matthew H. Nash – Licensed Insurance Agent

Throughout my career as a licensed South Dakota insurance agent and many years as a dog parent, I know firsthand the challenges people face when it comes to affording emergency veterinary care and finding the right insurance plans for their beloved canine friends. To save you time, energy and money, our team has compiled everything you need to know about finding the best South Dakota dog insurance plan for your best pal. Whether you're a dog owner in Pierre, Sioux Falls, Mitchell, the Badlands or somewhere more remote, this article will explain dog insurance's ins and outs in simple terms. Read more about our unbiased ranking methodology and advertiser disclosure.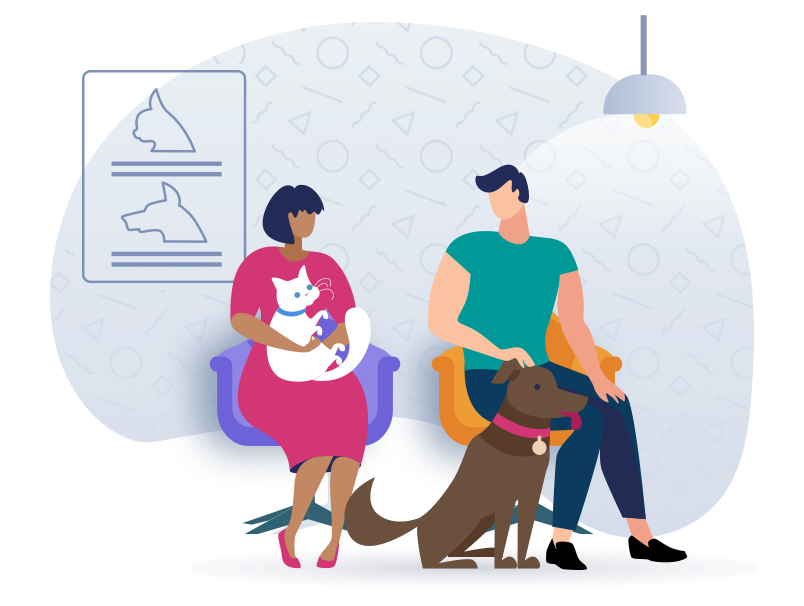 Top SD Dog Insurance Scored, Ranked & With Cost
Use our below table to quickly compare the best dog insurance providers in South Dakota. The average monthly South Dakota specific prices shown are based on a healthy 2-year-old Labrador Retriever with a $500 deductible and 90% reimbursement amount who is located in South Dakota with a 57108 zip code. Costs may vary based on age, location, coverage amount, and depending on the breed of your puppy. Prices are accurate as of January 2023 and are subject to change. For the most up-to-date information, please visit the provider website.
---
How much does dog insurance cost in South Dakota for the 15 most popular breeds?
The price for South Dakota dog insurance is almost always the same throughout the state including in Sioux Falls, Rapid City, Aberdeen, Brookings, Watertown, or Mitchell, etc. However, the prices will vary based on the age, health and breed of your puppy.
All prices shown below are based on a 90% reimbursement rate with a $500 deductible and a $5,000 annual benefit from Figo pet insurance. Please note: these prices should only be treated as a rough guide as of January 2023 and are subject to change. If you're looking for the most up-to-date cost of dog insurance in South Dakota we suggest getting a quote directly with Figo or Embrace.
Mixed Breed – $26.74/ mo
Labrador Retriever – $36.41/ mo
Golden Retriever – $36.33/ mo
German Shepherd – $39.27/ mo
Goldendoodle – $31.61/ mo
Chihuahua – $16.62/ mo
Siberian Husky – $36.51/ mo
Yorkshire Terrier – $22.95/ mo
American Pit Bull Terrier – $40.41/ mo
Australian Shepherd – $25.13/ mo
Dachshund – $23.72/ mo
Shih Tzu – $21.13/ mo
French Bulldog – $49.99/ mo
Boxer – $50.20/ mo
Labradoodle – $31.61/ mo
Not finding your specific dog breed? Lemonade pet insurance is our #1 recommendation for South Dakota and they'll be able to give you a quick quote for your exact needs.
South Dakota Dog Insurance FAQs
What is dog insurance?
Dog insurance primarily protects dog owners from enduring expensive veterinary bills, especially for unexpected medical needs. Most dog insurance companies use a reimbursement model, which means that dog owners pay the initial vet bills and then are reimbursed a specific amount from their insurance carrier.

Since veterinary care can be pretty expensive, dog insurance is a helpful tool to consider, especially if you have more than one dog.
Can my puppy get dog insurance?
As long as your puppy is at least 8 weeks old, you can enroll them in a dog insurance plan.

The best part about enrolling your dog at a young age is that the monthly cost of insurance is generally lower, which is why we suggest registering your pup as soon as you can.
Are there any other age restrictions?
Except for the 8-week age minimum, there are no additional age restrictions, so you can enroll your dog in dog insurance at any time. In addition, dog insurance never expires during your dog's life as long as you continue making monthly payments.
Why do I need to get dog insurance in South Dakota?
As previously indicated, veterinary care is expensive, with some treatments costing thousands of dollars. As a result, dog insurance is helpful regardless of where you live. There is always a possibility that your dog will become ill, and it is always better to have coverage.
What does dog insurance cover?
Dog insurance usually covers treatment for sudden illness and accidents. Examples of conditions that fall into these categories include skin infections, stomach illnesses (like the canine version of the "stomach flu"), and broken bones.

Some dog insurance plans may offer additional coverage for flea and tick treatments, routine physical exams, and prescriptions. However, these services are not guaranteed to be covered by insurance, which is why we recommend contacting insurance carriers directly to clarify what is covered.

Finally, it is essential to know that insurance plans usually do not cover pre-existing conditions.
How will my insurance provider reimburse me?
After paying a vet bill, you can submit a reimbursement request to your insurance provider. The amount that you will be reimbursed is contingent upon your reimbursement rate provided by your provider and your deductible.

For example, suppose you were seeking reimbursement for a vet bill that is $11,000. In that case, your reimbursement rate is 90%, and your deductible is $250; your insurance company would reimburse 90% of the $11,000 minus the deductible amount. Meaning you would be reimbursed $9,650 from your insurance carrier.
Is it better to have a higher or a lower deductible?
Your deductible determines how much you pay per month and how much you are reimbursed for vet bills. Usually, a lower deductible means higher monthly payments. However, there is no right or wrong when it comes to deductible amounts. You can determine what is best for you based on your finances.
Are there any dog breeds restricted on homeowners insurance in South Dakota?
Yes, most states do impose restrictions on some dog breeds on homeowners insurance. Some dog breeds tend to be aggressive and can cost insurance companies substantial amounts of money. Some of the most commonly excluded breeds include:
Doberman Pinschers
German Shepherds
Bull Mastiffs
Pit Bull Terriers
Rottweilers
However, this list may vary by state and insurance provider. For more information, we suggest you contact your insurance carrier directly.
5 Useful Strategies for Keeping Your Dog Safe & Healthy in South Dakota
In addition to enrolling in dog insurance, there are many practices that you can incorporate into your dog's daily routine to keep your furry friend healthy.
1. Avoid hot pavement
South Dakota can get quite hot in the summer, reaching the upper 90 degrees Fahrenheit range. High temperatures make pavement very hot and can damage your dog's paws. Keep your walks to a minimum on hot days or ensure your pup is walking on grass or another cooler surface.
2. Stay away from poisonous plants
There are numerous beautiful national parks and nature reserves in South Dakota that are perfect for dogs. However, wooded areas may also mean poisonous plants. When walking on trails, make sure that your dog does not eat anything that is not supposed to be eaten, as some of these plants can make dogs quite sick.
3. Keep your dog up-to-date on vaccinations
Vaccinations, such as the Rabies vaccine, are crucial in preventing life-threatening illnesses. It is a good idea to make sure that your furry friend is up-to-date on the Rabies vaccine, especially if your pup likes to adventure outside.
4. Stay hydrated
As we have previously indicated, South Dakota often experiences sweltering summers, which is why it is crucial to keep your dog as hydrated as possible. Dehydration can be dangerous for your pup, especially during hot weather.
5. Keep an eye on the weather
Like all states in the Midwest, there is always a risk of severe storms in South Dakota. Heavy snowstorms often occur in the winter, and thunderstorms and tornadoes are expected during the summer. Always watch the weather for pending storms, and if a storm is coming, keep your furry inside with you.
5 Unique Dog Rescue Shelters in South Dakota
In addition to Mount Rushmore and the World's Only Corn Palace, South Dakota is also home to many dog rescue shelters across the state. If you seek a new furry family member, consider adopting a dog from one of these shelters.
---
---
---
---
---
Conclusion
At first, enrolling in a dog insurance plan feels overwhelming, but the most important steps are to find a plan that is right for your pup, ensure your dog's eligibility, and make a monthly payment. Then you are all set! You may be fortunate to need your insurance rarely, but it is always better to be safe than sorry. In addition to dog insurance, don't forget to practice healthy daily living with your pup, including proper hydration and staying off of hot pavement. The more steps you take to ensure your companion's health, the longer they will be able to be by your side.
Through extensive research, we've found that ASPCA pet insurance is the best option in South Dakota at the lowest price.
SwiftScore Ranking Methodology for South Dakota
We ranked the best pet insurance policies in South Dakota based on a variety of important factors including the following:
Average monthly price for a 2-year-old Labrador Retriever with a $500 deductible located in South Dakota with a 57108 zip code
Coverage and benefits
Key policy details including accidents and illnesses, surgeries, annual check-ups, cancer treatment, lab tests, and more
AM Best rating of the underwriter
Reimbursement percentage
Annual benefit amount
Technology and user experience

Ease of sign up

Policy language clarity
User reviews
Other state dog insurance resources
Alabama (AL) | Alaska (AK) | Arizona (AZ) | Arkansas (AR) | California (CA) | Colorado (CO) | Connecticut (CT) | Delaware (DE) | Florida (FL) | Georgia (GA) | Hawaii (HI) | Idaho (ID) | Illinois (IL) | Indiana (IN) | Iowa (IA) | Kansas (KS) | Kentucky (KY) | Louisiana (LA) | Maine (ME) | Maryland (MD) | Massachusetts (MA) | Michigan (MI) | Minnesota (MN) | Mississippi (MS) | Missouri (MO) | Montana (MT) | Nebraska (NE) | Nevada (NV) | New Hampshire (NH) | New Jersey (NJ) | New Mexico (NM) | New York (NY) | North Carolina (NC) | North Dakota (ND) | Ohio (OH) | Oklahoma (OK) | Oregon (OR) | Pennsylvania (PA) | Rhode Island (RI) | South Carolina (SC) | South Dakota (SD) | Tennessee (TN) | Texas (TX) | Utah (UT) | Vermont (VT) | Virginia (VA) | Washington (WA) | West Virginia (WV) | Wisconsin (WI) | Wyoming (WY)