5 Best Idaho (ID)
Dog Insurance

Plans Compared in 2023

Updated on by Matthew H. Nash – Licensed Insurance Agent

As a proud dog parent and licensed Idaho insurance agent, I understand the importance of having peace of mind when it comes to our beloved dogs and puppies. Sadly, the process of finding the right dog insurance is anything but straightforward. That is why my team and I have put together this guide, covering everything from the top insurers to monthly premiums and the most frequently asked questions. So whether you live in Boise, Idaho Falls, Coeur d'Alene, Pocatello or anywhere else in the Gem State, this article has you covered. Read more about our unbiased ranking methodology and advertiser disclosure.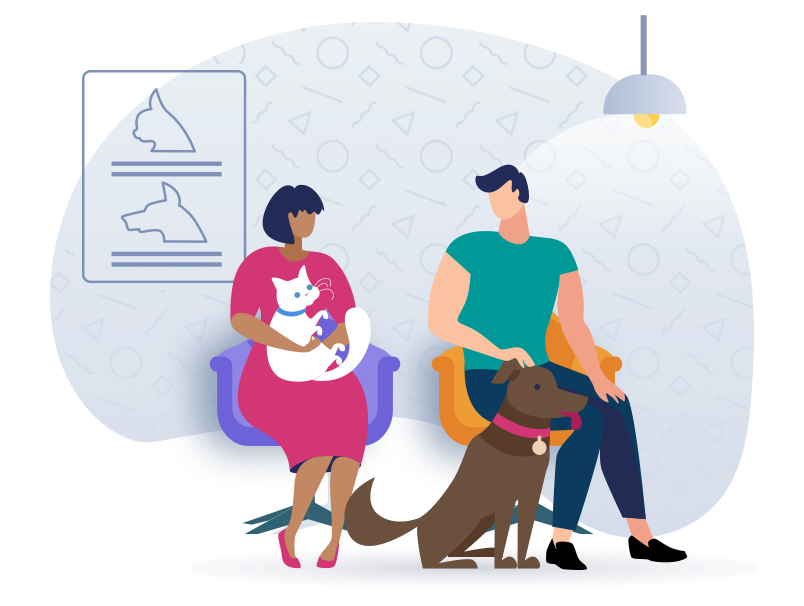 Top ID Dog Insurance Scored, Ranked & With Cost
Use our below table to quickly compare the best dog insurance providers in Idaho. The average monthly Idaho-specific prices shown are based on a healthy 2-year-old Labrador Retriever with a $500 deductible and 90% reimbursement amount who is located in Idaho with an 83712 zip code. Costs may vary based on age, location, coverage amount, and depending on the breed of your puppy. Prices are accurate as of January 2023 and are subject to change. For the most up-to-date information, please visit the provider website.
---
How much does dog insurance cost in Idaho for the 15 most popular breeds?
The price for Idaho dog insurance is almost always the same throughout the state including in Boise, Idaho Falls, Pocatello, or Coeur d'Alene, etc. However, the prices will vary based on the age, health, and breed of your puppy.
All prices shown below are based on a 90% reimbursement rate with a $500 deductible and a $5,000 annual benefit from Figo pet insurance. Please note: these prices should only be treated as a rough guide as of January 2023 and are subject to change. If you're looking for the most up-to-date cost of dog insurance in Idaho we suggest getting a quote directly with Figo or Wagmo.
Mixed Breed – $31.35/ mo
Labrador Retriever – $40.30/ mo
Golden Retriever – $48.96/ mo
German Shepherd – $46.48/ mo
Goldendoodle – $38.96/ mo
Chihuahua – $16.57/ mo
Siberian Husky – $44.33/ mo
Yorkshire Terrier – $23.41/ mo
American Pit Bull Terrier – $46.12/ mo
Australian Shepherd – $29.08/ mo
Dachshund – $27.05/ mo
Shih Tzu – $23.46/ mo
French Bulldog – $56.39/ mo
Boxer – $66.24/ mo
Labradoodle – $38.96/ mo
Not finding your specific dog breed? Figo pet insurance is our #1 recommendation for Idaho and they'll be able to give you a quick quote for your exact needs.
FAQs About Idaho Dog Insurance
What is dog insurance?
We've all been there—visiting the doctor and discovering a gigantic bill just a few days later. Medical insurance often makes those outrageous costs more manageable. It's the same for our dogs too. Dog insurance helps to keep our finances in check and our furry friends healthy.
What's the point of dog insurance?
Idaho is not known for cheap vet bills. Unfortunately, taking your pup in for care can end up causing a financial headache. Despite the cost, every dog owner wants what's best for their best friend, no matter the price, and insurance can make that feasible.
What should I know about purchasing a dog insurance policy in Idaho?
Once you find a company that offers coverage for your canine, you'll be required to pay a monthly fee ensuring your policy remains active. If your dog suffers an injury or comes down with an illness, you'll pay out of pocket and later submit a claim for reimbursement. Be aware that pet insurance companies are known for excluding pre-existing conditions. If possible, obtain insurance while your dog is still a puppy (waiting until they are at least eight weeks old).
Why does my puppy need to be at least 8 weeks old for insurance?
Eight weeks is generally the age it becomes safe to take your new puppy home, as they spend the first several weeks of their lives with their mothers. Once they are old enough to go home with you, they are also old enough to insure.

Puppies are the most affordable to insure because they usually haven't developed any pre-existing conditions or other health issues. Just like health premiums go up the older you and I get, it is the same for our furry family members.
Is dog insurance truly worthwhile?
Absolutely! Of course, you don't want to think about it, but if you haven't already, you and your dog will most likely face an emergency at some point. Insurance can help you avoid a mountain of debt, or even having to put your dog down. Ultimately, the choice is yours. Think about what you can afford and what you can't.
What's covered and what's not with dog insurance?
Insurance covers illnesses and accidents unless your chosen provider decides to exclude them. Sudden, unavoidable circumstances like a car accident resulting in broken bones, for example, will be covered. Other conditions, called "pre-existing conditions," may not be covered, such as heart disease.

To help alleviate some care costs, your insurance provider may provide an add-on package that includes routine appointments and vaccines.
How about reimbursement?
You can receive reimbursement! For instance, we'll say you have a dog insurance policy with a 90% reimbursement amount, a $500 deductible, and a $10,000 annual maximum benefit. One day, your dog accidentally steps in front of a car, resulting in severe injury requiring a treatment cost of $8,000.

After treatment, your reimbursement would be $7,200 minus your $500 deductible, meaning you only pay $1,300! However, not all insurance providers work the same. Trupanion pays in-network vets directly, meaning no out-of-pocket costs from you.
What's the best deductible?
Most dog owners choose a deductible of $250 or $500.

Low deductible = high monthly payments.
High deductible = small monthly payments.

Figure out what's best for your dog by figuring out what is tolerable for you financially. Some insurance companies even offer calculators to help you out.
How about Idaho dog breed restrictions for Homeowners Insurance?
It's common for homeowner insurance policies in many states to restrict specific dog breeds based on their overall risk status. Some of these breeds are:
German Shepherd
Akitas
Alaskan Malamute
Cane Corso
Chow Chows
Doberman Pinschers
Great Danes
Mastiff
Pit Bull
Siberian Husky
Rottweilers
All Wolves, even hybrids
Please note that this list is not comprehensive. Ask your homeowner's insurance provider for the most accurate information and to determine whether or not you'll need to add a liability rider to your coverage.
5 Ways to Keep Your Dog Healthy & Safe in Idaho
1. Mind the Bears
Black bears and grizzlies populate the Gem State in significant numbers. Although most bears like to keep to themselves, bear encounters are something Idahoans should be prepared for, especially if you like camping or hiking with your dog. Here's how to stay safe in bear country:
Clean up after your dog (and yourself). Always properly store your belongings and dispose of waste and any uneaten food.
Keep your dog close. You never know how your dog will react to a bear and vice-versa. It's better not to let them get close to each other in the first place.
Carry bear spray. In the event you come across a bear, keep your dog close by and follow the same rules you would if you were alone: back away slowly, make yourself look as large as possible, and don't run. Since you can't ensure that your dog will do the same, your chances of provoking the bear are higher. Have your bear spray at the ready.
2. Looks Can Be Deceiving
Dogs are obsessed with smells. Some breeds have hundreds of millions of scent receptors in their noses, compared to our 5 million receptors. Although a dog's strong sense of smell usually leads to nothing worse than picking up something gross on a walk, there are times it can cause a real hazard.

Pretty Idaho spring-time plants such as tulips, daffodils, Narcissus, and hyacinths are poisonous to dogs.

Eating these flowers in large amounts can cause nausea, vomiting, and diarrhea. In more severe cases, symptoms can include increased heart and respiratory rate and cardiac arrhythmias.

Always be aware of your dog's surroundings and supervise them outdoors to avoid ingesting dangerous plants.
3. Avoid Algae
Idaho is home to many excellent natural recreational areas, from scenic lakes to white-water rivers, relaxing reservoirs, and more. Unfortunately, although summer is prime swimming season, it's also prime time for toxic algae to grow in the very places we like to play in.

Cyanobacteria produce toxins that are dangerous for our dogs and us. The bacteria usually is so small that you don't notice it. Still, as the weather warms up, cyanobacteria produce a visible "bloom" of toxic blue-green algae, resembling pea soup or guacamole.

Avoid contact with the water if you see any blue-green algae. If your dog comes into contact with algae, rinse their fur with clean water and call your vet as soon as you can.

Poisoning symptoms include diarrhea, vomiting, and drooling. Symptoms can appear as soon as 15 minutes after contact, so getting treatment right away is imperative.
4. Don't Rock the Land
Landslides, rockslides, and avalanches are frequent in this mountainous state. When taking your dog hiking in Idaho, practice the following precautions:
Follow all posted trail rules. Remember, the rules are there for a reason.
Keep your dog leashed when required. There are many safety reasons to keep your furry friend leashed (wildlife, potential harm to fellow hikers, etc.). A dog running off-trail could potentially trigger a dangerous rockslide. Don't risk it.
5. Focus on Wildfires
Just like many western states, Idaho is at high risk of wildfires throughout the summer. Even though most people think they'll never get caught in one, it can happen to any of us.
Bring your dog inside at the first sign of a wildfire. You may think it counterintuitive at first, but if an evacuation is required, your dog will already be close to you so you don't have to search for them, wasting precious time.
Your life comes first, but if you have the time, evacuate your dog too. Sometimes we forget how much our furry family members rely on us. Many dogs cannot fend for themselves during disasters.
Fill a supply kit with towels, blankets, toys, leashes, collars, treats, food etc. Whatever your dog regularly uses in day-to-day life, you'll need it in your kit.
5 Incredible Idaho Dog Shelters
---
---
---
---
---
Conclusion
Keep in mind that the younger your dog is, the better the prices and coverage you'll receive, so now is the best time to purchase dog insurance. We've found that Wagmo pet insurance performs best and has some of the lowest premiums among insurance companies.
SwiftScore Ranking Methodology for Idaho
We ranked the best pet insurance policies in Idaho based on a variety of important factors including the following:
Average monthly price for a 2-year-old Labrador Retriever with a $500 deductible located in Idaho with a 83712 zip code
Coverage and benefits
Key policy details including accidents and illnesses, surgeries, annual check-ups, cancer treatment, lab tests, and more
AM Best rating of the underwriter
Reimbursement percentage
Annual benefit amount
Technology and user experience

Ease of sign up

Policy language clarity
User reviews
Other state dog insurance resources
Alabama (AL) | Alaska (AK) | Arizona (AZ) | Arkansas (AR) | California (CA) | Colorado (CO) | Connecticut (CT) | Delaware (DE) | Florida (FL) | Georgia (GA) | Hawaii (HI) | Idaho (ID) | Illinois (IL) | Indiana (IN) | Iowa (IA) | Kansas (KS) | Kentucky (KY) | Louisiana (LA) | Maine (ME) | Maryland (MD) | Massachusetts (MA) | Michigan (MI) | Minnesota (MN) | Mississippi (MS) | Missouri (MO) | Montana (MT) | Nebraska (NE) | Nevada (NV) | New Hampshire (NH) | New Jersey (NJ) | New Mexico (NM) | New York (NY) | North Carolina (NC) | North Dakota (ND) | Ohio (OH) | Oklahoma (OK) | Oregon (OR) | Pennsylvania (PA) | Rhode Island (RI) | South Carolina (SC) | South Dakota (SD) | Tennessee (TN) | Texas (TX) | Utah (UT) | Vermont (VT) | Virginia (VA) | Washington (WA) | West Virginia (WV) | Wisconsin (WI) | Wyoming (WY)