7 Best New York (NY)
Dog Insurance

Plans Compared in 2023

Updated on by Matthew H. Nash – Licensed Insurance Agent

As a licensed New York insurance agent and dedicated dog owner, I know that finding dog insurance in this state can feel overwhelming. Understanding policy benefits and exclusions and figuring out the best provider for your puppy or dog can be time-consuming and mind-boggling. However, we want to make this process as straightforward as possible so you can get your best pal the protection they deserve. My team of insurance professionals and I have extensively researched the best New York dog insurance plans. So, if you're in Buffalo, New York City, Ithaca, Albany, Syracuse or a town further afield, this article has everything you need to know to get started. Read more about our unbiased ranking methodology and advertiser disclosure.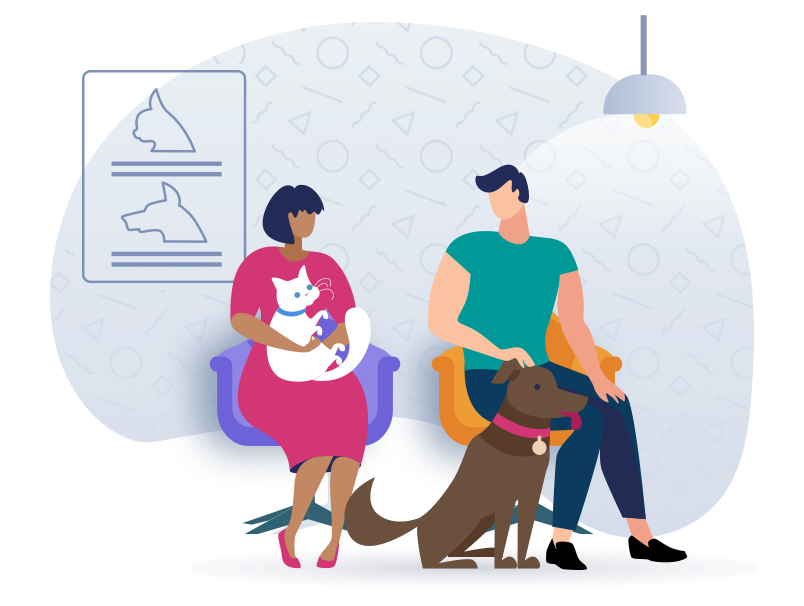 Top NY Dog Insurance Scored, Ranked & With Cost
Use our below table to quickly compare the best dog insurance providers in New York. The average monthly New York specific prices shown are based on a healthy 2-year-old Labrador Retriever with a $500 deductible and 90% reimbursement amount who is located in New York with a 10022 zip code. Costs may vary based on age, location, coverage amount, and depending on the breed of your puppy. Prices are accurate as of January 2023 and are subject to change. For the most up-to-date information, please visit the provider website.
---
How much does dog insurance cost in New York for the 15 most popular breeds?
The price for New York dog insurance varies depending on where you live. To give you an idea we've collected costs for three cities shown below. The prices will also vary based on the age, health, and breed of your puppy.
All prices shown below are based on a 90% reimbursement rate with a $500 deductible and a $5,000 annual benefit from Figo pet insurance. Please note: these prices should only be treated as a rough guide as of January 2023 and are subject to change. If you're looking for the most up-to-date cost of dog insurance in New York we suggest getting a quote directly with Figo or Lemonade.
Mixed Breed

New York City – $51.18/ mo
Albany – $37.20/ mo
Niagra Falls – $37.20/ mo

Labrador Retriever

New York City – $69.69/ mo
Albany – $50.67/ mo
Niagra Falls – $50.67/ mo

Golden Retriever

New York City – $69.54/ mo
Albany – $50.56/ mo
Niagra Falls – $50.56/ mo

German Shepherd

New York City – $75.17/ mo
Albany – $54.66/ mo
Niagra Falls – $54.66/ mo

Goldendoodle

New York City – $60.50/ mo
Albany – $43.99/ mo
Niagra Falls – $43.99/ mo

Chihuahua

New York City – $31.83/ mo
Albany – $23.15/ mo
Niagra Falls – $23.15/ mo

Siberian Husky

New York City – $69.88/ mo
Albany – $50.81/ mo
Niagra Falls – $50.81/ mo

Yorkshire Terrier

New York City – $43.93/ mo
Albany – $31.94/ mo
Niagra Falls – $31.94/ mo

American Pit Bull Terrier

New York City – $77.37/ mo
Albany – $56.26/ mo
Niagra Falls – $56.26/ mo

Australian Shepherd

New York City – $48.12/ mo
Albany – $34.98/ mo
Niagra Falls – $34.98/ mo

Dachshund

New York City – $45.39/ mo
Albany – $33.00/ mo
Niagra Falls – $33.00/ mo

Shih Tzu

New York City – $40.43/ mo
Albany – $29.40/ mo
Niagra Falls – $29.40/ mo

French Bulldog

New York City – $95.67/ mo
Albany – $69.57/ mo
Niagra Falls – $69.57/ mo

Boxer

New York City – $96.08/ mo
Albany – $69.85/ mo
Niagra Falls – $69.85/ mo

Labradoodle

New York City – $60.50/ mo
Albany – $43.99/ mo
Niagra Falls – $43.99/ mo
Not finding your specific dog breed? Lemonade pet insurance is our #1 recommendation for New York and they'll be able to give you a quick quote for your exact needs.
New York Dog Insurance FAQs
What is dog insurance and why is it useful in New York?
Dog insurance in New York is very similar to health insurance. Typically, you will enroll with an insurance company and pay a monthly premium that keeps your dog's insurance active. If anything happens to your canine friend and they have to go to the vet, you'll have to pay for the visit upfront and file for reimbursement with your insurance company after the fact. You should also know that many insurers exclude coverage for any pre-existing conditions, which is why you should get dog insurance when your animal is still a puppy.

In New York, dog insurance is useful because it shields you from high vet bills for things like cancer, injured joints, arthritis, and more. In some offices, you could be charged thousands of dollars for these medical emergencies. Most pet owners aren't financially prepared to make that kind of payment, and it forces them into the sad decision to put their animals down. Having insurance will protect you from ever having to make that choice.
How old does my puppy need to be to have dog insurance?
The majority of dog insurers require puppies to be at least 8 weeks old before you can enroll them in a coverage plan. If you have an older dog, there's no need to worry — most providers have no age limits on when you can sign your dog up for insurance. However, we recommend that you get your dog insurance as soon as possible. Insurance for younger animals usually costs less because they tend to be healthier and without any pre-existing conditions.
Is it worth it to get dog insurance in NY?
As I mentioned earlier, dog insurance saves you from spending thousands of dollars on unexpected vet bills. The reality is that your dog is going to get hurt or become ill at some point. On average, dog owners can end up spending anywhere from $1,500 to $3,000 or more for emergency veterinary appointments. Ultimately, you need to work out whether paying the monthly premium is worth saving yourself from a possible hit of thousands of dollars. New York City is the most expensive city in the country to own a pet, meaning your vet bills there will be much higher than the national average.
What is and isn't covered with dog insurance?
The coverage that you get will depend on your insurance provider and the plan that you choose. As I mentioned earlier in the post, most providers will not cover any of your dog's pre-existing conditions. In general, insurers will cover any accident, illness, or emergency. That means that your dogs are covered when they break a bone, swallow something they shouldn't, get an ear infection, or catch a stomach bug. If your dog has cancer and you sign them up for insurance, any costs associated with their cancer treatment most likely would not be covered, since cancer would count as a pre-existing condition.

Something cool that many insurers are starting to provide is "wellness" packages that include coverage for things like routine check-ups and preventative care like vaccinations and heartworm prevention. These packages can be added to your monthly premium for an additional cost.
How does reimbursement work with dog insurance in NY?
To know how reimbursement works with your dog insurance, the first things you need to know are your reimbursement amount, your deductible, and your maximum benefit. The reimbursement amount is the percentage of the bill your insurer will cover. Your deductible is what you need to spend out of pocket before your insurer starts to cover things and your maximum limit is the maximum amount your insurer will cover per year; anything over that amount will not be covered.

Let's do an example with a reimbursement amount of 85%, a $300 deductible, and a $25,000 maximum limit:

Imagine that your dog is injured and the emergency veterinary care is going to cost $10,000. With an 85% reimbursement rate, your insurance company is going to reimburse you $8,500 minus your $300 deductible ($8,200). This means that your out-of-pocket costs are $1,800 instead of $10,000. In this situation, you would pay the $10,000 up front and your insurer would reimburse you with $8,200.

If you're interested in avoiding paying fees upfront, Trupanion is an insurance company that offers direct payment to vets in their network.
Should I have a low deductible or a high deductible?
Whether you have a low or high deductible depends on the amount of monthly payments you can afford. Generally, a lower deductible means your monthly premium will be higher. You'll spend more every month, but will end up spending less if your dog ever has an emergency. To determine the right deductible for you, you'll need to evaluate your own priorities and financial situation. Most dog insurers provide a quote calculator that you can use to estimate your monthly payments. We've seen that the majority of people choose a deductible between $250 and $500.
What dog breeds are restricted for homeowner's insurance in New York?
Homeowner's insurance companies often have breed restrictions because they are responsible for paying any claims associated with dog bites or injuries sustained by a dog living in the home. Most states do have restrictions for homeowners insurance on certain breeds of dog. These may include (but are not limited to):
Akitas
Chow Chows
Doberman Pinschers
German Shepherds
Bull Mastiffs
Pit Bull Terriers
Rottweilers
Wolfhounds
Not all of these dogs are 100% banned. If you want to know more, you should contact your home insurance provider to see whether your dog's breed will need a specific liability rider.
5 Useful Strategies for Keeping Your Dog Safe & Healthy in New York
Living in New York comes with its own set of risks and dangers for dogs. Here are some tips that you can use to keep your dog safe and healthy while living in New York:
1. Clean their feet or get booties for the winter
New York has some seriously cold and snowy winters, and that means sidewalk salt. If you're walking over this paw-destroying stuff every day and your dog is showing signs of pain, try cleaning out their toes or investing in some winter booties.
2. Check your building's rules
In New York City, some dog breeds are completely restricted from certain apartment buildings. Make sure you check a building's policies before moving or adopting.
3. Invest in flea protection
Upstate New York in the summertime is a field mine of fleas. Protect your dog from harm by getting them a flea collar or asking your vet about flea prevention medication.
4. Don't let them get into the trash
Whether it's in your home or on the streets of NYC, make sure your dog isn't getting into the trash. Besides a ton of possibly dangerous bacteria that could be lurking in the mess, any small bones from chicken or fish could do some serious damage to your dog's stomach.
5. Get lots of exercise
Just like humans, dogs need lots of exercise, the amount of exercise needed varies by age and breed. New York has tons of fantastic state parks and trails for you to get a move on with your furry friend. Make sure you're taking your canine friend for regular walks to keep them in tip-top shape.
5 Great Rescue Shelters in New York State
Are you looking to adopt a new dog? Adopting a dog is a great way to do good and find a new furry friend. Check out these five awesome shelters in the state of New York:
---
---
---
---
---
Conclusion
At first, finding the right dog insurance plan can seem overwhelming, but hopefully, this article has shed some light on how easy the process can be. We suggest that you get a policy after he or she is 8 weeks old for two reasons if you choose to cover your dog. The first is to lock in a lower premium, and the second is to avoid losing coverage to pre-existing conditions that typically occur as your dog gets older. This will keep your monthly payments low and your dog happy and healthy. From our research, the best dog insurer for low monthly payments is Lemonade pet insurance.
SwiftScore Ranking Methodology for New York
We ranked the best pet insurance policies in New York based on a variety of important factors including the following:
Average monthly price for a 2-year-old Labrador Retriever with a $500 deductible located in New York with a 10022 zip code
Coverage and benefits
Key policy details including accidents and illnesses, surgeries, annual check-ups, cancer treatment, lab tests, and more
AM Best rating of the underwriter
Reimbursement percentage
Annual benefit amount
Technology and user experience

Ease of sign up

Policy language clarity
User reviews
Other state dog insurance resources
Alabama | Alaska | Arizona | Arkansas | California | Colorado | Connecticut | Delaware | Florida | Georgia | Hawaii | Idaho | Illinois | Indiana | Iowa | Kansas | Kentucky | Louisiana | Maine | Maryland | Massachusetts | Michigan | Minnesota | Mississippi | Missouri | Montana | Nebraska | Nevada | New Hampshire | New Jersey | New Mexico | New York | North Carolina | North Dakota | Ohio | Oklahoma | Oregon | Pennsylvania | Rhode Island | South Carolina | South Dakota | Tennessee | Texas | Utah | Vermont | Virginia | Washington | West Virginia | Wisconsin | Wyoming