6 Best Indiana (IN)
Dog Insurance

Plans Compared in 2023

Updated on by Matthew H. Nash – Licensed Insurance Agent

Dog parents across Indiana are looking for peace of mind regarding the well-being of their beloved pups. As a dedicated dog owner and licensed Indiana insurance agent, I know how confusing policy language can be and the challenges of choosing the best Indiana dog insurance plan for your canine friend. My team and I have done extensive research to make the entire process easier, so you don't have to. Regardless of where you live, whether it be Indianapolis, Bloomington, Fort Wayne, Evansville or somewhere further afield, this article has all the details you need to make an informed decision. Read more about our unbiased ranking methodology and advertiser disclosure.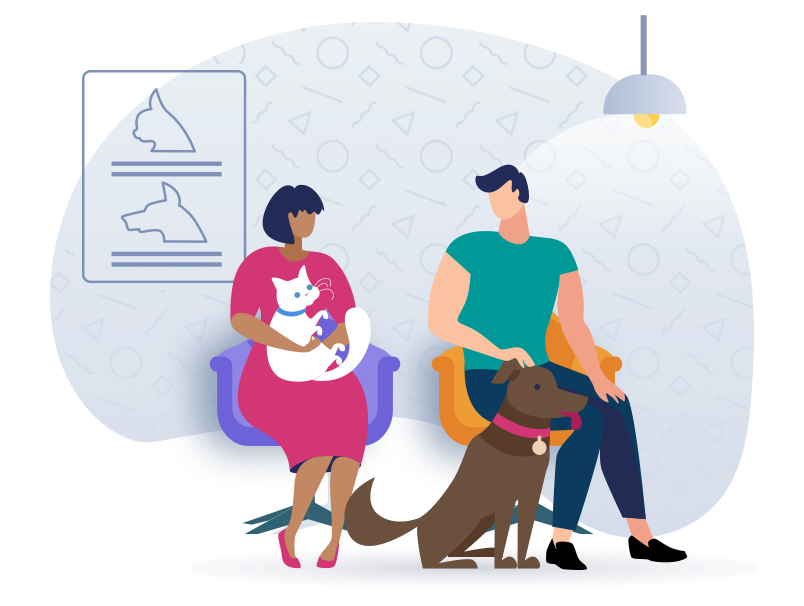 Top IN Dog Insurance Scored, Ranked & With Cost
Use our table below to quickly compare Indiana's best dog insurance providers. The average monthly Indiana specific prices shown are based on a healthy 2-year-old Labrador Retriever with a $500 deductible and 90% reimbursement amount who is located in Indiana with a 46229 zip code. Costs may vary based on age, location, coverage amount, and depending on the breed of your puppy. Prices are accurate as of May 2023 and are subject to change. For the most up-to-date information, please visit the provider website.
---
How much does dog insurance cost in Indiana for the 15 most popular breeds?
Indiana dog insurance prices are almost always the same throughout the state, including in Indianapolis, Bloomington, Evansville, Fort Wayne, or Lafayette. However, the prices will vary based on your puppy's age, health, and breed.
All prices shown below are based on a 90% reimbursement rate with a $500 deductible and a $5,000 annual benefit from Figo pet insurance. Please note: these prices should only be treated as a rough guide as of January 2023 and are subject to change. If you're looking for the most up-to-date cost of dog insurance in Indiana we suggest getting a quote directly with Figo or Lemonade.
Mixed Breed – $25.58/ mo
Labrador Retriever – $35.25/ mo
Golden Retriever – $35.17/ mo
German Shepherd – $38.01/ mo
Goldendoodle – $30.61/ mo
Chihuahua – $16.09/ mo
Siberian Husky – $35.34/ mo
Yorkshire Terrier – $22.22/ mo
American Pit Bull Terrier – $39.12/ mo
Australian Shepherd – $24.34/ mo
Dachshund – $22.96/ mo
Shih Tzu – $20.45/ mo
French Bulldog – $48.39/ mo
Boxer – $48.58/ mo
Labradoodle – $30.61/ mo
Not finding your specific dog breed? Lemonade pet insurance is our #1 recommendation for Indiana and they'll be able to give you a quick quote for your exact needs.
Indiana Dog Insurance FAQs
What is dog insurance, and why is it useful in Indiana?
Dog insurance is similar in purpose and utilization to health insurance for humans. Just like us, dogs can get injured or sick and face very high medical bills, or in this case, veterinary bills. So to ensure that our canine companion's medical needs are met, we sign up for dog insurance.

Dog insurance is useful in Indiana because your dog needs to be protected in the state where you live. There are no places in the world where dogs do not face risks of injury and illness, and Indiana is no exception!
How do I sign up for dog insurance? How does it work?
Setting up dog insurance to protect your pup is very straightforward and our specialty! You will first need to decide on an insurance company (which we will be happy to help with!). Next, you will pay a monthly premium indefinitely to ensure your policy remains active.

Over the following months or years, if your pet has an accident or gets sick, you will generally need to pay the vet or emergency vet bill yourself upfront. Afterward, you submit a claim to your insurance company for reimbursement. If you are up to date on your monthly premium payments, the insurance company will pay out according to the agreement once they review the vet bill that you send them.

Maintaining dog insurance coverage is very important no matter where you live, and Indiana is no exception. You never know what type of injury or illness might befall your beloved pet. For instance, many dogs carry cancer risks or other severe diseases, and the vet bills can rapidly rise well into the thousands. Unfortunately, this bill will have to be paid entirely out of your pocket if you are not adequately insured.

Many pet owners have had to have their dogs euthanized due to being uninsured and unable to afford to save their beloved companions. Pet insurance can save you from ever having to make such a difficult decision.
How old does my puppy need to be to get insured?
Typically, pet insurance companies require your puppy to be at least eight weeks old before you can apply for puppy insurance. By contrast, most providers do not have an age limit regarding applying for dog insurance. Therefore, we recommend that you insure your dog before their first birthday because it is cheaper to insure a younger animal than an older one. Another helpful tip to consider is that insurance companies often refuse to cover certain pre-existing conditions that they are aware of when you begin your policy with them. For this reason, we recommend getting dog insurance while your dog is still in the puppy phase (after eight weeks of age) if at all possible.
Is it really worth buying dog insurance in Indiana?
I mentioned earlier that certain diseases and injuries could quickly run pet bills into thousands of dollars. Pet insurance is a form of risk management. It is true; if all goes well, you may pay pet insurance premiums for years and years and never actually need to use your insurance for anything substantial.

However, in the event of a life and death injury or illness with your dog, you could easily be spending over $3,000 trying to save your pup's life. So it comes down to a simple matter of whether that is a risk you are willing to take or if you are ready to accept a low monthly payment to protect yourself if tragedy strikes with your beloved pet.
What types of things are covered with dog insurance?
Insurance coverage tends to vary with each provider. Still, you can assume that any injury or illness is covered unless the dog insurance company specifically listed as an exclusion. Anything that is considered "sudden and catastrophic" will generally be covered. This could be anything from broken bones, eye infections, or swallowing something that is not digestible to something less dangerous, like a sudden onset of allergies or a rash.

Keep in mind that certain pre-existing conditions will not be covered by insurance. A pre-existing condition is something that already exists and is being actively being treated. These are not eligible for a new insurance claim. Many insurance providers now offer "wellness" packages that can be added on to cover necessary regular care such as vaccinations, heartworm medication, and regular vet checkups.
How does insurance reimbursement work?
For example, let's say you currently have dog insurance with a 90% reimbursement amount, a $250 deductible, and a $20,000 max annual benefit. Then, imagine something happens to your dog, and you have to take it to the emergency vet for surgery. You are billed $10,000 for the surgery. In this scenario, your insurance company would reimburse you for $9,000 minus your $250 deductible, meaning that you would be paying $1,250 out of pocket instead of $10,000.

One company that offers an exception to this rule is Trupanion who will send payment directly to veterinarians in their network. This saves their customers from having to pay out of pocket.
Is it better to have a lower deductible or a lower monthly premium?
Typically, a lower deductible will translate into higher monthly payments. Essentially, you will pay more over time but will pay much less in the event of an emergency vet visit with your dog. Your personal insurance needs will depend on your income and how much you are willing to pay in an emergency.

Most providers offer a user-friendly calculator to help with this while you are in the process of getting a quote. In our experience, most people go with either a $250 or $500 deductible. But, again, this is ultimately your call.
Are there any restricted dog breeds for homeowners insurance in Indiana?
Most states do have restrictions for homeowners insurance on certain breeds of dogs. Insurance providers may also have breed restrictions. These may include (but are not limited to):
Akitas
Chow Chows
Doberman Pinschers
German Shepherds
Bull Mastiffs
Pit Bull Terriers
Rottweilers
Wolfhounds
Fortunately, Indiana is more relaxed than most states when it comes to restricted breeds. Nevertheless, we suggest you contact your local home insurance provider to see what your policy includes or excludes regarding your dog breed and whether or not you will need a specific liability rider.
5 Useful Tips for Keeping Your Dog Safe & Healthy in Indiana
While we advise pet insurance to ensure you can always keep your dog happy and healthy, we would also like to share some strategies to help avoid preventable trips to the vet.
1. Be cognizant of the Indiana weather
Indiana is well-known for many changes in weather throughout the year. Remember that your dog cannot tell you how the temperature affects it. For example, a dog should never be left alone in a hot car, and you should not leave a dog outside too long in hot or freezing weather.
2. Choose dog-friendly bones
Every dog loves a good bone. However, many types of bones are hazardous for dogs. Think about small bones like chicken, turkey, or even pieces of ham bones. If a dog is excitedly chewing on a bone or eating scraps, it can easily swallow a bone by mistake. This can cause significant digestion issues and even internal bleeding or death.
3. Close your trash properly
Many dogs also tend to try to get into the trash. Unfortunately, this poses serious health risks because many foods are toxic or poisonous to dogs. Including chocolate, onions, macadamia nuts, alcohol, artificial sweetener, avocado, and much more.
4. Keep your pup well hydrated!
It can be easy to forget to refill your dog's water bowl. For us, daily sustenance can be easy to take for granted. We simply go get food or a drink if we are hungry or thirsty. Keep in mind that dogs cannot communicate with us verbally. A dog may whine and try to get your attention, but some pups will wait until the discomfort is more severe. A dehydrated dog is at a much higher risk of heat-related illness, and this is easily avoidable.
5. Train your dog to not chase cars
One thing to keep in mind is that dogs are inherently predators. This causes them to become aggressive when they perceive something as prey or even a threat. A big issue, especially in many rural parts of Indiana, is dogs running after cars. These dogs are not as used to vehicles and tend to react aggressively. Closely monitoring your dog until it is used to vehicle traffic could very well save its life!
5 Unique Dog Rescue Shelters in Indiana
If you are not yet a dog owner but are looking to be, we recommend looking into rescuing a dog from a shelter. Shelter dogs have a lot of love to give and are just waiting for the right person to come along. We have compiled a list of five very interesting and unique animal shelters in Indiana. Adopting a dog is a great help to your community and an excellent way to attach meaning to your new companionship.
---
---
---
---
---
Final Thoughts
While it may have seemed stressful before, we hope that with the information we have provided, the process of acquiring pet insurance now seems like a much more manageable task! The truth is that finding the right pet insurance for you and your dog is very straightforward.

We recommend signing up for dog insurance once your pup is over eight weeks old. The sooner, the better, since you will get the best prices, and your dog will likely not have any pre-existing conditions yet at this age. Please remember that dog insurance at any age is vital to make sure your loyal companion is safe and can get treatment whenever necessary! None of us wants to say goodbye to our pup before we have to.

Our extensive research has found that Lemonade pet insurance has consistently performed best considering its low monthly premiums. They have our recommendation!
SwiftScore Ranking Methodology for Indiana
We ranked the best pet insurance policies in Indiana based on a variety of important factors including the following:
Average monthly price for a 2-year-old Labrador Retriever with a $500 deductible located in Indiana with a 46229 zip code
Coverage and benefits
Key policy details including accidents and illnesses, surgeries, annual check-ups, cancer treatment, lab tests, and more
AM Best rating of the underwriter
Reimbursement percentage
Annual benefit amount
Technology and user experience

Ease of sign up

Policy language clarity
User reviews
Other state dog insurance resources
Alabama | Alaska | Arizona | Arkansas | California | Colorado | Connecticut | Delaware | Florida | Georgia | Hawaii | Idaho | Illinois | Indiana | Iowa | Kansas | Kentucky | Louisiana | Maine | Maryland | Massachusetts | Michigan | Minnesota | Mississippi | Missouri | Montana | Nebraska | Nevada | New Hampshire | New Jersey | New Mexico | New York | North Carolina | North Dakota | Ohio | Oklahoma | Oregon | Pennsylvania | Rhode Island | South Carolina | South Dakota | Tennessee | Texas | Utah | Vermont | Virginia | Washington | West Virginia | Wisconsin | Wyoming