7 Best France
Travel Insurance

Plans for US Citizens in 2023

Updated on September 12, 2023 by Matthew H. Nash – Licensed Insurance Agent

France's exquisite culinary history, beautiful architecture, and stunning natural landscape are some of the biggest reasons nearly ten million American tourists flock to this European country. However, with such uncertainty around travel, the risk of emergencies, lost or stolen luggage, and trip delays or cancellations is heightened. Having the best France travel insurance policy can help shield you from the financial ramifications of such unpredictable events. This article covers all you need to know regarding policy fees, the level of coverage to look for and the distinctions between top plans. Read more about our unbiased ranking methodology and advertiser disclosure.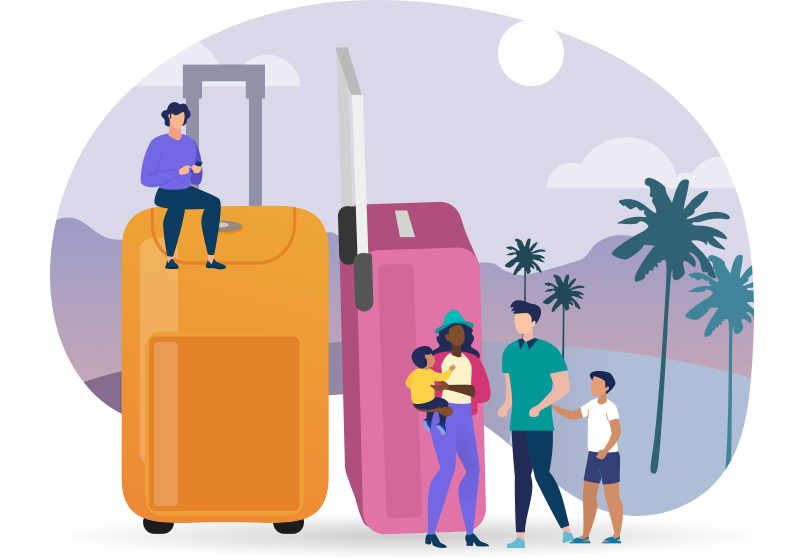 France travel insurance FAQs
Should I get travel insurance for France?
France travel insurance can protect you against the financial consequences of trip delays or cancellations, medical emergencies and evacuations, and lost, stolen or damaged luggage. Trip insurance can support you in a medical emergency by coordinating medical evacuations to hospitals that deliver US-quality medical treatment. Throughout my travels, I have found that getting the best policy provides peace of mind that we may not have otherwise. Purchasing France trip insurance is worth it and very affordable since most plans are priced at only 2-3% of the total trip cost.
Will travel insurance cover my medical bills if I am hospitalized in France?
Most traditional health insurance policies do not cover any medical services you may require when traveling outside the US. Also, be aware that Medicare never reimburses for international medical care. Therefore, the only way to ensure that you'll have the medical coverage you need is to buy the best trip insurance policy as soon as you book your French vacation.
How many people can I insure on one travel plan?
To insure more than one traveler on a single insurance plan, all travelers must have identical travel itineraries and live in the same state. You can cover up to 10 people, including yourself, on single trip plans. However, purchasing a group plan may be more economical if there are 8 or more of you. With a group policy, insured travelers can reside in any state and have different travel itineraries without sacrificing the same great coverage a single trip policy would provide.
How long does it take to process a travel insurance claim?
After submitting a claim with all of the requested documentation, your insurer may process it for 6 to 8 weeks. Of course, this varies from one provider to another.
Do I have any recourse if my claim is rejected?
Travel insurance providers reject claims for several potential reasons, such as the policy does not cover the reason for the claim or an insured traveler did not adhere to the required procedures, list an accurate total trip cost, or disclose a pre-existing medical condition upon application for coverage. If an insurer rejects your claim, they will provide the necessary reasons for doing so and notify you of possible recourse.
What is Trip Interruption?
Trip Interruption benefits cover any unpredictable or unforeseen events that lead to your trip being interrupted and requiring you to return home prematurely. Coverage typically applies to extraordinary events like terrorist attacks, inclement weather, job termination and the injury, illness or death of a traveler insured by your policy.
Will my travel insurance policy cover a relative's death?
Every policy is different concerning this issue, so it's essential to read the full details of your plan. For example, under some policies, bereavement benefits might not be available to you if a relative dies by suicide or from a pre-existing health condition. That said, travel insurance plans with higher premiums will often reimburse you, irrespective of your relative's cause of death.

Also, it's vital to determine who your insurer defines "covered relatives' to be. Does it include siblings? Grandparents? In-laws? Cousins? Pets? Remember, every travel insurance provider is different, so it's best to clarify this before you purchase a policy.
How is Baggage Loss defined? How do Baggage Loss benefits work?
Insurance providers will reimburse you for luggage or personal effects lost, damaged, destroyed or stolen during your trip to France, including the times a hotel, travel supplier or common carrier is in possession of them. In such situations, you can expect your insurer to reimburse you to the Maximum Benefit listed in your policy less whatever amount the responsible party reimburses you.

So, what is a Maximum Benefit Amount? It is the highest value your insurer will reimburse you should anything mentioned above happen to your belongings with which you are traveling. Remember that the amount specified in your policy is listed per person.

This amount can be affected by a couple of other benefit limits. The first is a Per Article Benefit, which is the highest dollar amount your provider will reimburse you per item in such situations.

The other benefit limit that helps define the reimbursement parameters under your policy is the Combined Article Limit, which is specific to things like watches, jewelry, furs and electronics (such as cameras, smartphones, laptops, video cameras, etc.). Should anything happen to one or more of your items that fall under the Combined Article Limit, your provider will most reimburse you the dollar amount listed in this part of your plan. This holds true even if their total value is higher. It's worth mentioning that depending upon the state you live in, your policy may not have a Combined Article Limit.

Let's run through a hypothetical scenario to understand how these amounts and limits determine the reimbursement you expect. Imagine your policy has a Maximum Benefit of $2,000, a Per Article Benefit of $500 and a Combined Article Limit of $500. With this policy, say you lost a designer coat valued at $600. Your insurer would reimburse you only $500, even if you haven't used your Maximum Benefit because the Per Article Benefit applies first.

Now, let's say you lose a watch and your smartphone. Both of these items fall under the Combine Article Limit, so even though their total value may be $800, you will receive $500 total. This is because the individual and combined item limits are first accounted for and then applied against your Maximum Benefit Amount. Therefore, the highest reimbursement amount you can receive is $2,000 total.

Remember that your claim process will go a lot smoother if you have documentation proving ownership, condition and loss. Valid documentation includes photographs of the items, receipts of purchase, letters from the responsible carrier/party re: loss or damage of items and police reports. Also, check your insurance plan's full details for further specifications.
Most common problems while traveling in France and how to avoid them:
Illnesses
Unlike more exotic destinations, there is less in the way of illnesses you need to concern yourself with while in France.

Besides the flu, cold or Covid, food poisoning seems a common affliction tourists experience. Of course, this isn't specific to France. It happens everywhere, but in France, you have the excellent assistance of helpful pharmacists. Look for a building with a green lit-up cross to find your nearest la pharmacie. When it is your turn, explain to the pharmacist your issue and any concerns you may have. They will then recommend a remedy and explain the proper dosage and frequency in which you take it. Many French pharmacies even have natural remedies, but you must consult a pharmacist first. That said, trust your instincts. If you think you need medical care, seek it immediately.

If you plan to visit the French countryside, it is essential to know that ticks abound, and bites resulting in Lyme Disease are increasing yearly. To avoid being bitten by ticks, it's best to wear long, light-colored clothing and tuck your pant legs into your socks. This will make it easy to spot ticks should they decide to crawl or jump on you. If you have long hair, tie it up as high as possible so that they don't hide in your hair and come out to bite you later. Another crucial step is to use a strong insect repellent with DEET. If you get bitten by a tick, use tweezers to remove it and visit a doctor immediately, especially if red rings appear around the bite location. The sooner you seek medical help, the better.

The great news is that whatever illness you may come down with, France has one of the world's leading medical systems, so you can trust that you will receive excellent care.
Accidents
The most typical injuries tourists experience in France are due to simple things like tripping and falling. Adventure activities and sports can lead to open wounds, sprained ankles or wrists, and broken bones. To prevent yourself from becoming one of the many automobile-related casualties, study up on French road rules before renting a car. Regardless of what may happen, you can rest easy knowing that the French medical system is one of the best in the world.
Muggings
Muggings and pickpocketing are pretty common in France, especially in the cities. So your first line of protection is not to stand out as a tourist since they are the primary targets of such crimes. Blending in will go a long way in helping you. To do so, consider dressing like the French: wearing classic clothes of neutral colors (or black) and free of patterns. Avoid bright clothes, fanny packs, backpacks, cheap flip-flops, and running shoes. And whatever you do, don't speak loudly or make it obvious that you speak English.

As with anywhere, trust your instincts and use common sense. Don't walk alone in desolate and unlit areas at night or in the empty metro, bus or train stations. You can also minimize your risk of mugging by using only ATMs inside banks.

Steer clear of neighborhoods not recommended by your hotel concierge and travel guide or that seem "sketchy." And never carry large amounts of cash or valuables with you. Remember, if something in your surrounding environment doesn't feel right, it probably isn't, so remove yourself immediately and seek help if necessary.
Emergency resources for France
Phone numbers
In an emergency, dial 112 to reach the police, ambulance or fire services. 112 is known as the European Emergency Assistance Number (EEAN) and will always connect you with emergency services specific to your location.
US embassy or consulate details
The US has an embassy in Paris, along with consulates in Lyon, Bordeaux, and Rennes, and consulate generals in Marseille and Strasbourg. You can find addresses, phone numbers, and details of citizen services on the website.
For those who like to take extra precautions, you can register your travel plans with the consulate or embassy closest to your destination in France by applying for the Department of State's Smart Traveler Enrollment Program. After listing your trip itinerary, you will receive health and security advisories that may affect your vacation. It also allows the US Embassy or Consulate to liaise with you or your family in the event of an emergency.
Additional information to help travelers have a better experience in France:
Communication
For many travelers, staying connected is extremely important, even when on vacation. WiFi is available in most places but not necessarily free. The good news for US travelers is that McDonald's locations throughout France have free WiFi. (The French call it McDo, pronounced with a long 'o' as in dough.) Plenty of public spaces in Paris offer free WiFi too.

WiFi in hotels varies. Some will offer it free in their lobbies or lounges, but not in guest rooms. That said, in-room WiFi may be available for an hourly or daily rate. If this is important to you, I recommend contacting any hotel you consider booking to clarify this beforehand.

Nevertheless, messaging and calling apps that you can use via WiFi are probably the cheapest options for communicating with loved ones back home.

If you need to be easily reached anytime or night, you can inquire about getting an international roaming plan for France with your wireless carrier in the States. Or, if you have an unlocked GSM phone, you can purchase a French SIM card instead. Local carriers like Le French Mobile, Orange, Lycamobile, etc. offer pay-as-you-go options.
Currency
France, like many EU countries, uses the euro (€). Despite the fees, using your US debit card to withdraw cash from French ATMs will get you the best exchange rate. Before leaving home, alert the bank of your travel destination and dates, so they do not block your card.

While credit and debit cards are widely accepted in France, card processing machines require that you use both your chip and PIN. So be sure to learn yours before you leave home.

ATMs are ubiquitous throughout French cities but a bit scarcer in more rural areas. Yet, you will most likely need cash in these areas, especially for small shops, cafés and farmer's markets. Therefore, always have cash on hand throughout your trip, as it will also come in handy for tipping, taking public transportation and paying for taxis.
Getting Around
How you choose to get around France will depend on your travel style and budget. For those heading off for a city break in Paris or other urban centers, it's worth mentioning that they are usually quite walkable and offer affordable public transportation. However, be aware that taxis are pricey and not always an efficient alternative.
Visitors looking to explore beyond the city limits of Paris inevitably rent a car as it gives them the freedom to visit charming, small villages along the way. Should this be your preference, you will be greatly relieved that the French drive on the right side of the road as they do in the US. Renting a car is relatively straightforward in France, but remember that you will need a valid US driver's license and your international driver's permit, which you can get the same day from your nearest AAA office
That said, I recommend reading up on the current driving rules before leaving the US, as they can differ significantly from those in the US. It is also worth consulting ViaMichelin to plan your routes and determine how much you'll pay in toll fees. To find rest stops and service stations or to view traffic alerts, check out Bison Futé or Sociétés d'Autoroutes. Click the British flag in the top right corner of each site to have it translated into English.
Another way to travel around France is to use both rental cars and trains. This allows you to rent a car as you need it, instead of the entirety of your stay in France. France is well-linked by rail, with trains connecting Paris with most other major domestic cities. Book your tickets via SNCF. Depending upon the time of day and year, trains may be far more efficient, even more so than planes. Most major train stations in France have rental car agencies, so you can pick up a car right after disembarking from a train.
Air France offers the most domestic flights of any air carrier for those who prefer to fly between French cities. Other airlines that may feature lower ticket prices include Air Corsica, Chalair Aviation, Twin Jet, and easyJet.
Lastly, if you love cycling, consider joining a cycling tour of your favorite region of France. It will give you the chance to experience the countryside, exquisite cuisine and the French way of life.
Language
Having some useful words and phrases under your belt will go a long way during your time in France. Here are the essentials to help you get by:
bonjour – good morning or good day
bonsoir – good evening
bonne nuit – good night
au revoir – goodbye
s'il vous plait – please (also appears on signs as SVP)
merci – thank you
merci beaucoup – thank you very much
bienvenue – welcome!
Comment ça va? – How are you?
Ça va bien – I'm good/well
Ça va mal – I'm not doing well
À bientôt – See you soon
garçon – waiter/server (male)
L'addition, s'il vous plaît – The check/bill, please
ticket – un billet
subway – le métro
train station – gare
bus – bus
aéroport – airport
Où est…? – Where is…?
pardon – excuse me (if you bump into someone or need to get by)
excusez moi – excuse me (to call on someone when you need their help)
I recommend using an online tutorial to practice your pronunciation, as French is rarely phonetic.
Local Customs
The cultural differences between France and the US are vast, so don't expect everyone and everything to operate as they do in the States. The French take their time in many areas of life, so don't be in a rush. Do not always expect to be right as the customer. This is not a perspective the French share.

One of the most common social missteps foreigners make in France is to enter a shop, café, restaurant or bakery without greeting the shopkeeper. This is immensely rude in French culture. A friendly "Bonjour, Madame!" or "Bonsoir, Monsieur!" will go a long way. You can expect curt responses and minimal service without a proper greeting.

Dress well. French people take pride in their appearance, even when they wear casual clothes. For the most part, you will not see French people in velour pants, sweatpants, gym clothes, t-shirts, extra-short shorts or flip-flops. Aside from McDonald's (McDo, as it's called in France) or other fast food establishments, you may be ignored or turned away for attempting to dine in a restaurant wearing any of the attire mentioned above. If you want to blend in a bit more, opt for black, gray or more neutral, solid-colored clothing.

Most other faux pas tourists commit are around the table. The French take food and eating seriously, so much so that you'll rarely find them eating on the go. Instead, the French expect you to make time for your meals and to eat at a table.

Proper etiquette when at a table is essential. Upon being seated, immediately place your napkin on your lap. Unlike in the US, French people eat with their wrists or forearms resting against the table and use both fork and knife throughout the meal. Always keep your elbows off the table.

In French restaurants, do not ask to split a meal, substitute ingredients or alter your meal, have extra ice added to your drink, have free refills on sodas or coffee, or take your leftovers to go. Also, do not expect your servers to lavish you with attention. They are not working for tips and will do their job as they see fit. Ask for your check when ready to leave since French servers will not rush you out.

If a French person invites you to their home, remember that bread is not cut in France. It is broken and eaten with your meal, never as an appetizer. They only use butter in baking and cooking, so don't request butter for your bread. The exception is breakfast, when they may butter their toast or a pastry. The French hold their soup spoon sideways and spoon the soup towards them, sipping from the side of the spoon. Salads tend to be eaten with only a fork, folding the lettuce or greens as opposed to cutting them.

When visiting a French home, always bring a small gift such as chocolate or flowers. Avoid wine, if possible, as most French people purchase wines that pair well with the meal they are preparing. Coming from the US, there are some other social norms you may not be used to, such as not getting a tour of your host's home or apartment, not seating yourself at the table (usually planned seating arrangements) and not eating until your host says "Bon appetit!". Lastly, never discuss politics, religion or other controversial issues at the table.
Tipping
Tipping in France is standard, but you'll usually see it added to your bill as a 15% service charge (service compris). Always double-check, though. Despite the inclusion of a service charge on the bill, most people in France leave a little extra for their server. For example, if you sat down for coffee, rounding the total up to the next euro or leaving at least 50 cents is acceptable. In other circumstances, consider leaving a few extra euros, depending upon the quality of the service and the size of your bill.

At your hotel, expect to leave your housekeeper €1-€2 per night. Bellhops/porters usually get €2-€3 for each bag they deliver to your room. And for your concierge, consider tipping them anywhere from €5-€20 if they help you make reservations or book you onto a tour or other activities.

Other people whom you can expect to tip during your trip to France are taxi drivers (10%), tour guides (€2-€5/day/person in your group), tour drivers (€2/day/person), ushers and museum docents (€2) and spa and salon technicians (10-20%). Like in the US, the amount you tip should reflect the level and quality of the service you received.
What to pack for France
Apart from Travel Insurance, we recommend you bring the following items for maximum health, safety and enjoyment of your trip to France.
A final note about travel insurance for France
I have spent dozens of hours researching travel insurance, including getting quotes and comparing coverage from all the most popular brands. Regardless of where you're going I am confident that you will also find that WithFaye.com offers the best way to compare policies with the ideal combo of coverage and price.
I wish you and yours an incredible journey.
SwiftScore Ranking Methodology
Average price for a 2-week vacation based on a 35-year-old California resident traveling to the France with a $3,500 trip cost
Coronavirus coverage
Cancel for any reason (CFAR)
AM Best rating of the underwriter
Key policy details including cancellation, interruption, emergency medical evacuation, and baggage & personal effects
Ease of sign up
Policy language clarity
User reviews