How does The Swiftest work?
EXPLORE
Only got a few minutes? We swiftly help you navigate through countless policies. We take the confusion out of purchasing insurance with unbiased and clear explanations. We let you know which providers create the happiest customers – making it easy as pie to find the one that's right for you.
COMPARE
Our comparison tables provide you with multiple options from top providers at the most affordable prices on the market. Our SwiftScore™ system makes it effortless for you to find the insurance company that will best fit you and your family's needs.
APPLY
Once you find the right company, you can easily apply for your insurance policy via our partners website. We work hard to make sure our reviews are the most reliable and unbiased information on the Internet. If you have any questions or concerns, simply contact us, we're happy to help!
We do the research so you don't have to
Informed answers
We use a proprietary algorithm called SwiftScore™ to methodically rank policies and providers in each insurance industry. We carefully sift through the pros and cons of each policy so you have immediate and highly informed answers.
Reliable quotes
We not only find the cheapest quotes, but we also provide you with much needed information on why each insurance policy is unique… And most importantly, which one will provide you with the best coverage and the best customer support in any given circumstance.
Crafted with love
We are a family-owned company who knows first hand how challenging finding insurance can be. We are passionate about honestly giving you the best options at the most affordable prices so that you and your loved ones feel taken care of.
The importance of pet insurance
"Today, I would have decided to get pet insurance right after my Corgi's bout with Exocrine Pancreatic Insufficiency (EPI). Because it wasn't the EPI or even the Degenerative Myelopathy (DM) that killed Bosun. At age 11, just before he was to be fitted for a two-wheeled cart for his DM, he had a massive seizure we thought was caused by poisoning. X-rays showed the actual cause was an almond-sized tumor that was fast growing and not treatable except by expensive surgery. Even with a 20% chance of the tumor returning, we didn't think twice about opting for the surgery. It ended up costing a bit more than $15,000 and wiped out our life's savings.
~ Forrest Rambo (yes, that is his real name)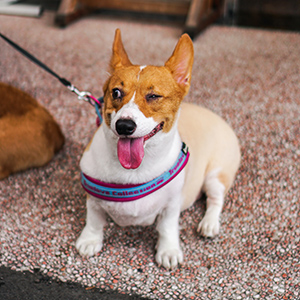 Have a question? Speak to one of our friendly humans 🙂