25
Baby Essential Items

for 2023: Must-Have Shopping Kit List

Updated on by Matthew H. Nash – Licensed Insurance Agent

Congratulations on your new baby! As a fellow parent now with multiple kids, I know exactly how you're feeling. To help you along, I've created this essential list of all the must-have items in addition to some top health and safety tips to ensure that your little ones arrival is seamless. Read more about our affiliate disclosure.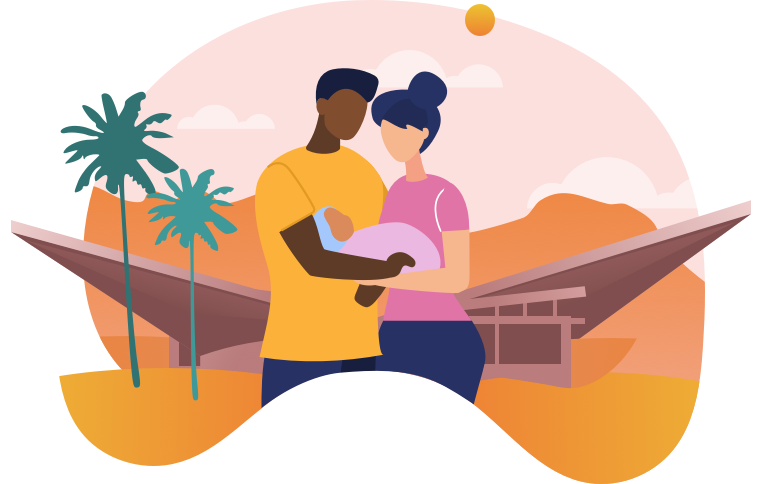 Newborn Baby Checklist Items – 25 Essentials
Please note: Everything on our list is important to consider for when your baby arrives. However, as mentioned above, life insurance is an essential item that unfortunately often gets overlooked since the application process used to be daunting. The good news is, with Ladder Life Insurance you can apply 100% online and get coverage without a medical exam for as little as $10/ month. It takes 30 seconds to get a quote and only takes 5 minutes to complete the application from start to finish.
Other New Born Baby Checklist Items to Consider
8 New Baby Frequently Asked Questions
1. What should I do on the first day at home with a newborn?
The first day at home with a newborn can be overwhelming. Use this time to bond as a family. Start a routine of feedings, diaper changes, nap and bedtimes. This will help get everyone adjusted to having a baby around. You'll be using this first day to get used to all these new things. Your little one will eat, sleep, and need a lot of diaper changes, so make sure you have everything ready in advance.
2. When do you start tummy time?
You can start tummy time as early as the first day you bring your baby home, according to the American Academy of Pediatrics. You'll need to start slow, with only about 3-5 minute intervals 2-3 times a day. As your little one gets stronger, you can increase the length of time.
3. When is the best time to bathe a newborn?
There's no particular time that you should bathe your baby, other than to avoid when your little one is hungry or right after they've eaten. Baths often relax babies, so right before a nap or bedtime is usually a great time to do it if this is the case for your child.
4. I'm young and healthy, is life insurance really necessary?
Yes, for a couple of reasons.
Firstly, the younger and healthier you are, the lower the rate you will be able to lock in for the term of the policy. For example, with Ladder Life Insurance, the price for a healthy 35-year-old Californian male who is 5'9″ and weighs 175 lbs for a 20-year term with a $250,000 death benefit costs only $15.84/ month.
Secondly, you never know when the unexpected may happen. You don't want your newborn baby or your spouse to fend for themselves without any financial security.
5. How often should a newborn poop?
This varies, but you don't need to be concerned as long as you're seeing at least one bowel movement a day. Keep in mind that breastfed and formula-fed babies will differ. Breastfed babies will poop a lot more, and you can expect to see between 3-12 a day, while formula-fed babies might only poop between 1-4 times a day.
6. How do you stop baby hiccups?
While there's no full-proof method to stopping hiccups, burping your baby usually helps. Often, babies get hiccups if they're feeding too fast, so burping and slowing their feeding will help. Propping them upright is also a good idea.
7. Can newborns drink water?
Newborns shouldn't drink water for the first six months. They get all the water they need either from their breastmilk or formula. Once they start eating solid foods, you can give them a little bit of water to drink.
8. Why do babies smile in their sleep?
Babies often smile in their sleep during the REM cycle of sleep. It's usually just a reflex reaction. During this stage of sleep, their bodies create involuntary movements, which often manifest as smiles.
A final note about life insurance
About a decade ago when I lived in Chicago I sold life insurance the old-fashioned way which involved meeting people in Starbucks and awkwardly swabbing their cheeks with a Q tip. I will never forget a couple that was set to purchase a policy, they had everything ready to go except their signatures. They figured they could put it off a few days. However, while they were procrastinating, the husband sadly had an aneurysm and died leaving his wife and three kids without any future support from the main breadwinner. Had he just signed the documents, his wife would have received $500,000 for only paying under $25 a month.
These days, swabbing cheeks is a thing of the past, and thanks to the Internet you can do everything online. I recommend Ladder Life Insurance which can get you coverage in as little as 5 minutes. Don't delay because tomorrow is never certain.