7 Best
Travel Insurance

Plans Compared for 2023

Updated on by Matthew H. Nash – Licensed Insurance Agent

Purchasing travel insurance can be intimidating. As a frequent international traveler and a nationally licensed insurance agent, I've experienced first-hand how unclear policy language can be when researching the best travel insurance company. In this article, I layout in plain English, how much it costs, what coverage you need and the differences between the top policies. The Swiftest is reader-supported. If you decide to purchase travel insurance via links on this page, we may earn an affiliate commission. Read more about our unbiased ranking methodology and advertiser disclosure.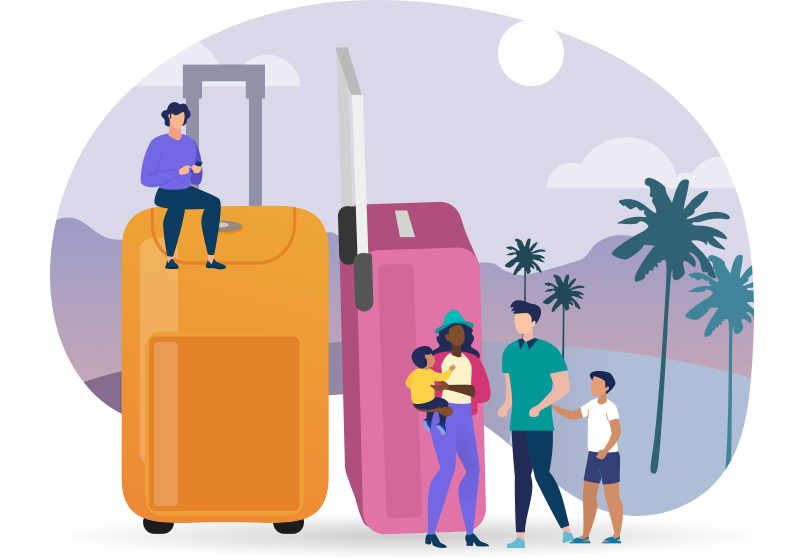 Top Travel Insurance Scored, Ranked & With Cost
Use our below table to quickly compare the best travel insurance providers in the United States. The average prices shown are based on a 2-week vacation for a 35-year-old California resident traveling to Mexico with a $3,500 trip cost. Costs are based on the lowest starting price from each provider and may vary depending on age, location, coverage amount, and trip duration. Prices are accurate as of January 2023 and are subject to change. For the most up-to-date information, please visit the provider website.
4.8
SwiftScore

Our SwiftScore is a unique and proprietary insurance ranking system objectively comparing key metrics which are most important to travelers. Learn more at the end of this page.
STARTING PRICE
FOR 2-WEEK TRIP
$160.92
CORONAVIRUS COVERAGE?
Yes
BEST
POLICY FOR
Fast Claims
Super fast claims via their 100% digital platform with a helpful mobile app
Faye makes it easy to add-on coverage for vacation rentals, adventure/extreme sports, pet emergencies, and "cancel for any reason" at competitive prices
Underwritten by Crum & Forster, Faye is known for its exceptional customer support, with 4.8/5 stars on Trustpilot
4.9
SwiftScore

Our SwiftScore is a unique and proprietary insurance ranking system objectively comparing key metrics which are most important to travelers. Learn more at the end of this page.
STARTING PRICE
FOR 2-WEEK TRIP
$76.71
CORONAVIRUS COVERAGE?
Yes
BEST
WEBSITE FOR
Comparing Policies
This comparison website has the most comprehensive filters especially for Covid-19 which helps you search for the specific benefits you need
They have "Zero Complaint Guarantee" which promises a fair claims process
Established in 2003, Squaremouth has consistently been recognized for it's exceptional customer service
Travel Insurance prices for an American traveling to the 15 most popular countries
The cost of travel insurance will be different depending on your age, your state, length of trip, coverage amount, trip cost and other covered add-ons such as pre-existing condition and "cancel for any reason". The prices will also vary slightly based on where you're going. To give you a snapshot, we've collected the costs for the top 15 most popular international travel destinations.
All prices shown below are for a 35-year-old California resident who is going on 2-week vacation with a $2,500 total trip cost from TravelInsurance.com. Please note: these prices should only be treated as a rough guide as of January 2023 and are subject to change. If you're looking for the most up-to-date pricing for travel insurance, we suggest getting a quote directly with TravelInsurance.com to compare and buy the ideal policy.
Mexico – $62.52
Canada – $62.52
United Kingdom – $65.81
Italy – $66
France – $63.62
Dominican Republic – $63.43
Iceland – $63.62
Spain – $66.00
Germany – $66.62
Japan – $66.00
China – $66.00
Australia – $66.00
India – $66.00
Greece – $66.00
Singapore – $66.00
Not finding your specific destination? TravelInsurance.com is our #1 recommendation and they'll be able to give you a quick quote for your exact needs.
Travel Insurance FAQs
What is travel insurance?
Travel insurance typically provides financial protection for losses including but limited to trip cancellation, interruption or delay, lost or stolen property, baggage delays , emergency medical evacuation, repatriation of remains or accidental death and dismemberment. Certain policies cover very specific things such as adventure sports or offer benefits like coverage for pre-existing conditions or even protection for your traveling pets.
Why is it useful?
Are you sailing in the Mediterranean? Chilling on a beach in Costa Rica? Or maybe you're on business in Sydney? Regardless of the type of trip, you can find a multitude of options perfect for you and your family typically at a very affordable price. A former colleague of mine used to say, "If you can't afford travel insurance, you can't afford to travel" meaning, for a minuscule fraction of your total trip cost, you can protect yourself and your investment.
What information do I need to provide to purchase a policy?
Purchasing travel insurance is one of the easiest types of insurance to buy and requires the least amount of information from you when compared to things like health, life, auto or home insurance.
For each traveler, you will need to know the following information:
Name
Date of Birth
Trip Cost (per person)
Their home address
An email address
A phone number
Primary destination/s
Trip deposit date
What Does Travel Insurance Cover?
Travel insurance generally covers non-refundable expenses – depending on the policy, cancel for any reason, cancel for covered reasons, refund for hotel, air and other activities can all be covered. Below is a description in more detail of what each item covers on a standard policy.
Trip Cancellation and Interruption
Coverage: up to a predetermined limit for prepaid, non-refundable expenses. This would include trip expenses like hotel rooms, transportation, and deposits. These losses are covered in the event that the traveler needs to cancel their travels for a valid reason. While shopping for a travel insurance policy, one of the top factors in premium totals is dependent on your trip cost. Most companies weigh the trip cost as a major factor because it determines the overall risk for the companies should you make a claim.
Baggage and Personal Effects
Coverage: lost luggage, carry on bags, cameras, computers etc. are all considered baggage and personal effects according to most insurance companies. If you happen to lose your luggage traveling or are subject to delays in getting your bags, this benefit will provide you with a daily stipend and money for the lost bags or other possessions. Travelers can use this money to replace items immediately while adventuring whether locally or abroad and leisure or business.
Accidents and Illnesses Expenses
Coverage: sudden illness that onsets while traveling or an accident. In Thailand, and your eardrum bursts? Mountain biking in Mexico and you break both your wrists? Or maybe you're visiting Estonia and your appendix needs removing? Accidents and Illness provide the portion of the policy that will cover these types of incidents. Most policies work as a supplement to your primary insurance plan; however, some offer health as well. Be sure you are purchasing the right policy for your needs or, just like any other part of travel insurance, you may find you aren't covered. It is always advised you carefully read your policy fine print and coverages before traveling.
Emergency Medical Evacuation
Coverage: transportation to a hospital in case of an emergency, some include helicopter or airplane transportation. Depending on the policy, some providers will transport you from overseas to your home country or even a preferred hospital. Many overlook an underrated portion of the policy, as emergency medical transportation can cost hundreds of thousands of dollars in out of pocket without a robust travel insurance policy. Reparation of remains is usually included in this portion of the policy as well and provides transport of your remains back to your home should you die while traveling.
Is It Really Worth It To Get Travel Insurance?
Since travel insurance policies offer such a wide range of coverage and protection we strongly believe it's worth the small price even for the most budget-minded traveler. In short, travel insurance covers all kinds of sudden and catastrophic loss, just like other types of insurance. It will protect you from a significant expense you're unlikely to otherwise afford or would prefer not to pay. Depending on the duration and remoteness, the level of hospital care in the countries visited, travel insurance can become more of a necessity to mitigate any risk both for health, cost of your trip, and honestly, could save your life.
The story most often told to me is that of a student in Thailand who got into a motorbike accident; he didn't have travel insurance and his family couldn't afford the hundreds of thousands of dollars it would cost to transport him back to the USA for care. Had the student invested a fraction of his trip cost on insurance for only a couple of hundred dollars or less, he would have been covered and flown home. These type of heartbreaking stories are all too common and also sadly avoidable.
SwiftScore Ranking Methodology
We ranked more than 11 of the best travel insurance policies based on a variety of important factors including the following:
Average price for a 2-week vacation based on a 35-year-old California resident traveling to Mexico with a $3,500 trip cost
Coronavirus coverage
Cancel for any reason (CFAR)
AM Best rating of the underwriter
Key policy details including cancellation, interruption, emergency medical evacuation, and baggage & personal effects
Ease of sign up
Policy language clarity
User reviews