Published on by Matthew H. Nash
Owning a dog comes with many rewards and challenges. Deciding which city is ideal for you and your pup can be tricky since it depends on so many factors. We've created the comprehensive Dog-Friendly Cities Index to help you determine which US city is best for owning a happy and healthy canine.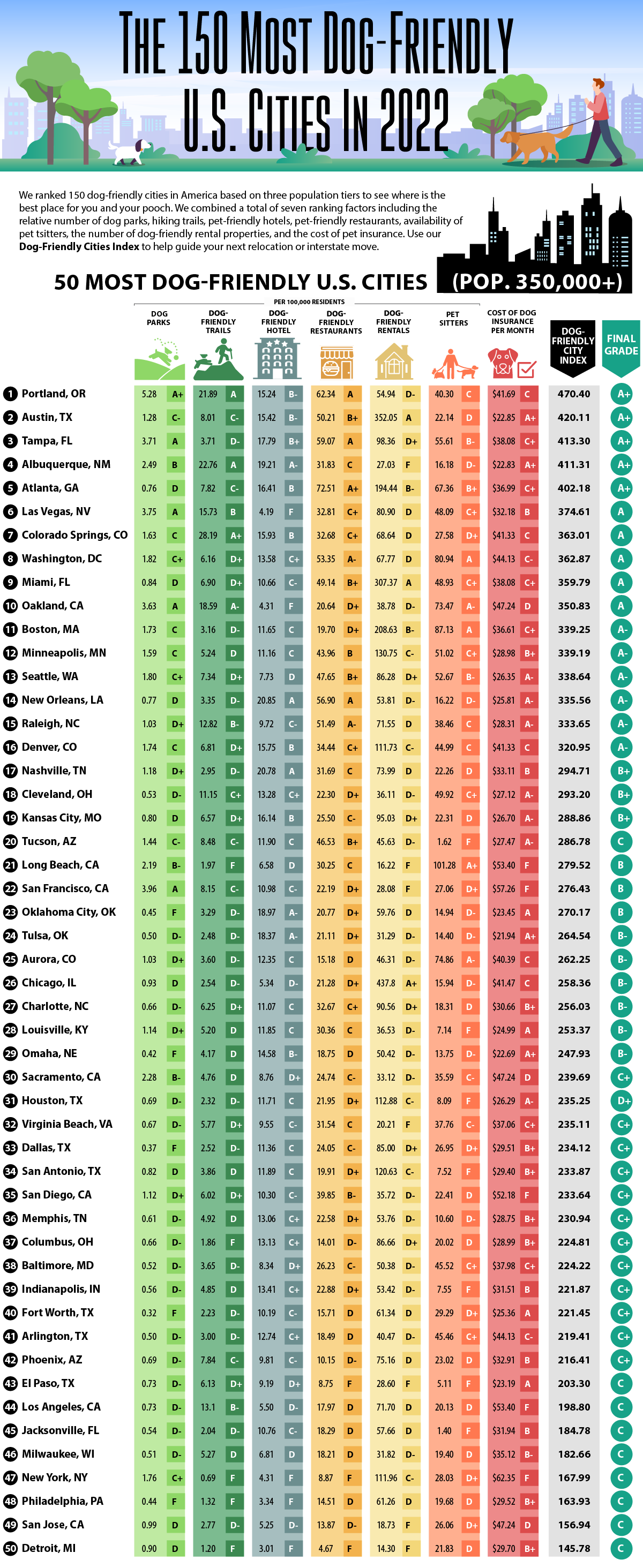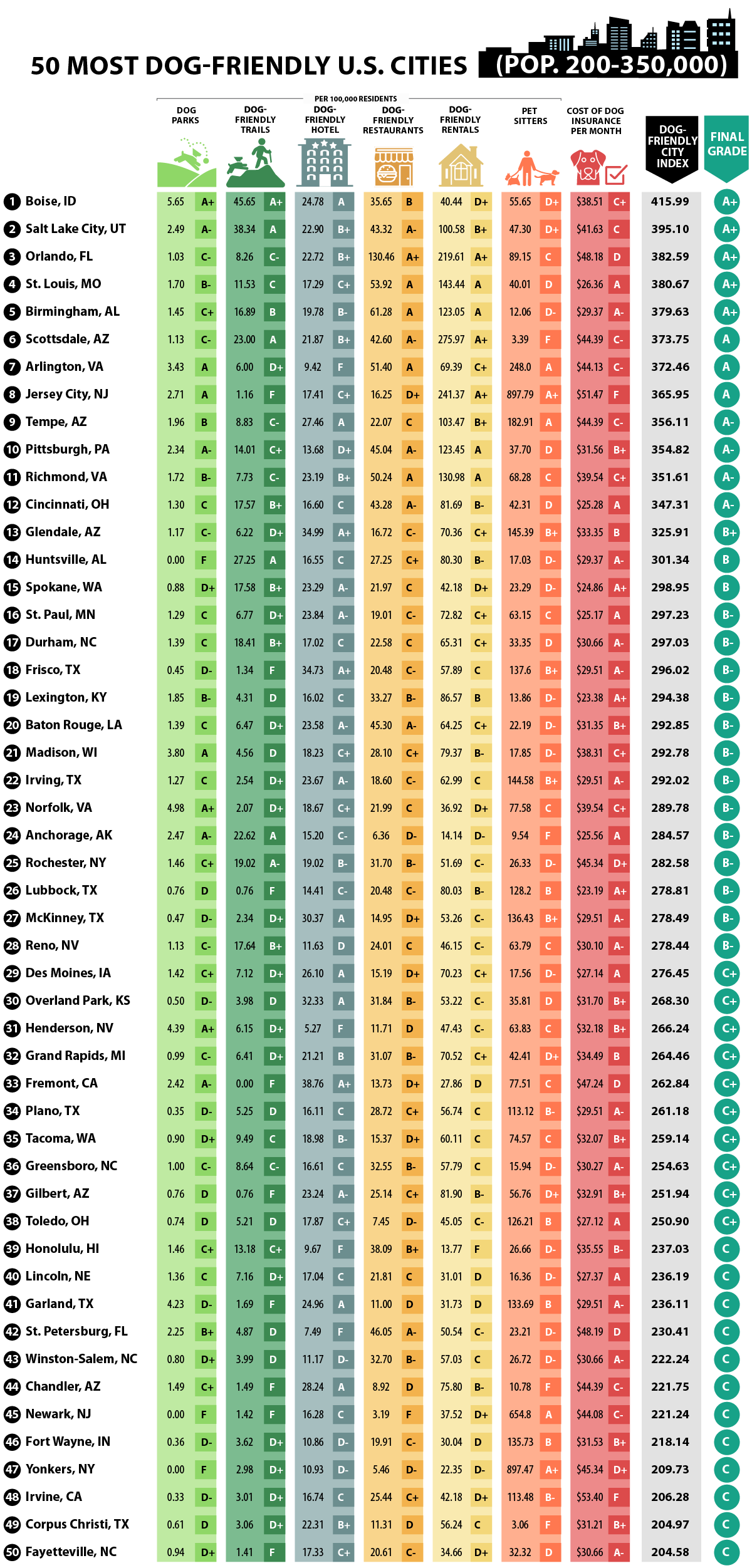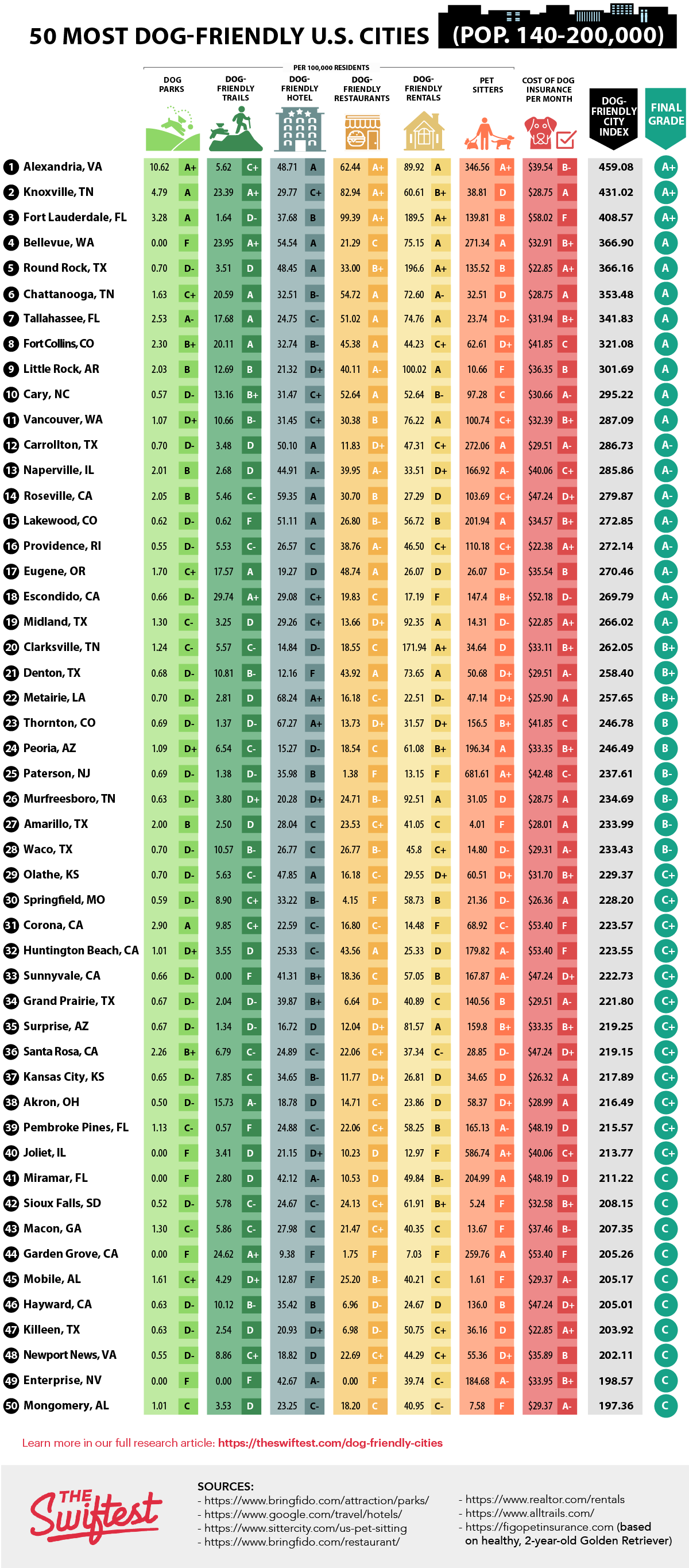 Get notified when we publish new research studies
Stay in the loop with our cutting-edge data analyses
Methodology
A lot goes into being a good dog owner. Making sure your puppy is well-exercised, safe, socialized, and adequately taken care of can make a huge difference in the quality of life for you and your pet.
To conduct this study, we first determined the cities to be included based on the availability of data for the top 50 cities in all three size brackets:
Large

(population 350,000+)

Medium (population 200,000-350,000)
Small (population 140,000-200,000)
It's important to capture a range of city sizes because ranking a smaller city (like Waco, TX) to a bigger city (for example, Chicago, IL) is like comparing apples to oranges. Each tier of city size will have vastly different access to amenities, exercise options, and costs (discussed below).
Ranking Factors
We ranked the 150 most dog-friendly cities in the US combining the following 7 factors:
Dog Parks (0 to 100 points): We obtained the dog park data from the Trust for Public Land website. We used their ParkServe search feature to get data from the 150 cities we reviewed and arrived at their index score by calculating the number of dog parks per capita.
Source: ParkServe
Dog-Friendly Trails (0 to 100 points): Trails information was found from the hiking and trails website AllTrails. We specifically searched for the city and put the filter for "dog-friendly trails" to get the data for this metric.
Source: AllTrails
Dog-Friendly Hotels (0 to 100 points): We used Google Travel to find available dog-friendly hotels within each city and calculated the score per the city's population size.
Source: Google Travel
Dog-Friendly Restaurants (0 to 100 points): The BringFido.com directory helped us find dog-friendly restaurants within each city and then we calculated them per capita.
Source: BringFido.com
Dog-Friendly Rentals (0 to 100 points): We obtained rental data using Realtor.com to find the most current information regarding homes and apartments available to rent that allow dogs within each city. We calculated the data per capita (100,000 residents).
Source: Realtor.com
Pet Sitters (0 to 100 points): We used the Sittercity directory to determine the number of dog sitters per capita available within each city.
Source: Sittercity
Cost of Dog Insurance (0 to 100 points): We collected the dog insurance rates data by searching the website, Figo. We standardized the data by creating a composite pup with a consistent insurance rate (male, two years old, 90% reimbursement, $500 deductible with $5,000 in benefits).
Source: Figo
The Best U.S. Cities for Dogs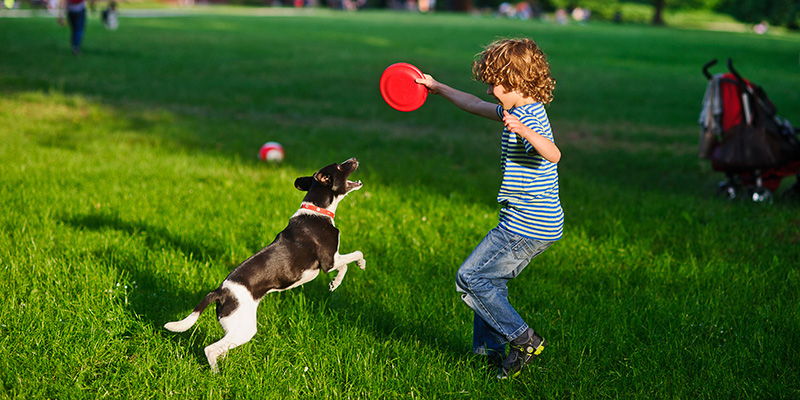 Based on our study, the top 10 cities (in each size bracket) for dog ownership are:
Large (pop. 350,000+)
Portland, Oregon (470.40)
Austin, Texas (420.11)
Tampa, Florida (413.30)
Albuquerque, New Mexico (411.31)
Atlanta, Georgia (402.18)
Las Vegas, Nevada (374.61)
Colorado Springs, Colorado (363.01)
Washington, D.C. (362.87)
Miami, Florida (359.79)
Oakland, California (350.83)
Medium (pop. 200,000-350,000)
Boise, Idaho (415.99)
Salt Lake City, Utah (395.10)
Orlando, Florida (382.59)
St. Louis, Missouri (380.67)
Birmingham, Alabama (379.63)
Scottsdale, Arizona (373.75)
Arlington, Virginia (372.46)
Jersey City, New Jersey (365.95)
Tempe, Arizona (356.11)
Pittsburgh, Pennsylvania (354.82)
Small (pop. 140,000-200,000)
Alexandria, Virginia (459.08)
Knoxville, Tennessee (431.02)
Fort Lauderdale, Florida (408.57)
Bellevue, Washington (366.90)
Round Rock, Texas (366.16)
Chattanooga, Tennessee (353.48)
Tallahassee, Florida (341.83)
Fort Collins, Colorado (321.08)
Little Rock, Arkansas (301.69)
Cary, North Carolina (295.22)
The #1 City For Dogs In Each State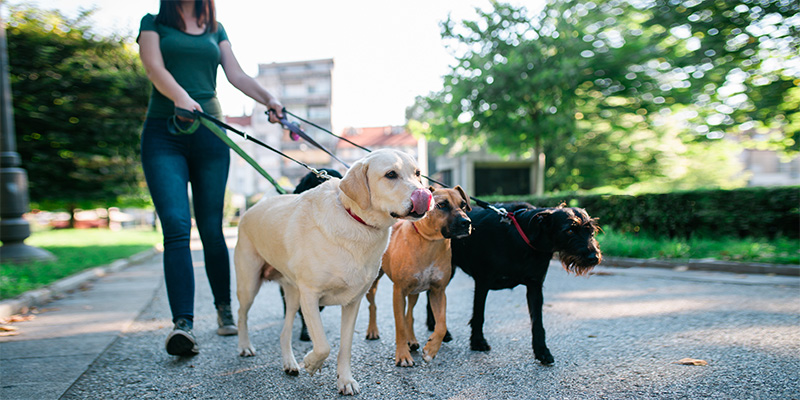 These cities are the best in each state for owning a dog. They demonstrated an exceptional commitment to allowing dogs access to public lands, ease of renting apartments and hotels for dog owners, cost of insurance, and more. Keeping your dog healthy requires regular exercise, consistent vet visits, the right kind of puppy essentials, and a safe home for your pup to thrive.
Alabama – Birmingham
Alaska – Anchorage
Arizona – Scottsdale
Arkansas – Little Rock
California – Oakland
Colorado – Colorado Springs
District of Columbia – Washington
Florida – Tampa
Georgia – Atlanta
Hawaii – Honolulu
Idaho – Boise
Illinois – Naperville
Indiana – Indianapolis
Iowa – Des Moines
Kansas – Overland Park
Kentucky – Lexington
Louisiana – New Orleans
Maryland – Baltimore
Massachusetts – Boston
Michigan – Grand Rapids
Minnesota – Minneapolis
Mississippi – Jackson
Missouri – St. Louis
Nebraska – Omaha
Nevada – Las Vegas
New Jersey – Jersey City
New Mexico – Albuquerque
New York – Rochester
North Carolina – Raleigh
Ohio – Cincinnati
Oklahoma – Tulsa
Oregon – Portland
Pennsylvania – Pittsburgh
Rhode Island – Providence
South Dakota – Sioux Falls
Tennessee – Knoxville
Texas – Austin
Utah – Salt Lake City
Virginia – Alexandria
Washington – Seattle
Wisconsin – Madison
States with no cities that ranked in our study:
Connecticut
Delaware
Maine
Montana
New Hampshire
North Dakota
South Carolina
Vermont
West Virginia
Wyoming
Top Cities Per Category (All City Sizes)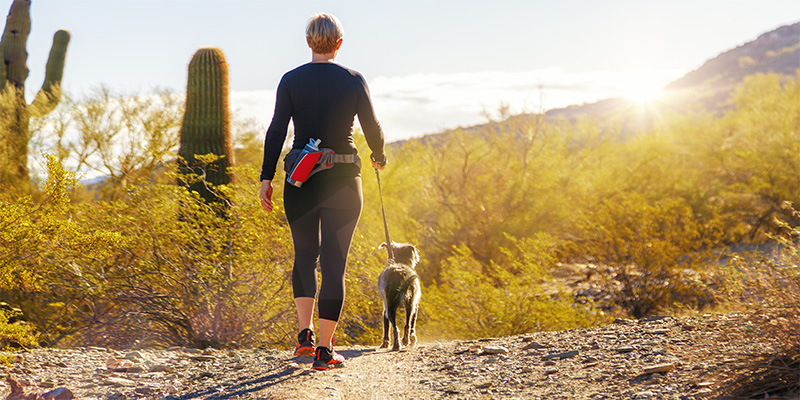 Top 10 Cities With The Most Dog Parks
Access to dog-friendly parks is one of the best ways for dogs to socialize and exercise, which is critical for their well-being. Alexandria, Virginia blew the competition out of the water with almost double the amount of dog parks per capita compared to the next best city, Boise, Idaho.
Number of dog parks per 100,000 residents:
Alexandria, VA (10.62)
Boise, ID (5.65)
Portland, OR (5.28)
Norfolk, VA (4.98)
Knoxville, TN (4.79)
Henderson, NV (4.39)
San Francisco, CA (3.96)
Madison, WI (3.80)
Las Vegas, NV (3.75)
Tampa, FL (3.71)
Top 10 Cities With The Most Dog-friendly Trails
Boise is leading the pack with the most dog-friendly trails per 100,000 residents. AllTrails lists 9,778 dog-friendly trails in the United States, with 105 trails in Boise alone. Access to safe, fun outdoor spaces is great for your dog's physical and mental health.
Number of dog-friendly trails per 100,000 residents:
Boise, ID (45.65)
Salt Lake City, UT (38.34)
Escondido, CA (29.74)
Colorado Springs, CO (28.19)
Huntsville, AL (27.25)
Garden Grove, CA (24.63)
Bellevue, WA (23.94)
Knoxville, TN (23.39)
Scottsdale, AZ (23.00)
Albuquerque, NM (22.76)
Top 10 Cities With The Most Pet-friendly Hotels
Pet-friendly hotels indicate an overall culture of dog accessibility within a community. Plus, it's great for tourists who plan to travel with their pets. Metairie, LA came in first with a total of 97 pet-friendly hotel options, which is quite high for a population of only 142,000.
Number of pet-friendly hotels per 100,000 residents:
Metairie, LA (68.24)
Thornton, CO (67.27)
Roseville, CA (59.35)
Bellevue, WA (54.53)
Lakewood, CO (51.11)
Carrollton, TX (50.10)
Alexandria, VA (48.71)
Round Rock, TX (48.45)
Olathe, KS (47.85)
Naperville, IL (44.92)
Top 10 Cities With The Most Pet-friendly Restaurants
Like pet-friendly hotels, restaurants that allow canines generally speak to a community of inclusion for companion animals and non-service pets. The ability for dogs to attend local spaces means less time left home alone as well as increased socialization and recreation. Orlando, Florida is an outlier with a whopping 379 pet-friendly restaurants.
Number of pet-friendly restaurants per 100,000 residents:
Orlando, FL (130.46)
Fort Lauderdale, FL (99.39)
Knoxville, TN (82.94)
Atlanta, GA (72.51)
Alexandria, VA (62.44)
Portland, OR (62.34)
Birmingham, AL (61.28)
Tampa, FL (59.07)
New Orleans, LA (56.90)
Chattanooga, TN (54.72)
Top 10 Cities With The Most Dog-friendly Rentals
The inability to find rental properties that allow pets can be a significant stressor for many dog owners or prospective dog owners. This is less of an issue in Chicago, however, as they have an impressive 437.80 dog-friendly apartment rentals per 100,000 residents. Residents of the windy city should have few problems finding a great apartment for their pets.
Number of dog-friendly rentals per 100,000 residents:
Chicago, IL (437.80)
Austin, TX (352.05)
Miami, FL (307.37)
Scottsdale, AZ (275.97)
Jersey City, NJ (241.37)
Orlando, FL (219.61)
Boston, MA (208.63)
Round Rock, TX (196.60)
Atlanta, GA (194.44)
Fort Lauderdale, FL (189.50)
Top 10 Cities With The Most Pet Sitters
It can be challenging to leave the city or state if you don't have a reliable pet sitter. Knowing there is a range of high-quality, professional and reliable pet sitting options eases the burden for pet owners. Jersey City, NJ and Yonkers, NY have the highest rates of pet sitters, likely because of the densely-packed tri-state area.
Number of pet sitters rentals per 100,000 residents:
Jersey City, NJ (897.79)
Yonkers, NY (897.47)
Paterson, NJ (681.61)
Newark, NJ (654.80)
Joliet, IL (586.74)
Alexandria, VA (346.56)
Carrollton, TX (272.06)
Bellevue, WA (271.34)
Garden Grove, CA (259.76)
Arlington, VA (248.00)
Top 10 Cities With The Lowest Cost Of Pet Insurance
Of the various costs associated with dog ownership, pet insurance can vary significantly depending on where you live. Knowing you will likely need to factor in this expense for the duration of your dog's life will help with budgeting, but it will also keep expenses reasonable if a major health concern or an emergency comes up. Tulsa, OK has the lowest rates of pet insurance on our list, but many Texas cities also made it to the top 10.
Tulsa, OK ($21.94/mo)
Providence, RI ($22.38/mo)
Omaha, NE ($22.69/mo)
Albuquerque, NM ($22.83/mo)
Round Rock, TX ($22.85/mo)
Killeen, TX ($22.85/mo)
Austin, TX ($22.85/mo)
Midland, TX ($22.85/mo)
Lubbock, TX ($23.19/mo)
El Paso, TX ($23.19/mo)
Why does the cost of pet insurance vary so much between U.S. cities?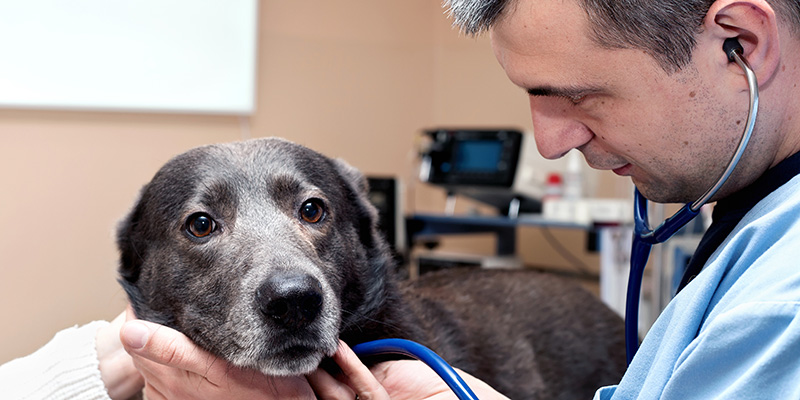 It makes sense that the cost of pet insurance would vary by breed and age. But why is there such a range of prices between American cities? A healthy, 2-year-old Golden Retriever insured in Albuquerque, New Mexico, would cost roughly $22.83/mo, while a similar dog in New York City would cost approximately $62.35/mo.
The primary reason for the cost of pet insurance differing between cities is due to varying veterinary expenses and the overall city's cost of living. As the cost of living goes up, so does the cost of renting or leasing the veterinary clinic building, employing the veterinary staff, the cost of supplies, and other related expenses. It is logical, but it dramatically increases the expense of owning a dog in many larger U.S. cities, and prospective owners will need to factor in the added costs over the pet's lifespan.
9 Tips for Having a Healthy Dog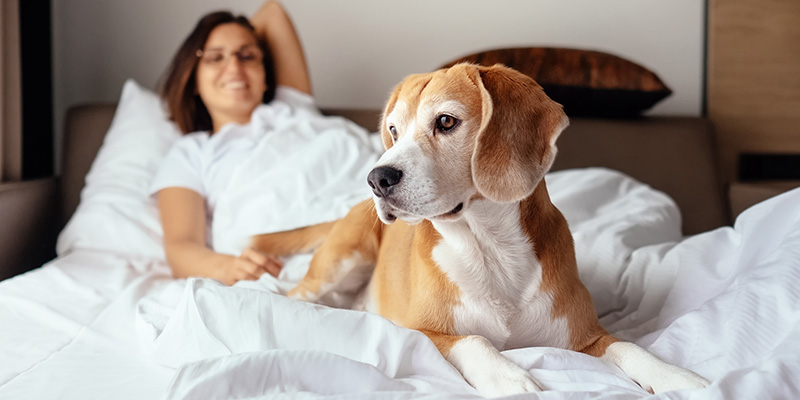 Schedule regular check-ups with a veterinarian.
Have the number of the nearest 24-hour emergency vet clinic saved on your phone.
Daily exercise will ensure your pet is mentally engaged and remains at a healthy weight.
Brushing your pup's teeth will help prevent tooth decay and other oral health problems.
Be sure you're feeding your dog the proper diet for their age, weight, size and medical needs.
Learn the signs of your dog getting too hot or too cold, and stay informed about how temperature can affect your dog in extreme temperatures.
Always make sure your pup has ample access to clean water to remain well hydrated and simultaneously with good hydration comes the need for regular urination.
Keep your dog's vitals, medical history, allergies, and any other important information scanned and backed up online for easy reference in case of an emergency.
Inform your family and friends of which foods can be dangerous or fatal to your dog.
Sources
---
See our research on the best dog insurance providers in each state
The Swiftest is a free insurance comparison service currently focused on pet, travel, and life insurance. We have spent months researching the best dog insurance policies in each U.S. state. You can learn more about your state by clicking on the links below.
Alabama | Alaska | Arizona | Arkansas | California | Colorado | Connecticut | Delaware | Florida | Georgia | Hawaii | Idaho | Illinois | Indiana | Iowa | Kansas | Kentucky | Louisiana | Maine | Maryland | Massachusetts | Michigan | Minnesota | Mississippi | Missouri | Montana | Nebraska | Nevada | New Hampshire | New Jersey | New Mexico | New York | North Carolina | North Dakota | Ohio | Oklahoma | Oregon | Pennsylvania | Rhode Island | South Carolina | South Dakota | Tennessee | Texas | Utah | Vermont | Virginia | Washington | West Virginia | Wisconsin | Wyoming