7 Best Connecticut (CT)
Dog Insurance

Plans Compared in 2023

Updated on by Matthew H. Nash – Licensed Insurance Agent

Being a licensed Connecticut insurance agent and lifelong dog owner, I know how overwhelming it can be to find the right plan for your beloved dog or puppy. Since my team and I understand the complexities of policy language, we decided to put together this guide to help you through the process. No matter if you live in New Haven, Fairfield, Stamford, Hartford, Bridgeport or beyond, this article has everything you need to know about the best Connecticut dog insurance plans. Our extensive, unbiased research of each Connecticut dog insurance provider, and how they compare against each other also influences the rankings. We do not feature every insurance product on the market, rather we only showcase the most trusted insurance providers. Listings on this page do not imply endorsement. Learn more on our Terms of Service page.

Thank you for visiting our site![/tooltip]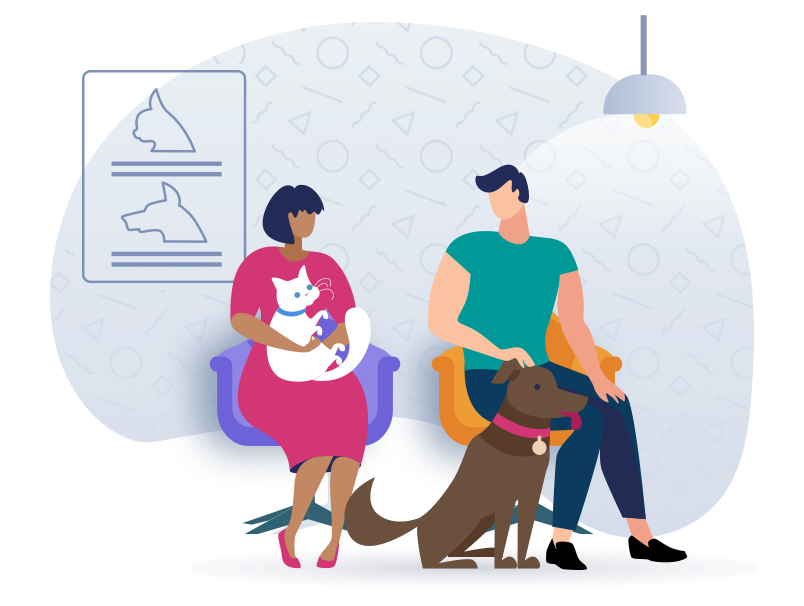 Top CT Dog Insurance Scored, Ranked & With Cost
Use our below table to quickly compare the best dog insurance providers in Connecticut. The average monthly Connecticut-specific prices shown are based on a healthy 2-year-old Labrador Retriever with a $500 deductible and 90% reimbursement amount who is located in Connecticut with a 06105 zip code. Costs may vary based on age, location, coverage amount, and depending on the breed of your puppy. Prices are accurate as of January 2023 and are subject to change. For the most up-to-date information, please visit the provider website.
4.4
SwiftScore

Our SwiftScore is a unique and proprietary insurance ranking system objectively comparing key metrics which are most important to Connecticut pet parents. Learn more at the end of this page.
STANDARD PLAN
COST IN CONNECTICUT
$74.09/mo
Pumpkin Pet Insurance plans have extensive coverage and they always have a 90% reimbursement rate
Pumpkin Pet Insurance plans have no breed or upper age restrictions, and dental illness and hereditary conditions are covered at no extra cost
Founded in 2020 and underwritten by United States Fire Insurance Company
---
How much does dog insurance cost in Connecticut for the 15 most popular breeds?
The price for Connecticut dog insurance varies depending on where you live. To give you an idea we've collected prices for three cities shown below. The prices will also vary based on the age, health, and breed of your puppy.
All prices shown below are based on a 90% reimbursement rate with a $500 deductible and a $5,000 annual benefit from Figo pet insurance. Please note: these prices should only be treated as a rough guide as of January 2023 and are subject to change. If you're looking for the most up-to-date cost of dog insurance in Connecticut we suggest getting a quote directly with Figo or Lemonade.
Mixed Breed

Hartford – $33.00/ mo
Greenich – $47.11/ mo
Stamford – $47.11/ mo

Labrador Retriever

Hartford – $44.93/ mo
Greenich – $64.16/ mo
Stamford – $64.16/ mo

Golden Retriever

Hartford – $44.84/ mo
Greenich – $64.03/ mo
Stamford – $64.03/ mo

German Shepherd

Hartford – $48.47/ mo
Greenich – $69.21/ mo
Stamford – $69.21/ mo

Goldendoodle

Hartford – $39.01/ mo
Greenich – $55.71/ mo
Stamford – $55.71/ mo

Chihuahua

Hartford – $20.53/ mo
Greenich – $29.31/ mo
Stamford – $29.31/ mo

Siberian Husky

Hartford – $45.06/ mo
Greenich – $64.33/ mo
Stamford – $64.33/ mo

Yorkshire Terrier

Hartford – $28.32/ mo
Greenich – $40.44/ mo
Stamford – $40.44/ mo

American Pit Bull Terrier

Hartford – $49.89/ mo
Greenich – $71.22/ mo
Stamford – $71.22/ mo

Australian Shepherd

Hartford – $31.02/ mo
Greenich – $44.29/ mo
Stamford – $44.29/ mo

Dachshund

Hartford – $29.27/ mo
Greenich – $41.78/ mo
Stamford – $41.78/ mo

Shih Tzu

Hartford – $26.07/ mo
Greenich – $37.22/ mo
Stamford – $37.22/ mo

French Bulldog

Hartford – $61.70/ mo
Greenich – $88.09/ mo
Stamford – $88.09/ mo

Boxer

Hartford – $61.94/ mo
Greenich – $88.45/ mo
Stamford – $88.45/ mo

Labradoodle

Hartford – $39.01/ mo
Greenich – $55.71/ mo
Stamford – $55.71/ mo
Not finding your specific dog breed? Lemonade pet insurance is our #1 recommendation for Connecticut and they'll be able to give you a quick quote for your exact needs.
Connecticut Dog Insurance FAQs
What is dog insurance, and why is it useful in Connecticut?
Dog insurance consists of health insurance plans for our pets with monthly costs to keep the policy active. If your furry friend falls ill or has an accident, you will most likely have to pay for vet treatment upfront before submitting a claim for reimbursement from your insurer. Many insurance companies refuse to cover or have higher costs for covering pets with pre-existing conditions. For this reason, we recommend getting dog insurance once your pet has reached 8 weeks of age.

Dog insurance can be very useful in Connecticut as the Constitution State has one of the higher average annual vet bills in the United States. Vet visits can cost upward of $1,500 per year in Connecticut, and therapies for specific diagnoses like cancer treatments can cost well over $10,000. Dog insurance helps cover vet bills that may otherwise be too costly and result in having to euthanize our pet.
How old does my dog need to be to get dog insurance?
While most dog insurance providers do not have an age limit for purchasing a policy, coverage is more affordable when your dog is younger with fewer health complications. Many insurers require your puppy to be at least 8-weeks-old before coverage is available. We recommend getting your dog insurance before their first birthday to lock in coverage at their healthiest.
How worth it is to get dog insurance in CT?
Dog insurance is a wonderful option for those of us unable or unwilling to have emergency funds dedicated solely to our pets. Even if we can save money for accidents and treatments for our dogs, we have no way of knowing how expensive these visits will be, and vet bills can quickly pile up. You'll need to decide if monthly insurance costs are worth the benefit of protection against high out-of-pocket vet costs down the line.
What is covered, and what's excluded in dog insurance plans?
Dog insurance coverage will vary based on the insurance provider and plan you choose. In general, most dog insurance plans cover "sudden and catastrophic" injuries and illnesses. These could include falls, wasp stings, or accidentally swallowed items. Dog insurance would typically not include treatments for diagnoses that your dog already had when first getting covered, such as cancer or leukemia. Many dog providers offer add-on "wellness" packages covering routine vet check-ups, heartworm prevention, and standard vaccine costs. These wellness packages can provide peace of mind and more accessible budgeting when it comes to our dog's health.
How does reimbursement for dog insurance work?
Most dog insurance policies will detail your deductible per visit or emergency, reimbursement percentage, and annual max benefit. Let's say your policy outlines a $200 deductible with an 80% reimbursement and a $15,000 max annual benefit. If something happens to your dog that requires a $10,000 vet surgery, your insurance company will reimburse you $8,000 minus your $200 deductible. You'll be out of pocket $2,200 instead of $10,000. Note that most dog insurance companies will require you to pay for any vet visits upfront, with reimbursement occurring after claims are filed. Trupanion is an exception to this rule, offering direct vet payments for vets who are in-network.
Is it better to have a high or low monthly deductible? What's the ideal cost?
In most cases, lower deductibles translate to higher monthly payments. Generally, you'd pay more to your dog insurance company each month but less when an accident occurs and your dog needs medical care. Most dog insurance companies provide easy-to-use calculators on their websites. Choosing a deductible amount works for your financial situation is best. We find that the majority of dog owners choose deductibles between $250 and $500.
Are there any restricted dog breeds for homeowners insurance in Connecticut?
While Connecticut law prohibits personal risk insurers from considering dog breeds when quoting policy rates, this is not true for homeowners insurance. Homeowners insurance in most states have restrictions on certain dog breeds and insurance providers. These may include:
Akitas
Boxers
Chow Chows
Doberman Pinschers
German Shepherds
Great Danes
Bull Mastiffs
Pit Bull Terriers
Rottweilers
Siberian Huskies
Wolf Hybrids
We recommend contacting your home insurance provider to clarify your dog breeds policy. If your home insurance provider does have stipulations concerning your dog's breed, you may need a specific liability rider.
5 Useful Strategies for Keeping Your Dog Safe & Healthy in Connecticut
1. Protecting Your Dog from Lyme Disease in Connecticut
Approximately 30,000 people are diagnosed with Lyme disease in Connecticut each year, and unfortunately, dogs are liable to catch the disease from ticks common in the American northeast.

To protect your dog from Lyme disease, avoid heavily wooded areas where ticks thrive and check your dog's body for the critters after walks. Your vet might also recommend a topical product for your dog that can protect them from fleas and ticks.

Finally, your dog might benefit from a Lyme vaccine depending on how at risk your furry friend is for the disease.
2. Connecticut Coyotes & Dog Safety
Unfortunately, coyotes are also prevalent in the Constitution State and present another threat for you and your dog. Coyotes are very territorial and are known to visit or even reside in residential backyards.

Indoor pets can also be frightened easily by local coyote howls. When walking your dog, be sure to keep your buddy on a leash near coyote areas, even if your pet is well-trained. If you and your pet spot a coyote while on a walk, it's time to calmly leave the area without running or turning away from the coyote.

Before disengaging, you want to avoid enticing the coyote into thinking that you and your pets are prey or anything else of interest.
3. Visiting Mystic Seaport With Your Dog
Connecticut has some of the best locations for doggie vacations and getaways. One of my favorites is Mystic Seaport, a coastal town with outdoor museum grounds, seafood to die for (with outdoor seating), and adorable shops to visit alongside friendly residential areas. Leashed pups are also allowed to ride in rowboats. Adorable!
4. Connecticut Winter and Dog Care
Connecticut weather ranges from 21℉ to 84℉ year-round and is known for piles of snow come wintertime. Many of us love a good cuddle in bed with our furry friend, but an insulated dog house is a must if your dog loves to sleep in an outdoor dog house.

Even if your pet stays inside most of the time, your dog may benefit from a warm winter jacket for chilly walks depending on their fur.
5. Dog Grooming Across Seasons
As much as your dog may need some extra warmth come winter, the Constitution State is also known as one of the ideal states to move to experience all four seasons. Ensuring that your dog is properly groomed for each season can make them happier and healthier.

Remember that springtime also brings pollen, and our pets are not immune to allergies to pollen or plants. Your vet should be able to assist you in coming up with a seasonal plan for your pup.
5 Unique Dog Rescue Shelters in Connecticut
If you're looking to welcome a new dog into the family, we recommend these five unique and professional animal shelters in Connecticut. Adopting a dog is one of the best ways to find your new furry friend.
---
---
---
---
---
Conclusion
Finding dog insurance in Connecticut that is the right fit for your puppy or dog can be easy with the proper steps. We recommend purchasing a dog insurance plan once your dog is at least 8 weeks old. Dogs will benefit from a health insurance plan even if they later acquire health conditions that make first-time enrollment difficult. If you've adopted an elderly dog, it may be harder to find an appropriate dog insurance plan but you can still get them covered. In the long run, dog insurance is worth protecting against catastrophic event costs. We found Lemonade pet insurance to perform consistently well as a dog insurance provider across our extensive research studies.
SwiftScore Ranking Methodology for Connecticut
We ranked the best pet insurance policies in Connecticut based on a variety of important factors including the following:
Average monthly price for a 2-year-old Labrador Retriever with a $500 deductible located in Connecticut with a 06105 zip code
Coverage and benefits
Key policy details including accidents and illnesses, surgeries, annual check-ups, cancer treatment, lab tests, and more
AM Best rating of the underwriter
Reimbursement percentage
Annual benefit amount
Technology and user experience

Ease of sign up

Policy language clarity
User reviews
Other state dog insurance resources
Alabama | Alaska | Arizona | Arkansas | California | Colorado | Connecticut | Delaware | Florida | Georgia | Hawaii | Idaho | Illinois | Indiana | Iowa | Kansas | Kentucky | Louisiana | Maine | Maryland | Massachusetts | Michigan | Minnesota | Mississippi | Missouri | Montana | Nebraska | Nevada | New Hampshire | New Jersey | New Mexico | New York | North Carolina | North Dakota | Ohio | Oklahoma | Oregon | Pennsylvania | Rhode Island | South Carolina | South Dakota | Tennessee | Texas | Utah | Vermont | Virginia | Washington | West Virginia | Wisconsin | Wyoming