7 Best Virginia (VA)
Dog Insurance

Plans Compared in 2022

Updated on , by Matthew H. Nash – Licensed Insurance Agent

As a lifelong dog owner and licensed Virginia insurance agent, I know sorting through dog insurance options is akin to finding your way through a maze. Not to worry, I have researched dog insurance in Virginia so you don't have to. Whether you live in Norfolk, Chesapeake, Arlington, Virginia Beach, Richmond, Roanoke, Lancaster, or anywhere in between, this article is here to help. Read more about our unbiased ranking methodology and advertiser disclosure.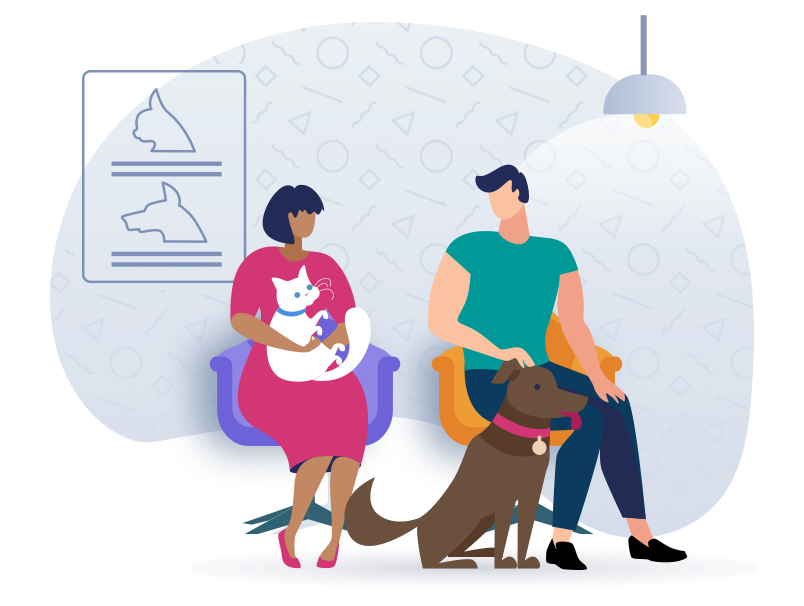 Top VA Dog Insurance Scored, Ranked & With Cost
Use our below table to quickly compare the best dog insurance providers in Virginia. The average monthly Virginia-specific prices shown are based on a healthy 2-year-old Labrador Retriever with a $500 deductible and 90% reimbursement amount who is located in Virginia with a 23221 zip code. Costs may vary based on age, location, coverage amount, and depending on the breed of your puppy. Prices are accurate as of January 2022 and are subject to change. For the most up-to-date information, please visit the provider website.
---
How much does dog insurance cost in Virginia for the 15 most popular breeds?
The price for Virginia dog insurance varies depending on where you live. To give you an idea we've collected costs for three cities shown below. The prices will also vary based on the age, health, and breed of your puppy.
All prices shown below are based on a 90% reimbursement rate with a $500 deductible and a $5,000 annual benefit from Figo pet insurance. Please note: these prices should only be treated as a rough guide as of January 2022 and are subject to change. If you're looking for the most up-to-date cost of dog insurance in Virginia we suggest getting a quote directly with Figo or Lemonade.
Mixed Breed

Richmond – $32.45/ mo
Norfolk – $32.45/ mo
Virginia Beach – $30.42/ mo

Labrador Retriever

Richmond – $44.19/ mo
Norfolk – $44.19/ mo
Virginia Beach – $41.41/ mo

Golden Retriever

Richmond – $44.10/ mo
Norfolk – $44.10/ mo
Virginia Beach – $41.34/ mo

German Shepherd

Richmond – $47.67/ mo
Norfolk – $47.67/ mo
Virginia Beach – $44.67/ mo

Goldendoodle

Richmond – $38.37/ mo
Norfolk – $38.37/ mo
Virginia Beach – $35.96/ mo

Chihuahua

Richmond – $20.19/ mo
Norfolk – $20.19/ mo
Virginia Beach – $18.92/ mo

Siberian Husky

Richmond – $44.32/ mo
Norfolk – $44.32/ mo
Virginia Beach – $41.53/ mo

Yorkshire Terrier

Richmond – $27.86/ mo
Norfolk – $27.86/ mo
Virginia Beach – $26.12/ mo

American Pit Bull Terrier

Richmond – $49.07/ mo
Norfolk – $49.07/ mo
Virginia Beach – $45.98/ mo

Australian Shepherd

Richmond – $30.51/ mo
Norfolk – $30.51/ mo
Virginia Beach – $28.60/ mo

Dachshund

Richmond – $28.78/ mo
Norfolk – $28.78/ mo
Virginia Beach – $26.97/ mo

Shih Tzu

Richmond – $25.64/ mo
Norfolk – $25.64/ mo
Virginia Beach – $24.03/ mo

French Bulldog

Richmond – $60.68/ mo
Norfolk – $60.68/ mo
Virginia Beach – $56.87/ mo

Boxer

Richmond – $60.93/ mo
Norfolk – $60.93/ mo
Virginia Beach – $57.09/ mo

Labradoodle

Richmond – $38.37/ mo
Norfolk – $38.37/ mo
Virginia Beach – $35.96/ mo
Not finding your specific dog breed? Lemonade pet insurance is our #1 recommendation for Virginia and they'll be able to give you a quick quote for your exact needs.
Virginia Dog Insurance FAQs
In Virginia, how much will dog insurance cost me?
For a small dog's basic insurance plan, your average monthly payment will be around $20 for a puppy and $25 for an adult. For a large dog's basic insurance plan, the average will be around $35 for a puppy and $45 for an adult. By location, Richmond, VA seems to have higher monthly rates on average for dog insurance than areas like Virginia Beach and Norfolk.
How do I know which vet will take my pet insurance?
With human medical insurance, the payment process often looks like our particular health insurance company is paying our doctors directly; this is not the case for pets. Instead, you will pay your vet and then later be reimbursed once you have submitted a claim to your insurance company. This frees you from restrictions when picking the right vet for you and your pooch.
What does dog insurance cover?
Depending on the plan you choose, your dog insurance will usually cover things like infections, broken bones, allergic reactions, and emergency surgeries. Typically, basic dog insurance does not cover the day-to-day expenses of keeping a dog: routine checkups and wellness exams, vaccinations, and spaying or neutering. Additionally, if your dog has a pre-existing health condition, this will not be covered. Overall, paying for dog insurance means that you will be spending more per month so that you can pay less if an unexpected emergency arises.
Which is better, a high or low deductible?
Choosing between a high or low deductible will require thoughtful consideration of your financial situation so you can know which is more affordable for you. Typically, a low deductible means that you will be paying more each month while paying less during an expensive vet emergency. Your insurance company may offer a convenient, easy-to-use quote calculator to help decide between a high or low deductible.
Are there any restricted dog breeds for homeowners insurance in Virginia?
When leasing an apartment in Virginia, you will often run into breed and size restrictions against dogs; additionally, you may run into bans when purchasing homeowners insurance. Overall, many insurance companies have regulations regarding some or all of the following breeds:
Akitas
Alaskan Malamutes
Presa Canarios
Chow Chows
Doberman Pinschers
German Shepherds
Pit Bull Terriers
Rottweilers
Siberian Huskies
We suggest you contact your landlord if leasing or your local home insurance provider to look into their policies on dog breeds. Further, you can contact them, asking whether or not you will need a specific liability rider.
5 Useful Strategies for Keeping Your Dog Safe & Healthy in Virginia
While we want our pets to be taken care of in the case of an emergency, it is up to us as individual pet owners to maintain our pets' health and safety the other 90% of the time. Listed below we have provided 5 different strategies for doing just that:
1. Be cautious of your pup consuming poison
Virginia farmers are constantly hard at work, so you will need to be on the lookout that your dog does not ingest any pesticide, insecticide, or fertilizer, as each one of these could be fatal for your dog
2. Common foods can make your do sick
Dogs are allergic to many common household foods, including chocolate, certain fruits, and even coffee grounds. Pack these tightly away and out of reach, along with your household cleaners
3. Pay attention flee infestations
Many a rural Virginian pet owner has had their share of flea infestations, but pay careful attention before applying a flea medication on your dog. The wrong medication, for example, a cat's flea preventative you've used on your dog by accident, can prove deadly.
4. Winter weather can pose problems
While Virginia seasons are often fairly mild, your pet can easily still get hypothermia or frostbite if left unattended too long in Winter. Make sure to bring your outdoor dog inside for breaks during the day and to sleep during the night when temperatures begin to approach freezing.
5. Don't leave your dog alone in a car!
The Virginia DMV places a heavy warning on leaving your pet alone in the car – while it may feel nice outside to you, your car can quickly soar above 100 degrees in the summertime.
5 Unique Dog Rescue Shelters in Virginia
When it comes to adding a new furry friend into the family, there are many reasons why we point to potential adopters towards animal shelters. Adopting keeps animals off the streets ensures that necessary medical provision will be given, and supplies an animal a home that might otherwise be euthanized. With those reasons in mind, we recommend that you check out these five unique animal shelters in Virginia:
---
---
---
---
---
Conclusion
Ultimately, choosing the right dog insurance plan for your dog or puppy in Virginia doesn't have to end with you feeling trapped in a maze. You can do things to make the process a little easier for you, like starting your puppy on dog insurance when they are over the 6-8 week age requirement. Though purchasing puppy insurance is cheaper, buying dog insurance when your dog is any age is a beneficial decision for both you and them. Emergencies aren't always preventable, but needless euthanization due to financial strain or inability is. Dog insurance can be your buffer between the two. After our thorough research, we found that Lemonade pet insurance provided the best services with the lowest monthly rates.
SwiftScore Ranking Methodology for Virginia
We ranked the best pet insurance policies in Virginia based on a variety of important factors including the following:
Average monthly price for a 2-year-old Labrador Retriever with a $500 deductible located in Virginia with a 23221 zip code
Coverage and benefits
Key policy details including accidents and illnesses, surgeries, annual check-ups, cancer treatment, lab tests, and more
AM Best rating of the underwriter
Reimbursement percentage
Annual benefit amount
Technology and user experience

Ease of sign up

Policy language clarity
User reviews
Other state dog insurance resources
AL | AK | AZ | AR | CA | CO | CT | DE | FL | GA | HI | ID | IL | IN | IA | KS | KY | LA | ME | MD | MA | MI | MN | MS | MO | MT | NE | NV | NH | NJ | NM | NY | NC | ND | OH | OK | OR | PA | RI | SC | SD | TN | TX | UT | VT | VA | WA | WV | WI | WY