6 Best Colorado (CO)
Dog Insurance

Plans Compared in 2023

Updated on by Matthew H. Nash – Licensed Insurance Agent

As a licensed Colorado insurance agent and a proud dog parent, I know how tricky it can be to find the right insurance plan for your puppy or dog. A good policy could boost your dog's quality of life and save you several thousand dollars in emergency vet fees. My team and I have researched the best Colorado dog insurance plans to make it easy for you. This article details the advantages of each provider, the cost of monthly premiums and answers the most frequently asked questions. Whether you're in Denver, Boulder, Colorado Springs, Pueblo or somewhere more remote, everything you need to know is right here.. Read more about our unbiased ranking methodology and advertiser disclosure.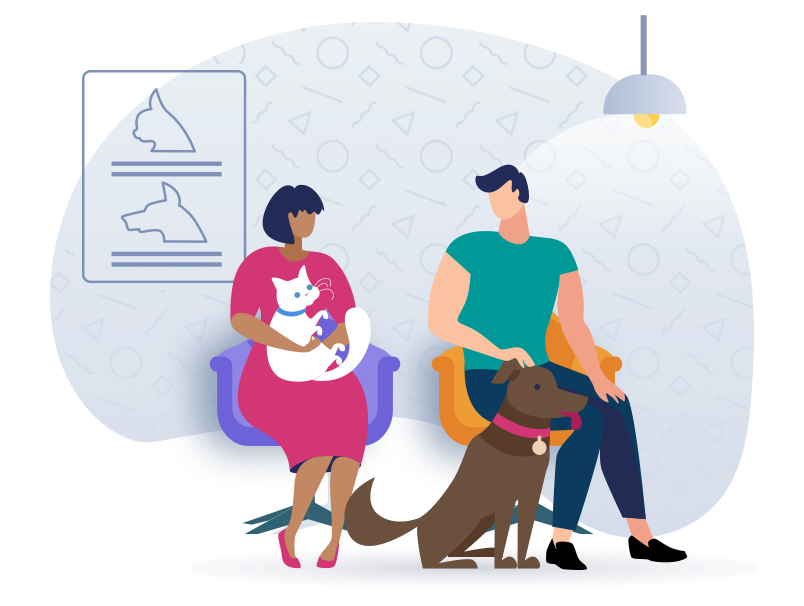 Top CO Dog Insurance Scored, Ranked & With Cost
Use our below table to quickly compare the best dog insurance providers in Colorado. The average monthly Colorado-specific prices shown are based on a healthy 2-year-old Labrador Retriever with a $500 deductible and 90% reimbursement amount who is located in Colorado with an 80238 zip code. Costs may vary based on age, location, coverage amount, and depending on the breed of your puppy. Prices are accurate as of May 2023 and are subject to change. For the most up-to-date information, please visit the provider website.
---
How much does dog insurance cost in Colorado for the 15 most popular breeds?
The price for Colorado dog insurance varies depending on where you live. To give you an idea we've collected prices for three cities shown below. The prices will also vary based on the age, health, and breed of your puppy.
All prices shown below are based on a 90% reimbursement rate with a $500 deductible and a $5,000 annual benefit from Figo pet insurance. Please note: these prices should only be treated as a rough guide as of January 2023 and are subject to change. If you're looking for the most up-to-date cost of dog insurance in Colorado we suggest getting a quote directly with Figo or Lemonade.
Mixed Breed

Denver – $33.92/ mo
Colorado Springs – $33.92/ mo
Campo – $28.02/ mo

Labrador Retriever

Denver – $46.19/ mo
Colorado Springs – $46.19/ mo
Campo – $38.15/ mo

Golden Retriever

Denver – $46.10/ mo
Colorado Springs – $46.10/ mo
Campo – $38.07/ mo

German Shepherd

Denver – $49.83/ mo
Colorado Springs – $49.83/ mo
Campo – $41.16/ mo

Goldendoodle

Denver – $40.11/ mo
Colorado Springs – $40.11/ mo
Campo – $33.12/ mo

Chihuahua

Denver – $21.09/ mo
Colorado Springs – $21.09/ mo
Campo – $17.42/ mo

Siberian Husky

Denver – $46.32/ mo
Colorado Springs – $46.32/ mo
Campo – $38.26/ mo

Yorkshire Terrier

Denver – $29.13/ mo
Colorado Springs – $29.13/ mo
Campo – $24.05/ mo

American Pit Bull Terrier

Denver – $51.28/ mo
Colorado Springs – $51.28/ mo
Campo – $42.36/ mo

Australian Shepherd

Denver – $31.89/ mo
Colorado Springs – $31.89/ mo
Campo – $26.34/ mo

Dachshund

Denver – $30.09/ mo
Colorado Springs – $30.09/ mo
Campo – $24.85/ mo

Shih Tzu

Denver – $26.80/ mo
Colorado Springs – $26.80/ mo
Campo – $22.13/ mo

French Bulldog

Denver – $63.42/ mo
Colorado Springs – $63.42/ mo
Campo – $52.39/ mo

Boxer

Denver – $63.67/ mo
Colorado Springs – $63.67/ mo
Campo – $52.59/ mo

Labradoodle

Denver – $40.11/ mo
Colorado Springs – $40.11/ mo
Campo – $33.12/ mo
Not finding your specific dog breed? Lemonade pet insurance is our #1 recommendation for Colorado and they'll be able to give you a quick quote for your exact needs.
Colorado Dog Insurance FAQs
STIPULATION: Keep in mind that all pet insurance policies are different. Often it is the case that many pet insurance companies offer GOOD/BETTER/BEST plans. The more you pay, the more inclusive and substantial the coverage for the plan. You are strongly advised to read your pet insurance policy in its entirety and talk to your veterinary practice insurance policy administrator. Caveat emptor!
The following list of FAQs serves as broad, general answers but cannot be interpreted as definite pronouncements. If you have specific questions, contact your veterinarian and insurance company for definitive answers.
What is pet medical insurance?
Like its human equivalent, pet health insurance covers the whole or a part of the risk of a dog or cat incurring medical expenses. It is designed to eliminate the anxiety and stress of your ability to provide the best medical care for your pet while faced with potentially significant veterinary expenses.
Is there a waiting period for pet insurance?
Yes, they are starting from the effective date of your policy. Waiting periods vary by state and provider.
What can you tell me about dog insurance and its usefulness?
It's like human health insurance. Insurance is a means of protection from financial loss. By purchasing pet insurance, you are protecting yourself from high veterinary bills in the event of illness or accidental injury of your pet. In essence, you are placing a "bet" or a "wager" that your pet will get sick or have a serious injury at some time in its life. As a result, you will pay a monthly premium (monthly bill) to protect you and your pet from serious financial loss. Suppose you are correct in your decision to purchase insurance. In that case, you will not have to worry about paying huge medical bills for your pet, and your pet will be happy, sleep peacefully, dreaming of chasing cats and mice, and will greet you each morning with smiling eyes.

However, if you choose to "bet" that your pet will be completely healthy all its life and that it will never have an accident or severe illness that requires medical treatment, then you will not have to pay for monthly pet insurance. But don't say we didn't warn you about all the hair and sleep you will be losing due to excessive worry and anxiety.
So how does it work when I need to use my pet insurance?
Assuming you have signed up for pet insurance and your premiums are paid and up to date, you will do the following:
Be sure your veterinarian accepts your pet insurance before you purchase.
Take your sick or injured pet to your veterinarian.
After diagnosis but before treatment, pay in advance (in part or full) for your pet's treatment. The administrator at your veterinarian will usually guide you through the process.
Submit an immediate "claim" or notice for reimbursement to your pet insurer by calling or emailing them.
Insurance company will send you a check or pay the veterinary directly.
What do veterinarians charge?
The cost of an average dog visit to the vet located in the city of Denver was $47.95. Keep in mind that this figure only includes the office visit. Things like diagnostic tests, dog x-rays, procedures, and medications will all increase the amount you spend. You'll spend less on routine visits than surgical procedures or complicated laboratory tests.

IMPORTANT! While you may choose to forego pet insurance, we hope you are not forcing yourself into a corner someday where you may have to face the awful consequences of your decisions. Do you want to have to choose to euthanize your pet to save a lot of money? That's something to spend some time thinking about.
How does reimbursement work?
Let's say you have dog insurance with a 90% reimbursement amount, a $250 deductible, and $20,000 annual max benefit. Then imagine something happens that requires a $10,000 emergency vet surgery. In this scenario, your insurance company would reimburse you $9,000 minus your $250 deductible meaning that you would be out of pocket $1,250 instead of $10,000. One company that is an exception to this rule is Trupanion, which offers payment directly to vets in their network. This way you won't have to pay out of pocket.
Deductibles: Higher or lower, which is better?
Ah, the age-old question. You say "To-may-to" and I say "to-mah-to". The point is, there is no right answer to the deductible question. Although tomato is pronounced "To-may-to" and I'm willing to go to war over that! But back to deductibles. Let's try and keep this simple by using some arbitrary numbers.

First, let's define three things:
Pet Insurance Premiums: Premiums are the amount of money an individual must pay for a pet insurance policy.

Pet Insurance Deductibles: Deductibles are the amount of the medical bill you have to pay before your insurance starts paying claims.

Pet Insurance Claims: Claims request your insurance company to pay for something your pet insurance covers, such as veterinary fees or an emergency pet visit.
Plan A
Insurance Premium (annual payment) $1,200
Monthly premium (monthly payment) $100
Based on this plan, if your pet gets sick or needs treatment costing $8,000, the deductible is $600. Meaning, you will have to pay $600 at the time of the incident to your veterinarian or your insurance company, and the insurance company will pay the veterinarian the rest.
Plan B
Insurance Premium (annual payment) $2,000
Monthly premium (monthly payment) $167
Based on this plan, if your pet gets sick or needs treatment costing $8,000, the deductible is $100. Meaning, you will have to pay $100 at the time of the incident to your veterinarian or your insurance company, and the insurance company will pay the veterinarian the rest.
Because you were willing to pay a higher premium, you will pay a lower deductible when filing a claim. So, there is less out-of-pocket money. The amount of these out-of-pocket expense limits tends to vary from one insurance plan to the next. Even the same insurer may have different plan tiers. Typically, the higher the cost of your premium, the fewer out-of-pocket expenses you incur.
Ultimately, the choice is up to you. You can pay lower upfront, but higher in the end (claim) or you can pay higher upfront, but lower at the end (claim).
How old does my dog or cat need to be to get insured?
Most dog insurance companies require your puppy to be a minimum of 8 weeks old before you can apply for puppy insurance. However, most providers do not have an age limit for when you can get dog insurance.

Most insurance companies start covering kittens when they turn 8 months old, so you'll have to pay out of pocket for all medical bills that are incurred before that mark.

If you have an older cat, you may be ineligible for pet insurance. Though the requirements vary by insurer, most will stop covering cats when they reach a certain age. This is because older cats can incur significant medical costs for which insurers don't want to be liable unless you've been a policyholder for years.
Is it better to get a pet insurance policy while my dog or cat is young, or should I wait?
Don't wait! Get health insurance while they are young puppies. Younger animals are typically much cheaper to insure, so we recommend you get your dog insurance before their first birthday. Plus, you want to be insured before pre-existing conditions appear. For example, If your pet has shown signs consistent with arthritis before you get a policy, this will be considered a pre-existing condition—and therefore not covered. But if your pet develops arthritis while they have a health insurance policy, they will be covered.
What about pre-existing conditions?
If your dog already has an illness like cancer when you apply for insurance, this would be a pre-existing condition that isn't eligible for claims.
What is a pre-existing condition for pets?
A pre-existing condition is any injury or illness whose symptoms were showing before the start of your pet's policy, or during a relevant waiting period. Whether it's been officially diagnosed or treated; all that matters is when its symptoms are first displayed.
What is covered and what's excluded with dog insurance?
Coverage varies with each dog insurance provider but generally, the items below are covered:
Any accident or illness (unless expressly excluded)
Sudden Catastrophic Events (broken bones, eye infection, swallow objects)
Emergency & Hospitalization
Surgeries
Veterinary Specialists
Hereditary & Congenital Conditions
Chronic Conditions (allergies, arthritis) and their medications
Cancer Treatments
FDA-Approved Prescriptions
Imaging
Knee Conditions
Ear infections
Diabetes
Prosthetics & Orthopedics
Hip Dysplasia and elbow dysplasia
Hernias
Eye disorders
Dental work needed resulting from an accident
What is not covered?
Pre-existing conditions
Routine, wellness, or preventative care
Spaying or neutering
Experimental procedures
Breeding, pregnancy or giving birth
Cloned pets or cloning procedures
Cosmetic surgery or elective procedures
Grooming
Supplements
Diet food
Routine dental care (cleanings, tooth removals)
Most parasites
Does pet health insurance cover lab fees and diagnostics?
Yes. This includes things procedures like blood tests, urinalysis, X-rays, MRIs, lab work, CT scans, and ultrasounds.
What about Emergency Care & Hospitalization, is that covered?
Yes. When in doubt, call or go to your veterinarian immediately. You'll be covered for veterinarian-recommended hospitalization, fluids, medications, and additional testing, and follow-up exams. Check your policy to learn the entirety of emergency coverage.
What about chronic reoccurring conditions?
Yes. This involves ongoing treatments throughout the life of your pet.
What about national coverage?
Unfortunately, no. Not for all policies and not for all insurers. Some policies will cover claims as long as you are with a certified and trained veterinarian. Check your policy.
However, you can purchase travel insurance for your pet to cover any unexpected veterinary concerns.
Will pet health insurance cover vet bills after an accident?
Yes. However, there are exceptions for self-inflicted injury. For example, if your pet has a history of consuming non-food foreign objects like toys, tools, small devices, laundry chemicals, etc.
Does pet health insurance cover cancer treatments?
Yes. Standard diagnostic tests and treatments like cytology, needle aspiration, or biopsy, chemotherapy will be covered. Experimental treatments will not be covered.

Be warned that you must have your insurance policy purchased before any of your pet's symptoms occur. Otherwise, the cancer will be determined to be a pre-existing condition, so your pet would not be covered.
Am I covered for my pet's physical therapy?
Maybe. Check your policy to be sure.
Are there any restricted dog breeds for homeowners' insurance in Colorado?
Yes. You need to check with your insurance company if your dog is on the list. Exactly which breeds of dogs are considered dangerous and restricted varies by provider, and insurance companies don't publish detailed lists of which breeds they do or don't insure. However, an aggressive dogs list might include:
Pit bulls
German shepherds
Akitas
Staffordshire terriers
Chows
Alaskan malamutes
Doberman pinschers
Great Danes
Siberian huskies
Rottweilers
Presa Canarios
Wolf hybrids
Of the breeds on this list, Pit bulls, Rottweilers, and Wolf hybrids most often have limits and are more likely to have a severe restriction or be prohibited altogether. If you own one of these breeds, your home insurance company might require you to exclude dog liability coverage from your policy, increase your rates or cancel your policy altogether.
5 Best Techniques to Keep Your Dog Safe in Colorado
1. Microchip your dog
Colorado enjoys spectacular natural beauty you and your pup will no doubt want to explore. Nobody wants to lose their dog. Your dog should wear a collar with an ID tag so they can be identified. It's also important to microchip your dog in case the ID tag falls off or your dog gets outside without it on. Make sure you keep your contact information up to date with your microchip service, or they may not be able to locate you.
2. Be on guard against parasites
Mosquitos, fleas, and ticks are a nuisance and downright dangerous to your dog. They transmit disease and gross things like heartworms and parasites, like giardia. Try to avoid areas with stagnant water of overgrown brush that dogs may traverse through.
3. Household chemicals
If you are treating your outdoor property with pesticides, herbicides, swimming pool and hot tub chemicals, keep your dog away from them.
4. Take caution with the weather
Colorado has a range of weather depending on where you live in the state; use common sense. If it's too hot or cold for you to feel comfortable, then your dog won't be able to stand it for long durations either. Just like a child, never leave your dog in a hot or cold car. Never leave them outside in extreme weather.
5. Beware the most common dog injuries
Swallowed objects
Knee ligament tears
Bite wounds
Fractured teeth
Lacerations
Ultimately, think ahead and be prepared for dog injures. Talk with your veterinarian about preparedness. Put together a pet-friendly first aid kit. Learn dog CPR. Finally, enroll in a pet insurance plan early in your dog's life.
7 Unique Dog Rescue Shelters in Colorado
Dog shelters play an essential role in our society in providing compassionate services to pet owners in to help keep pets healthy, happy, and in their homes. We've put together a geographically dispersed list of 7 Colorado shelters to serve you and Colorado's pets.
---
---
---
---
---
---
---
Conclusion
Finding dog insurance in Colorado is simple. Finding dog insurance that will have your dog's back is more challenging. We strongly advise you to read the details of the policy in its entirety. Then, talk to your veterinarian, with the first question being, will they even accept that insurance. Secondly, don't wait. Do this immediately following the puppy's 8-week waiting period.
Through our exhaustive research, Lemonade pet insurance consistently outperformed the others with their coverage and low monthly premiums.
SwiftScore Ranking Methodology for Colorado
We ranked the best pet insurance policies in Colorado based on a variety of important factors including the following:
Average monthly price for a 2-year-old Labrador Retriever with a $500 deductible located in Colorado with a 80238 zip code
Coverage and benefits
Key policy details including accidents and illnesses, surgeries, annual check-ups, cancer treatment, lab tests, and more
AM Best rating of the underwriter
Reimbursement percentage
Annual benefit amount
Technology and user experience

Ease of sign up

Policy language clarity
User reviews
Other state dog insurance resources
AL | AK | AZ | AR | CA | CO | CT | DE | FL | GA | HI | ID | IL | IN | IA | KS | KY | LA | ME | MD | MA | MI | MN | MS | MO | MT | NE | NV | NH | NJ | NM | NY | NC | ND | OH | OK | OR | PA | RI | SC | SD | TN | TX | UT | VT | VA | WA | WV | WI | WY