6 Best New Hampshire (NH)
Dog Insurance

– Plans Compared in 2023

Updated on by Matthew H. Nash – Licensed Insurance Agent

Dog parents across the state struggle to find the best New Hampshire dog insurance for their canine friends. Finding the right plan can be overwhelming between bewildering policy language and the abundant choice of providers. From Colebrook to Hanover and Portsmouth to Nashua, this article gives you all the essential information you need, regardless of where you live.Read more about our unbiased ranking methodology and advertiser disclosure.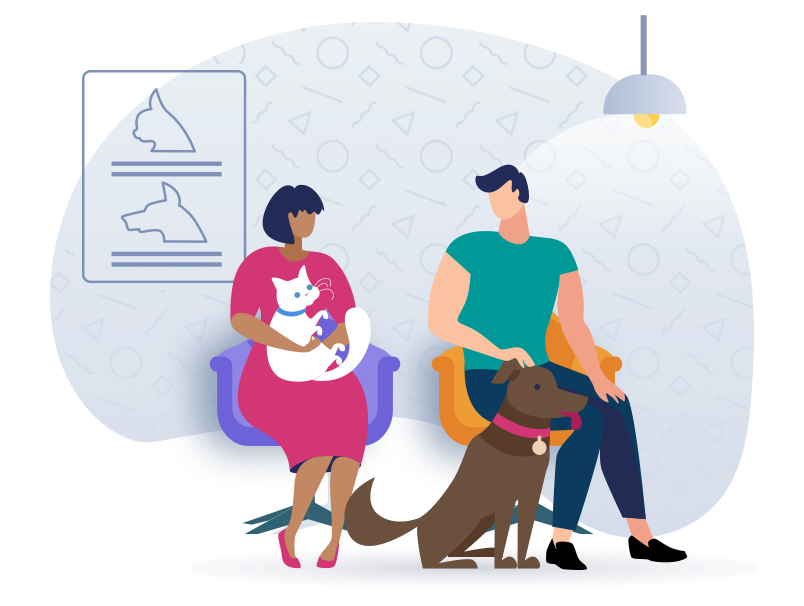 Top NH Dog Insurance Scored, Ranked & With Cost
Use our below table to quickly compare the best dog insurance providers in New Hampshire. The average monthly New Hampshire specific prices are shown are based on a healthy 2-year-old Labrador Retriever with a $500 deductible and 90% reimbursement amount who is located in New Hampshire with a 03062 zip code. Costs may vary based on age, location, coverage amount, and depending on the breed of your puppy. Prices are accurate as of January 2023 and are subject to change. For the most up-to-date information, please visit the provider website.
---
How much does dog insurance cost in New Hampshire for the 15 most popular breeds?
The price for New Hampshire dog insurance is almost always the same throughout the state including in Manchester, Nashua, Concord, Derry, Dover, or Rochester, etc. However, the prices will vary based on the age, health and breed of your puppy.
All prices shown below are based on a 90% reimbursement rate with a $500 deductible and a $5,000 annual benefit from Figo pet insurance. Please note: these prices should only be treated as a rough guide as of January 2023 and are subject to change. If you're looking for the most up-to-date cost of dog insurance in New Hampshire we suggest getting a quote directly with Figo or Lemonade.
Mixed Breed – $25.76/ mo
Labrador Retriever – $35.09/ mo
Golden Retriever – $35.02/ mo
German Shepherd – $37.88/ mo
Goldendoodle – $30.48/ mo
Chihuahua – $16.03/ mo
Siberian Husky – $35.21/ mo
Yorkshire Terrier – $22.12/ mo
American Pit Bull Terrier – $38.97/ mo
Australian Shepherd – $24.24/ mo
Dachshund – $22.86/ mo
Shih Tzu – $20.37/ mo
French Bulldog – $48.20/ mo
Boxer – $48.40/ mo
Labradoodle – $30.48/ mo
Not finding your specific dog breed? Lemonade pet insurance is our #1 recommendation for New Hampshire and they'll be able to give you a quick quote for your exact needs.
New Hampshire Dog Insurance FAQs
What is dog insurance? Why is it useful in New Hampshire?
To protect your dog to the fullest with pet insurance, sign up with an insurance company and pay a monthly premium to keep the policy active. Should your dog become sick or have an accident, the standard protocol is that you pay the vet bill upfront. Then, you submit a claim to your insurance provider for reimbursement. It is worth noting that insurance companies exclude pre-existing conditions. For this reason, we advise dog owners to get a policy in place while their pet is still in the puppy phase (after it is 8 weeks old).

While New Hampshire doesn't have the highest veterinary costs, it's undoubtedly in close competition with states with the highest prices, such as Maine, California, and Hawaii. Dog insurance can benefit dog owners in New Hampshire significantly since treatments of severe illnesses like cancer may cost upwards of $10,000. It is unfortunate how frequently uninsured pet owners have to put their animals down because they cannot afford the necessary treatments.
At what age can I get my dog insured?
Most dog insurance companies require puppies to be at least 8 weeks of age before being insured. The good news is most providers do not have an age limit for getting your dog an insurance policy. Keep in mind: younger dogs tend to be significantly cheaper to insure. We advise dog owners to get their furry pal insured before their first birthday.
Is it worth getting dog insurance in New Hampshire?
Having your dog insured against life's inevitable emergencies could be a tremendous benefit if you live in New Hampshire. Spending $3,000 or more for an urgent visit to the vet is not unheard of. That said, you will need to determine whether paying monthly insurance premiums is worth the offset of potentially high out-of-pocket costs in the future.
What does dog insurance include and exclude?
Coverage differs from one dog insurance provider to another. Still, a good rule of thumb is that any illnesses or accidents are covered as long as they are not explicitly listed as excluded in your policy. Some incidents such as swallowing a toy ball, broken bones, Lyme disease, or oral infections tend to be covered. That said, if your dog has cancer when you apply for insurance, this will be deemed a pre-existing condition and will not be covered. Many companies offer "wellness" packages that you can attach to your standard policy. Such add-ons cover regular physical examinations, vaccinations, and heartworm prevention, and more.
How do I get reimbursed by my dog's insurance provider?
Reimbursement is relatively straightforward. Let's say you select a dog insurance policy that has an annual maximum benefit of $20,000, 90% reimbursement, and a $250 deductible, and your dog needs a $5,000 emergency surgery. In which case, the insurance company would reimburse you $4,500 less your $250 deductible. Your final cost would be $750 instead of the original $5,000. Trupanion, on the other hand, pays vets directly who are in their network. It saves you the hassle of the reimbursement process–both financially and administratively.
Which is better: a higher or lower deductible?
Having a lower deductible results in higher monthly payments, but it means you pay significantly less when your dog needs emergency veterinary treatment. The reverse is true for higher deductibles: lower monthly payments with higher out-of-pocket expenses for treatment. Do the math to determine which option best suits your financial circumstances. Many providers feature an easy-to-use calculator on their websites that you can use when requesting a quote. Most people prefer having either a $250 or $500 deductible.
Does New Hampshire have restricted dog breeds for homeowners insurance?
Most states have dog breed restrictions in place for homeowners insurance and said restrictions vary from provider to provider. Some such breeds include, but are not limited to:
Akitas
Boxers
Chow Chows
Doberman Pinschers
German Shepherds
Great Danes
Pit Bulls
Wolfhounds
We recommend contacting your home insurance provider to verify which breeds your policy excludes and whether you will need a specific liability rider.
5 Useful Strategies for Keeping Your Dog Safe & Healthy in New Hampshire
New Hampshire is a nice place to own a dog. That said, the four seasons and various predators can pose a variety of risks. Do the following to keep your canine friend sage and healthy:
1. Register and vaccinate your dog
New Hampshire requires that all dogs be registered with the state and have a license. To get this, you must show proof your dog has been vaccinated against rabies and is 4 months or older. The State requires you to renew your dog's license each year before April 30th.
2. Treat your dog for ticks and fleas
Like most of the northeastern part of the country, New Hampshire has its fair share of ticks. The primary offender is the back-legged variety, more commonly known as a deer tick, and is responsible for transmitting Lyme disease. In New Hampshire, ticks are most frequently troublesome in the spring, early summer, and autumn. At the same time, fleas are active throughout the year, especially indoors during the winter months. Several natural and conventional tick and flea treatments are on the market, including collars and spot-on treatments. Spot-on treatments are usually more effective but do consult your vet for guidance.
3. Protect your dog's paws from salted sidewalks
Salt used on roads and sidewalks during winters in New Hampshire can irritate your dog's paws or even result in chemical burns. To keep your dog's paws safe, consider purchasing a pair of dog boots. They will also prevent your dog's paw pads from developing ice balls.
4. Keep your dog hydrated
New Hampshire's summers can be sweltering and humid, especially as its coastline is relatively small. Be sure to make fresh water available to your day all day, so it can rehydrate whenever needed. Also, consider adding hydrating foods such as meat, poultry, fish, fruits, and vegetables to your dog's diet.
5. Keep your dogs inside at night
Coyotes are quite common and are found in every county in New Hampshire. Coyotes are nocturnal and usually come out just after dusk, so supervising your furry pal's evening outdoor adventures might be a good idea.
5 Unique Dog Rescue Shelters in New Hampshire
---
---
---
---
---
Conclusion
Contrary to popular belief, finding the best insurance policy for your dog in New Hampshire is rather easy. We suggest registering for dog insurance as soon as your puppy is 8 weeks or older. Remember, the sooner you get your dog insured, the better. Doing so will give you the best prices and fewer potential exclusions. That said, getting your dog insured, regardless of age, will prove advantageous in case of emergencies. Our extensive research shows that Lemonade consistently delivers the best quality of service with the lowest monthly premiums.
SwiftScore Ranking Methodology for New Hampshire
We ranked the best pet insurance policies in New Hampshire based on a variety of important factors including the following:
Average monthly price for a 2-year-old Labrador Retriever with a $500 deductible located in New Hampshire with a 03062 zip code
Coverage and benefits
Key policy details including accidents and illnesses, surgeries, annual check-ups, cancer treatment, lab tests, and more
AM Best rating of the underwriter
Reimbursement percentage
Annual benefit amount
Technology and user experience

Ease of sign up

Policy language clarity
User reviews
Other state dog insurance resources
Alabama | Alaska | Arizona | Arkansas | California | Colorado | Connecticut | Delaware | Florida | Georgia | Hawaii | Idaho | Illinois | Indiana | Iowa | Kansas | Kentucky | Louisiana | Maine | Maryland | Massachusetts | Michigan | Minnesota | Mississippi | Missouri | Montana | Nebraska | Nevada | New Hampshire | New Jersey | New Mexico | New York | North Carolina | North Dakota | Ohio | Oklahoma | Oregon | Pennsylvania | Rhode Island | South Carolina | South Dakota | Tennessee | Texas | Utah | Vermont | Virginia | Washington | West Virginia | Wisconsin | Wyoming