7 Best Arkansas (AR)
Dog Insurance

Plans Compared in 2023

Updated on by Matthew H. Nash – Licensed Insurance Agent

Loving dog parents across Arkansas understand how crucial pet insurance is to secure the best veterinary care for their little pals, particularly in emergencies. However, finding the right policy for your dog or puppy can be intimidating. As a licensed Arkansas agent and lifelong dog owner, I understand the difficulties of wading through confusing policy language and figuring out which provider will meet your coverage needs. That is why my team and I compiled all the essential information to help you along. So whether you call Little Rock, Fayetteville, Bryant, Benton or elsewhere in The Natural State home, this article has you covered.Read more about our unbiased ranking methodology and advertiser disclosure.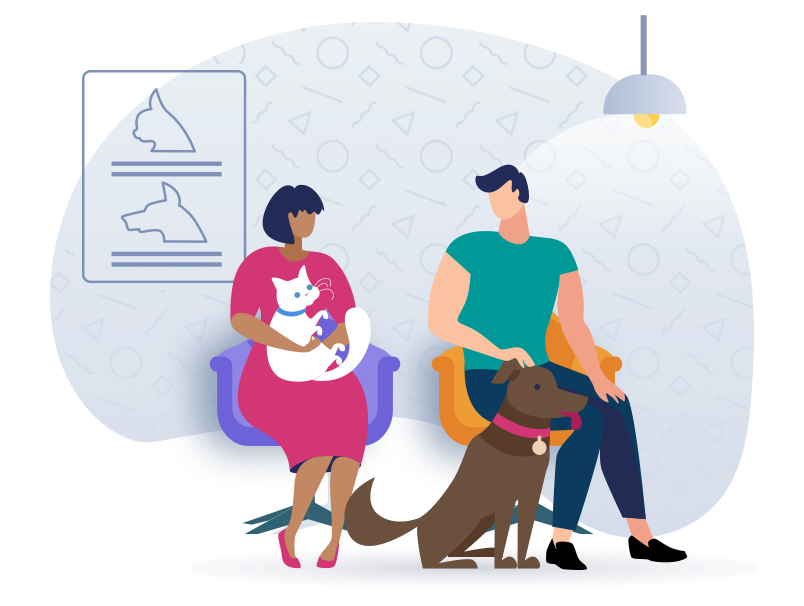 Top AR Dog Insurance Scored, Ranked & With Cost
Use our below table to quickly compare the best dog insurance providers in Arkansas. The average monthly Arkansas-specific prices shown are based on a healthy 2-year-old Labrador Retriever with a $500 deductible and 90% reimbursement amount who is located in Arkansas with a 72205 zip code. Costs may vary based on age, location, coverage amount, and depending on the breed of your puppy. Prices are accurate as of January 2023 and are subject to change. For the most up-to-date information, please visit the provider website.
---
How much does dog insurance cost in Arkansas for the 15 most popular breeds?
The price for Arkansas dog insurance varies depending on where you live. To give you an idea we've collected prices for three cities shown below. The prices will also vary based on the age, health, and breed of your puppy.
All prices shown below are based on a 90% reimbursement rate with a $500 deductible and a $5,000 annual benefit from Figo pet insurance. Please note: these prices should only be treated as a rough guide as of January 2023 and are subject to change. If you're looking for the most up-to-date cost of dog insurance in Arkansas we suggest getting a quote directly with Figo or Lemonade.
Mixed Breed

Fayetteville – $24.84/ mo
Hope – $18.79/ mo
Little Rock – $27.67/ mo

Labrador Retriever

Fayetteville – $33.83/ mo
Hope – $25.60/ mo
Little Rock – $37.68/ mo

Golden Retriever

Fayetteville – $33.75/ mo
Hope – $25.56/ mo
Little Rock – $37.60/ mo

German Shepherd

Fayetteville – $36.50/ mo
Hope – $27.62/ mo
Little Rock – $40.64/ mo

Goldendoodle

Fayetteville – $29.37/ mo
Hope – $22.22/ mo
Little Rock – $32.71/ mo

Chihuahua

Fayetteville – $15.45/ mo
Hope – $11.70/ mo
Little Rock – $17.20/ mo

Siberian Husky

Fayetteville – $33.92/ mo
Hope – $25.67/ mo
Little Rock – $37.78/ mo

Yorkshire Terrier

Fayetteville – $21.33/ mo
Hope – $16.14/ mo
Little Rock – $23.76/ mo

American Pit Bull Terrier

Fayetteville – $37.56/ mo
Hope – $28.41/ mo
Little Rock – $41.83/ mo

Australian Shepherd

Fayetteville – $23.34/ mo
Hope – $17.68/ mo
Little Rock – $26.01/ mo

Dachshund

Fayetteville – $22.03/ mo
Hope – $16.66/ mo
Little Rock – $24.54/ mo

Shih Tzu

Fayetteville – $19.62/ mo
Hope – $14.85/ mo
Little Rock – $21.87/ mo

French Bulldog

Fayetteville – $46.45/ mo
Hope – $35.15/ mo
Little Rock – $51.75/ mo

Boxer

Fayetteville – $46.64/ mo
Hope – $35.30/ mo
Little Rock – $91.54/ mo

Labradoodle

Fayetteville – $29.37/ mo
Hope – $22.22/ mo
Little Rock – $32.71/ mo
Not finding your specific dog breed? Lemonade pet insurance is our #1 recommendation for Arkansas and they'll be able to give you a quick quote for your exact needs.
Arkansas Dog Insurance FAQ'S
Is it worth purchasing dog insurance in Arkansas?
In short, my answer is yes. As I said before, accidents and illness are basically inevitable and will result in vet bills that can get out of control, especially as your dog ages. You need to ask yourself if it is worth it based on your financial situation but think about it this way, would you rather invest now in terms of monthly payments or would you rather have to be stuck with a huge amount of money to pay all at once later on down the road? Most pet owners say they spend thousands of dollars on medical costs during the course of their dog's life. Another thing to think about is that Arkansas vets can sometimes be on the pricey side compared to the rest of the country and having insurance would definitely be a big help.
What is dog insurance and why is it useful?
Dog insurance pays, partly or in total, for veterinary treatment of the insured person's sick or injured pet. Just like with any insurance, you'll need to sign up for a policy through an insurance company and pay a monthly premium in order to keep an active policy. What normally happens if you have to make a visit to your veterinarian is that you'll most likely have to pay upfront and then wait for reimbursement once you have submitted your claim. It's good to know that there are some exclusions on what your insurance may cover so check with your provider about those. They're usually things like pre-existing conditions and that is why we suggest that you begin your dog's policy at an early age. Some time around 8 weeks old is best to start finding the best policy for you.

In Arkansas, there are certain treatments and therapies that will be very expensive and sometimes set you back thousands of dollars. This is why purchasing insurance would be so useful to you and your wallet. Also, don't forget the benefit of being able to save your dog's life instead of choosing to euthanize due to lack of funds or inability to pay the vet bill.
Is my puppy insurable?
Most dog insurance companies will require your puppy to be around 8 weeks old before determining eligibility but some companies do not have this rule. If you want to insure a puppy younger than 8 weeks, your best option is to just shop around. Generally speaking, it is much cheaper to insure a younger canine, so it is suggested that you purchase your dog's policy before their first birthday comes around.
What does my policy cover or not cover?
Your coverage will vary based on the insurer and policy you decide to go with but most companies will have exclusions regarding what can be covered in claims. The exclusions will most likely be what is called a "pre-existing condition", meaning that your dog had this condition before applying for insurance. These will be things like kidney problems or cancer, for example. "Unanticipated and disastrous" things like an infection or a broken bone will usually always be covered. Often, insurance providers will offer what they call a "wellness package, " an add-on option used to cover things like routine checkups and preventative care.
How do I get reimbursed for upfront costs?
An example of how the reimbursement process works is, imagine for a moment that you chose an insurance policy with a $250 deductible and a max annual benefit of $25,000. This policy also has a 90% reimbursement amount. Now picture a scenario where your dog may need a type of therapy costing $5,000. If this is the case, your insurer will reimburse you $4,500 after your deductible. After everything is said and done, your out-of-pocket expenses are going to be $750 rather than the full amount of $5,000. We have found one company that actually works differently and pays the full amount directly to the veterinarian as long as they are within the network. This company is Trupanion.
Is it best to purchase a policy with a low deductible?
Generally, a lower deductible will mean a higher monthly premium, meaning more expenses monthly but less when the inevitable happens. It is best to sit down and go over your finances to determine which way is the best way to go for you. To help you make your decision, companies out there offer a simple-to-use calculator when looking at quotes. All in all, we have seen most people choose policies with deductibles between $250 and $500.
When it comes to Arkansas homeowners insurance, are there any specific dog breeds that will be excluded?
Lots of states have will exclusions including but not limited to –
Pit Bull Terriers
Boxers
Akitas
German Shepards
Great Danes
Wolfhounds
Chow chows
This may or may not be the case so just be sure that you check with your insurer to find out. Also, check with your company to find out whether or not you'll need a specif liability rider.
5 Ways For Arkansas Dog Owners To Keep Pets Safe & Healthy
1. Make sure to get your puppy neutered or spayed
On top of doing your part to keep the homeless pet population at a minimum, spaying and neutering your dog can have other added benefits. For females, spaying can lower your dog's chances of getting uterine infections and breast cancer. For males, neutering lowers your dog's risk of getting testicular and prostate cancers. If you have any concerns about the risks of any procedure, please consult your veterinarian. For your own peace of mind, the risk of injury or harm during these surgeries is extremely low.
2. Give your dog lots of attention
Mental health is very important when it comes to your dog's overall health just like it would be with your human child. Playing fetch, regular walks in the park, teaching your dog a new trick; these are all ways to show your dog that you love him and raise his happiness level, as well as getting him moving and ensuring he stays active.
3. Get regular check-ups
Early detection of disease and illness can save your dog's life. Be sure you take your furry baby to all of his appointments and get him on a regular vaccine schedule.
4. Be aware of the Arkansas leash laws
Arkansas has no statewide dog leash laws, but municipalities can decide city ordinances on specific dog rules and regulations. However, when walking your dog or letting them outside, they should always be attached to a leash or lead. This will help prevent your dog from getting curious and running or wandering off and reduces the chances of them being struck by a moving vehicle.
5. Keep an eye on the local weather
Arkansas doesn't experience winters as harsh as some other states but when they do, outdoor dogs should be brought inside if possible. If not, anything that blocks the wind off them will help them tremendously, says an employee with The Northeast Arkansas Humane Society. She also recommends that blankets and a heated water bowl be provided so the water does not freeze. Arkansas state law mentions pets must have shelter on three sides with a covering.
5 Wonderful Dog Shelters in AR
Are you ready to add a new member to your family? Look for your new best friend at one of these great places!!
---
---
---
---
---
Conclusion
Finding and purchasing insurance for your dog can be easy and affordable if you're pointed in the right direction. I sincerely hope that this article has answered some of your questions, and you are now ready to secure a healthy future for your dog in the form of an insurance policy with the perfect company for you. I strongly suggest you look sooner rather than later to avoid pre-existing conditions that could result in exclusions or higher premiums. In our extensive research, we discovered Lemonade pet insurance regularly performed the best while maintaining the lowest monthly premium in the Apple Blossom State.
SwiftScore Ranking Methodology for Arkansas
We ranked the best pet insurance policies in Arkansas based on a variety of important factors including the following:
Average monthly price for a 2-year-old Labrador Retriever with a $500 deductible located in Arkansas with a 72205 zip code
Coverage and benefits
Key policy details including accidents and illnesses, surgeries, annual check-ups, cancer treatment, lab tests, and more
AM Best rating of the underwriter
Reimbursement percentage
Annual benefit amount
Technology and user experience

Ease of sign up

Policy language clarity
User reviews
Other state dog insurance resources
Alabama | Alaska | Arizona | Arkansas | California | Colorado | Connecticut | Delaware | Florida | Georgia | Hawaii | Idaho | Illinois | Indiana | Iowa | Kansas | Kentucky | Louisiana | Maine | Maryland | Massachusetts | Michigan | Minnesota | Mississippi | Missouri | Montana | Nebraska | Nevada | New Hampshire | New Jersey | New Mexico | New York | North Carolina | North Dakota | Ohio | Oklahoma | Oregon | Pennsylvania | Rhode Island | South Carolina | South Dakota | Tennessee | Texas | Utah | Vermont | Virginia | Washington | West Virginia | Wisconsin | Wyoming