6 Best Georgia (GA)
Dog Insurance

Plans Compared in 2023

Updated on by Matthew H. Nash – Licensed Insurance Agent

Choosing the best Georgia dog insurance plan can be daunting. With so many different providers and plans to sift through, it can be easy to get tripped up by confusing policy language and difficult to know which company best meets your needs. As a nationally licensed insurance agent and proud dog parent, I know dog owners' challenges. Therefore, my team and I have done all the leg work for you. Whether you live in Atlanta, Augusta, Macon, Columbus or another part of the Peach State, this article has all you need to know. Read more about our unbiased ranking methodology and advertiser disclosure.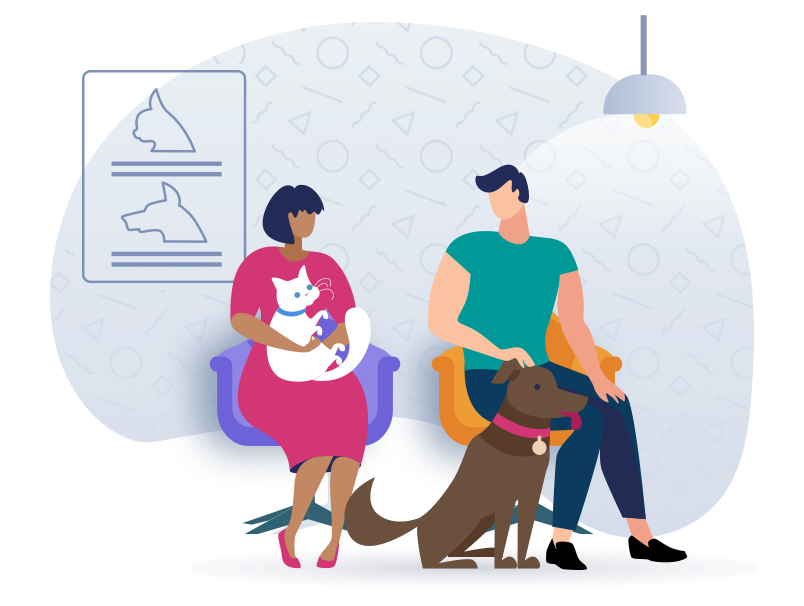 Top GA Dog Insurance Scored, Ranked & With Cost
Use our below table to quickly compare the best dog insurance providers in Georgia. The average monthly Georgia-specific prices shown are based on a healthy 2-year-old Labrador Retriever with a $500 deductible and 90% reimbursement amount who is located in Georgia with a 30331 zip code. Costs may vary based on age, location, coverage amount, and depending on the breed of your puppy. Prices are accurate as of January 2023 and are subject to change. For the most up-to-date information, please visit the provider website.
4.5
SwiftScore

Our SwiftScore is a unique and proprietary insurance ranking system objectively comparing key metrics which are most important to Georgia pet parents. Learn more at the end of this page.
STANDARD PLAN
COST IN GEORGIA
$58.61/mo
Pumpkin Pet Insurance plans have extensive coverage and they always have a 90% reimbursement rate
Pumpkin Pet Insurance plans have no breed or upper age restrictions, and dental illness and hereditary conditions are covered at no extra cost
Founded in 2020 and underwritten by United States Fire Insurance Company
---
How much does dog insurance cost in Georgia for the 15 most popular breeds?
The price for Georgia dog insurance varies depending on where you live. To give you an idea we've collected prices for three cities shown below. The prices will also vary based on your puppy's age, health, and breed.
All prices shown below are based on a 90% reimbursement rate with a $500 deductible and a $5,000 annual benefit from Figo pet insurance. Please note: these prices should only be treated as a rough guide as of January 2023 and are subject to change. If you're looking for the most up-to-date cost of dog insurance in Georgia we suggest getting a quote directly with Figo or Lemonade.
Mixed Breed

Atlanta – $30.36/ mo
Hartwell – $30.36/ mo
Augusta – $25.06/ mo

Labrador Retriever

Atlanta – $41.34/ mo
Hartwell – $41.34/ mo
Augusta – $34.13/ mo

Golden Retriever

Atlanta – $41.24/ mo
Hartwell – $41.24/ mo
Augusta – $34.07/ mo

German Shepherd

Atlanta – $44.60/ mo
Hartwell – $44.60/ mo
Augusta – $36.82/ mo

Goldendoodle

Atlanta – $35.89/ mo
Hartwell – $35.89/ mo
Augusta – $29.62/ mo

Chihuahua

Atlanta – $18.89/ mo
Hartwell – $18.89/ mo
Augusta – $15.58/ mo

Siberian Husky

Atlanta – $41.46/ mo
Hartwell – $41.46/ mo
Augusta – $34.23/ mo

Yorkshire Terrier

Atlanta – $26.06/ mo
Hartwell – $26.06/ mo
Augusta – $21.51/ mo

American Pit Bull Terrier

Atlanta – $45.89/ mo
Hartwell – $45.89/ mo
Augusta – $37.89/ mo

Australian Shepherd

Atlanta – $28.55/ mo
Hartwell – $28.55/ mo
Augusta – $23.56/ mo

Dachshund

Atlanta – $26.92/ mo
Hartwell – $26.92/ mo
Augusta – $22.23/ mo

Shih Tzu

Atlanta – $23.99/ mo
Hartwell – $23.99/ mo
Augusta – $19.80/ mo

French Bulldog

Atlanta – $56.75/ mo
Hartwell – $56.75/ mo
Augusta – $46.86/ mo

Boxer

Atlanta – $56.98/ mo
Hartwell – $56.98/ mo
Augusta – $47.05/ mo

Labradoodle

Atlanta – $35.89/ mo
Hartwell – $35.89/ mo
Augusta – $29.62/ mo
Not finding your specific dog breed? Lemonade pet insurance is our #1 recommendation for Georgia and they'll be able to give you a quick quote for your exact needs.
Georgia Dog Insurance FAQs
How does dog insurance work? Why is it useful in Georgia?
Once you sign with a pet insurance company, you'll pay a monthly fee to keep the policy active. Most plans cover tests, emergency care, exam fees, surgery, medications, unexpected injuries, or illnesses. If your dog gets hurt from an accident, you must pay upfront and submit a claim for most plans. Then the insurance company will reimburse you. It's important to know that most insurance companies exclude covering a dog's pre-existing conditions. That's why we always suggest that you get insurance when your dog is a puppy, usually around 8 weeks or older.

In Georgia, getting good insurance helps offset the high vet bills, especially if your dog needs therapies like cancer treatment, which can run over $10,000. Many dog owners need to make the hard decision to put their dogs down because they can't afford the cost of this type of treatment. Puppy insurance is helpful because you won't end up in this situation.
How old should my dog be when I get the insurance?
Typically, insurance companies require that your puppy is no less than 8weeks old. Most providers don't set age limits, but younger dogs are cheaper than older dogs, so we suggest getting your canine insurance before your pet is a year old.
Why do I need dog insurance in Georgia?
As we mentioned, vet bills can add up. You can end up spending up to $3,000 or more for an emergency vet visit because your dog ate a sock or cut her paw. If you have insurance, you'll pay a monthly premium instead of high out-of-pocket costs. Depending upon where you live, Georgia vets are sometimes pricier than in other states, another reason you need dog insurance in Georgia.
What is covered and what's excluded with dog insurance?
Coverage varies depending on your insurance, but accidents or illnesses are usually covered. For example, pet insurance typically covers things like:
Swallowing a toy
Allergies
Broken bones
Eye or ear infections
Of course, as we mentioned earlier, pre-existing conditions like cancer aren't covered when you apply for insurance. Many insurance companies offer "wellness packages" as add ons to cover things like
Heartworm checks and prevention
Vaccinations
Routine check-ups
Explain the reimbursement
Say, for example, if you buy dog insurance with a 90% reimbursement rate and a $250 deductible, plus a $20,000 annual maximum benefit, and then something happens to your dog that costs $10,000 for vet surgery, your insurance will reimburse you $9,000 minus the deductible of $250. So, you would pay $1250 out of pocket instead of $10,000.

One insurance company, Trupanion, provides payment directly to your vet if they're in the network. Meaning you wouldn't have any out-of-pocket fees.
Is it better to have a lower deductible?
A lower deductible means a higher monthly payment for you. You will pay more each month but less out of pocket for an emergency vet visit. You know your financial situation best, so you can do the math, but most providers offer an easy-to-use calculator when they give you a quote to make it easier. Typically, we see that most dog owners choose the $250 or $500 deductible.
Are there any restricted dog breeds for homeowners' insurance in Georgia?
Every state restricts homeowners' insurance on certain dog breeds and certain insurance providers. These dog breeds include:
Rottweilers
Pit bulls
German Shepherds
Staffordshire terriers
Akitas
Alaskan Malamutes
Siberian Huskies
Wolf breeds
It's best to contact your local homeowner's insurance provider to see what your policy includes or excludes dog breeds and whether you will need a specific liability rider if you have one of these dog breeds.
5 Useful Strategies for Keeping Your Dog Safe & Healthy in Georgia
1. Protect your dog's paws
It gets hot in Georgia. It can quickly get up into the 90s during the summer months. Remember to protect your dog's paws with special shoes if you walk on the beach or sidewalk.
2. Avoid water pests
Living in Georgia means lots of beach time, but if your dog loves to get into the water, be sure to protect them from jellyfish or sea lice. These pests cause injury to your dog that will need vet care.
3. Never leave your dog alone in a car
It's easy to forget how hot a car gets in the hot weather of the Peach State or the trouble your dog can get into when left alone. Never leave your buddy alone in the car; it's just too risky.
4. Snakebite
Warm weather means snakebite season in Georgia. Snakes love the warmer weather, and many of them live in wooden areas near the water. Keep your dog away from places where snakes live. Contact your vet immediately if your dog acts strange for being outside.
5. Never give your dog chicken bones
Keep chicken bones away from your dog because chicken bones break quickly creating a choking hazard for your dog.
4 Unique Dog Rescue Shelters in Georgia
If you're looking for a new dog, we hope you'll consider these five great animal shelters in Georgia. We think that adopting a dog is a great way to find a sweet companion. This list is short. There are many more rescue shelters in the state.
---
---
---
---
Conclusion
If you live in Georgia and own a dog, we encourage you to find a good dog insurance company. We suggest you sign up for pet insurance while your puppy is young, at least 8 weeks old, so you'll get the best prices with the least restrictions on pre-existing conditions. Of course, even if your dog is older, insurance is still a good idea. Having dog insurance guarantees you'll have the means to take care of your furry family member in case of an accident or illness like cancer. Our research found that Lemonade pet insurance offers the best coverage at the lowest monthly premiums.
SwiftScore Ranking Methodology for Georgia
We ranked the best pet insurance policies in Georgia based on a variety of important factors including the following:
Average monthly price for a 2-year-old Labrador Retriever with a $500 deductible located in Georgia with a 30331 zip code
Coverage and benefits
Key policy details including accidents and illnesses, surgeries, annual check-ups, cancer treatment, lab tests, and more
AM Best rating of the underwriter
Reimbursement percentage
Annual benefit amount
Technology and user experience

Ease of sign up

Policy language clarity
User reviews
Other state dog insurance resources
AL | AK | AZ | AR | CA | CO | CT | DE | FL | GA | HI | ID | IL | IN | IA | KS | KY | LA | ME | MD | MA | MI | MN | MS | MO | MT | NE | NV | NH | NJ | NM | NY | NC | ND | OH | OK | OR | PA | RI | SC | SD | TN | TX | UT | VT | VA | WA | WV | WI | WY