7 Best New Mexico (NM)
Dog Insurance

Plans Compared in 2023

Updated on by Matthew H. Nash – Licensed Insurance Agent

Throughout my career as a nationally licensed insurance agent and devoted dog parent, I've seen firsthand how tricky the process of finding the best New Mexico pet insurance plan can be. Between the confusing policy language and the vast choice of providers and plans, it's no wonder pet owners feel overwhelmed. So to make things simpler, my team and I have done all the research for you. Whether you call Santa Fe, Roswell, Rio Rancho, Albuquerque, White Sands or somewhere in between home, this article has all the information you need to make an educated decision. Read more about our unbiased ranking methodology and advertiser disclosure.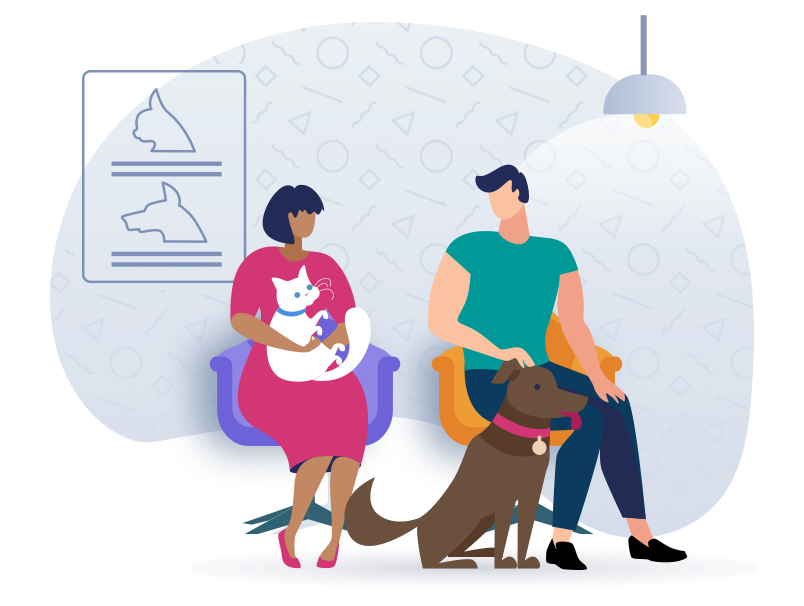 Top NM Dog Insurance Scored, Ranked & With Cost
Use our below table to quickly compare the best dog insurance providers in New Mexico. The average monthly New Mexico specific prices shown are based on a healthy 2-year-old Labrador Retriever with a $500 deductible and 90% reimbursement amount who is located in New Mexico with an 87120 zip code. Costs may vary based on age, location, coverage amount, and depending on the breed of your puppy. Prices are accurate as of January 2023 and are subject to change. For the most up-to-date information, please visit the provider website.
---
How much does dog insurance cost in New Mexico for the 15 most popular breeds?
The price for New Mexico dog insurance is almost always the same throughout the state including in Albuquerque, Las Cruces, Rio Rancho, Santa Fe, Roswell, Taos, or Farmington, etc. However, the prices will vary based on the age, health and breed of your puppy.
All prices shown below are based on a 90% reimbursement rate with a $500 deductible and a $5,000 annual benefit from Figo pet insurance. Please note: these prices should only be treated as a rough guide as of January 2023 and are subject to change. If you're looking for the most up-to-date cost of dog insurance in New Mexico we suggest getting a quote directly with Figo or Lemonade.
Mixed Breed – $18.74/ mo
Labrador Retriever – $25.53/ mo
Golden Retriever – $25.46/ mo
German Shepherd – $27.53/ mo
Goldendoodle – $22.15/ mo
Chihuahua – $11.66/ mo
Siberian Husky – $25.60/ mo
Yorkshire Terrier – $16.08/ mo
American Pit Bull Terrier – $28.33/ mo
Australian Shepherd – $17.62/ mo
Dachshund – $16.62/ mo
Shih Tzu – $14.80/ mo
French Bulldog – $35.04/ mo
Boxer – $35.20/ mo
Labradoodle – $22.15/ mo
Not finding your specific dog breed? Lemonade pet insurance is our #1 recommendation for New Mexico and they'll be able to give you a quick quote for your exact needs.
Dog Insurance FAQs for New Mexico
Why is dog insurance important in New Mexico?
First, you must learn what dog insurance is. Just like there are health insurance policies for you and me, dogs can also have health coverage. Say goodbye to outrageous bills at the vet.

You can see why dog insurance is helpful to have. Since you never know how expensive a trip to the vet can be, insurance ensures you're prepared. Too many pet owners have had to put their dogs to sleep due to not to afford life-saving treatments. With insurance, you don't have to be that pet owner.
How does dog insurance work?
To start enjoying the benefits of dog insurance, you need to find an insurance provider to write your dog a policy; this will generally be a dedicated dog or pet insurance company. To keep your policy active, you'll then need to pay a monthly premium.

If your dog is injured or falls ill, you'll pay up front as you would normally. Later, you will submit a reimbursement claim from your insurance provider.

Tip: Many insurers exclude coverage from conditions defined as "pre-existing," such as arthritis, diabetes, cancer, etc. That is why we greatly recommend obtaining insurance while your dog is still a puppy.
How old does my puppy need to be to get insured?
Your puppy must be at least 8 weeks old to obtain insurance. Reputable insurers will not write policies for puppies any younger than this. If your dog is already fully grown, there is not an age limit when it comes to insurance, just get coverage as soon as you can.

Tip: Younger pups have the cheapest insurance rates. Any time between 8 weeks and 1 year is the optimal time to obtain coverage.
Is dog insurance worthwhile in New Mexico?
You know that accidents, emergencies, and illnesses are practically inevitable in your dog's life. After all, what's life without risk? But on the other hand, what's life with a pile of unpaid vet bills? New Mexico is by no means cheap when it comes to caring for your canine. When you think about healthcare expenses, dog insurance is worthwhile to consider at least.
What will my policy cover? What will it exclude?
No two policies are alike, as you probably know from getting insurance for yourself. Coverage varies based on the insurer and your dog's individual policy. One thing that's pretty much universally covered, however, is a sudden illness or accident. Keyword being "sudden."

Did your dog swallow a rock? Ate some bad leftovers? Ran into traffic? These situations are most likely covered.

Here's where it gets tricky. Remember when we mentioned "pre-existing conditions?" Illnesses like cancer, diabetes, and many conditions prior to obtaining coverage, are not eligible. It's essential to communicate with insurers to find out what they'll cover, especially if your dog has any existing conditions.

In addition, many insurers provide wellness packages to cover heartworm prevention, yearly exams, and vaccines.
How does reimbursement work?
How much you're reimbursed is determined by these factors: your deductible, reimbursement percentage, and coverage limit. So, let's do the math:

In this scenario, you have a $300 deductible and an 85% reimbursement percentage.
You submit a veterinary bill for $600.
$600 (vet bill) minus $300 (your deductible) totals $300.
You're reimbursed 85% of $300, which amounts to $255.
Not all insurers function the same. Trupanion gives payment straight to in-network veterinarians, without you having to pay first.
Low deductible vs high deductible?
We've noticed that most pet owners choose deductibles of either $250 or $500. There are pros and cons to low and high deductibles.

Low deductible: You'll pay a higher monthly premium, but this means your veterinarian expenses will be lower.

High deductible: You'll pay a smaller monthly premium, but this means your veterinarian expenses will be higher.

Survey your financial situation to find out which type of deductible will work best for your needs.
Do New Mexico homeowners insurance companies have restricted dog breeds?
You'll likely find that your homeowners insurance policy restricts some dog breeds. These generally include breeds with higher perceived risk, such as:
Akitas
Alaskan Malamutes
Chow Chows
Doberman Pinschers
German Shepherds
Great Danes
Bull Mastiffs
Pit Bull Terriers
Bull Mastiffs
Wolfhounds
Please contact your local home insurance provider for the latest information and whether or not you need a liability rider on your policy.
5 Tips to Keep Your Dog Safe & Healthy in New Mexico
1. Beware of Bats
Due to New Mexico's frequent high temperatures and lack of water, bats tend to fall on the ground instead of hanging on their perches, risking an unwanted encounter with you and your dog. Bats may seem relatively harmless (just creepy), but they can carry rabies—a viral, deadly disease typically transmitted through bites. Here's how to stay safe around bats:
Keep your dog on a leash when outdoors at all times. Ensure they are up to date on rabies vaccinations and wearing a current license tag on their collar.
You never know the intentions of a wild animal. Stay away from animals that are acting sick, fearless, aggressive, or abnormally friendly. Do not approach or touch wild animals that are alive or dead.
If your dog is bitten or scratched by any animal, contact a veterinarian immediately, even if the wound looks to be minor.
If you or another human is bitten or comes into contact with an animal's saliva, wash the site immediately with soap and water. Report the bite immediately to local animal control, seek medical care, and call the New Mexico Department of Health to determine if a rabies exposure protective vaccination is necessary.
2. Don't Encourage a Predator Encounter
Cougars, black bears, bobcats, and coyotes are all found throughout New Mexico. Although encounters with humans and pets are rare, you should still learn how to co-exist with your wild neighbors safely:
Avoid outdoor activities such as running or hiking around dawn and dusk, when predators are most active.
Supervise dogs outdoors and keep them close when hiking or when in remote areas.
Eliminate hiding places around your home. Enclose open spaces below your porch and deck. Install outdoor lighting, preferably with motion sensors, and illuminate nearby walking areas.
Keep your dog leashed and bring them inside at night. If they must stay outdoors, make sure their kennel is secure.
Do not feed your dog outside. Pet food can attract predators and prey.
Store all garbage securely. Most predators will move on if they can't find abundant food.
3. Don't Fear Floods
New Mexico is a prime target for flash flooding, as many desert environments are. Although most city dwellers shouldn't have to worry too much, many residents of the Land of Enchantment live in remote areas where you need to be extra alert:
In the event of a flood, take your dog inside and move to the highest floor of your home. Do not leave them outside. If you're not safe, neither are they.
Keep your dog's essential documents, such as vaccination records, vet contact information, and your dog's microchip number, in a waterproof, sealed bag.
Evacuate if you are told to do so, and take your dog with you. Please do not leave them behind.
Figure out ahead of time where you'll take your dog if you have to evacuate since not all places are pet-friendly.
Even if a flood has subsided significantly, don't walk your dog in floodwater. Just six inches of moving water is strong enough to knock you and your dog down.
Don't assume your dog can swim. It's wise to invest in a dog life vest.
Don't let your dog drink floodwater which contains all kinds of unwanted substances. You and your dog should only drink bottled water until authorities say otherwise.
4. High Temperatures, High Risk
New Mexico is a desert, and though much of the state is a high-altitude desert, temperatures can nevertheless become extreme. Follow these tips to protect your dog:
Do not leave your dog unattended in a vehicle, not even with A/C or an open window. Keep in mind that car temperatures are always higher than outdoor temperatures.
Limit exercise on hot days to early morning and late evening hours.
Always provide cold water and shade when possible.
Look for signs of heat stress: heavy panting, glazed eyes, rapid pulse, dizziness, a staggering gait, vomiting, or a deep red or purple tongue.
5. Low Temperatures, Still High Risk
Speaking of high altitude, New Mexico is in fact the fourth-highest state in the U.S. This means colder winters than you would expect in a desert. Don't get caught unprepared:
Winter coats: Most dogs have a natural winter coat, so please don't shave your dog down to the skin in the winter. If your pup has a naturally short coat, you may want to buy them a sweater for extra protection from the cold.
Check their paws: Check your dog's paws for ice after any time spent outdoors. Also check for cracked paw pads and bleeding, which could signal damage.
Check the water bowl for freezing: Glass and ceramic dishes crack and break when the water freezes, not to mention, how is your doggo supposed to drink?
5 Must-Know New Mexico Dog Shelters
Adding a dog to your family is easy when you have these great shelters (and many more) to choose.
---
---
---
---
---
Conclusion
Now you're armed with the knowledge you need to find the right insurance policy for your canine companion in New Mexico. To recap, we suggest if you're interested in applying, your best bet is to do it while your dog is still a puppy, preferably after 8 weeks and before 1 year of age for the best coverage and rates.

Are you looking for recommendations? We find that Lemonade pet insurance has low premiums and high performance.
SwiftScore Ranking Methodology for New Mexico
We ranked the best pet insurance policies in New Mexico based on a variety of important factors including the following:
Average monthly price for a 2-year-old Labrador Retriever with a $500 deductible located in New Mexico with a 87120 zip code
Coverage and benefits
Key policy details including accidents and illnesses, surgeries, annual check-ups, cancer treatment, lab tests, and more
AM Best rating of the underwriter
Reimbursement percentage
Annual benefit amount
Technology and user experience

Ease of sign up

Policy language clarity
User reviews
Other state dog insurance resources
Alabama (AL) | Alaska (AK) | Arizona (AZ) | Arkansas (AR) | California (CA) | Colorado (CO) | Connecticut (CT) | Delaware (DE) | Florida (FL) | Georgia (GA) | Hawaii (HI) | Idaho (ID) | Illinois (IL) | Indiana (IN) | Iowa (IA) | Kansas (KS) | Kentucky (KY) | Louisiana (LA) | Maine (ME) | Maryland (MD) | Massachusetts (MA) | Michigan (MI) | Minnesota (MN) | Mississippi (MS) | Missouri (MO) | Montana (MT) | Nebraska (NE) | Nevada (NV) | New Hampshire (NH) | New Jersey (NJ) | New Mexico (NM) | New York (NY) | North Carolina (NC) | North Dakota (ND) | Ohio (OH) | Oklahoma (OK) | Oregon (OR) | Pennsylvania (PA) | Rhode Island (RI) | South Carolina (SC) | South Dakota (SD) | Tennessee (TN) | Texas (TX) | Utah (UT) | Vermont (VT) | Virginia (VA) | Washington (WA) | West Virginia (WV) | Wisconsin (WI) | Wyoming (WY)