6 Best Rhode Island (RI)
Dog Insurance

Plans Compared in 2023

Updated on by Matthew H. Nash – Licensed Insurance Agent

Dog parents across the state spend countless hours trying to figure out the best Rhode Island dog insurance plans. Being a nationally licensed insurance agent and lifelong dog owner, I've seen firsthand the stress people go through. Between trying to understand complex policy jargon and choosing the right provider, many feel unable to make an educated decision. My team and I have extensively researched everything you need to know to save you time and stress. Whether you live in Providence, Bristol, Warwick, Central Falls or anywhere in between, we've packed this article with dog insurance know-how. Read more about our unbiased ranking methodology and advertiser disclosure.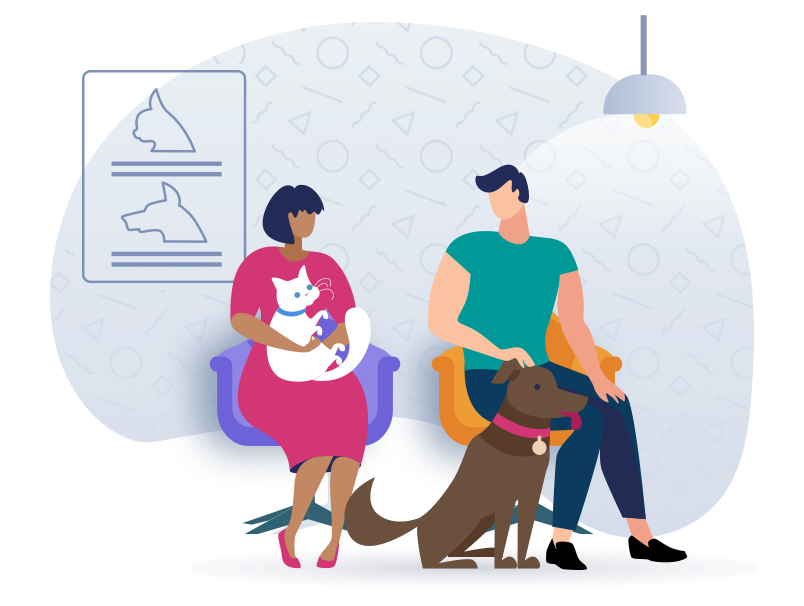 Top RI Dog Insurance Scored, Ranked & With Cost
Use our below table to quickly compare the best dog insurance providers in Rhode Island. The average monthly Rhode Island specific prices shown are based on a healthy 2-year-old Labrador Retriever with a $500 deductible and 90% reimbursement amount who is located in Rhode Island with a 02909 zip code. Costs may vary based on age, location, coverage amount, and depending on the breed of your puppy. Prices are accurate as of July 2023 and are subject to change. For the most up-to-date information, please visit the provider website.
---
How much does dog insurance cost in Rhode Island for the 15 most popular breeds?
The price for Rhode Island dog insurance is almost always the same throughout the state including in Providence, Cranston, Warwick, Pawtucket, Woonsocket, or Cumberland, etc. However, the prices will vary based on the age, health and breed of your puppy.
All prices shown below are based on a 90% reimbursement rate with a $500 deductible and a $5,000 annual benefit from Figo pet insurance. Please note: these prices should only be treated as a rough guide as of January 2023 and are subject to change. If you're looking for the most up-to-date cost of dog insurance in Rhode Island we suggest getting a quote directly with Figo or Lemonade.
Mixed Breed – $19.64/ mo
Labrador Retriever – $26.75/ mo
Golden Retriever – $26.70/ mo
German Shepherd – $28.86/ mo
Goldendoodle – $23.22/ mo
Chihuahua – $12.22/ mo
Siberian Husky – $26.82/ mo
Yorkshire Terrier – $16.87/ mo
American Pit Bull Terrier – $29.69/ mo
Australian Shepherd – $18.46/ mo
Dachshund – $17.42/ mo
Shih Tzu – $15.51/ mo
French Bulldog – $36.72/ mo
Boxer – $36.87/ mo
Labradoodle – $23.22/ mo
Not finding your specific dog breed? Lemonade pet insurance is our #1 recommendation for Rhode Island and they'll be able to give you a quick quote for your exact needs.
Rhode Island Dog Insurance FAQs
What is dog insurance?
Dog insurance is, in a nutshell, medical insurance for your dog. When your canine has an accident or gets sick, a pet insurance company will help cover the associated costs. The coverage will vary depending on your specific policy agreement and the type of problem being treated. It is essential to understand what each insurance company does and does not cover so that you can decide what is best for you and your canine.
How do I sign up for dog insurance?
Fortunately, signing up for dog insurance is pretty straightforward. You will first want to compare different pet insurance companies and their policies to decide which is the best fit for your needs. Once you know which provider you want to work with, you will sign an agreement and immediately begin paying your monthly premium. Keep in mind that you must stay up-to-date on monthly payments so that your insurance policy doesn't lapse!
How does compensation work?
Compensation works the same way with most dog insurance companies. Once you have a vet bill, you will need to pay it out of pocket. Following that, you will file an insurance claim and send it to them for review. If your policy is active and you are current on monthly payments, you will be compensated per your policy agreement.
At what age is my puppy eligible for puppy insurance? What about dog insurance?
Most dog insurance companies require your puppy to be at least eight weeks of age before it becomes eligible for puppy insurance. We recommend purchasing puppy insurance as early as possible due to the health risks a dog faces in its early life.

Most companies don't specify an age requirement for dog insurance. The wise choice is to purchase dog insurance before your canine's first birthday because it is cheaper to insure a younger dog, and your pup is less likely to have any pre-existing conditions.
Do I need dog insurance in Rhode Island?
We recommend that everyone buys dog insurance, regardless of location. Many threats to a canine's health are genetic flaws or illnesses that are not at all influenced by your geographic location. As far as general wildlife dangers, there are plenty of animals in Rhode Island that could cause significant harm to your pet.
What vet bills are covered by dog insurance? What is not covered?
Most insurance companies offer vet bill coverage for anything that is considered "sudden and catastrophic." This includes broken bones, allergic reactions, poisoning, infections, and more. Pet insurance providers also offer other specific coverages, which vary based on the company.

One thing that is mutually beneficial for you and your insurance provider is the fact that many companies offer "wellness" packages. These are additional insurance coverages for routine care, such as exams, vaccines, and heartworm medication. Insurance companies offer these packages because it is in their best interest to keep your dog in excellent shape, as this helps avoid some emergency vet visits. And we, as pet owners, are also interested in our dogs being happy and healthy.

Insurance companies typically do not cover any pre-existing conditions. Meaning anything your pup was diagnosed with before signing up for insurance is not covered. Insurance companies cannot make money if they cover problems that already exist for new customers.
What is an example of insurance reimbursement?
Here is how insurance reimbursement works:

Let's say that, for whatever reason, you have to rush your dog to the emergency vet. The veterinarians do what they do best, and they save your dog's life. Unfortunately, this type of specialized care comes with a price, and your bill is $10,000. Now, you have been faithful in paying your monthly premiums on your dog insurance policy. Your policy offers a 90% reimbursement amount, with a $250 deductible and a $20,000 max annual benefit. After receiving the vet bill, you file a claim with your provider. They reimburse you for $9,000 minus your $250 deductible.

Meaning you only had to pay $1,250 out of pocket instead of a whopping $10,000. So, not only did your dog survive this tragic ordeal, but you also only paid a fraction of the cost to save it.

Note: One company that offers an exception to the rule of paying out-of-pocket and being reimbursed later is Trupanion, which will send payment directly to veterinarians in their network.
Is it better to have a lower deductible or a lower monthly premium?
This is a pervasive question that we receive regarding insurance. A lower deductible means you will have a higher monthly premium payment. Likewise, a higher deductible will see you paying less each month in premiums. There is no definitive answer as to which is better. It depends entirely on your financial situation. Do you want to pay more or less in the event of an emergency visit? What makes more economic sense for you?

Many insurance providers have a simple, user-friendly online calculator that allows you to compare the differences in monthly premiums and deductibles. In our experience, most dog owners choose a deductible of either $250 or $500.
Do homeowners insurance companies have a restricted breeds list?
Homeowner's insurance varies by state, but the majority of companies have restrictions on specific dog breeds. These include, but are not limited to:
Akitas
Chow Chows
Doberman Pinschers
German Shepherds
Bull Mastiffs
Pit Bull Terriers
Rottweilers
Wolfhounds
For any questions about restricted dog breeds in your area, please contact your local homeowner's insurance provider and ask about their restricted breeds list. If your dog is a restricted breed, you may need a specific liability rider.
5 Useful Tips for Keeping Your Dog Safe & Healthy in Rhode Island
While dog insurance is the most surefire way to keep your pup safe and healthy, some trips to the emergency vet are entirely avoidable. Here are five valuable tips for keeping your dog safe and healthy in Rhode Island:
1. Get your pup regular vet exams
Our first tip isn't going to help you avoid trips to the vet at all. However, it is vital to keep your dog healthy. Take your pup to regular vet appointments for routine exams. Many serious health issues can be discovered and treated very early on with early detection. A good veterinarian will identify these health complications early, but they can't do that if you don't take your canine in for exams. This could save your dog's life.
2. Only give your dog safe treats
Dogs love treats, and we love to give them treats. However, it is essential to know what treats your dog can and can't have. Dogs cannot eat many of the foods that we commonly enjoy. Many snacks that are harmless to us are poisonous to dogs. For this reason, you should always do some research before feeding your pup something new. This can save your pet from becoming terribly ill or even dying.
3. Be cautious when you're away from home
Among the most recognized traits that dogs possess is their steadfast loyalty. Canines can be highly protective of their owners. This means that a dog should be supervised when outside of its enclosure. If your pup perceives something to be a threat to you or itself, it may become aggressive. Unfortunately, domestic dogs stand little chance against large wildlife. Try to be mindful of where your dog is at all times because it can be gravely injured or killed while mistakenly trying to protect you.
4. Keep them hydrated!
Another important tip for keeping your dog safe and healthy is to ensure it is adequately hydrated. Dogs cool themselves differently than we do, and most have a moderate to thick fur coat. For this reason, they are at a higher risk of heat-related illness. You should never let their water bowl stay empty, and if you notice that they are becoming lethargic or panting excessively, you should take them to the vet immediately.
5. Make sure Fido knows basic commands
Basic discipline can go a long way toward keeping your pup safe. You should, at a minimum, train your dog to come when you call. This should be a command that they follow regardless of what else is going on around them. Canines are very excitable animals, and many dogs die each year chasing cars or running into the path of danger while ignoring their owner's commands.
5 Unique Rhode Island Dog Rescues
Are you thinking about adding a new pup to your family? We recommend considering rescuing a dog. The world is full of dogs that their owners have abandoned for one reason or another. By adopting a canine, you are giving them the love they deserve and saving one more defenseless animal from euthanization in a shelter. Here are five unique Rhode Island dog rescues that we highly recommend:
---
---
---
---
---
Conclusion
Our research found that Lemonade Pet Insurance consistently offers the best value, considering its low monthly premiums, high customer satisfaction ratings, and excellent coverage. Choosing Lemonade Pet Insurance for all of your dog insurance needs is a safe bet.
SwiftScore Ranking Methodology for Rhode Island
We ranked the best pet insurance policies in Rhode Island based on a variety of important factors including the following:
Average monthly price for a 2-year-old Labrador Retriever with a $500 deductible located in Rhode Island with a 02909 zip code
Coverage and benefits
Key policy details including accidents and illnesses, surgeries, annual check-ups, cancer treatment, lab tests, and more
AM Best rating of the underwriter
Reimbursement percentage
Annual benefit amount
Technology and user experience

Ease of sign up

Policy language clarity
User reviews
Other state dog insurance resources
Alabama (AL) | Alaska (AK) | Arizona (AZ) | Arkansas (AR) | California (CA) | Colorado (CO) | Connecticut (CT) | Delaware (DE) | Florida (FL) | Georgia (GA) | Hawaii (HI) | Idaho (ID) | Illinois (IL) | Indiana (IN) | Iowa (IA) | Kansas (KS) | Kentucky (KY) | Louisiana (LA) | Maine (ME) | Maryland (MD) | Massachusetts (MA) | Michigan (MI) | Minnesota (MN) | Mississippi (MS) | Missouri (MO) | Montana (MT) | Nebraska (NE) | Nevada (NV) | New Hampshire (NH) | New Jersey (NJ) | New Mexico (NM) | New York (NY) | North Carolina (NC) | North Dakota (ND) | Ohio (OH) | Oklahoma (OK) | Oregon (OR) | Pennsylvania (PA) | Rhode Island (RI) | South Carolina (SC) | South Dakota (SD) | Tennessee (TN) | Texas (TX) | Utah (UT) | Vermont (VT) | Virginia (VA) | Washington (WA) | West Virginia (WV) | Wisconsin (WI) | Wyoming (WY)