6 Best Montana (MT)
Dog Insurance

Plans Compared in 2023

Updated on by Matthew H. Nash – Licensed Insurance Agent

Dog owners all over Montana know the importance of ensuring their furry friends get the best care possible. Unfortunately, urgent veterinary services can be prohibitively expensive. The good news is that having the best Montana dog insurance plan can help alleviate such financial burdens. As a nationally licensed insurance agent and devoted dog parent, I know that finding such a policy can be quite an undertaking. That is why my team and I have compiled the information you need to find the right plan for your pup. So if you live in Billings, Evergreen, Great Falls or another town in the Treasure State, this article has you covered. Read more about our unbiased ranking methodology and advertiser disclosure.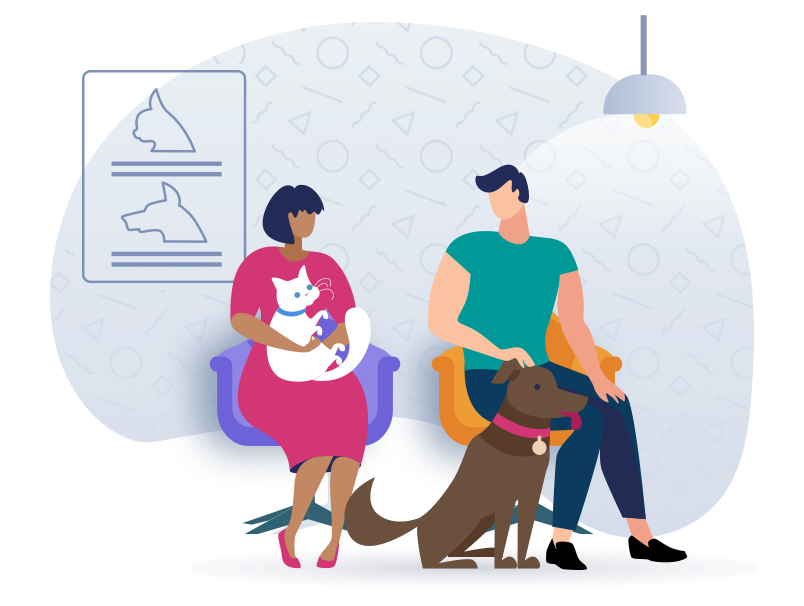 Top MT Dog Insurance Scored, Ranked & With Cost
Use our below table to quickly compare the best dog insurance providers in Montana. The average monthly Montana-specific prices shown are based on a healthy 2-year-old Labrador Retriever with a $500 deductible and 90% reimbursement amount who is located in Montana with a 59101 zip code. Costs may vary based on age, location, coverage amount, and depending on the breed of your puppy. Prices are accurate as of July 2023 and are subject to change. For the most up-to-date information, please visit the provider website.
---
How much does dog insurance cost in Montana for the 15 most popular breeds?
The price for Montana dog insurance is almost always the same throughout the state including in Billings, Missoula, Great Falls, Bozeman, Helena, or Kalispell, etc. However, the prices will vary based on the age, health and breed of your puppy.
All prices shown below are based on a 90% reimbursement rate with a $500 deductible and a $5,000 annual benefit from Figo pet insurance. Please note: these prices should only be treated as a rough guide as of January 2023 and are subject to change. If you're looking for the most up-to-date cost of dog insurance in Montana we suggest getting a quote directly with Figo or Lemonade.
Mixed Breed – $23.00/ mo
Labrador Retriever – $31.31/ mo
Golden Retriever – $31.25/ mo
German Shepherd – $33.78/ mo
Goldendoodle – $27.19/ mo
Chihuahua – $14.30/ mo
Siberian Husky – $31.40/ mo
Yorkshire Terrier – $19.75/ mo
American Pit Bull Terrier – $34.76/ mo
Australian Shepherd – $21.62/ mo
Dachshund – $20.39/ mo
Shih Tzu – $18.17/ mo
French Bulldog – $43.00/ mo
Boxer – $43.18/ mo
Labradoodle – $27.19/ mo
Not finding your specific dog breed? Lemonade pet insurance is our #1 recommendation for Montana and they'll be able to give you a quick quote for your exact needs.
Montana Dog Insurance FAQs
What is dog insurance, and why is it important in Montana?
To ensure your dog has all the insurance it needs, you will want to sign up with a pet insurance company and pay a monthly premium to keep the policy active. In case of accident or illness, generally, you pay the vet bill up front and out of pocket. Afterward, you would submit a claim so you can receive reimbursement from your insurer. Keep in mind that when applying for a pet insurance policy, many providers will often exclude certain pre-existing conditions when granting coverage. We recommend getting your dog insured once they reach 8 weeks old, or are still in the puppy phase, to circumvent restrictions like these.

In Montana, having dog insurance is indispensable. Veterinary care can be extremely pricey, especially for treatment for cancer and other similar conditions that can exceed $10,000. Dog owners without insurance often face the heartbreaking decision to put their pet down merely for monetary reasons. Pet insurance can prevent instances like this.
How old does my puppy have to be to get insured?
Most dog insurance providers will require that your puppy has reached at least 8 weeks of age before you can sign them up for an insurance plan. However, many insurance companies do not set age limits for their dog insurance policies. Younger animals are generally less expensive to insure, so we recommend that you sign your dog up for an insurance plan before their first birthday.
Is dog insurance necessary in Montana?
While accidents and illnesses involving your pet are distressing, they happen often. Costs for veterinary treatment add up quickly, and many dog owners can find themselves paying $3,000 or more for an emergency vet visit at some point in their pet's life. You will have to decide if a monthly payment towards an insurance premium is worth the mitigation of paying for an expensive vet bill entirely out of pocket.
What services are covered by dog insurance and what is excluded?
The coverage options differ between each dog insurance provider, but any accident or illness with your pet will typically be covered unless specifically excluded. Anything that would define as "sudden and catastrophic" is protected by dog insurance. Broken bones, eye infections, swallowing a tennis ball, or allergies are incidents that would be included. Cancer is classified as a pre-existing condition if it occurred prior to the purchase of insurance. Pet insurance providers recently began to offer wellness packages, a particular coverage add-on that shares the cost for routine pet visits like check-ups, heartworm prevention, and vaccinations.
How does reimbursement work?
Let's say you've signed up for a dog insurance policy with a 90% reimbursement amount with a $250 deductible plus a $20,000 annual max benefit, and your dog suffers an unexpected accident or illness that needs a $10,000 emergency vet surgery. In this situation, your insurance company would reimburse you $9,000 minus your $250 deductible, so you would only need to pay $1,250 out of pocket instead of the full $10,000. Trupanion is an exception to this type of scenario. They are a pet insurance provider that will make payments directly to vets in their network, so you don't have to pay the entire cost of a vet visit out of pocket.
Is it smarter to have a low deductible and is there a sweet spot?
Lower insurance deductibles often involve a higher monthly premium, but in making these larger monthly payments, you avoid paying more out of pocket when you visit the vet. You will have to crunch some numbers to figure out which deductible makes the most sense for you and your budget, but plenty of insurance providers offer an easy-to-use calculator when receiving a quote. We have noticed that most people choose a $250 or $500 deductible.
5 Useful Strategies for Keeping Your Dog Safe & Healthy in Montana
1. Spaying and neutering
Animal shelters in Montana are full of homeless pets due to overpopulation. It is crucial to neuter or spays your dog so they are unable to contribute to this problem. Spaying and neutering also protect them from developing any conditions involving their reproductive organs like uterine or prostate cancers.
2. Socialize your puppy
Allowing your pet to meet other dogs and people while they are still young can decrease the development of any fearfully aggressive or antisocial behaviors as they grow up. Their most formative periods in life range from a few weeks old to around 16-18 weeks, so this is the ideal time to begin socializing with your dog.
3. Protect them from the cold
Montana winters can be exceptionally harsh for humans and pets alike. During the colder months, you should avoid leaving your dog outdoors for longer than needed to handle their business. Getting your dog some protective boots can also be beneficial during short walks through the snow as it has the potential to become compacted between their paws and cause discomfort.
4. Weight management
Dogs can be affected by improper weight gain due to excessive food consumption and lack of exercise. An unregulated diet can result in an overweight dog, making them susceptible to obesity-related conditions. Make sure you are feeding your dog the correct amount of food combined with daily physical activity so they can maintain a healthy weight.
5. Dangerous wildlife
Montana is often referred to as a bear country. These wild animals have the potential to be dangerous not only to people but also to pets. Be sure to keep your dog on a leash when recreating in any of Montana's outdoor spaces and never leave their food outside as this can attract bears to your home.
5 Unique Dog Rescue Shelters in Montana
Few things are as rewarding as rescuing a dog. Have a look at these five exciting and unique animal shelters in Montana and find your new companion.
---
---
---
---
---
Conclusion
Purchasing an insurance plan for your dog or puppy doesn't have to be a challenge. Signing up for pet insurance as soon as your puppy reaches 8 weeks of age locks in low prices on policies, and you can avoid certain restrictions on coverage like a pre-existing condition. Regardless of your dog's age, insurance protects your pet and your wallet from expenses related to treatment for an illness or accident. It can even help cover the cost of routine vet visits that keep your dog healthy. Our research has found that Lemonade pet insurance has been rated best in performance and provides the lowest monthly premiums.
SwiftScore Ranking Methodology for Montana
We ranked the best pet insurance policies in Montana based on a variety of important factors including the following:
Average monthly price for a 2-year-old Labrador Retriever with a $500 deductible located in Montana with a 59101 zip code
Coverage and benefits
Key policy details including accidents and illnesses, surgeries, annual check-ups, cancer treatment, lab tests, and more
AM Best rating of the underwriter
Reimbursement percentage
Annual benefit amount
Technology and user experience

Ease of sign up

Policy language clarity
User reviews
Other state dog insurance resources
Alabama | Alaska | Arizona | Arkansas | California | Colorado | Connecticut | Delaware | Florida | Georgia | Hawaii | Idaho | Illinois | Indiana | Iowa | Kansas | Kentucky | Louisiana | Maine | Maryland | Massachusetts | Michigan | Minnesota | Mississippi | Missouri | Montana | Nebraska | Nevada | New Hampshire | New Jersey | New Mexico | New York | North Carolina | North Dakota | Ohio | Oklahoma | Oregon | Pennsylvania | Rhode Island | South Carolina | South Dakota | Tennessee | Texas | Utah | Vermont | Virginia | Washington | West Virginia | Wisconsin | Wyoming