6 Best New Jersey (NJ)
Dog Insurance

Plans Compared in 2023

Updated on by Matthew H. Nash – Licensed Insurance Agent

As a licensed New Jersey insurance agent and lifelong dog parent, I understand that searching for the best New Jersey puppy or dog insurance can be intimidating. It isn't easy to know where to begin between trying to decrypt policy language and choosing between different coverage levels. My team and I put together this article so that you could learn the ins and outs of dog insurance quickly and easily. Whether you live in Jersey City, Trenton, New Hanover, Newark or somewhere else in the Garden State, this guide has everything you need to know. Read more about our unbiased ranking methodology and advertiser disclosure.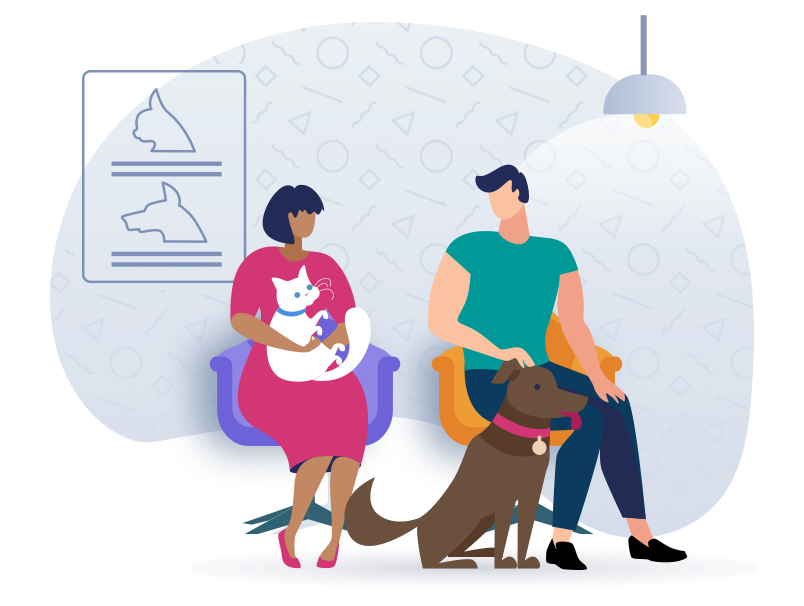 Top NJ Dog Insurance Scored, Ranked & With Cost
Use our below table to quickly compare the best dog insurance providers in New Jersey. The average monthly New Jersey specific prices are shown are based on a healthy 2-year-old Labrador Retriever with a $500 deductible and 90% reimbursement amount who is located in New Jersey with a 07305 zip code. Costs may vary based on age, location, coverage amount, and depending on the breed of your puppy. Prices are accurate as of July 2023 and are subject to change. For the most up-to-date information, please visit the provider website.
---
How much does dog insurance cost in New Jersey for the 15 most popular breeds?
The price for New Jersey dog insurance varies depending on where you live. To give you an idea we've collected costs for three cities shown below. The prices will also vary based on the age, health, and breed of your puppy.
All prices shown below are based on a 90% reimbursement rate with a $500 deductible and a $5,000 annual benefit from Figo pet insurance. Please note: these prices should only be treated as a rough guide as of January 2023 and are subject to change. If you're looking for the most up-to-date cost of dog insurance in New Jersey we suggest getting a quote directly with Figo or Lemonade.
Mixed Breed

Hoboken – $34.92/ mo
Montclair – $34.92/ mo
Jersey City – $41.74/ mo

Labrador Retriever

Hoboken – $44.80/ mo
Montclair – $44.80/ mo
Jersey City – $53.54/ mo

Golden Retriever

Hoboken – $54.52/ mo
Montclair – $54.52/ mo
Jersey City – $65.15/ mo

German Shepherd

Hoboken – $50.99/ mo
Montclair – $50.99/ mo
Jersey City – $60.94/ mo

Goldendoodle

Hoboken – $43.57/ mo
Montclair – $43.57/ mo
Jersey City – $52.07/ mo

Chihuahua

Hoboken – $19.49/ mo
Montclair – $19.49/ mo
Jersey City – $23.29/ mo

Siberian Husky

Hoboken – $48.60/ mo
Montclair – $48.60/ mo
Jersey City – $58.07/ mo

Yorkshire Terrier

Hoboken – $26.84/ mo
Montclair – $26.84/ mo
Jersey City – $32.08/ mo

American Pit Bull Terrier

Hoboken – $50.19/ mo
Montclair – $50.19/ mo
Jersey City – $59.98/ mo

Australian Shepherd

Hoboken – $33.20/ mo
Montclair – $33.20/ mo
Jersey City – $39.67/ mo

Dachshund

Hoboken – $31.00/ mo
Montclair – $31.00/ mo
Jersey City – $37.05/ mo

Shih Tzu

Hoboken – $26.51/ mo
Montclair – $26.51/ mo
Jersey City – $31.68/ mo

French Bulldog

Hoboken – $62.93/ mo
Montclair – $62.93/ mo
Jersey City – $75.21/ mo

Boxer

Hoboken – $74.91/ mo
Montclair – $74.91/ mo
Jersey City – $89.52/ mo

Labradoodle

Hoboken – $43.57/ mo
Montclair – $43.57/ mo
Jersey City – $52.07/ mo
Not finding your specific dog breed? Lemonade pet insurance is our #1 recommendation for New Jersey and they'll be able to give you a quick quote for your exact needs.
New Jersey Dog Insurance FAQs
What is dog insurance and why is it useful in New Jersey?
To protect your dog via insurance, you'll need to find and sign up for a dog insurance plan. These plans are similar to health insurance plans for humans and require a monthly payment to keep active. If your dog falls ill or has an accident, you will still have to pay at the register for vet services. However, with a dog insurance plan in place, you can then submit a claim to your insurer and be reimbursed for some or all of the vet bills.

One thing to keep in mind is that many dog insurance companies exclude pets with pre-existing conditions. Or, plans to cover pets with pre-existing conditions are extremely more expensive than those for other pets. Because of this, we recommend signing your dog up for a dog insurance plan as soon as possible (after 8 weeks of age).

Dog insurance is very advantageous in New Jersey as vet bills can pile up quickly for pet injuries and treatments for illnesses such as cancer. Uninsured pet owners may face the undeniable risk of not being able to afford pet treatment, while dog insurance can help mitigate this risk.
Does my dog need to be an adult to get dog insurance?
Every dog insurance company will have different policies. However, it is most common for insurance companies to require your dog to be at least 8 weeks old before qualifying for a pet insurance plan. There is rarely an age limit to purchasing an insurance plan. We recommend purchasing a dog insurance plan before your dog's first birthday, as getting them into the system earlier will save you costs and complications from insuring a dog with more health complications.
Is it really worth it to get dog insurance in New Jersey?
Vet bills can, unfortunately, pile up extremely quickly. An average vet visit can cost $200 for a typical check-up, which doesn't consider any illnesses or complications. Emergency vet visits can easily cost thousands of dollars, which adds stress when your pet suddenly feels unwell at odd night hours. When deciding whether or not to get dog insurance, you'll have to weigh the plan's monthly cost with the potential mitigation of high emergency costs.
What does dog insurance cover? What isn't included in a dog insurance plan?
Similar to dog age requirements, your dog insurance plan will cover different things depending on the company. Generally, unforeseen accidents and illnesses will be covered for your dog up to a certain yearly benefit amount. This includes anything that is "sudden and catastrophic," for your dogs, such as a broken leg or a bad reaction to something outside. A dog insurance policy may not cover pre-existing conditions and diagnoses. However, many dog insurance companies often have wellness packages or bundles for an added fee that cover vaccinations, routine check-ups, and parasite prevention.
How does dog insurance work?
Dog insurance enables you to have part or all of your emergency vet bills covered by the insurance company in return for regular monthly payments. For example, let's say you have a dog insurance plan that allows you a $20,000 annual maximum benefit. The plan also has a $250 deductible and a 90% reimbursement amount. If something happens to your dog and they need a $10,000 surgery, your dog insurance company will reimburse you for $9,000 minus your $250 deductible. You'll end up paying a total of $1,250 for the surgery instead of $10,000. Keep in mind that while your dog insurance company will reimburse you per your policy, this will occur in most cases after the emergency surgery and you'll have to pay for the surgery upfront before reimbursement. Trupanion is an exception to this case and offers payment directly to vets in their network.
Is it better to have a lower or a higher deductible?
Whether a lower or a higher deductible will work best for your dog insurance policy will depend on your financial situation. Typically, a lower deductible would correspond to higher monthly payments. You'll be paying more each month to keep your dog insurance coverage, but when a catastrophe happens, you'll pay less out of pocket. Many providers have easy-to-use calculators to help you determine what deductibles will work best for your budget and your pet. According to our research, most people choose either $250 or $500 deductibles.
Are there any restricted dog breeds for homeowners insurance in New Jersey?
Restrictions for homeowners insurance in most states concerning certain dog breeds will vary depending on the insurance provider. The following dog breeds, among others, are often restricted when it comes to homeowners insurance:
Akitas
Chow Chows
Doberman Pinschers
German Shepherds
Great Danes
Pit Bull Terriers
Rottweilers
Staffordshire terriers
Wolfhounds
Wolf hybrids
We recommend contacting your local home insurance provider for details on what your homeowner's insurance policy includes or excludes when it comes to specific dog breeds.
5 Useful Strategies for Keeping Your Dog Safe & Healthy in New Jersey
1. Worms and Parasite Protection
New Jersey hosts a variety of dog-friendly hiking trails and greenery-rich dog parks. But with the great outdoors comes the great threat of worms and parasites. Your dog can, unfortunately, become a host for these through fleas, ticks, mites, and more. These critters often thrive on hiking paths; heartworms can enter your dog's system through mosquito bites.

Parasite protection is available for cats and many choose to use topical protection for them, even if the cats are indoor-only. Parasite protection is even more vitally important for dogs as daily outdoor walks and longer hiking trips are often the epitome of dog activities.
2. Your Dog and New Jersey Wildlife
The beautiful New Jersey nature offerings come with a catch: the variety of wildlife in the state. From squirrels to coyotes, foxes, deer, and raccoons, there are a plethora of creatures thriving in New Jersey that you and your dog need to be aware of.

In general, avoid feeding your dog outside, particularly unattended and at night. Doing so can attract raccoons, foxes, and strays, and mark your house as a destination for problematic wildlife.

Additionally, if you plan to install a pet door that gives your pet access outside whenever they wish, make sure that your dog's microchip or collar can only activate it. The last thing you want is to invite other critters inside that can damage your house or infect your furry friend.
3. Toxic Garden Plants to Avoid for Your Dog
One of the best ways to protect your dog is to prune and check your yard and/or local dog park before letting your dog explore or play. When looking at the ripened fruit alone, many fruits and vegetables are not toxic to dogs. However, many plant leaves, stems, and more can be toxic for your dog.

In New Jersey, tomato plants and rhubarb grow quite well, but you might want to avoid these if you own a dog. The leaves and stems of both of these plants are toxic for your furry friend, as are the greens surrounding onions and garlic.
4. Dog Training and Outdoor Plants
In addition to the plants, fruits, and vegetables you plan to plant at home, you'll also need to protect your dog from plants on hiking trails and along dog parks. One of the best ways to do so is to train your dog to ask for permission before sniffing plants or exploring a park area.

You can do so by holding firm on your dog's leash, refusing to let them approach an area of interest until they look to you for permission. Clicker training can also help them learn. While this may seem tedious, this simple training can help save you from a curious dog quickly sticking his or her nose into something problematic before you can react.
5. Doggy Supervision Around Pools & Grills
Dogs make the best companions because they can often participate in our most cherished activities. This includes backyard barbeques and pool parties. However, pools and outdoor grills can of course pose risks for our dogs, too.

Ensure that your dog is always supervised during backyard parties, even when the company isn't over if you have a pool. Pools are hazardous for adventurous pups who find themselves trying to swim without a supervisor. This is especially true if your pool has a cover for wintertime, but your dog happens to be heavy enough or destructive enough to paw under it to the water below.
5 Unique Dog Rescue Shelters in New Jersey
Looking to adopt a new dog? These five shelters in New Jersey are loved for their pet adoption facilities and service. Adopting a dog is one of the best ways to make a lifelong furry friend and save a life in the process.
---
---
---
---
---
Conclusion
Choosing the right dog insurance for you in New Jersey can be painless. We recommend purchasing a dog insurance plan once your dog is over 8 weeks old. Doing so will ensure that you can lock in coverage at the best price, as your dog will likely be the healthiest at this stage. If you've adopted an older dog or if your dog is already beyond this age, purchasing a dog insurance plan as soon as you are able can still save your wallet during catastrophic events and help you budget for wellness visits. We've found Lemonade pet insurance to consistently perform the best as a dog insurance option with the lowest monthly premiums.
SwiftScore Ranking Methodology for New Jersey
We ranked the best pet insurance policies in New Jersey based on a variety of important factors including the following:
Average monthly price for a 2-year-old Labrador Retriever with a $500 deductible located in New Jersey with a 07305 zip code
Coverage and benefits
Key policy details including accidents and illnesses, surgeries, annual check-ups, cancer treatment, lab tests, and more
AM Best rating of the underwriter
Reimbursement percentage
Annual benefit amount
Technology and user experience

Ease of sign up

Policy language clarity
User reviews
Other state dog insurance resources
AL | AK | AZ | AR | CA | CO | CT | DE | FL | GA | HI | ID | IL | IN | IA | KS | KY | LA | ME | MD | MA | MI | MN | MS | MO | MT | NE | NV | NH | NJ | NM | NY | NC | ND | OH | OK | OR | PA | RI | SC | SD | TN | TX | UT | VT | VA | WA | WV | WI | WY