7 Best North Carolina (NC)
Dog Insurance

Plans Compared in 2023

Updated on by Matthew H. Nash – Licensed Insurance Agent

Dedicated North Carolina dog owners know that dog insurance offers a vital safety net that can protect them against financial hardship in the event of a veterinary emergency. However, as a nationally licensed insurance agent and lifelong dog parent, I know that buying puppy or dog insurance can be confusing. To help you through the process, my team and I researched everything you need to know to find the best North Carolina dog insurance plan. Whether you live in Charlotte, Raleigh, Fayetteville, Greensboro or anywhere between, this article has you covered. Read more about our unbiased ranking methodology and advertiser disclosure.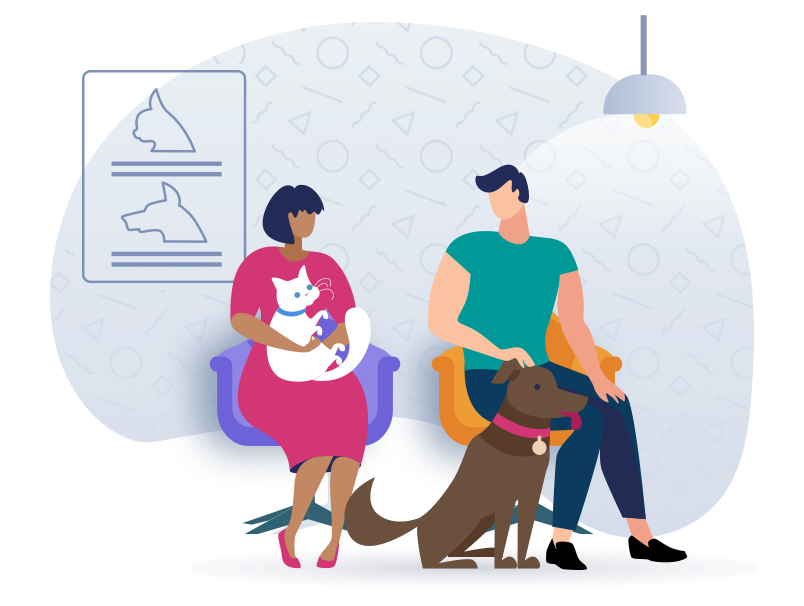 Top NC Dog Insurance Scored, Ranked & With Cost
Use our table below to compare the best dog insurance providers in North Carolina quickly. The average monthly North Carolina-specific prices shown are based on a healthy 2-year-old Labrador Retriever with a $500 deductible and 90% reimbursement amount who is located in North Carolina with a 27603 zip code. Costs may vary based on age, location, coverage amount, and depending on the breed of your puppy. Prices are accurate as of January 2023 and are subject to change. For the most up-to-date information, please visit the provider website.
---
How much does dog insurance cost in North Carolina for the 15 most popular breeds?
The price for North Carolina dog insurance is almost always the same throughout the state including in Charlotte, Raleigh, Greensboro, Durham, or Winston-Salem, etc. However, the prices will vary based on the age, health and breed of your puppy.
All prices shown below are based on a 90% reimbursement rate with a $500 deductible and a $5,000 annual benefit from Figo pet insurance. Please note: these prices should only be treated as a rough guide as of January 2023 and are subject to change. If you're looking for the most up-to-date cost of dog insurance in North Carolina we suggest getting a quote directly with Figo or Lemonade.
Mixed Breed – $24.84/ mo
Labrador Retriever – $33.83/ mo
Golden Retriever – $33.75/ mo
German Shepherd – $36.50/ mo
Goldendoodle – $29.37/ mo
Chihuahua – $15.45/ mo
Siberian Husky – $33.92/ mo
Yorkshire Terrier – $21.33/ mo
American Pit Bull Terrier – $37.56/ mo
Australian Shepherd – $23.34/ mo
Dachshund – $22.03/ mo
Shih Tzu – $19.62/ mo
French Bulldog – $46.45/ mo
Boxer – $46.64/ mo
Labradoodle – $29.37/ mo
Not finding your specific dog breed? Lemonade pet insurance is our #1 recommendation for North Carolina and they'll be able to give you a quick quote for your exact needs.
North Carolina Dog Insurance FAQs
What is dog insurance?
Dog insurance is similar to health insurance for you and your human family. Most health insurance coverage for humans ensures that you'll have at least partial coverage for most regular appointments and needed treatments throughout the year. Dog insurance operates in a similar capacity, but for coverage for your furry friend! Signing up for an insurance policy for your pet generally involves a monthly payment to keep the policy active. If your dog falls ill or has an accident, you'll likely have to pay for treatment costs out-of-pocket. Then, you'll submit a claim for partial or full reimbursement from your pet's insurer. Depending on your insurance policy, the company will reimburse you for all, some, or none of the cost.
Why should I get North Carolina dog insurance?
Dog insurance can be beneficial and life-saving in North Carolina. Many pet owners who do not hold pet insurance have to face devastating decisions to either euthanize a pet or accept a bill they cannot afford. Dog insurance can help prevent this situation. It's important to note that some dog insurance companies deny coverage for pets with pre-existing health conditions. We recommend getting dog insurance when your dog is still young, around 8 weeks of age as they are less likely to have pre-existing conditions at this time.
How old does my dog need to be to get dog insurance?
Most dog insurance companies require puppies to be at least 8-weeks-old before being covered by dog insurance. While providers also typically don't have an age limit for purchasing coverage, monthly costs will be higher for older dogs. Some providers even refuse to offer coverage for dogs with pre-existing conditions. For these reasons, we recommend signing your furry friend up for dog insurance before the age of one. While your dog's insurance costs may slowly increase as they age over time, if they already have insurance, they will generally remain qualified for coverage even if illness conditions arise in the future.
Is it worth it to get dog insurance in North Carolina?
As mentioned earlier, it's a sad reality that vet bills can quickly stack up throughout your dog's life. CNBC estimated the average cost for unexpected veterinary care for dogs and cats to sit between $800 and $1500. This amount is most likely higher for dog parents alone. Monthly insurance premiums can save you from the panic that comes from these unexpected bills. By paying a monthly insurance premium for your dog, you'll avoid holding on as much emergency money for your pet's sudden illness. You'll have to decide if the monthly insurance premium is worth the reduced risk of out-of-pocket vet bills down the road.
What does dog insurance cover? What is excluded from dog insurance coverage?
Dog insurance coverage will vary depending on the insurance provider and your specific pet's condition. When reading coverage of your potential policy, look for anything that is specifically excluded. In general, "sudden and catastrophic" accidents are covered unless expressly stated otherwise. These could include bee stings, broken bones, swallowed toys, and other accidents.

Keep in mind that your dog already had preexisting conditions when applying for insurance may not be covered. These could include cancer or diabetes diagnoses. Insurance claims may not cover treatments or complications resulting from pre-existing conditions. Many providers offer add-on "wellness" packages that cover routine medical practices like check-ups, vaccinations, heartworm prevention, and more.
How does dog insurance reimbursement work?
Most of the time, you'll have to pay your vet upfront for the full cost of the vet bill. Then, you'll file a reimbursement claim with your dog insurance company. Depending on your insurance deductible and reimbursement percentage, the insurance company will then reimburse you directly. For example, let's say your dog insurance has a 90% reimbursement agreement with a $250 deductible. Your annual max benefit is $20,000 and the current emergency vet bill is $10,000. In this scenario, your insurance company would reimburse you $9.000 minus your deductible for a total of $8,750. You'll pay a total of $1,250 out-of-pocket instead of $10,000 (although in most cases, you'll have to pay the $10,000 upfront before getting reimbursed).

Some companies, including Trupanion, offer direct payments to vets, which can save your credit card and cash flow. Unfortunately, this business model is still in the minority for now.
Is it better to have a low or high pet insurance deductible? Where is the sweet spot?
An insurance deduction determines how much you'll have to pay out-of-pocket, no matter what, during emergency vet visits. A higher deductible typically correlates to a lower monthly dog insurance premium and vice versa. The best way to decide on the deductible amount that will work best for you is by considering your monthly budget and financial situation. Many pet insurance companies offer on-site calculators with sliding fees and coverage details. A majority of people choose deductibles between $250 and $500.
Do homeowners insurance companies restrict dog breeds in North Carolina?
Dog owners can run into trouble when looking to purchase homeowners insurance. This is because homeowners insurance companies are legally allowed to place restrictions or rate increases based on the breed of dog you own.

Restricted breeds may include (but are not limited to):
Akitas
American Staffordshire Terriers
Chow Chows
Doberman Pinschers
German Shepherds
Pit Bull
Rottweilers
Siberian Huskies
If you have yet to purchase or adopt a dog, we recommend contacting your local home insurance provider to learn about their policy terms regarding specific dog breeds.
5 Useful Strategies for Keeping Your Dog Safe & Healthy in North Carolina
1. North Carolina Hiking with Your Dog
It's hard to beat the plethora of nature trails available in North Carolina. The Carolina Mountain Trail in Asheville, NC, and Sal's Branch Trail in Raleigh, NC are both dog-friendly trails and popular destinations for dog lovers. Watching your dog frolic in North Carolina greenery is worth the potential doggy bath that follows.
2. Car Travel & Your Dog
In the United States, 19 total states have laws specifically against leaving pets in parked cars. In North Carolina, leaving an animal confined in a motor vehicle under conditions that may cause suffering, injury or death is against the law. One common risk in the Tar Heel State is pet overheating, as the state faces temperatures up to 90℉ yearly. Even if a quick bathroom stop during a road trip through North Carolina seems enticing, reconsider leaving your dog unattended for your furry friend's comfort and health.
3. Dog Licenses in North Carolina
New pet owners in North Carolina may be shocked to learn that many counties in the state require pets to be registered individually. For example, in Charlotte, North Carolina, dogs, cats, and ferrets 4 months of age and older must be licensed annually or triennially. Each animal is also required to be vaccinated for rabies, and many shelters are required to vaccinate stray animals that are brought in or have them face euthanization. If you're a first-time dog owner in North Carolina, be sure to determine whether or not your county requires dog licensing.
4. Dog-Friendly Plants for Your Yard
It's easy to overlook the plants that are in your yard as pretty and simple. If you only have indoor pets, it doesn't matter what plants are in your yard. But when it comes to dogs, you'll want to make sure that toxic plants such as sago palms, tomato plants, and daffodils are not present.
5. Best Dog Parks in North Carolina
The only thing better than a furry friend is more furry friends. Some of the best dog parks in North Carolina include Carolina Pines Dog Park in Raleigh, NC, and the Frazier Place Dog Park in Charlotte, NC. Let your dog run relatively free and make friends with other dog owners in the area.
5 Top-Rated Dog Rescue Shelters in North Carolina
If you're looking for a new best dog friend in North Carolina, we recommend these five top-rated dog rescue shelters in the state. Adopting is one of the best ways to find your new furry best friend while supporting limited rescue resources.
---
---
---
---
---
Conclusion
Researching dog insurance in North Carolina can be confusing, and let's be honest, boring. When considering your dog's health, your finances, and online insurance calculators, this decision can be made easy and, dare I say, fun. Aim to sign up for dog insurance once your dog is 8-weeks old, or as soon as you adopt them for older animals. This will allow you to begin coverage at the lowest possible cost for your pet. Even if your pet is already more senior or has pre-existing conditions, getting dog insurance can save you from catastrophic unexpected vet bills alongside regular wellness services. We've found Lemonade pet insurance to be a consistent top-ranking dog insurance option with low monthly premiums.
SwiftScore Ranking Methodology for North Carolina
We ranked the best pet insurance policies in North Carolina based on a variety of important factors including the following:
Average monthly price for a 2-year-old Labrador Retriever with a $500 deductible located in North Carolina with a 27603 zip code
Coverage and benefits
Key policy details including accidents and illnesses, surgeries, annual check-ups, cancer treatment, lab tests, and more
AM Best rating of the underwriter
Reimbursement percentage
Annual benefit amount
Technology and user experience

Ease of sign up

Policy language clarity
User reviews
Other state dog insurance resources
Alabama (AL) | Alaska (AK) | Arizona (AZ) | Arkansas (AR) | California (CA) | Colorado (CO) | Connecticut (CT) | Delaware (DE) | Florida (FL) | Georgia (GA) | Hawaii (HI) | Idaho (ID) | Illinois (IL) | Indiana (IN) | Iowa (IA) | Kansas (KS) | Kentucky (KY) | Louisiana (LA) | Maine (ME) | Maryland (MD) | Massachusetts (MA) | Michigan (MI) | Minnesota (MN) | Mississippi (MS) | Missouri (MO) | Montana (MT) | Nebraska (NE) | Nevada (NV) | New Hampshire (NH) | New Jersey (NJ) | New Mexico (NM) | New York (NY) | North Carolina (NC) | North Dakota (ND) | Ohio (OH) | Oklahoma (OK) | Oregon (OR) | Pennsylvania (PA) | Rhode Island (RI) | South Carolina (SC) | South Dakota (SD) | Tennessee (TN) | Texas (TX) | Utah (UT) | Vermont (VT) | Virginia (VA) | Washington (WA) | West Virginia (WV) | Wisconsin (WI) | Wyoming (WY)