7 Best Iowa (IA)
Dog Insurance

Plans Compared in 2023

Updated on by Matthew H. Nash – Licensed Insurance Agent

Getting dog insurance is a surefire way to ensure your canine companion can access life-saving veterinary care without breaking the bank. As a lifelong dog parent and licensed Iowa insurance agent, I know how to explain complex policy language and distinguish the top insurers. This is why my team and I have researched the best Iowa dog insurance plans to save time and stress. Whether you call Des Moines, Iowa City, Le Mars, Pella, Cedar Rapids home, or somewhere in between, this guide has everything you need to know about the advantages of different insurers, monthly premiums and dog insurance information. Read more about our unbiased ranking methodology and advertiser disclosure.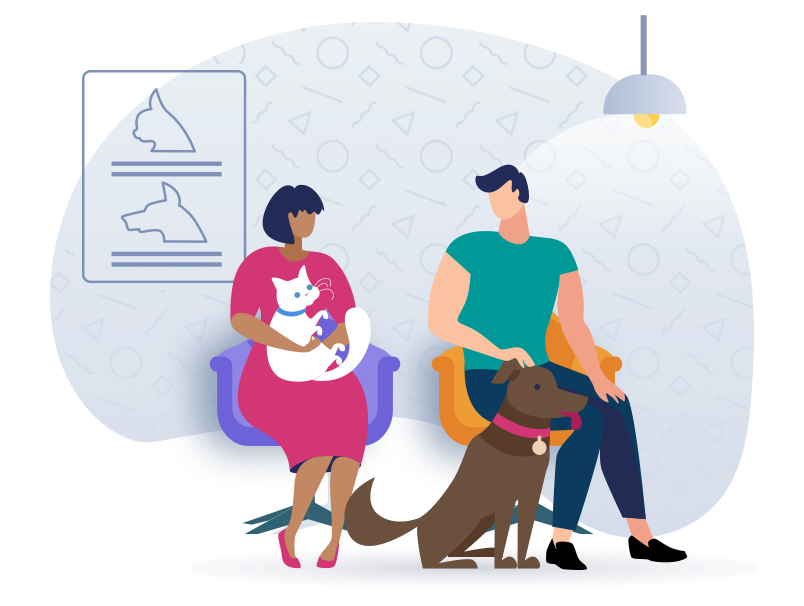 Top IA Dog Insurance Scored, Ranked & With Cost
Use our below table to quickly compare the best dog insurance providers in Iowa. The average monthly Iowa-specific prices shown are based on a healthy 2-year-old Labrador Retriever with a $500 deductible and 90% reimbursement amount who is located in Iowa with a 50317 zip code. Costs may vary based on age, location, coverage amount, and depending on the breed of your puppy. Prices are accurate as of January 2023 and are subject to change. For the most up-to-date information, please visit the provider website.
---
How much does dog insurance cost in Iowa for the 15 most popular breeds?
The price for Iowa dog insurance is almost always the same throughout the state including in Des Moines, Cedar Rapids, Iowa City, Le Mars, or Pella, etc. However, the prices will vary based on the age, health, and breed of your puppy.
All prices shown below are based on a 90% reimbursement rate with a $500 deductible and a $5,000 annual benefit from Figo pet insurance. Please note: these prices should only be treated as a rough guide as of January 2023 and are subject to change. If you're looking for the most up-to-date cost of dog insurance in Iowa we suggest getting a quote directly with Figo or Lemonade.
Mixed Breed – $22.26/ mo
Labrador Retriever – $30.34/ mo
Golden Retriever – $30.25/ mo
German Shepherd – $32.71/ mo
Goldendoodle – $26.33/ mo
Chihuahua – $13.86/ mo
Siberian Husky – $30.42/ mo
Yorkshire Terrier – $19.12/ mo
American Pit Bull Terrier – $33.67/ mo
Australian Shepherd – $20.93/ mo
Dachshund – $19.76/ mo
Shih Tzu – $17.60/ mo
French Bulldog – $41.64/ mo
Boxer – $41.82/ mo
Labradoodle – $26.33/ mo
Not finding your specific dog breed? Lemonade pet insurance is our #1 recommendation for Iowa and they'll be able to give you a quick quote for your exact needs.
Iowa Dog Insurance FAQs
What is dog insurance?
Dogs need medical care just like humans. Dogs can also experience accidents or develop illnesses that require emergency care, which can be very expensive. To ensure that your pup can access the best care and protect your wallet, enrolling in a dog insurance plan is always a good idea.

To get started, you choose a carrier and plan that is right for you and your pup. Once you are signed up, you are required to make a monthly payment. Then, when it comes to vet bills, most companies need you to pay the amount due upfront, and then you can request reimbursement from the company afterward. For example, if your dog falls, breaks a bone, and needs emergency surgery, you will typically need to pay in full first, and then your insurance carrier will reimburse you. The one exception we have found is Trupanion, if your vet is in their network, you won't have to pay out of pocket. They will pay your vet directly; this is great for those without access to emergency funds.

However, while dog insurance is helpful, many companies do not cover pre-existing conditions, which is vital to look into when you determine which plan to purchase. This may include conditions such as diabetes, arthritis, and epilepsy.
Why do I need it in Iowa?
No matter where you live, dog insurance is good to have. Life in unpredictable and vet care can be costly without insurance. It's always best to consider what would happen in an emergency, could you afford thousands of dollars in vet bills?
Is there a minimum age to qualify for insurance?
Usually, the minimum age requirement for dogs to be eligible for insurance is 8 weeks. The good news is that there is no age limit, so if you adopt an older dog, he or she will be eligible, regardless of age. However, watch out for pre-existing condition exclusions, especially if your dog is older!
What are the benefits to having insurance for my dog? Does it cover everything?
What is covered by dog insurance depends on the carrier and the specific plan. The majority of dog insurance plans offer strictly basic coverage, which entails accident and illness protection. Specifically, an illness that occurs suddenly, such as a virus or infection. Pre-existing conditions usually not covered are any illnesses or chronic issues that arose before coverage, such as cancer or diabetes.

Many dog insurance companies offer additional packages that can be purchased above basic coverage. These packages may include pharmacy and vaccine or flea and tick treatments.
I keep seeing that insurance plans "reimburse." What does that mean?
When dog insurance companies advertise that they reimburse, you pay the amount due upfront, and then they will reimburse you for your incurred costs. This involves giving you a specified reimbursement percentage, a deductible amount, and an annual max benefit. This is how most carriers operate. However, certain carriers may reimburse the vet directly.

For example, say that your dog insurance plan has an 80% reimbursement rate, a $500 deductible, and a $20,000 annual max benefit. One day, your dog breaks his leg and requires emergency surgery that costs $10,000. In this situation, you would be reimbursed $8,000 minus the $500 deductible, which would end up costing you $2500 instead of $10,000.
What kind of a deductible is best? Lower or higher?
Whether you have a high or a low deductible is totally a personal preference. Your deductible amount will determine how much you pay per month. For example, if you have a high deductible, your monthly payments will be lower.
I want to get a new dog. Are there any breeds that are restricted by homeowners insurance in Iowa?
Yes, certain breeds may be excluded from homeowners insurance. The majority of states do exclude some breeds when it comes to homeowners insurance. Examples of the most common breeds that fall into this category are:
Akitas
Doberman Pinschers
German Shepherds
Pit Bull Terriers
Rottweilers
Wolfhounds
However, such restrictions vary by state and insurance carrier. For this reason, it is best to consult with your home insurance carrier directly for more information.
5 Health & Safety Strategies for your Dog in Iowa
In addition to purchasing dog insurance, maintaining a healthy lifestyle is the best way to protect your dog and ensure that they live a long life. Here are some examples of best practices to keep your furry friend healthy and safe in Iowa:
1. Drink plenty of water
Iowa can reach impressively hot temperatures in the summer, which is why it is important to make sure that your pup stays cool and hydrated.
2. Stay inside during storms
Tornadoes are common in Iowa, especially during the summer. Most homes and public facilities are equipped with basements and warning sirens. Whenever a storm is brewing, make sure to keep your dog inside with you and hunker down in the basement together.
3. Be mindful of extreme outside temperatures
Not only can it get scorching in Iowa, winters can also be frigidly cold. During the winter, limit outside time and check for ice that may have become lodged in your dog's paws.
4. Be aware of wildlife
Bobcats, coyotes, and skunks oh my!. When your dog is outside, make sure to watch him closely to avoid run-ins with an unfriendly foe, especially at night.
5. Stay away from too many treats, especially chocolate
Every dog deserves to indulge in a treat or two throughout the day. However, make sure to keep the chocolate out of reach of your pup. Chocolate is harmful to dogs (no matter how delicious it is to their human pets!)
5 Dog Rescue Shelters in Iowa
Are you looking for a new companion? No problem. Our team has found five unique shelters across Iowa with dogs that are looking for loving forever homes.
---
---
---
---
---
Conclusion
Purchasing dog insurance for your pup is beneficial in keeping your dog healthy and not break your wallet on vet bills. While finding the right insurance can be overwhelming, the most important thing is to find one that is right for you and your dog's needs. Along with pet insurance, make sure to practice healthy habits each day to keep your dog happy and healthy with plenty of walks, playtime and belly rubs.
Long story short, we found Lemonade pet insurance is all-around the best provider at the most affordable rate.
SwiftScore Ranking Methodology for Iowa
We ranked the best pet insurance policies in Iowa based on a variety of important factors including the following:
Average monthly price for a 2-year-old Labrador Retriever with a $500 deductible located in Iowa with a 50317 zip code
Coverage and benefits
Key policy details including accidents and illnesses, surgeries, annual check-ups, cancer treatment, lab tests, and more
AM Best rating of the underwriter
Reimbursement percentage
Annual benefit amount
Technology and user experience

Ease of sign up

Policy language clarity
User reviews
Other state dog insurance resources
Alabama (AL) | Alaska (AK) | Arizona (AZ) | Arkansas (AR) | California (CA) | Colorado (CO) | Connecticut (CT) | Delaware (DE) | Florida (FL) | Georgia (GA) | Hawaii (HI) | Idaho (ID) | Illinois (IL) | Indiana (IN) | Iowa (IA) | Kansas (KS) | Kentucky (KY) | Louisiana (LA) | Maine (ME) | Maryland (MD) | Massachusetts (MA) | Michigan (MI) | Minnesota (MN) | Mississippi (MS) | Missouri (MO) | Montana (MT) | Nebraska (NE) | Nevada (NV) | New Hampshire (NH) | New Jersey (NJ) | New Mexico (NM) | New York (NY) | North Carolina (NC) | North Dakota (ND) | Ohio (OH) | Oklahoma (OK) | Oregon (OR) | Pennsylvania (PA) | Rhode Island (RI) | South Carolina (SC) | South Dakota (SD) | Tennessee (TN) | Texas (TX) | Utah (UT) | Vermont (VT) | Virginia (VA) | Washington (WA) | West Virginia (WV) | Wisconsin (WI) | Wyoming (WY)