5 Best Hawaii (HI)
Dog Insurance

Plans Compared in 2023

Updated on by Matthew H. Nash – Licensed Insurance Agent

Purchasing dog or puppy insurance doesn't have to be a complicated process. My team and I know that policy language can be confusing and the sheer number of insurers is overwhelming. Therefore, we have done an extensive research to simplify the process for you. So, if you live in Haena, Honolulu, Lahaina or beyond, this article will help you find the best Hawaii dog insurance plan for your little pal. Read more about our unbiased ranking methodology and advertiser disclosure.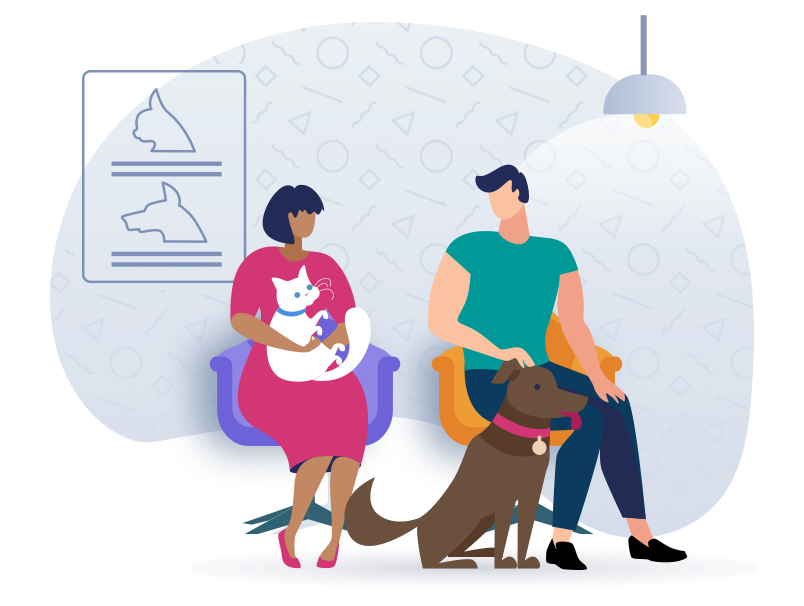 Top HI Dog Insurance Scored, Ranked & With Cost
Use our below table to quickly compare the best dog insurance providers in Hawaii. The average monthly Hawaii-specific prices shown are based on a healthy 2-year-old Labrador Retriever with a $500 deductible and 90% reimbursement amount who is located in Hawaii with a 96821 zip code. Costs may vary based on age, location, coverage amount, and depending on the breed of your puppy. Prices are accurate as of May 2023 and are subject to change. For the most up-to-date information, please visit the provider website.
---
How much does dog insurance cost in Hawaii for the 15 most popular breeds?
The price for Hawaii dog insurance is almost always the same throughout the state including in Hilo, Honolulu, Kahului, Kapa'a, Kihei Wailuku, Waipahu, Pearl City, or Lihue, etc. However, the prices will vary based on your puppy's age, health, and breed.
All prices shown below are based on a 90% reimbursement rate with a $500 deductible and a $5,000 annual benefit from Figo pet insurance. Please note: these prices should only be treated as a rough guide as of January 2023 and are subject to change. If you're looking for the most up-to-date cost of dog insurance in Hawaii we suggest getting a quote directly with Figo or Embrace.
Mixed Breed – $28.58/ mo
Labrador Retriever – $38.92/ mo
Golden Retriever – $38.83/ mo
German Shepherd – $41.98/ mo
Goldendoodle – $33.78/ mo
Chihuahua – $17.78/ mo
Siberian Husky – $39.02/ mo
Yorkshire Terrier – $24.53/ mo
American Pit Bull Terrier – $43.21/ mo
Australian Shepherd – $26.87/ mo
Dachshund – $25.34/ mo
Shih Tzu – $22.59/ mo
French Bulldog – $53.43/ mo
Boxer – $53.66/ mo
Labradoodle – $33.78/ mo
Not finding your specific dog breed? Figo pet insurance is our #1 recommendation for Hawaii and they'll be able to give you a quick quote for your exact needs.
Hawaii Dog Insurance FAQs
What is dog insurance, and why is it essential in Hawaii?
To protect your dog to the fullest via insurance, be sure to get a policy in place with an insurance company and pay your monthly premium to keep the policy active. If your dog falls ill or gets in an accident, you'll most likely be required to pay ahead of time. Then, you'll submit a claim to your insurer for reimbursement. Keep in mind that pet insurance companies often exclude certain pre-existing conditions, which is why it's always a good idea to insure your pet as early as possible.

Dog insurance is beneficial in Hawaii as vet bills can be exorbitantly high like everything else in the Islands. This is especially true for cancer treatments, which can run over $10,000. Often, uninsured pet owners face the terrible decision to put their canine friend down as the treatment their pet needs far exceeds their financial means. Dog insurance, however, ensures that you never have to confront such a decision.
What's the youngest age I can insure my dog?
Most pet insurance companies allow you to insure your puppy as young as 8-week-olds. However, you'll be able to get your dog insured at any age. With that in mind, the earlier you do so, the better for your dog and wallet. Younger dogs tend to be cheaper to insure. Therefore, consider getting your puppy insured before their first birthday if you want the best deal.
Is it worth getting dog insurance in HI?
As mentioned above, vet bills can mount should an accident or illness strike. Many dog owners shell out $3,000 or more for an emergency vet trip. This is inevitable in your pet's life, but insurance can help make it more manageable. Before getting insurance, though, you need to figure out if paying the monthly insurance premiums is worth mitigating potentially high vet bills into the future. Hawaii vets tend to be some of the priciest in the country, which might be another good reason to get your dog insured.
What do dog insurance policies cover and exclude?
Coverage varies from provider to provider, but accidents and illnesses are generally covered unless specified in your policy's exclusion list. Pet insurance policies cover "sudden and catastrophic" events. Infections, broken bones, urinary tract issues, and allergies are examples of what a policy typically covers. However, if your dog has a disease or ailment when you sign up for an insurance policy, that condition will not be eligible for claims. One great thing about dog insurance is that many providers offer "wellness" packages to add to your regular policy. These packages cover things such as annual check-ups, heart-worm prevention, and vaccinations.
How do I get reimbursed? And for how much?
Every policy is different, but let's say dog insurance affords you a 90% reimbursement with a $250 deductible and a $15,000 maximum annual benefit. Hypothetically speaking, if your pet dog had an emergency vet visit that requires a $5,000 procedure, the insurance provider would reimburse you $4,500 minus your $250 deductible. Therefore, your out-of-pocket cost is $750, instead of $5,000. There are exceptions, such as companies like Trupanion, which pay the vets in their network directly. In such cases, you have no costs in the scenario mentioned above.
Is it better to have a lower or higher deductible?
A lower deductible is great, but remember that your monthly payments will be higher. The upshot of these types of policies is that you'll pay less when there is an emergency. The reverse is true, of course, for higher deductibles and lower monthly premiums. You may save money each month on the premium, but you'll face higher out-of-pocket costs in the case of a catastrophic event.
Are there restricted dog breeds for homeowners insurance in Hawaii?
The majority of states have restrictions for homeowners insurance regarding specific dog breeds. In Hawaii, these may include (but are not limited to):
Akita
Alaska Malamute
Bengal
Chow
Dingo
Doberman Pinscher
German Shepherd
Pit Bull Terrier (including American Staffordshire Terrier and Staffordshire Bull Terrier)
Presa Canario
Rottweiler
Siberian Husky
Wolf/Wolf-Cross
It is always best to contact your home insurance company to verify what particular breeds are restricted and whether you'll need a specific liability rider.
5 Useful Strategies for Keeping Your Dog Safe and Healthy in Hawaii
Keeping your pet dog safe and healthy will extend your furry friend's life and improve the quality of those years. Here are some helpful tips to ensure your dog's wellbeing in Hawaii:
1. Treat for fleas
The heat and humidity in Hawaii create a horrendous flea situation for animals of all kinds. Speak with your vet regarding natural and conventional methods for protecting your dog against fleas. You'll most likely find that spot-on treatments are far more effective than flea collars. (Good news: ticks are extremely rare, though!)
2. Keep your dog hydrated
Be sure to make fresh water available to your dog at all times. It's easy for a dog to become dehydrated, especially during summer. Another way to keep your dog hydrated is to provide the majority of the calories from wet/canned food or homemade meals of meat, fruit, and veggies. These are much more hydrating than kibble/dry food.
3. Centipede bites can be dangerous
Centipedes are everywhere in Hawaii, so paying attention is essential if your dog suddenly becomes restless or lacks an appetite. Inspect your dog for wounds and get it to a vet immediately. Centipede bites are rarely fatal but poisonous depending on size and type.
4. Never leave your dog in the car
Even in winter, Hawaii is far too hot to leave your dog in the car. While your dog may love joining you on an errand run, leaving them in the vehicle can cause severe heatstroke and dehydration. Doing so can be fatal. When you leave home with your dog, have plenty of water, a bowl, and even a few treats to keep your dog feeling strong and healthy.
5. Keep an emergency bag for your dog
The Aloha state faces several natural disasters, such as hurricanes, flooding, earthquakes, and volcanic eruptions. Therefore, keeping a "go" bag for your dog, including food, water, necessary medications, and a leash is wise. Also, make sure their travel carrier is easily accessible when those emergencies strike.
5 Unique Dog Rescue Shelters in Hawaii
Hawaii has an epidemic of stray cats and dogs, and we encourage you to consider adopting instead of purchasing. There are unique shelters throughout the Islands that help you find your new canine companion.
---
---
---
---
---
Conclusion
Finding the right dog insurance for your canine friend should be easy. We suggest getting a policy in place once your puppy is 8-weeks. After all, the sooner your furry friend is protected, the better. Getting your dog insured at any age can help make a catastrophic event manageable. Our research shows that Figo pet insurance performed the best and with the lowest premiums.
SwiftScore Ranking Methodology for Hawaii
We ranked the best pet insurance policies in Hawaii based on a variety of important factors including the following:
Average monthly price for a 2-year-old Labrador Retriever with a $500 deductible located in Hawaii with a 96821 zip code
Coverage and benefits
Key policy details including accidents and illnesses, surgeries, annual check-ups, cancer treatment, lab tests, and more
AM Best rating of the underwriter
Reimbursement percentage
Annual benefit amount
Technology and user experience

Ease of sign up

Policy language clarity
User reviews
Other state dog insurance resources
Alabama | Alaska | Arizona | Arkansas | California | Colorado | Connecticut | Delaware | Florida | Georgia | Hawaii | Idaho | Illinois | Indiana | Iowa | Kansas | Kentucky | Louisiana | Maine | Maryland | Massachusetts | Michigan | Minnesota | Mississippi | Missouri | Montana | Nebraska | Nevada | New Hampshire | New Jersey | New Mexico | New York | North Carolina | North Dakota | Ohio | Oklahoma | Oregon | Pennsylvania | Rhode Island | South Carolina | South Dakota | Tennessee | Texas | Utah | Vermont | Virginia | Washington | West Virginia | Wisconsin | Wyoming