6 Best Arizona (AZ)
Dog Insurance

Plans Compared in 2023

Updated on by Matthew H. Nash – Licensed Insurance Agent

Being a licensed Arizona insurance agent and a proud, lifelong dog parent, I know how difficult it can be to find the right policy for your puppy or dog. To make life easier for you, I have compiled this guide to help you understand the different levels of coverage, what you can expect to pay and the ins and outs of dog insurance. Whether you're from Phoenix, Scottsdale, Tucson, Gilbert or somewhere more remote, this article will help you determine the best Arizona dog insurance plans out there. We may receive compensation when you click on the affiliate links below.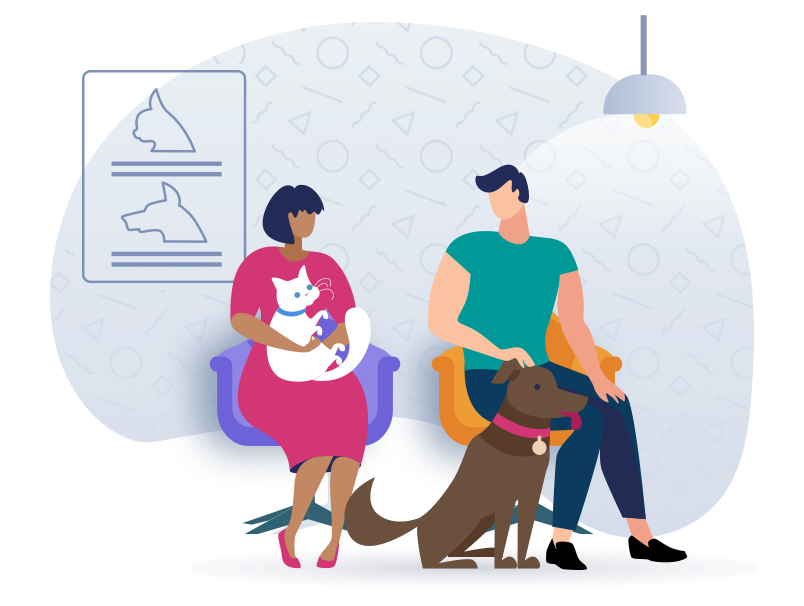 Top AZ Dog Insurance Scored, Ranked & With Cost
Use our below table to quickly compare the best dog insurance providers in Arizona. The average monthly Arizona specific prices shown are based on a healthy 2-year-old Labrador Retriever with a $500 deductible and 90% reimbursement amount who is located in Arizona with a 85050 zip code. Costs may vary based on age, location, coverage amount, and depending on the breed of your puppy. Prices are accurate as of May 2023 and are subject to change. For the most up-to-date information, please visit the provider website.
---
How much does dog insurance cost in Arizona for the 15 most popular breeds?
The price for Arizona dog insurance varies depending on where you live. To give you an idea we've collected costs for three cities shown below. The prices will also vary based on the age, health, and breed of your puppy.
All prices shown below are based on a 90% reimbursement rate with a $500 deductible and a $5,000 annual benefit from Figo pet insurance. Please note: these prices should only be treated as a rough guide as of January 2023 and are subject to change. If you're looking for the most up-to-date cost of dog insurance in Arizona we suggest getting a quote directly with Figo or Lemonade.
Mixed Breed

Phoenix – $27.01/ mo
Gilbert – $27.01/ mo
Tucson – $22.55/ mo

Labrador Retriever

Phoenix – $36.78/ mo
Gilbert – $36.78/ mo
Tucson – $30.70/ mo

Golden Retriever

Phoenix – $36.70/ mo
Gilbert – $36.70/ mo
Tucson – $30.65/ mo

German Shepherd

Phoenix – $39.69/ mo
Gilbert – $39.69/ mo
Tucson – $33.12/ mo

Goldendoodle

Phoenix – $31.94/ mo
Gilbert – $31.94/ mo
Tucson – $26.66/ mo

Chihuahua

Phoenix – $16.80/ mo
Gilbert – $16.80/ mo
Tucson – $14.04/ mo

Siberian Husky

Phoenix – $36.88/ mo
Gilbert – $36.88/ mo
Tucson – $30.78/ mo

Yorkshire Terrier

Phoenix – $23.19/ mo
Gilbert – $23.19/ mo
Tucson – $19.35/ mo

American Pit Bull Terrier

Phoenix – $40.83/ mo
Gilbert – $40.83/ mo
Tucson – $34.09/ mo

Australian Shepherd – $22.66/ mo

Phoenix – $25.40/ mo
Gilbert – $25.40/ mo
Tucson – $21.19/ mo

Dachshund

Phoenix – $23.95/ mo
Gilbert – $23.95/ mo
Tucson – $20.00/ mo

Shih Tzu

Phoenix – $21.35/ mo
Gilbert – $21.35/ mo
Tucson – $17.82/ mo

French Bulldog

Phoenix – $50.51/ mo
Gilbert – $50.51/ mo
Tucson – $42.16/ mo

Boxer

Phoenix – $50.71/ mo
Gilbert – $50.71/ mo
Tucson – $42.32/ mo

Labradoodle

Phoenix – $31.94/ mo
Gilbert – $31.94/ mo
Tucson – $26.66/ mo
Not finding your specific dog breed? Lemonade pet insurance is our #1 recommendation for Arizona and they'll be able to give you a quick quote for your exact needs.
Arizona Dog Insurance FAQs
What is dog insurance and why do I need it in Arizona?
Dog insurance is what you probably think it is—an insurance policy for your dog to help manage the cost of medical care. Insurance for your best friend is extremely useful in Arizona because vet bills can get out of control before you even know it. Unfortunately, uninsured dog owners often have to put their canines to sleep because the cost of treatment or care is just too far out of their budget. Insurance takes that unfortunate decision away from you and enables you to provide the best possible life you can for your best friend.
How does dog insurance work?
First, you'll need to sign up for a policy with a dedicated dog/pet insurance provider. Once you have an active policy, you must pay a monthly fee to keep it active. If your pup is injured or becomes sick, you pay for treatment upfront and submit a reimbursement claim to your insurance provider.

Keep in mind, however, that insurance doesn't typically cover everything. If your dog has what is known as a "pre-existing condition," it will likely not be covered. We recommend getting insurance while your dog is still a puppy for the best coverage.
How old does my puppy need to be for insurance?
Your puppy should be at least 8 weeks old, the youngest age most insurance providers will accept. On the other hand, there's generally no upper age limit, so whether your dog is 2 or 12, you can still obtain insurance.

Note that younger dogs are almost always more affordable to insure since they have fewer health issues and pre-existing conditions. The best time to obtain insurance, in my opinion, is before your puppy's first birthday.
What will my dog insurance cover? What does it exclude?
Although exact coverage varies between providers, most will cover unexpected injuries and illnesses. For example, let's say your dog has a sudden serious allergic reaction to their new dog food. Treatment would be covered by insurance in most cases.

Now for another example. Let's say your dog has always suffered from allergies requiring ongoing medication that you want to be reimbursed. Some insurance providers would consider this a "pre-existing condition" and choose to make it ineligible for reimbursement.

Insurance can be picky. Always contact your provider for accurate information about your policy.

To help alleviate costs, a wellness package includes benefits such as yearly shots and routine exams.
How does reimbursement work?
Reimbursement depends on the following: your deductible, reimbursement percentage, and your annual coverage limit. So, for this example, let's say you have a $250 deductible and a 90% reimbursement percentage. Here's how it works:
You submit a veterinary bill for $1000.
$1000 – $250 deductible = $750.
You're reimbursed 90% of $750 = $675.
Trupanion is a slightly different insurance provider that offers direct payments to veterinarians in their network, making it so you don't have to pay them yourself.
What's the sweet spot for my deductible?
Most people choose a deductible of $250 or $500, though there's not such a thing as a sweet spot since everybody's insurance policy and the financial situation looks different.

Lower deductible = higher monthly fee, but a smaller vet bill.
Higher deductible = smaller monthly fee, but a larger vet bill.

Find out what will work best for you based on your household income. Some providers will even offer a calculator to make things nice and simple when you're getting a quote.
Is dog insurance worth it in Arizona?
Arizona vet care certainly doesn't come cheap. You never know when tragedy will strike; unfortunately, disaster can quickly worsen when you drop financial burdens on top of it. Although insurance indeed costs you money in the form of monthly fees, this is generally a much more manageable cost than one giant emergency vet bill. It's up to you to decide what will work best for your situation.
Does homeowner's insurance restrict any dog breeds in Arizona?
Homeowner's insurance policies often exclude certain breeds, depending on your provider and where you live. Restricted breeds include:
Akitas
Chow Chows
Doberman Pinschers
German Shepherds
Bull Mastiffs
Pit Bull Terriers
Presa Canarios
Rottweilers
Staffordshire Terriers
Wolfhounds
This is by no means a comprehensive list. Please get in touch with your home insurance provider for the correct policy information.

It's sometimes possible to add a liability rider to your policy as well, so don't think your dog's breed is automatically not allowed.

5 Valuable Strategies to Keep Your Dog Safe & Healthy in Arizona
1. Don't Get Too Wild With Wildlife
Just minutes away from sprawling suburbs and cities, Arizona is home to some incredible scenery. Towering red rock formations, sparkling deserts, mountains, and more are found here. With these wild areas comes wildlife. One of the most common predators you and your dog can encounter is the coyote. Here's how to stay safe if you and a coyote come face-to-face:
Always number one, stay calm!
Pick up your dog, or, if it's too large, make sure it's leashed and kept as close to you as possible.
Maintain eye contact with the coyote. This shows your dominance.
Make loud noises like yelling or clapping your hands.
Make yourself look large and threatening. Throw projectiles if you can, like rocks or sticks.
Do not run. If the coyote doesn't back down, keep maintaining eye contact while slowly backing away.
If all else fails, fight back and take your dog to the vet if it's injured.
2. Say No to Predatory Plants
Arizona is a desert, which means you probably don't overthink about plants since there aren't many, to begin with, but that's a part of the problem. The lack of grass in many Arizona yards leads to dogs satisfying their curiosity and entertaining themselves by ingesting unfamiliar shrubs or flowers. Some of these plants are poisonous, causing symptoms like drooling, vomiting, or diarrhea. In severe cases, symptoms can even include kidney, liver, or heart failure. Here's how to stop that from happening:
Never let your dog near a plant you aren't familiar with, even if you think they're just going to sniff.
When trimming your plants, clean the clippings before allowing your dog to go near.
Remove any remaining leftovers from their mouth and around the snout if your dog ingests a questionable plant. Rinse around the mouth with water.
Contact your vet immediately. If possible, show a picture of the plant.
Make sure your dog avoids these plants, including, but not limited to:

Agave
Aloe
Avocado
Cyclamen
Daffodils
Desert rose
Honeysuckle
Hyacinth
Laurel
Locust tree
Macadamia nut
Oleander
Tobacco
Tulips
3. No Need to Pray to Birds of Prey
Arizona has a considerable presence of red-tailed hawks, Harris's hawks, and great horned owls. Smaller dogs, especially those under 20 lbs, are most susceptible to risk. Although somewhat rare, little dogs can be scooped off the ground and carried away by these predatory birds. Here's how to not let that happen:
Scan outside from a window before you leave the house with your dog.
Scan your surroundings again whenever you walk outside with your dog, checking the trees and the skies.
If you see a bird of prey in your yard, bring your dog inside immediately.
If you don't want the bird to crash your party, scare it off from a safe distance with loud noise.
Great horned owls in particular, are often scared off with the beam of a flashlight.
If you notice a nest from these birds in your yard, keep your dog (and yourself) away until the babies leave. You don't want to deal with an angry momma bird.
You may safely remove the nest once all the baby birds are gone. Disturbing it while still babies are inside violates Arizona state law and federal laws.
4. Don't Get Left in the Dust
Arizona dust storms can occur seemingly out of nowhere, coming in the form of a gigantic dust wall that may be miles long and thousands of feet high, posing a severe threat to both humans and pups. Thankfully, you can avoid getting caught in a storm:
Never leave your dog outside unattended for prolonged periods. You never know when a dust storm might strike.
You may want to consider buying a pair of dog goggles to protect your pup's eyes. Take them with you on hiking trips or other times you'll spend a significant amount of time outdoors.
If you're driving, safely pull over, put on your emergency brakes, turn off your lights, and wait out the storm. Do not try to drive while a storm is happening!
If you're outside, keep your dog close to you. Shield your face and look for any shelter that will block the wind. Cover you and your dog as much as possible to avoid debris.
5. Extreme Heat
This may be the greatest weather risk you and your dog will regularly face in Arizona. And it's not just in the summer. Temperatures can be blistering year-round, creating dangerous circumstances for everyone. Take the following precautions:
Don't ever leave your dog in a parked car. Even on a mildly warm day, interior car temps can rapidly rise to hazardous levels.
On hot summer days, limit exercise to mornings and evenings when it's cooler. Avoid taking your dog outdoors during midday when temperatures are at their highest.
If the asphalt or concrete is too hot for you, it's too hot for your puppy. Either stay inside or have your dog walk on the grass.
Make sure your dog always has access to water and shade.
Pay close attention for signs of overheating:

Heavy panting
Glazed-over eyes
Rapid heartbeat
Difficulty breathing
Lethargy
Dizziness
Vomiting
5 Amazing Arizona Dog Shelters
Whether you're adding a new puppy to the family or want to give a senior dog a caring home in their final days, these Arizona dog shelters are all excellent places to find your next canine companion.
---
---
---
---
---
Conclusion
Now you can take a breath since you know how to find insurance for your dog in Arizona. It's quite an easy process. Just make sure you obtain insurance earlier in your pup's life, before their first birthday, for the best rates. Regardless, getting your dog insured at any age will give them a longer, higher quality of life. To conclude, we've found that Lemonade pet insurance consistently performs well and has the lowest premiums among dog insurance companies.
SwiftScore Ranking Methodology for Arizona
We ranked the best pet insurance policies in Arizona based on a variety of important factors including the following:
Average monthly price for a 2-year-old Labrador Retriever with a $500 deductible located in Arizona with a 85050 zip code
Coverage and benefits
Key policy details including accidents and illnesses, surgeries, annual check-ups, cancer treatment, lab tests, and more
AM Best rating of the underwriter
Reimbursement percentage
Annual benefit amount
Technology and user experience

Ease of sign up

Policy language clarity
User reviews
Other state dog insurance resources
Alabama (AL) | Alaska (AK) | Arizona (AZ) | Arkansas (AR) | California (CA) | Colorado (CO) | Connecticut (CT) | Delaware (DE) | Florida (FL) | Georgia (GA) | Hawaii (HI) | Idaho (ID) | Illinois (IL) | Indiana (IN) | Iowa (IA) | Kansas (KS) | Kentucky (KY) | Louisiana (LA) | Maine (ME) | Maryland (MD) | Massachusetts (MA) | Michigan (MI) | Minnesota (MN) | Mississippi (MS) | Missouri (MO) | Montana (MT) | Nebraska (NE) | Nevada (NV) | New Hampshire (NH) | New Jersey (NJ) | New Mexico (NM) | New York (NY) | North Carolina (NC) | North Dakota (ND) | Ohio (OH) | Oklahoma (OK) | Oregon (OR) | Pennsylvania (PA) | Rhode Island (RI) | South Carolina (SC) | South Dakota (SD) | Tennessee (TN) | Texas (TX) | Utah (UT) | Vermont (VT) | Virginia (VA) | Washington (WA) | West Virginia (WV) | Wisconsin (WI) | Wyoming (WY)