6 Best Texas (TX)
Dog Insurance

Plans Compared in 2023

Updated on by Matthew H. Nash – Licensed Insurance Agent

Devoted dog parents across Texas want to ensure their canine friends get the best care possible whenever they need it. However, with confusing policy jargon and too many providers to choose from, it's no wonder many find the dog insurance world bewildering. As a long-time dog owner and licensed Texas insurance agent, I have extensively researched the best Texas dog insurance plans to save you time and energy. Whether you live in Dallas, Houston, Austin, El Paso, San Antonio or somewhere in between, this article will answer all your questions about deductibles, benefits, exclusions and more. Read more about our unbiased ranking methodology and advertiser disclosure.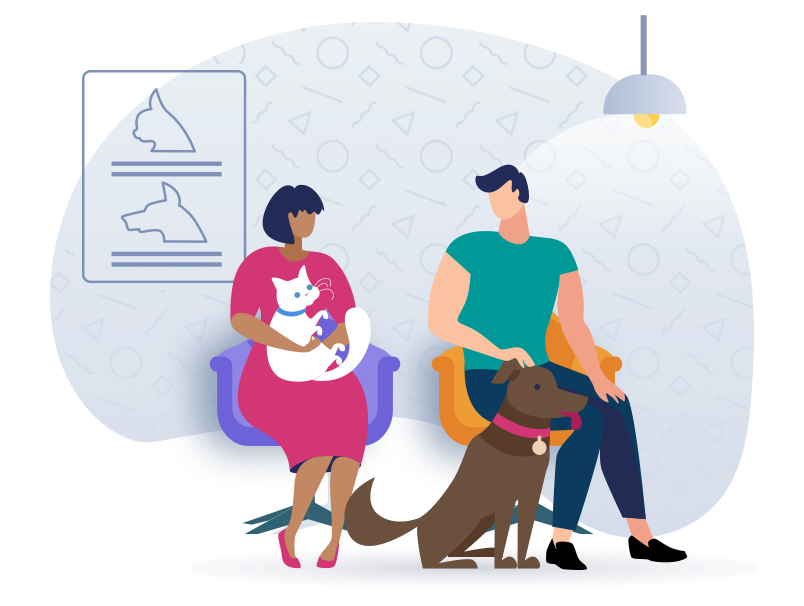 Top TX Dog Insurance Scored, Ranked & With Cost
Use our below table to quickly compare the best dog insurance providers in Texas. The average monthly Texas-specific prices shown are based on a healthy 2-year-old Labrador Retriever with a $500 deductible and 90% reimbursement amount who is located in Texas with a 77054 zip code. Costs may vary based on age, location, coverage amount, and depending on the breed of your puppy. Prices are accurate as of May 2023 and are subject to change. For the most up-to-date information, please visit the provider website.
---
How much does dog insurance cost in Texas for the 15 most popular breeds?
The price for Texas dog insurance varies depending on where you live. To give you an idea we've collected costs for three cities shown below. The prices will also vary based on the age, health, and breed of your puppy.
All prices shown below are based on a 90% reimbursement rate with a $500 deductible and a $5,000 annual benefit from Figo pet insurance. Please note: these prices should only be treated as a rough guide as of January 2023 and are subject to change. If you're looking for the most up-to-date cost of dog insurance in Texas we suggest getting a quote directly with Figo or Lemonade.
Mixed Breed

Marshall – $24.06/ mo
Houston – $21.58/ mo
Austin – $18.75/ mo

Labrador Retriever

Marshall – $32.77/ mo
Houston – $29.38/ mo
Austin – $25.55/ mo

Golden Retriever

Marshall – $32.68/ mo
Houston – $29.32/ mo
Austin – $25.49/ mo

German Shepherd

Marshall – $35.34/ mo
Houston – $31.70/ mo
Austin – $27.54/ mo

Goldendoodle

Marshall – $28.43/ mo
Houston – $25.51/ mo
Austin – $22.17/ mo

Chihuahua

Marshall – $14.96/ mo
Houston – $13.43/ mo
Austin – $11.67/ mo

Siberian Husky

Marshall – $32.86/ mo
Houston – $29.46/ mo
Austin – $25.61/ mo

Yorkshire Terrier

Marshall – $20.66/ mo
Houston – $18.51/ mo
Austin – $16.09/ mo

American Pit Bull Terrier

Marshall – $36.67/ mo
Houston – $32.62/ mo
Austin – $28.35/ mo

Australian Shepherd

Marshall – $22.62/ mo
Houston – $20.28/ mo
Austin – $17.63/ mo

Dachshund

Marshall – $21.34/ mo
Houston – $19.15/ mo
Austin – $16.63/ mo

Shih Tzu

Marshall – $19.01/ mo
Houston – $17.06/ mo
Austin – $14.81/ mo

French Bulldog

Marshall – $44.98/ mo
Houston – $40.35/ mo
Austin – $35.06/ mo

Boxer

Marshall – $45.17/ mo
Houston – $40.51/ mo
Austin – $35.22/ mo

Labradoodle

Marshall – $28.43/ mo
Houston – $25.51/ mo
Austin – $22.17/ mo
Not finding your specific dog breed? Lemonade pet insurance is our #1 recommendation for Texas and they'll be able to give you a quick quote for your exact needs.
Texas Dog Insurance FAQs
What is Dog Insurance and Why is it Useful in Texas?
Dog insurance provides coverage for your dog's medical expenses, expected or not. What is included in your pet's coverage will vary from plan to plan. When your pet becomes ill or gets hurt, pet insurance will save you thousands by covering part of your bill and reimbursing you for money spent. This is very helpful for people who have active, adventurous, or overly-curious pets. Texas is teeming with plants and wildlife so it should come to no surprise that dogs often put their noses where they do not belong. Cactuses, snakes, jellyfish, bluebonnets, armadillos, and so much more threaten your dog each day. Not to mention the threats inside your home too. Even if your dog is an indoor couch potato, anything can happen when you live in Texas.

Paying a monthly insurance premium is your way to avoid draining your savings when your furry friend experiences a medical problem. With the right insurance agency, your pet will have coverage and you will save money. Dog insurance is very useful in Texas since the vet bills can get astronomically, no matter what illness or ailment your dog goes through. Cancer treatments can be very costly at well over $10,000, leading many uninsured pet owners to make very devastating decisions when they cannot afford to pay for their best bud's treatment. Signing up with a trusted Texas pet insurance agency is the only way to guarantee you never have to make that challenging choice.
How old does my puppy need to be to get insured?
Most dog insurance companies require your puppy to be a minimum of 8-weeks-old before applying for puppy insurance. Younger animals are much cheaper and as your pet grows, their insurance will become more expensive. In the first few years of their lives, puppies will attend many routine vet visits which is why we recommend getting pet insurance as soon as possible. This way, you can save the most money possible as you attend checkups and get your puppy the vaccinations and shots they need.
How Worth it is it to Get Dog Insurance in TX?
Signing up for pet insurance is a good idea for every pet owner because you never know when an emergency will occur. Veterinarian bills pile up quickly and if you do not plan in advance, you can quickly find yourself deep in debt. Plus many dog owners find themselves spending thousands of dollars at the emergency veterinarian's office. Even a routine visit can end up costing thousands without insurance when your dog ends up needing lab work and testing. Fido is always in danger which is why having dog insurance can be a lifesaver. It is really the only way to guarantee that your dog gets the medical care they need without paying an outrageously high bill.
What is Covered and What's Excluded with Dog Insurance?
Every dog insurance has its own variety of coverage. Typically, your insurance provider will cover any major illness or accident unless it has been explicitly excluded. Broken bones, food allergies, eye infections, swallowing objects, abnormal appetite, and more. Most insurances also provide coverage on medications to help lower expensive medication costs. In some cases, your insurance may even offer full coverage for your pet's medication. Pre-existing conditions are something you might want to discuss with your insurance provider to confirm coverage. Confirming the coverage of your canine companion's pre-existing ailments is vital because some insurance policies will not cover pre-existing medical conditions. An example of a pre-existing ailment might be a dog with kidney issues who has been diagnosed with renal failure.

Many providers offer a wide range of plans, including premium packages with more coverage. They also offer "wellness" packages that add special coverage features like vaccination coverage, routine check-ups, and more.
How Does Reimbursement Work?
Reimbursement is your insurance company's way of giving back to you and your pet for spending money. The total amount of reimbursement you receive will vary depending on your insurance package. Imagine you choose dog insurance that awards a 50% reimbursement for all major medical surgeries. An emergency surgery that costs $5,000 will get you a $2500 reimbursement. This does not include the amount from your deductible. In other words, if you have not met your $500 deductible, then you will only receive $2000 for this surgery reimbursement. Some pet insurance companies, like Trupanion, are exceptions to reimbursement plans. This company skips the reimbursement process by paying the veterinarians directly. This way, you will not have to pay any money out of your own pocket.
Is it Better to Have a Lower Deductible – What's the Sweet Spot?
Lower deductibles typically mean higher monthly payments. In other words, you might be paying more out of pocket each month but you will pay less when accidents happen. The lowest deductible pet owners find are around $100 but these are bare minimum. Most pet owners choose between a $250 to $500 deductible depending on your pet's age and the plan add-on levels.
Are There Any Restricted Dog Breeds for Homeowners Insurance in Texas?
Most states have breed restrictions for homeowners on certain insurance providers. Before purchasing a specific breed of dog, you should check and see if there are restrictions in your area. These may include (but are not limited to):
Pitbulls
Boxers
Doberman Pinschers
German Shepherds
Pit Bull Terriers
Rottweilers
Contacting your local home insurance provider can provide you with the most accurate policy information regarding your dog breed and whether this requires a specific liability rider.
5 Useful Strategies for Keeping Your Dog Safe & Healthy in Texas
Dog insurance helps me relax but healthy preventative measures let me sleep at night. When raising a dog in Texas, there are a few important things to keep in mind.
1. Drink Enough Water
The hot Texas sun can be brutal to your furry friend so you should always provide them fresh water to keep them hydrated. We highly suggest keeping a traveling dog bowl with you and an extra water bottle for your dog.
2. Watch Your Dog While They Explore.
Texas has some of the most beautiful nature and wildlife in the country but it can be dangerous if your dog is left to roam freely. Keep an eye on your dog so they do not stick their nose where it does not belong.
3. Look Before You Throw
Looking before you throw can save you from a trip to the emergency room. The animals in Texas are unpredictable. Without looking before you throw, you may send your dog right toward a predator.
4. Only Hunt With Your Dog When Ready
Texans are known for their love of hunting. One huge mistake hunters make is taking their bloodhound into a hunt too early. There are a number of reasons this can go horribly wrong, very quickly and several outcomes, too. Best case scenario, your dog scares off the prey. Worst case scenario, your eager hunting buddy gets killed.
5. Do Not Leave the BBQ Open
Never leave the BBQ grill open or this can severely burn your dog's paws. This seems like common sense but happens more often than you think. When hungry hounds have the opportunity, they will try grabbing a delicious meal. Unfortunately, they will get burned in the process.
5 Unique Dog Rescue Shelters in Texas
Rescuing a dog from a shelter is a truly magical experience. Dogs are the only animals that truly reciprocate the love you give them. The following five shelters are renowned Texas adoption centers that we highly recommend checking out if you are in the market for a best friend for life. Visit these shelters if you are looking to find a canine companion.
---
---
---
---
---
Conclusion
Believe it or not, dog insurance is not as intimidating as it seems and once you get past all the complicated lingo, it is pretty straightforward, actually. For the best coverage, we highly recommend signing up for dog insurance once your puppy reaches 8-weeks old. Most insurance agencies will not cover pre-existing conditions, so getting insurance as early as possible is important. You never know when issues will arise so getting covered before they happen is crucial. Furthermore, the sooner you get coverage the cheaper your dog's insurance will be. In addition to medical conditions that may be diagnosed later in life, getting covered early means big savings when your dog encounters dangerous medical problems. In our extensive research, we learned that Lemonade pet insurance had the lowest monthly premiums.
SwiftScore Ranking Methodology for Texas
We ranked the best pet insurance policies in Texas based on a variety of important factors including the following:
Average monthly price for a 2-year-old Labrador Retriever with a $500 deductible located in Texas with a 77054 zip code
Coverage and benefits
Key policy details including accidents and illnesses, surgeries, annual check-ups, cancer treatment, lab tests, and more
AM Best rating of the underwriter
Reimbursement percentage
Annual benefit amount
Technology and user experience

Ease of sign up

Policy language clarity
User reviews
Other state dog insurance resources
AL | AK | AZ | AR | CA | CO | CT | DE | FL | GA | HI | ID | IL | IN | IA | KS | KY | LA | ME | MD | MA | MI | MN | MS | MO | MT | NE | NV | NH | NJ | NM | NY | NC | ND | OH | OK | OR | PA | RI | SC | SD | TN | TX | UT | VT | VA | WA | WV | WI | WY