6 Best Ohio (OH)
Dog Insurance

Plans Compared in 2023

Updated on by Matthew H. Nash – Licensed Insurance Agent

I didn't realize the importance of dog insurance until my St. Bernard mix started needing significant medical intervention and trips to the vet, especially when the emergency care bills started rolling in. As a licensed Ohio insurance agent, I recommend getting dog insurance to protect your four-legged friend and your wallet. Since finding the right plan for your puppy or dog can be overwhelming, my team and I have compiled all the essential information on the best Ohio dog insurance plans. This article demystifies deductibles, benefits, exclusions, policy language or more. So we've got you covered, whether you live in Cleveland, Cincinnati, Columbus, Toledo or elsewhere in the Buckeye State.. Read more about our unbiased ranking methodology and advertiser disclosure.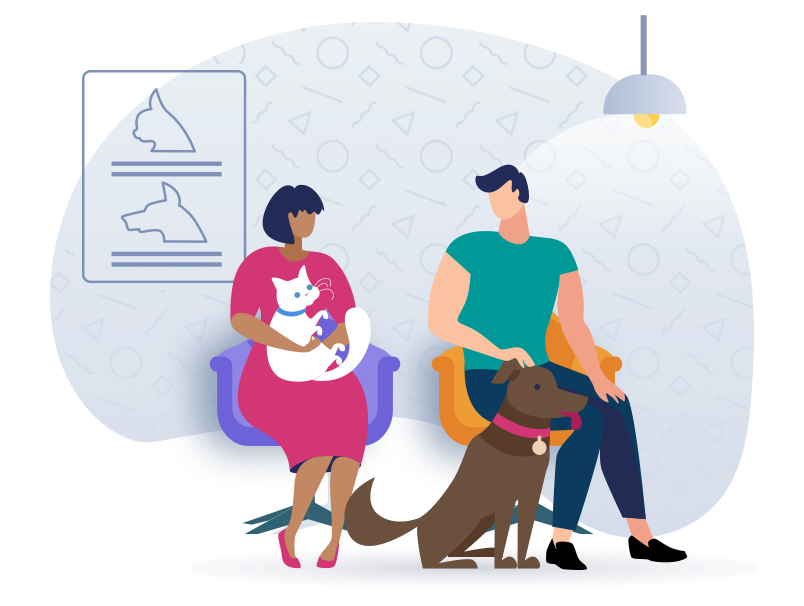 Top OH Dog Insurance Scored, Ranked & With Cost
Use our below table to quickly compare the best dog insurance providers in Ohio. The average monthly Ohio-specific prices shown are based on a healthy 2-year-old Labrador Retriever with a $500 deductible and 90% reimbursement amount who is located in Ohio with a 44102 zip code. Costs may vary based on age, location, coverage amount, and depending on the breed of your puppy. Prices are accurate as of September 2023 and are subject to change. For the most up-to-date information, please visit the provider website.
---
How much does dog insurance cost in Ohio for the 15 most popular breeds?
The price for Ohio dog insurance is almost always the same throughout the state including in Columbus, Cleveland, Cincinnati, Toledo, Akron, or Dayton, etc. However, the prices will vary based on the age, health and breed of your puppy.
All prices shown below are based on a 90% reimbursement rate with a $500 deductible and a $5,000 annual benefit from Figo pet insurance. Please note: these prices should only be treated as a rough guide as of January 2023 and are subject to change. If you're looking for the most up-to-date cost of dog insurance in Ohio we suggest getting a quote directly with Figo or Lemonade.
Mixed Breed – $23.79/ mo
Labrador Retriever – $32.39/ mo
Golden Retriever – $32.33/ mo
German Shepherd – $34.95/ mo
Goldendoodle – $28.12/ mo
Chihuahua – $14.79/ mo
Siberian Husky – $32.50/ mo
Yorkshire Terrier – $20.42/ mo
American Pit Bull Terrier – $35.97/ mo
Australian Shepherd – $22.37/ mo
Dachshund – $21.11/ mo
Shih Tzu – $18.79/ mo
French Bulldog – $44.50/ mo
Boxer – $44.67/ mo
Labradoodle – $28.12/ mo
Not finding your specific dog breed? Lemonade pet insurance is our #1 recommendation for Ohio and they'll be able to give you a quick quote for your exact needs.
Ohio Dog Insurance FAQs
What is dog insurance and why is it beneficial for Ohio pet owners?
According to the 2019-20 American Pet Product Association's (APPA) National Pet Owners Survey, $18.11 billion was spent on veterinary care in 2018. Having dog insurance will help offset the daily costs of pet ownership. Plus, you the pet owner are reimbursed for claims, not the vet, so insurance policies can be used anywhere. There are three main types of dog insurance: accident and illness, accident-only, and wellness.
What is covered (and what is not) with dog insurance?
Here are some examples of what dog insurance may cover: eye/ear/skin conditions, broken bones, medications, digestive issues, cancers, infections, hip dysplasia, diagnostic tests, hospitalization, and blood tests. Of course, there are health services that most policies do not cover: dental cleanings not related to illness, spay/neuter, cosmetic procedures, breeding/pregnancy, hereditary or congenital conditions. Pre-existing conditions are typically not covered since they occurred before the pet insurance began or during the waiting period. Many companies will not cover wellness/preventative care as a stand-alone plan. However, some may offer it as a supplement to an accident/illness policy, and it would cover annual wellness exams, vaccines, etc.
Are there requirements for my dog to be insured?
Most dog insurance companies will not provide a policy for a dog under 8 weeks old. A few insurance companies will not cover senior dogs (14+) so do your homework before purchasing a policy. Many of the pet insurance coverage we reviewed did not indicate they would not cover certain breeds; the same cannot be said of homeowners insurance (see note below).

Another thing to keep in mind is waiting periods, which almost all dog insurance policies have. This is a period of exclusion after you purchase the coverage before you can begin to make claims. Most waiting periods are 10-30 days for accidents/illness but can be up to 6 months for specific injuries like cruciate ligaments.
Are there restricted dog breeds for homeowners insurance in Ohio?
The short answer is yes. Some homeowners insurance may have a list of dog breeds that they will not be cover under the homeowner's policy. In addition, Ohio law also identifies nuisance, dangerous and vicious dogs. Suppose your dog is found in court to fall under one of these designations. In that case, you may be required extra liability insurance if the insurance company agrees to cover such a dog under your homeowner's policy at all.
How do claims work?
Dog insurance is reimbursable through claims. Once you make a trip to the vet, most companies will have you submit a claim online or through an app but some have a phone or mail-in option as well. Trupanion is the only dog insurance company we found that will directly pay for bills to vets in-network without you having to pay out of pocket first.

Choice of plans is based on how much you want to spend a month, what percentage of reimbursement you would like, the deductible amount, and the annual limit of refundable claims. The lower the deductible (the amount you pay out of pocket before insurance kicks in), the more you can expect to pay every month. A lower annual limit could lower your monthly fee but might leave you with high vet bills if your dog is very accident-prone.
5 Useful Strategies for Keeping Your Dog Safe and Healthy in Ohio
1. Keep your puppy indoors during Ohio snowstorms
Due to the cold winters in Ohio, it is best to keep your pet indoors. If they must live outside, provide a shelter for them above ground level and with sides and a door to keep out the elements.
2. Beware of the summer heat
Hot summer days provide a particular hazard for dogs in Ohio, too. High temperatures can cause a dog to overheat, and if they are running around, their internal body temperature will climb as well with no good way to get cooler since they do not sweat. It's best to save playing for cooler weather – early in the morning or late in the evening.
3. Keep your dog hydrated!
Another thing to be aware of when dogs are outside in Ohio is the availability of water and shade. Trees, awnings, and umbrellas can all offer relief from the heat. It's also good to refresh your dog's water bowl a couple of times a day if inside and more than that if outside.
4. Watch out for parasites
The Buckeye State has many beautiful metro parks where you can take your dog hiking or just for a walk. The more your pet is outside, though, they can be exposed to parasites, leading to disease. Treating your dog with year-round parasite control is essential to prevent heartworms, intestinal parasites, fleas, and ticks.
5. Practice good dental hygiene
Another vital area to focus on for dogs in The Buckeye State is dental health. If left unchecked, bacteria in the mouth enters the bloodstream and is passed to their organs, causing issues down the road to the liver, kidneys, lungs, and heart. Pet owners can brush their dog's teeth, but dental chews work and taste good if that's too difficult. Dogs should also have a dental checkup at least once a year to ensure your pup has the sparkliest mouth in Ohio.
5 of the top dog rescue shelters in Ohio
The Humane Society of the United States estimates that more than one million adoptable pets are euthanized in the US each year because too many dogs and cats come into the shelters. There aren't enough people to adopt them. If you're looking to add a new fur family member to your pack, consider adopting from one of these dog rescue shelters in Ohio.
---
---
---
---
---
Conclusion
Taking care of your furry loved ones doesn't need to be complicated. Now is the time to enroll your dog in an Ohio pet insurance plan. Keep in mind that most insurance providers will not cover a dog under 8 weeks old and some don't have policies for senior dogs above a certain age. Dog insurance is helpful for dogs of any age to protect them when illness or accidents happen. We found Lemonade pet insurance offers the best combination of price and coverage.
SwiftScore Ranking Methodology for Ohio
We ranked the best pet insurance policies in Ohio based on a variety of important factors including the following:
Average monthly price for a 2-year-old Labrador Retriever with a $500 deductible located in Ohio with a 44102 zip code
Coverage and benefits
Key policy details including accidents and illnesses, surgeries, annual check-ups, cancer treatment, lab tests, and more
AM Best rating of the underwriter
Reimbursement percentage
Annual benefit amount
Technology and user experience

Ease of sign up

Policy language clarity
User reviews
Other state dog insurance resources
Alabama | Alaska | Arizona | Arkansas | California | Colorado | Connecticut | Delaware | Florida | Georgia | Hawaii | Idaho | Illinois | Indiana | Iowa | Kansas | Kentucky | Louisiana | Maine | Maryland | Massachusetts | Michigan | Minnesota | Mississippi | Missouri | Montana | Nebraska | Nevada | New Hampshire | New Jersey | New Mexico | New York | North Carolina | North Dakota | Ohio | Oklahoma | Oregon | Pennsylvania | Rhode Island | South Carolina | South Dakota | Tennessee | Texas | Utah | Vermont | Virginia | Washington | West Virginia | Wisconsin | Wyoming