7 Best Oregon (OR)
Dog Insurance

Plans Compared in 2023

Updated on by Matthew H. Nash – Licensed Insurance Agent

Devoted dog parents want the best for their beloved canine pals, including protecting them in the event of veterinary emergencies. With the high costs of urgent veterinary care, dog insurance is a necessary shield against financial hardship. However, as a nationally licensed insurance agent, I am aware of the questions and challenges you may face. That is why my team and I have researched everything you need to know, regardless of whether you call Portland, Port Orford, Vale or somewhere in between home. Read more about our unbiased ranking methodology and advertiser disclosure.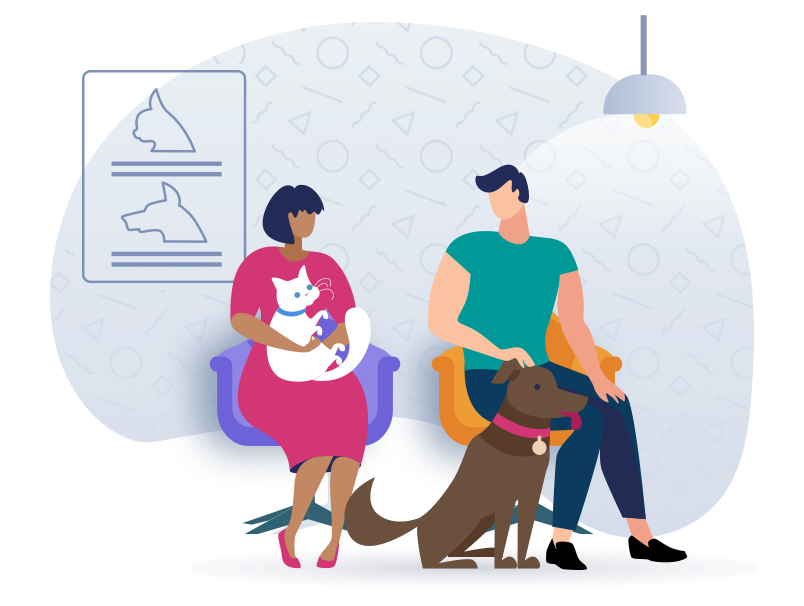 Top OR Dog Insurance Scored, Ranked & With Cost
Use our below table to quickly compare the best dog insurance providers in Oregon. The average monthly Oregon-specific prices shown are based on a healthy 2-year-old Labrador Retriever with a $500 deductible and 90% reimbursement amount who is located in Oregon with a 97229 zip code. Costs may vary based on age, location, coverage amount, and depending on the breed of your puppy. Prices are accurate as of January 2023 and are subject to change. For the most up-to-date information, please visit the provider website.
---
How much does dog insurance cost in Oregon for the 15 most popular breeds?
The price for Oregon dog insurance varies depending on where you live. To give you an idea we've collected costs for three cities shown below. The prices will also vary based on the age, health, and breed of your puppy.
All prices shown below are based on a 90% reimbursement rate with a $500 deductible and a $5,000 annual benefit from Figo pet insurance. Please note: these prices should only be treated as a rough guide as of January 2023 and are subject to change. If you're looking for the most up-to-date cost of dog insurance in Oregon we suggest getting a quote directly with Figo or Lemonade.
Mixed Breed

Portland – $34.21/ mo
Salem – $29.17/ mo
Eugene – $29.17/ mo

Labrador Retriever

Portland – $46.60/ mo
Salem – $39.73/ mo
Eugene – $39.73/ mo

Golden Retriever

Portland – $46.50/ mo
Salem – $39.63/ mo
Eugene – $39.63/ mo

German Shepherd

Portland – $50.27/ mo
Salem – $42.84/ mo
Eugene – $42.84/ mo

Goldendoodle

Portland – $40.45/ mo
Salem – $34.48/ mo
Eugene – $34.48/ mo

Chihuahua

Portland – $21.29/ mo
Salem – $18.14/ mo
Eugene – $18.14/ mo

Siberian Husky

Portland – $46.73/ mo
Salem – $39.83/ mo
Eugene – $39.83/ mo

Yorkshire Terrier

Portland – $29.37/ mo
Salem – $25.04/ mo
Eugene – $25.04/ mo

American Pit Bull Terrier

Portland – $51.74/ mo
Salem – $44.09/ mo
Eugene – $44.09/ mo

Australian Shepherd

Portland – $32.17/ mo
Salem – $27.43/ mo
Eugene – $27.43/ mo

Dachshund

Portland – $30.36/ mo
Salem – $25.87/ mo
Eugene – $25.87/ mo

Shih Tzu

Portland – $27.04/ mo
Salem – $23.04/ mo
Eugene – $23.04/ mo

French Bulldog

Portland – $63.99/ mo
Salem – $54.54/ mo
Eugene – $54.54/ mo

Boxer

Portland – $64.25/ mo
Salem – $54.77/ mo
Eugene – $54.77/ mo

Labradoodle

Portland – $40.45/ mo
Salem – $34.48/ mo
Eugene – $34.48/ mo
Not finding your specific dog breed? Lemonade pet insurance is our #1 recommendation for Oregon and they'll be able to give you a quick quote for your exact needs.
Oregon Dog Insurance FAQs
What is dog insurance, and why is it beneficial in Oregon?
You can protect your dog to the fullest via insurance by getting a policy from a pet insurance provider and paying the monthly premiums to keep it active. If your dog becomes ill or has an accident, you'll need to pay the bill in full. Then, you'll submit a claim to your dog's insurance company to get reimbursed. It is worth noting that most insurance companies exclude pre-existing conditions. This is precisely why we suggest getting a policy in place for your animal while it is still in the puppy phase (after 8 weeks).

Oregon, especially Portland, is one of the most expensive places in America to own a dog. With cancer treatments costing as much as $10,000, many uninsured pet owners face the painful decision to euthanize their dogs because of financial constraints. However, dog insurance guarantees you don't end up in such a distressing situation.
At what age can I insure my puppy?
The majority of dog insurance providers require your puppy to be at least 8-weeks-old to get puppy insurance. The good news is, though, is that there is no age limit for insuring a dog. The younger your dog, the cheaper it will be to insure them. We suggest getting a policy in place for your puppy before its first birthday.
Is getting dog insurance in Oregon worth it?
With Oregon being one of the most expensive places to be a dog owner, pet insurance is worth it. Accidents and illnesses are a natural part of a dog's life, and with them come excessive vet bills. Dog owners will often spend upwards of $3,000 for an emergency vet visit. Ultimately, you'll need to determine if paying monthly dog insurance premiums would mitigate potentially high bills in the future. Oregon vets tend to have higher rates than those in most states, which might be another reason to get your dog insured.
What does dog insurance include and exclude?
Coverage differs between pet insurance providers, but they typically cover illnesses and accidents. You can think of these as medical events that are "sudden and catastrophic." Examples might include allergies, open-flesh wounds, broken bones, or urinary tract infections. However, they do not include pre-existing conditions. Therefore, if your dog has leukemia when you apply for insurance, your provider will exclude from coverage. Another benefit of having dog insurance is that many companies have "wellness" packages you can add to your policy. These include preventative check-ups, vaccinations, and more.
How does reimbursement work?
Let's start with a hypothetical scenario: you have a dog insurance policy with a $20,000 maximum benefit, 90% reimbursement, and a $500 deductible. Should something happen to your dog that requires a $10,000 surgery, your insurance provider would reimburse you $9000 minus the $500 deductible. You would, therefore, pay $1,500 instead of the original $10,000. Trupanion seems to be one of the rare exceptions that pay vets in their network directly.
Which is better: a lower or higher deductible?
Which deductible you choose depends upon two things: personal preference and your financial circumstances. A lower deductible means higher monthly payments, but it will get you lower out-of-pocket costs for emergency care. The opposite is true: a higher deductible means lower monthly payments, leaving you with higher out-of-pocket costs for emergency treatment. To help you out when requesting a quote, most providers offer easy-to-use calculators on their websites.
Are there restricted dog breeds for homeowners insurance in Oregon?
Nearly all states have breed restrictions when it comes to homeowners insurance. These restrictions may vary from provider to provider. Some restricted breeds may include, but are not limited to:
Akitas
Chow Chows
Doberman Pinschers
German Shepherds
Great Danes
Pit Bull
Rottweilers
Wolf-hybrids
It is best to contact your home insurance company to find what your policy excludes and whether you'll need a specific liability rider.
5 Useful Strategies for Keeping Your Dog Safe & Healthy in Oregon
Oregon can experience extreme weather-related disasters that may adversely affect your dog, including forest fires, severe storms, and droughts. They also have many pests, parasites, and animals that may prove problematic. Keep your dog safe and healthy in Oregon by doing the following:
1. Register your dog and vaccinate it against rabies
Oregon law requires all dogs owners to obtain a license and get their dog a rabies vaccination. Keep in mind the age required for licensing varies from county to county, so check with your local city or town hall.
2. Create an emergency kit for your dog
Should one of Oregon's extreme weather disasters occur, especially one that requires evacuation, have a "go" bag on hand for your dog. The bag should include all medications, a leash, food, water as well as two bowls. You'll also want to keep your dog's crate easily accessible. Be sure it's lined with a comfortable cushion or blanket and pee-pad.
3. Keep your dog hydrated
Oregon's summers can be painfully hot and humid, which is why it's essential to keep your dog hydrated. While having fresh water available throughout the day is critical, it doesn't guarantee appropriate hydration levels. Incorporate hydrating foods into your dog's diet, such as fruits, vegetables, meat, and fish, as it's easier for your dog's body to absorb water through food.
4. Treat your dog for ticks
Ticks and Lyme disease are rampant in Oregon. To protect your dog against ticks, consult your vet for the best natural or conventional tick treatment. They typically come in the form of collars or spot-on treatments. You may want to consider a tick-flea combination product as fleas are problematic in Oregon too.
5. Watch out for wildlife
Several species in Oregon can be problematic for your dog. Some of these include bats, skunks, bobcats, porcupines, coyotes, and cougars. While most of these animals are nocturnal, porcupines are out and about at all times of the day. Porcupine quills in your dog's foot or face are excruciatingly painful. If your dog goes outside close to sunset or sunrise, it's safest to supervise that time so your furry friend doesn't get into unnecessary trouble.
5 Unique Dog Rescue Shelters in Oregon
---
---
---
---
---
Conclusion
Choosing the right dog insurance in Oregon is relatively easy. We recommend getting your puppy insured as soon as it's over 8-weeks old. Of course, the younger your dog when first insured, the better the prices and less chance of medical conditions developing. Nevertheless, getting insurance for your dog at any age can be valuable when it comes to prevention and dealing with catastrophic events. Our extensive research shows Lemonade pet insurance consistently delivers the best service with the lowest monthly premiums.
SwiftScore Ranking Methodology for Oregon
We ranked the best pet insurance policies in Oregon based on a variety of important factors including the following:
Average monthly price for a 2-year-old Labrador Retriever with a $500 deductible located in Oregon with a 97229 zip code
Coverage and benefits
Key policy details including accidents and illnesses, surgeries, annual check-ups, cancer treatment, lab tests, and more
AM Best rating of the underwriter
Reimbursement percentage
Annual benefit amount
Technology and user experience

Ease of sign up

Policy language clarity
User reviews
Other state dog insurance resources
AL | AK | AZ | AR | CA | CO | CT | DE | FL | GA | HI | ID | IL | IN | IA | KS | KY | LA | ME | MD | MA | MI | MN | MS | MO | MT | NE | NV | NH | NJ | NM | NY | NC | ND | OH | OK | OR | PA | RI | SC | SD | TN | TX | UT | VT | VA | WA | WV | WI | WY