7 Best Nevada (NV)
Dog Insurance

Plans Compared in 2023

Updated on by Matthew H. Nash – Licensed Insurance Agent

As a seasoned, nationally licensed insurance agent and dedicated dog parent, I have seen first-hand how bewildering policy language can be for clients. I also know that discerning the pros and cons of different plans can be a time-consuming challenge. That is why my team and I have extensively researched the best Nevada dog insurance plans. Whether you live in Las Vegas, Boulder City, Reno, Elko, Henderson or another town in the Silver State, this article has all the information you need to know to determine the perfect policy for your pup. Read more about our unbiased ranking methodology and advertiser disclosure.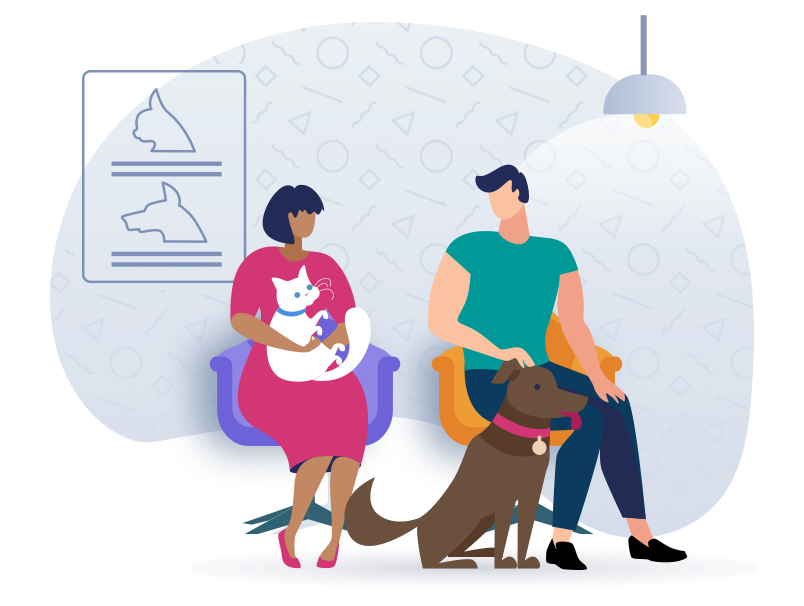 Top NV Dog Insurance Scored, Ranked & With Cost
Use our below table to quickly compare the best dog insurance providers in Nevada. The average monthly Nevada-specific prices shown are based on a healthy 2-year-old Labrador Retriever with a $500 deductible and 90% reimbursement amount who is located in Nevada with an 89117 zip code. Costs may vary based on age, location, coverage amount, and depending on the breed of your puppy. Prices are accurate as of January 2023 and are subject to change. For the most up-to-date information, please visit the provider website.
---
How much does dog insurance cost in Nevada for the 15 most popular breeds?
The price for Nevada dog insurance is almost always the same throughout the state including in Las Vegas, Reno, Henderson, Paradise, or Spring Valley, etc. However, the prices will vary based on the age, health and breed of your puppy.
All prices shown below are based on a 90% reimbursement rate with a $500 deductible and a $5,000 annual benefit from Figo pet insurance. Please note: these prices should only be treated as a rough guide as of January 2023 and are subject to change. If you're looking for the most up-to-date cost of dog insurance in Nevada we suggest getting a quote directly with Figo or Lemonade.
Mixed Breed – $26.41/ mo
Labrador Retriever – $35.97/ mo
Golden Retriever – $35.89/ mo
German Shepherd – $38.80/ mo
Goldendoodle – $31.23/ mo
Chihuahua – $16.42/ mo
Siberian Husky – $36.07/ mo
Yorkshire Terrier – $22.67/ mo
American Pit Bull Terrier – $39.92/ mo
Australian Shepherd – $24.83/ mo
Dachshund – $23.43/ mo
Shih Tzu – $20.86/ mo
French Bulldog – $49.39/ mo
Boxer – $49.58/ mo
Labradoodle – $31.23/ mo
Not finding your specific dog breed? Lemonade pet insurance is our #1 recommendation for Nevada and they'll be able to give you a quick quote for your exact needs.
Nevada Dog Insurance FAQs
What exactly is dog insurance and why is it valuable in Nevada?
If you want to sufficiently protect your dog with an insurance policy, the first step is to sign up with an insurance company and begin paying a monthly premium to keep the policy active. Should your dog ever fall ill or have an accident that needs medical attention, ordinarily you will be expected to pay the full veterinary bill out of pocket and submit a claim, later on, to obtain reimbursement from your insurer. An important detail to keep in mind is that when granting coverage, insurance companies generally like to exclude certain pre-existing conditions. For this reason, we advise signing up for dog insurance once your pet has reached 8 weeks of age and is still in the puppy phase.

Insuring your dog is incredibly important in Nevada. Costs for veterinary care have the potential to become exceedingly high for the treatment of diseases like cancer, which can reach amounts of well over $10,000. In the case of many dog owners who lack insurance, the notion of putting their animal down solely because they are unable to pay for the treatment their pet needs can become a reality. Insurance safeguards you from ever having to make that decision.
How old does my puppy have to be to get insured?
Many dog insurance companies require that your puppy be at least 8 weeks of age before they are eligible for an insurance policy. On the other hand, a large number of providers do not have an age limit associated with dog insurance policies. Considering that younger animals are generally much cheaper to insure, it is best to insure your dog before their first birthday.
How necessary is dog insurance in Nevada?
The occurrence of an accident or illness in your dog's lifetime is very possible, and the vet bills associated with treatments can quickly accumulate. At some point in their pet's life, many dog owners have found themselves spending $3,000 or more for an emergency vet visit. You will have to decide whether the cost of a monthly insurance premium is worth avoiding paying out of pocket for expensive vet bills.
What can I expect to be included in dog insurance and what is excluded?
The coverage options offered by dog insurance providers vary, but unless specifically excluded, typically any illnesses or accidents will be covered. "Sudden and catastrophic" incidents are generally covered by dog insurance. Things like broken bones, eye infections, swallowing a tennis ball, or allergies would be some of the ailments included. A pre-existing condition like cancer is not covered and will not be eligible for claims. Pet insurance providers have also begun to offer wellness packages, a specific add-on for coverage on routine pet visits for vaccinations, check-ups, and heartworm prevention.
How does reimbursement work?
Let's say you have a dog insurance policy with an 80% reimbursement amount, a $300 deductible with a $20,000 annual max benefit, and your pet sustains an injury that requires a $10,000 emergency vet surgery. In this situation, your insurance company would reimburse you $8,000 minus your $300 deductible. This means that you would be paying $2,300 out of pocket instead of the full $10,000. Trupanion is one pet insurance company that is excluded from this example. They will make payments directly to vets who are in their network, so you'll never have to pay the full amount for a visit out of pocket.
Is it better to have a lower deductible and is there a sweet spot?
Lower insurance deductibles usually mean larger monthly payments. However, by making these higher payments each month, you avoid paying more out of pocket when trouble arises. You will need to figure out which deductible makes the most sense for you based on your own budget. Plenty of providers offer a simple-to-use calculator when receiving a quote. According to our findings, most people choose a $250 or $500 deductible.
5 Useful Strategies for Keeping Your Dog Safe & Healthy in Nevada
1. Keep your dog cool
Living in a desert-like climate such as Nevada, dogs are exposed to very high temperatures and can become dehydrated very easily. Be sure to give your dog access to plenty of freshwater, shade, and never leave them in a car during the warmer months. Temperatures inside a vehicle on a hot day can rise 20 degrees in just 10 minutes.
2. Socialize and exercise
Many ailments such as bone and joint disease or different types of cancer are common in overweight animals, but this is easy to prevent if you provide your dog with opportunities to exercise. Taking them on daily walks or giving them interactive toys can keep them fit and healthy. Giving your pet the chance to meet and play with other dogs is also very beneficial for their emotional health. They can begin to develop better-coping skills, and they are also less likely to become out of control around other animals when they are properly socialized.
3. Protect with vaccines
Dogs in Nevada are not immune to highly contagious diseases such as distemper, parvo, and rabies. Vaccinations offer your dog protection from these potentially fatal illnesses. Typically, puppies should receive their first round of shots at around 6 weeks of age, followed by boosters every 3 weeks until they reach 16 weeks. You should revaccinate your adult dog every 1 – 3 years.
4. Spay or neuter your dog
There are thousands of dogs in shelters around Nevada. Many are unable to find homes and are euthanized as a result. It is important that you prevent your dog from contributing to this overpopulation by spaying or neutering them. This can also protect them from certain health conditions, like testicular cancer or prostate disease in male dogs and breast cancer and uterine infections in females.
5. Wildlife dangers
Nevada is home to many unique forms of wildlife, but some are potentially dangerous to your pets. Mountain lions can be drawn to things of smaller stature that are seen running like dogs do. Nevada also has a very healthy population of coyotes, and they have been known to attack dogs and other small animals. You should always keep your dog on a leash while exploring Nevada's natural wonders.
5 Unique Dog Rescue Shelters in Nevada
Rescuing a dog can be one of the most rewarding experiences. Check out these five impressive and unique animal shelters in Nevada and begin your search for a new cuddly companion.
---
---
---
---
---
Conclusion
Finding insurance for your dog or puppy doesn't have to be complicated. If you sign up for insurance as soon as your puppy reaches 8 weeks of age, you will find the best prices without the hassle of coverage restrictions such as a pre-existing condition. No matter your furry friend's age, purchasing dog insurance is incredibly beneficial when it comes to covering the cost of an unfortunate event or maintaining general wellness. Our comprehensive research has found that Lemonade pet insurance has the highest rated performance while offering the lowest monthly premiums.
SwiftScore Ranking Methodology for Nevada
We ranked the best pet insurance policies in Nevada based on a variety of important factors including the following:
Average monthly price for a 2-year-old Labrador Retriever with a $500 deductible located in Nevada with a 89117 zip code
Coverage and benefits
Key policy details including accidents and illnesses, surgeries, annual check-ups, cancer treatment, lab tests, and more
AM Best rating of the underwriter
Reimbursement percentage
Annual benefit amount
Technology and user experience

Ease of sign up

Policy language clarity
User reviews
Other state dog insurance resources
AL | AK | AZ | AR | CA | CO | CT | DE | FL | GA | HI | ID | IL | IN | IA | KS | KY | LA | ME | MD | MA | MI | MN | MS | MO | MT | NE | NV | NH | NJ | NM | NY | NC | ND | OH | OK | OR | PA | RI | SC | SD | TN | TX | UT | VT | VA | WA | WV | WI | WY