6 Best Utah (UT)
Dog Insurance

Plans Compared in 2023

Updated on by Matthew H. Nash – Licensed Insurance Agent

Shopping for a puppy or dog insurance plan in Utah can be overwhelming. As a nationally licensed insurance agent and devoted dog parent, I know the time, energy and consideration that goes into finding the best coverage for your canine companion. To streamline the process for you, my team and I compiled all the essential details on the best Utah dog insurance plans. This article will answer all dog insurance questions from Salt Lake City to Provo and Ogden to Orem. Read more about our unbiased ranking methodology and advertiser disclosure.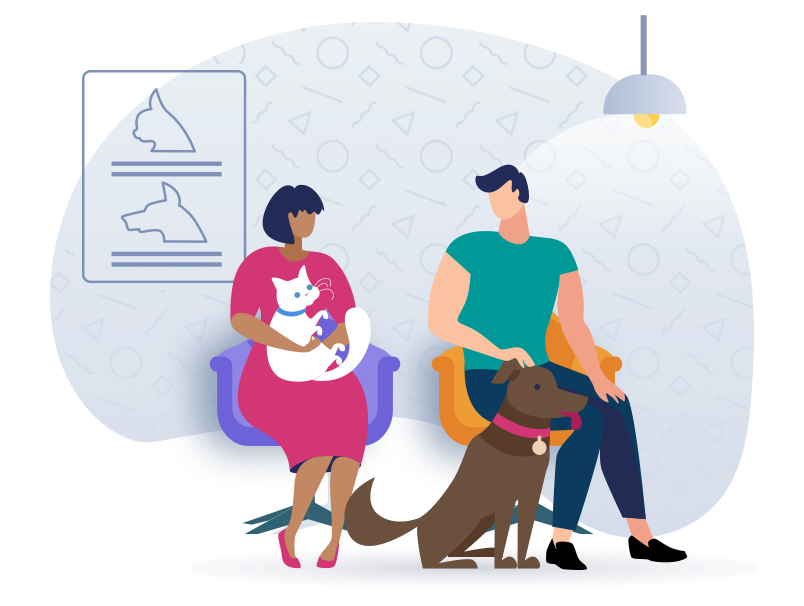 Top UT Dog Insurance Scored, Ranked & With Cost
Use our below table to quickly compare the best dog insurance providers in Utah. The average monthly Utah specific prices shown are based on a healthy 2-year-old Labrador Retriever with a $500 deductible and 90% reimbursement amount who is located in Utah with a 84103 zip code. Costs may vary based on age, location, coverage amount, and depending on the breed of your puppy. Prices are accurate as of May 2023 and are subject to change. For the most up-to-date information, please visit the provider website.
4.4
SwiftScore

Our SwiftScore is a unique and proprietary insurance ranking system objectively comparing key metrics which are most important to pet parents. Learn more at the end of this page.
STANDARD PLAN
COST IN UTAH
$63.56/mo
Pumpkin Pet Insurance plans have extensive coverage and they always have a 90% reimbursement rate
Pumpkin Pet Insurance plans have no breed or upper age restrictions, and dental illness and hereditary conditions are covered at no extra cost
Founded in 2020 and underwritten by United States Fire Insurance Company
4.3
SwiftScore

Our SwiftScore is a unique and proprietary insurance ranking system objectively comparing key metrics which are most important to pet parents. Learn more at the end of this page.
STANDARD PLAN
COST IN UTAH
$45.59/mo
Their "Healthy Pet Deductible" allows your annual deductible to go down by $50 each year that you don't receive an insurance claim reimbursement
Embrace paid 93% of claims in 2019 and their member portal is user-friendly
Founded in 2003 and underwritten by American Modern Insurance
---
How much does dog insurance cost in Utah for the 15 most popular breeds?
The price for Utah dog insurance is almost always the same throughout the state including in Salt Lake City, Ogden, Park City, Provo, or St. George etc. However, the prices will vary based on the age, health and breed of your puppy.
All prices shown below are based on a 90% reimbursement rate with a $500 deductible and a $5,000 annual benefit from Figo pet insurance. Please note: these prices should only be treated as a rough guide as of May 2023 and are subject to change. If you're looking for the most up-to-date cost of dog insurance in Utah we suggest getting a quote directly with Figo or Lemonade.
Mixed Breed – $33.89/ mo
Labrador Retriever – $43.57/ mo
Golden Retriever – $52.93/ mo
German Shepherd – $50.25/ mo
Goldendoodle – $42.12/ mo
Chihuahua – $17.91/ mo
Siberian Husky – $47.93/ mo
Yorkshire Terrier – $25.30/ mo
American Pit Bull Terrier – $49.86/ mo
Australian Shepherd – $31.43/ mo
Dachshund – $29.24/ mo
Shih Tzu – $25.37/ mo
French Bulldog – $60.97/ mo
Boxer – $71.62/ mo
Labradoodle – $42.12/ mo
Not finding your specific dog breed? Lemonade pet insurance is our #1 recommendation for Utah and they'll be able to give you a quick quote for your exact needs.
Utah Dog Insurance FAQs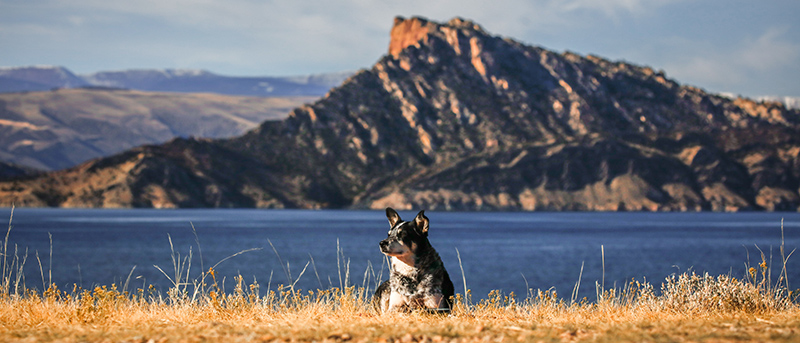 One of Utah's happy dogs enjoying the views at Flaming Gorge Reservoir
What is dog insurance?
Just like you and I need health insurance to help cover our medical costs, so do our pets! Dog insurance is simply a health care policy for your dog that reimburses certain medical expenses.
Why do I need dog insurance in Utah?
To fully protect your dog with insurance, you will first need to sign up with an insurance company that provides pet policies. A monthly or yearly payment is required to keep your policy active. If your furry friend comes down with an illness or has an accident, you will generally be required to pay for care up front and subsequently submit an insurance claim for reimbursement.
Tip: Insurance companies are often notorious for excluding certain pre-existing conditions. We recommend obtaining dog insurance while your pet is still a young puppy (after 8 weeks of age) before most pre-existing conditions would set in.
Dog insurance is incredibly useful in Utah since vet bills can be colossal for treatments like cancer that end up costing considerably over $10,000. Sadly, many uninsured dog owners have to make the difficult decision to put their animals to sleep because the cost of treatment is simply unfeasible. Dog insurance takes that worry away.
When will my puppy be old enough for insurance?
The majority of insurance companies require your puppy to be a minimum of 8-weeks-old before you're eligible to apply for coverage. Younger dogs are usually much cheaper to insure compared to older dogs, therefore we recommend you obtain insurance before your dog's first birthday.
Is dog insurance worth it in Utah?
Like I stated above, vet bills can quickly pile up and become overwhelming. Accidents and illnesses are a fact of life we must prepare for. Many dog owners spend $3,000 or more for an emergency vet visit at some point during their pet's life.
Everyone's situation is different. You must decide whether paying monthly insurance premiums is worth it, versus paying potentially high out-of-pocket emergency costs. Utah veterinarians are considered middle-of-the-pack when it comes to prices, which makes them slightly more expensive than some other states, but still in reach for many dog owners.
What is and isn't covered by insurance?
Coverage varies between providers, but most accidents and illnesses are covered unless specifically excluded in the policy language. Keep in mind, anything that is considered "sudden and catastrophic" will be most likely be covered—i.e. broken bones, infections, allergies, swallowing a rock. (We've all been there!)
However, some ailments are not covered. For example, if your dog already has cancer when you apply for insurance, this would qualify as a pre-existing condition, which usually isn't eligible for coverage. Some providers have started offering add-on "wellness" packages to cover vaccines, routine check-ups, and more to help offset costs.
What about reimbursement?
Let's say you have dog insurance with a 90% reimbursement amount, a $250 deductible, and a $20,000 annual max benefit. Then an accident occurs, requiring a $10,000 emergency vet surgery. In this event, your insurance company would reimburse you $9,000 minus your $250 deductible, meaning your out-of-pocket cost is $1,250 instead of $10,000.
An exception to this rule is Trupanion, a company that offers payment directly to in-network vets, requiring no out-of-pocket payments from you.
Do I want a lower deductible?
A lower deductible generally equals higher monthly payments, but a lower cost to you in the event of an emergency. A higher deductible means lower monthly payments, but a bigger bill at the vet. It's best to calculate your needs based on your unique financial situation. A $250 or $500 deductible is the most common.
Does my Utah homeowners insurance allow all dog breeds?
Most states have restrictions on certain dog breeds in order to obtain homeowners insurance. These breeds may include (but are not limited to):
Akitas
Chow Chows
Doberman Pinschers
German Shepherds
Bull Mastiffs
Pit Bull Terriers
Rottweilers
Wolfhounds
For the most accurate and up-to-date information, please get in touch with your local home insurance provider.

5 Useful Strategies for Keeping Your Dog Safe & Healthy in Utah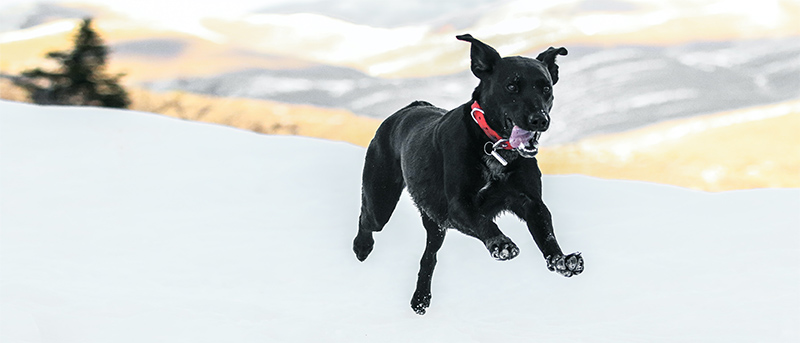 It's important to make sure your puppy is comfortable in Utah's everchanging weather
1. Know what to do during a wildlife encounter
Utah is a vast state, home to abundant wildlife. Many Utahns love taking their dogs on hikes in the mountains where wildlife encounters are a real concern. Although seeing animals such as coyotes and cougars in person can be an exhilarating experience, it is also incredibly dangerous if these animals get too close. To keep your dog (and yourself) safe in the event of a wildlife encounter, practice the following:
Keep your dog leashed.
Stay calm and do not run.
Stomp your feet, clap your hands, shout, and make loud noises.
Do not turn your back on the wild animal. Stay facing them and back away slowly.
If attacked, fight back to the best of your abilities.
Put your own safety first. Yes, your dog is like family, but as in any emergency, ensuring your own safety is the first priority.
If your dog is bitten, consult a veterinarian for treatment as soon as possible.

2. Know how to avoid overheating in the Utahn sun
Utah summers are hot! The temperature is known to reach over 100 degrees between June and September regularly. Just as you and I don't react too well to extreme heat, neither does your dog. Here's how to care for your canine companion when it's hot outside.
Keep your dog hydrated with clean, cold water, and make sure there is access to shade outdoors.
Know the symptoms of overheating: excessive panting, difficulty breathing, increased heart rate, drooling, lethargy, seizures, bloody diarrhea, vomit and/or fevers are all known signs.
Don't leave your dog unattended in a car during a Utah summer. If it's between 80 degrees to 100 degrees outside, the inside of your car can reach a fatal 130 to 172.
Don't walk your pooch on hot concrete or asphalt. It can burn their paw pads. Walk on grass or in the early morning or late evening hours when it's slightly cooler.
3. Learn how to safely interact with water
With ample water recreation opportunities from boating and swimming, to paddling, rafting and more, Utah dogs are used to spending time in the water, but safety precautions must be taken to ensure an enjoyable experience.
Don't leave dogs unsupervised. Not all dogs are adept swimmers, or even know how to swim!
Make sure your doggy wears a flotation device. It may look somewhat silly, but can be a lifesaver during an emergency.
Bathe your dog after swimming. There are all kinds of unpleasant things in water—pool chemicals, lake bacteria, dirt, salt, etc. These can pose health hazards to your furry friend.
4. Do your best to avoid preventable illnesses
Getting sick is a fact of life for all creatures, but there are measures we can take to keep our pets healthy in Utah.
Take your dog to the veterinarian for a yearly checkup.
Vaccinate your dog. Vaccinations protect your dog from deadly diseases including distemper, parvo, and rabies.
Keep your pup clean. Dispose of their excrement regularly and keep them from digging through trash or leftover food. Bathe as needed.
Spay or neuter your dog. Not only does this procedure prevent reproduction, but it can also prevent certain cancers.
5. Know what your dog is eating
Many people like to feed dogs table scraps or leftovers. Sometimes when we're not watching, dogs will also chew on household items, eat strange plants on walks, or even swallow garbage. It's important to know what's always going in your dog's mouth!
Don't feed dogs table scraps or leftovers. Only give them dog food or foods approved by their vet. (Even when they beg!)
Supervise your dog at all times outdoors.
Keep your dog occupied and entertained with attention, affection, toys, and treats.
Train your pooch. Many bad behaviors occur due to lack of training. If you're not equipped to train your best friend on your own, there are numerous trainers who will work their magic here in Utah!

5 Amazing Dog Shelters in Utah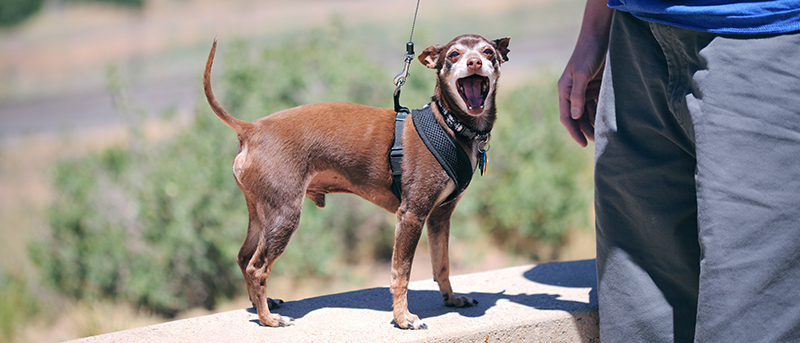 We believe adopting a cute puppy in Utah is one of the best and most humane ways to expand your family
Looking to add a new canine companion to your family? These five Utah animal shelters are incredible and ethical, places to find your new friend.
Dedicated to the elimination of pain, fear, and suffering in all animals, The Humane Society of Utah saves over 12,000 animals a year and places nearly 10,000 adoptions into homes. The Humane Society's placement rate (also known as "live-release," which includes adoptions, transfers to other humane groups, and reunions with owners) exceeds 90% for all animals.
Located on a 16,000-square-foot ranch that includes a full veterinary suite, catio (cat patio!), enrichment area for dogs, and more, Nuzzles & Co. has found loving homes for over 22,000 pets. They also work to educate local communities on the humane treatment of animals through partnerships, events, and even dog sleepovers.
Located in scenic southern Utah, Best Friends Animal Sanctuary is the home-between-homes for about 1,600 rescued dogs and cats, horses, birds, rabbits, potbellied pigs, farm animals, and assorted wildlife.
Second Chance for Homeless Pets was founded in 2000 when 19-year-old Rhonda Greenhalgh drove to California to save a deaf Boxer from euthanization. Ever since, she and the team at Second Chance have worked to end the homeless pet epidemic and provide love and care to all animals, no matter their age or health status.
Best Friend's "No More Homeless Pets" initiative has cut the number of pets killed in Utah shelters by over half since 2000. The Best Friend's Lifesaving Center in SLC gives homeless pets their best chance to find forever homes and brings Utah closer to being a no-kill state every day.
Conclusion
We hope we've made finding your best dog insurance in Utah easier for your best friend. Signing up for dog insurance sooner, rather than later in your dog's life is best since you will get lower prices and fewer restrictions on pre-existing conditions. Already missed the puppy window? The next best time is now! Dog insurance at any age of your buddy's life will be vital in the event of an accident or illness. Plus, it will simply give you peace of mind. 
Ready to get started? After countless hours of research, we've found that Lemonade pet insurance consistently performs the best with the lowest monthly premiums.
SwiftScore Ranking Methodology for Utah
We ranked the best pet insurance policies in Utah based on a variety of important factors including the following:
Average monthly price for a 2-year-old Labrador Retriever with a $500 deductible located in Utah with a 84103 zip code
Coverage and benefits
Key policy details including accidents and illnesses, surgeries, annual check-ups, cancer treatment, lab tests, and more
AM Best rating of the underwriter
Reimbursement percentage
Annual benefit amount
Technology and user experience

Ease of sign up

Policy language clarity
User reviews
Other state dog insurance resources
Alabama | Alaska | Arizona | Arkansas | California | Colorado | Connecticut | Delaware | Florida | Georgia | Hawaii | Idaho | Illinois | Indiana | Iowa | Kansas | Kentucky | Louisiana | Maine | Maryland | Massachusetts | Michigan | Minnesota | Mississippi | Missouri | Montana | Nebraska | Nevada | New Hampshire | New Jersey | New Mexico | New York | North Carolina | North Dakota | Ohio | Oklahoma | Oregon | Pennsylvania | Rhode Island | South Carolina | South Dakota | Tennessee | Texas | Utah | Vermont | Virginia | Washington | West Virginia | Wisconsin | Wyoming