6 Best Florida (FL)
Dog Insurance

Plans Compared in 2023

Updated on by Matthew H. Nash – Licensed Insurance Agent

As a nationally licensed insurance agent and proud dog parent, I know that finding the best Florida dog insurance can be tricky. That is why my team and I have put together this guide to help you determine the best policy for your beloved dog or puppy. Whether in Miami, Jacksonville, Orlando or Pensacola, this article has all you need to know about the best insurance providers and the perks they offer, what you can expect to pay and answers to the most commonly asked questions. Read more about our unbiased ranking methodology and advertiser disclosure.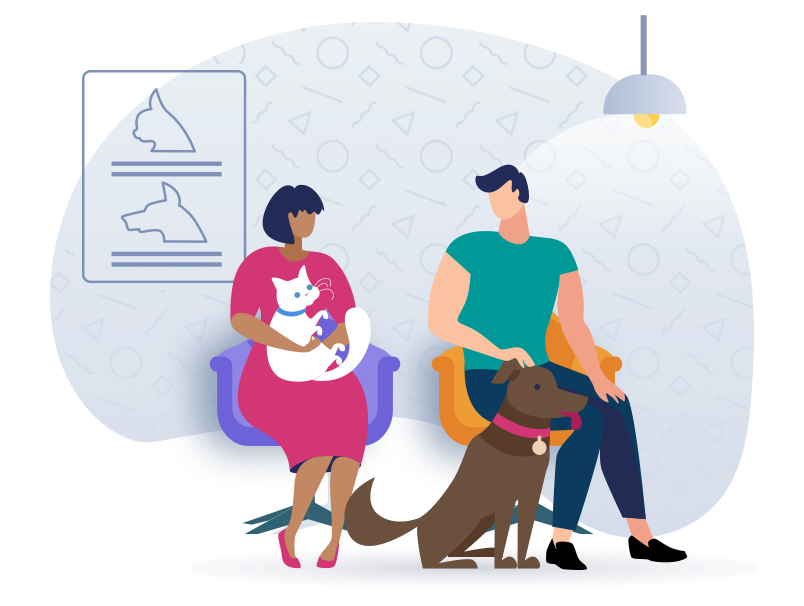 Top FL Dog Insurance Scored, Ranked & With Cost
Use our below table to quickly compare the best dog insurance providers in Florida. The average monthly Florida-specific prices shown are based on a healthy 2-year-old Labrador Retriever with a $500 deductible and 90% reimbursement amount who is located in Florida with a 33155 zip code. Costs may vary based on age, location, coverage amount, and depending on the breed of your puppy. Prices are accurate as of January 2023 and are subject to change. For the most up-to-date information, please visit the provider website.
---
How much does dog insurance cost in Florida for the 15 most popular breeds?
The price for Florida dog insurance varies depending on where you live. To give you an idea we've collected prices for three cities shown below. The prices will also vary based on the age, health, and breed of your puppy.
All prices shown below are based on a 90% reimbursement rate with a $500 deductible and a $5,000 annual benefit from Figo pet insurance. Please note: these prices should only be treated as a rough guide as of January 2023 and are subject to change. If you're looking for the most up-to-date cost of dog insurance in Florida we suggest getting a quote directly with Figo or Wagmo.
Mixed Breed

Orlando – $46.70/ mo
Miami – $36.90/ mo
Del Rey Beach – $46.70/ mo

Labrador Retriever

Orlando – $49.32/ mo
Miami – $38.97/ mo
Del Rey Beach – $49.32/ mo

Golden Retriever

Orlando – $56.68/ mo
Miami – $44.94/ mo
Del Rey Beach – $56.68/ mo

German Shepherd

Orlando – $53.32/ mo
Miami – $42.13/ mo
Del Rey Beach – $53.32/ mo

Goldendoodle

Orlando – $51.27/ mo
Miami – $40.51/ mo
Del Rey Beach – $51.27/ mo

Chihuahua

Orlando – $26.33/ mo
Miami – $20.80/ mo
Del Rey Beach – $26.33/ mo

Siberian Husky

Orlando – $54.12/ mo
Miami – $42.76/ mo
Del Rey Beach – $54.12/ mo

Yorkshire Terrier

Orlando – $39.09/ mo
Miami – $30.89/ mo
Del Rey Beach – $39.09/ mo

American Pit Bull Terrier

Orlando – $54.43/ mo
Miami – $43.01/ mo
Del Rey Beach – $54.43/ mo

Australian Shepherd

Orlando – $38.29/ mo
Miami – $30.25/ mo
Del Rey Beach – $38.29/ mo

Dachshund

Orlando – $43.58/ mo
Miami – $34.44/ mo
Del Rey Beach – $43.58/ mo

Shih Tzu

Orlando – $39.36/ mo
Miami – $31.10/ mo
Del Rey Beach – $39.36/ mo

French Bulldog

Orlando – $55.41/ mo
Miami – $43.78/ mo
Del Rey Beach – $55.41/ mo

Boxer

Orlando – $63.55/ mo
Miami – $50.21/ mo
Del Rey Beach – $63.55/ mo

Labradoodle

Orlando – $51.27/ mo
Miami – $40.51/ mo
Del Rey Beach – $51.27/ mo
Not finding your specific dog breed? Wagmo pet insurance is our #1 recommendation for Florida and they'll be able to give you a quick quote for your exact needs.
Florida Dog Insurance FAQs
What is dog insurance?
Like humans, dogs are eligible to receive their own health insurance in unexpected illnesses or accidents. The first step is to find a plan and carrier that is right for you. Once enrolled, you will then make ongoing monthly payments to sustain your policy.

If your furry friend becomes sick or is involved in an accident, your insurance coverage will kick in. Typically, you as the owner will be responsible for paying vet bills initially, and then your insurance carrier will reimburse you.
How old does my puppy need to be to get insured?
Most dog insurance carriers do not have an age limit, which is especially helpful if you plan to adopt a dog from a shelter. However, many do have an age minimum. The most common age minimum to be eligible for coverage is 8 weeks old.

Helpful tip: dog insurance tends to be more expensive the older your dog is, which is why we suggest enrolling in dog insurance as soon as your pup is eligible.
Why does my dog need insurance in Florida? What are the benefits?
Dog insurance is a good idea for all dogs because unexpected illnesses and accidents can happen. Vet bills tend to be expensive, especially for intensive procedures and surgeries. Having dog insurance helps protect you from experiencing financial strain that can result from the cost of pet care.
What does dog insurance cover?
The basic services that dog insurance plans provide are unexpected illness and accident coverage. For example, if your dog becomes ill with a bacterial infection or breaks a bone, insurance will help pay for the needed care. Many dog insurance carriers also offer add-on services to plans, such as prescription coverage.

It is crucial to know that most dog insurance carriers do not cover care related to pre-existing conditions. This is especially important to know if your dog was diagnosed with a chronic illness before enrolling in a plan. While insurance would cover other unexpected conditions, care related to the chronic disease would not be covered. However, we recommend contacting individual dog insurance carriers directly to inquire further about their policies on pre-existing conditions.
What does it mean when dog insurance carriers say that they "reimburse?"
Most dog insurance companies give you a specific reimbursement percentage, deductible, and annual maximum benefit instead of paying upfront for care. When you request a reimbursement, your insurance carrier will use these three amounts plus the cost of the service provided to determine your reimbursement amount.

For example, imagine that your dog insurance policy has an 80% reimbursement amount, a $250 deductible, and $10,000 annual max benefit. One day, your dog was bit by another animal and required rabies vaccination and stitches. The total cost of care was $3,000. In this case, your insurance company would reimburse you $2,400 minus the $250 deductible. This means that your total cost would end up being $850 instead of $3000.
What about deductibles? Should I get a plan with a high or a low deductible?
There is no right or wrong decision regarding deductible amounts; it all depends on personal preference. Some people prefer higher deductibles because it means lower monthly payments. However, this is entirely up to you and depends on what is best for you financially.
I'm looking into homeowners insurance. Are there any breeds that are restricted in Florida?
Unfortunately, many states do have some breed restrictions when it comes to homeowners insurance. Examples of restricted are:
Doberman Pinschers
German Shepherds
Bull Mastiffs
Pit Bull Terriers
Rottweilers
Wolfhounds
However, exclusions vary, which is why we suggest contacting your homeowner's insurance provider directly to learn more.
5 Useful Strategies for Keeping Your Dog Safe & Healthy in Florida
While having dog insurance is essential, daily practices are also crucial in ensuring that your pup is healthy. Some of the best strategies for keeping your furry friend safe and healthy in Florida include:
1. Drink plenty of water!
Florida can be HOT for most of the year, especially in the southern part of the state. A key strategy to implement regularly is to make sure that your pup is consistently hydrated.
2. Avoid going for walks in the middle of the day
Since Florida can get very hot, one recommendation for all of you Sunshine State dog owners is to go for walks together during the coolest parts of the day, such as early morning or after dusk.
3. Use caution around bodies of water
As opposed to most other states, Florida is home to many tropical creatures, including alligators. While alligators live in bodies of water, they can sometimes approach land, which is why it is essential to be aware of your surroundings when you and your dog are near bodies of water.
4. Watch the weather
Florida frequently experiences thunderstorms and rain showers. To keep your dog safe, keep your eye on the weather and keep your pup indoors when a storm is approaching.
5. Stay cool
Finally, one basic rule of thumb for keeping your pup healthy in the Orange Blossom State is to stay cool as much as possible. This can include having an air-conditioned space indoors or chilling out in a pool or with a water hose.
5 Unique Dog Rescue Shelters in Florida
While purchasing a dog from a breeder may guarantee that you get the breed you want, adopting your next companion from a shelter is one of the most rewarding decisions that you can make. Shelters all over the country are home to thousands of pups who are desperate to find their new families. If you would like to rescue a shelter dog, take a look at these shelters in Florida:
---
---
---
---
---
Conclusion
While navigating the ins and outs of dog insurance can be overwhelming and confusing, you are not alone. Some of the many tips and tricks that can be helpful during this process include enrolling early and understanding what each plan covers. Regardless of the method you choose, you will be taking an essential step in keeping your dog healthy. Our most highly recommended provider in Florida is Wagmo pet insurance; they offer the best mix of price, coverage, and user experience.
SwiftScore Ranking Methodology for Florida
We ranked the best pet insurance policies in Florida based on a variety of important factors including the following:
Average monthly price for a 2-year-old Labrador Retriever with a $500 deductible located in Florida with a 33155 zip code
Coverage and benefits
Key policy details including accidents and illnesses, surgeries, annual check-ups, cancer treatment, lab tests, and more
AM Best rating of the underwriter
Reimbursement percentage
Annual benefit amount
Technology and user experience

Ease of sign up

Policy language clarity
User reviews
Other state dog insurance resources
Alabama (AL) | Alaska (AK) | Arizona (AZ) | Arkansas (AR) | California (CA) | Colorado (CO) | Connecticut (CT) | Delaware (DE) | Florida (FL) | Georgia (GA) | Hawaii (HI) | Idaho (ID) | Illinois (IL) | Indiana (IN) | Iowa (IA) | Kansas (KS) | Kentucky (KY) | Louisiana (LA) | Maine (ME) | Maryland (MD) | Massachusetts (MA) | Michigan (MI) | Minnesota (MN) | Mississippi (MS) | Missouri (MO) | Montana (MT) | Nebraska (NE) | Nevada (NV) | New Hampshire (NH) | New Jersey (NJ) | New Mexico (NM) | New York (NY) | North Carolina (NC) | North Dakota (ND) | Ohio (OH) | Oklahoma (OK) | Oregon (OR) | Pennsylvania (PA) | Rhode Island (RI) | South Carolina (SC) | South Dakota (SD) | Tennessee (TN) | Texas (TX) | Utah (UT) | Vermont (VT) | Virginia (VA) | Washington (WA) | West Virginia (WV) | Wisconsin (WI) | Wyoming (WY)