6 Best Maryland (MD)
Dog Insurance

Plans Compared in 2023

Updated on by Matthew H. Nash – Licensed Insurance Agent

Maryland dog parents want the best for their beloved canine friends but know that urgent veterinary care costs can be prohibitively expensive. As a result, they look to dog insurance for the financial shield it offers. Being a nationally licensed insurance agent and proud dog owner, I understand how bewildering policy language may be and challenging it is to sift through so many different providers. Therefore in this article, my team and I spell out all the essential details so that your search for the best Maryland dog insurance plan is as simple as possible. So whether you live in Baltimore, Annapolis, Salisbury, Bethesda or beyond, this article has you covered. Read more about our unbiased ranking methodology and advertiser disclosure.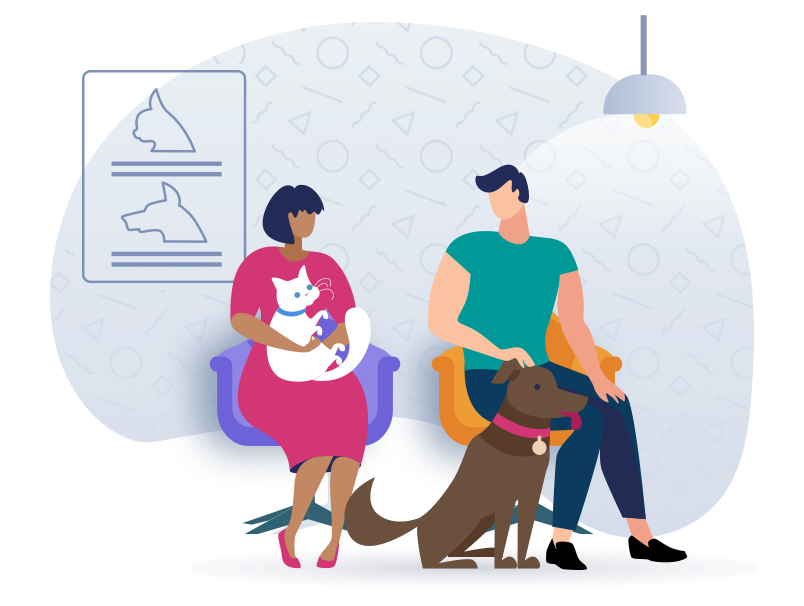 Top MD Dog Insurance Scored, Ranked & With Cost
Use our below table to quickly compare the best dog insurance providers in Maryland. The average monthly Maryland-specific prices shown are based on a healthy 2-year-old Labrador Retriever with a $500 deductible and 90% reimbursement amount who is located in Maryland with a 21209 zip code. Costs may vary based on age, location, coverage amount, and depending on the breed of your puppy. Prices are accurate as of May 2023 and are subject to change. For the most up-to-date information, please visit the provider website.
---
How much does dog insurance cost in Maryland for the 15 most popular breeds?
The price for Maryland dog insurance varies depending on where you live. To give you an idea we've collected costs for three cities shown below. The prices will also vary based on the age, health, and breed of your puppy.
All prices shown below are based on a 90% reimbursement rate with a $500 deductible and a $5,000 annual benefit from Figo pet insurance. Please note: these prices should only be treated as a rough guide as of January 2023 and are subject to change. If you're looking for the most up-to-date cost of dog insurance in Maryland we suggest getting a quote directly with Figo or Lemonade.
Mixed Breed

College Park – $28.81/ mo
Bethesda – $28.81/ mo
Baltimore – $31.17/ mo

Labrador Retriever

College Park – $39.23/ mo
Bethesda – $39.23/ mo
Baltimore – $42.45/ mo

Golden Retriever

College Park – $39.16/ mo
Bethesda – $39.16/ mo
Baltimore – $42.37/ mo

German Shepherd

College Park – $42.31/ mo
Bethesda – $42.31/ mo
Baltimore – $45.80/ mo

Goldendoodle

College Park – $34.07/ mo
Bethesda – $34.07/ mo
Baltimore – $36.85/ mo

Chihuahua

College Park – $17.91/ mo
Bethesda – $17.91/ mo
Baltimore – $19.39/ mo

Siberian Husky

College Park – $39.33/ mo
Bethesda – $39.33/ mo
Baltimore – $42.57/ mo

Yorkshire Terrier

College Park – $24.73/ mo
Bethesda – $24.73/ mo
Baltimore – $26.77/ mo

American Pit Bull Terrier

College Park – $43.55/ mo
Bethesda – $43.55/ mo
Baltimore – $47.12/ mo

Australian Shepherd

College Park – $27.08/ mo
Bethesda – $27.08/ mo
Baltimore – $29.31/ mo

Dachshund

College Park – $25.56/ mo
Bethesda – $25.56/ mo
Baltimore – $27.66/ mo

Shih Tzu

College Park – $22.75/ mo
Bethesda – $22.75/ mo
Baltimore – $24.63/ mo

French Bulldog

College Park – $53.88/ mo
Bethesda – $53.88/ mo
Baltimore – $58.28/ mo

Boxer

College Park – $54.08/ mo
Bethesda – $54.08/ mo
Baltimore – $58.53/ mo

Labradoodle

College Park – $34.07/ mo
Bethesda – $34.07/ mo
Baltimore – $36.85/ mo
Not finding your specific dog breed? Lemonade pet insurance is our #1 recommendation for Maryland and they'll be able to give you a quick quote for your exact needs.
Maryland Dog Insurance FAQs
What is dog insurance?
Dog insurance is medical coverage for canines. As previously mentioned, dogs are not immune to illness and accidents, and veterinary treatment is expensive. Dog insurance helps dog owners like you with expenses related to your pup's health by reimbursing you for what you spend on vet bills. All you need to do is enroll in a plan and make a monthly payment to ensure ongoing coverage.
I live in a small town in Maryland. Can I still access dog insurance?
Yes. Dog insurance is available for anyone anywhere, whether you live in a big city or a small town. In addition, dog insurance can be used at any vet.
Is there an age minimum/ limit to be eligible for dog insurance?
Most dog insurance companies require that your puppy be at least 8 weeks old to be eligible for insurance. Since puppies generally stay with their mother until they are at least 8 weeks old, a good rule of thumb if you are getting a puppy from a breeder is to consider enrolling in a plan shortly after your pup arrives at your home.

There is no age limit to enroll in dog insurance and coverage does not expire. This is especially helpful for dogs adopted from a shelter. However, insurance coverage tends to be less expensive for younger dogs due to a higher risk of ailments in older dogs.
Why do I need dog insurance in Maryland?
Unexpected illnesses and accidents do not discriminate based on where you live; they can happen to any dog anywhere. Therefore, dog insurance is essential to have no matter where you live.
What does coverage entail?
Dog insurance coverage varies by provider but generally covers costs associated with unexpected illnesses and accidents. Examples of such ailments may include broken bones, bacterial skin infections, and diseases caused by viruses.

Sometimes dog insurance companies may cover additional preventative care and other miscellaneous services, such as routine physical exams, dental appointments, and prescription costs. However, these services are not covered by all plans, which is why we recommend contacting insurance providers directly to get more information on what is covered.

One of the most important aspects of dog insurance to be aware of is that providers rarely cover expenses related to pre-existing conditions, which are ailments present before coverage begins. For example, if your dog were diagnosed with diabetes before the start of coverage, insurance would most likely not cover costs associated with this condition.
Will I be reimbursed the full amount that I spend on bills?
Unfortunately, you will not be fully reimbursed for the expenses that you incur. However, dog insurance plans generally reimburse a significant amount of the cost, up to 90% and sometimes more. The amount that your insurance provider will repay depends on your reimbursement rate percentage, your deductible, and your annual maximum benefit. For example, imagine that you notice that your dog has stopped eating and is having difficulty using the bathroom. You take your pup to the vet and they run multiple tests, including x-rays and blood tests, and determine that your pup has a viral infection. The vet gives you a prescription and sends you on your way. The total cost of this visit, including the tests performed, comes to $2,000.

Next, you pay the bill and then send in a reimbursement request to your insurance provider. Your reimbursement rate is 80% and you have a $250 deductible with a $20,000 annual max benefit amount. Your insurance will reimburse you 80% of the $2,000, which is $1600, minus the $250 deductible. This means that you will be reimbursed $1,350 and only need to pay $650 out-of-pocket instead of $2,000.
What about deductibles? Should it be high or low?
Whether you have a high or a low deductible depends on your personal preference and financial situation. It is essential to keep in mind that your deductible influences your monthly payment amount. For example, if you have a high deductible, your monthly payments will be lower.
Are there any dog breed exclusions for homeowners insurance in Maryland?
It is common for homeowners insurance carriers to have exclusions on dog breeds. Some of the most commonly excluded dog breeds include:
Akitas
Doberman Pinschers
German Shepherds
Pit Bull Terriers
Rottweilers
Wolfhounds
However, restrictions vary by state and by the insurance carrier, which is why we recommend contacting your provider directly to learn more information.
5 Useful Strategies for Keeping Your Dog Safe & Healthy in Maryland
1. Keep Your Pup Hydrated
Like most states in the northeast region of the United States, Maryland can reach high temperatures during the summer, which is why it is vital to make sure that your dog is drinking plenty of water.
2. Get Enough Exercise
All dogs need exercise to maintain a healthy weight, build strong muscles, and release energy. To keep your furry friend's body strong and healthy, make sure they get exercise every day. Playing in the house or backyard, a dog park trip, or walking around the neighborhood are all ideas to keep you and your pup in shape.
3. Healthy Diet
Just like humans, dogs require a nutritious diet to stay healthy. Minimally processed dog food with whole-sourced ingredients is ideal, especially those packed with protein. We recommend speaking to your dog's vet about which food is right for your pup, as nutritional needs vary by breed.
4. Be Mindful of Wildlife
Maryland is home to many species of outdoor critters and animals, including the Red Wolf. If you enjoy walking your dog outside, be mindful of possible wildlife nearby.
5. Go to the Vet for Routine Check-Ups
While not every ailment can be prevented, an essential strategy for keeping your pup healthy is regular check-ups with the vet. The vet can detect any undiagnosed issues and provide further recommendations for keeping your dog healthy.
5 Dog Rescue Shelters in Maryland
Are you looking to grow your family? Adoption may be for you. There are numerous animal shelters across Maryland looking to find permanent homes for their current dog residents. If you are interested in adopting a furry companion, take a look at these shelters in Maryland.
---
---
---
---
---
Conclusion
In Maryland, numerous options for dog insurance are available, including those with additional coverage for extra services, such as prescription or wellness coverage. Dog insurance is one of the best strategies for keeping your pup healthy and one that we recommend that you consider whether you have a new puppy or are rescuing a furry friend from a shelter. After careful review, our top suggestion based on various factors, including price, plan coverage, and user experience is Lemonade pet insurance.
SwiftScore Ranking Methodology for Maryland
We ranked the best pet insurance policies in Marylandbased on a variety of important factors including the following:
Average monthly price for a 2-year-old Labrador Retriever with a $500 deductible located in Marylandwith a 21209 zip code
Coverage and benefits
Key policy details including accidents and illnesses, surgeries, annual check-ups, cancer treatment, lab tests, and more
AM Best rating of the underwriter
Reimbursement percentage
Annual benefit amount
Technology and user experience

Ease of sign up

Policy language clarity
User reviews
Other state dog insurance resources
Alabama | Alaska | Arizona | Arkansas | California | Colorado | Connecticut | Delaware | Florida | Georgia | Hawaii | Idaho | Illinois | Indiana | Iowa | Kansas | Kentucky | Louisiana | Maine | Maryland | Massachusetts | Michigan | Minnesota | Mississippi | Missouri | Montana | Nebraska | Nevada | New Hampshire | New Jersey | New Mexico | New York | North Carolina | North Dakota | Ohio | Oklahoma | Oregon | Pennsylvania | Rhode Island | South Carolina | South Dakota | Tennessee | Texas | Utah | Vermont | Virginia | Washington | West Virginia | Wisconsin | Wyoming