6 Best North Dakota (ND)
Dog Insurance

Plans Compared in 2023

Updated on by Matthew H. Nash – Licensed Insurance Agent

Finding the best North Dakota dog insurance plan can be a real challenge, especially with confusing policy language and countless plans to sift through. As a nationally licensed insurance agent and lifelong dog parent, I have learned firsthand the ins and outs of the dog insurance world. To demystify and simplify the process, my team and I have compiled all of the essential information you need to make an educated choice. So whether you live in Grand Forks, Bismarck, Fargo, Jamestown or somewhere further afar, this article has you covered. We may receive compensation when you click on the affiliate links below.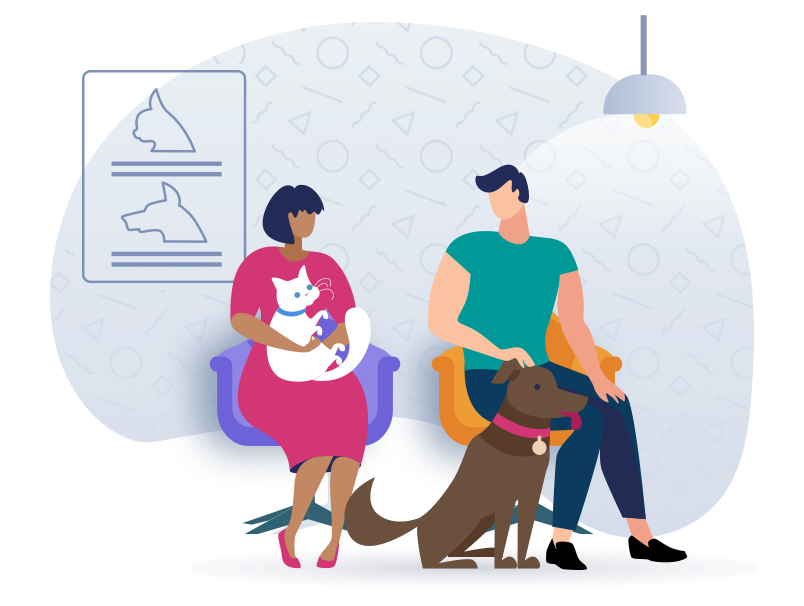 Top ND Dog Insurance Scored, Ranked & With Cost
Use our below table to quickly compare the best dog insurance providers in North Dakota. The average monthly North Dakota specific prices shown are based on a healthy 2-year-old Labrador Retriever with a $500 deductible and 90% reimbursement amount who is located in North Dakota with a 58104 zip code. Costs may vary based on age, location, coverage amount, and depending on the breed of your puppy. Prices are accurate as of January 2023 and are subject to change. For the most up-to-date information, please visit the provider website.
---
How much does dog insurance cost in North Dakota for the 15 most popular breeds?
The price for North Dakota dog insurance is almost always the same throughout the state including in Fargo, Bismarck, Grand Forks, Minot, Williston, or Dickinson, etc. However, the prices will vary based on the age, health and breed of your puppy.
All prices shown below are based on a 90% reimbursement rate with a $500 deductible and a $5,000 annual benefit from Figo pet insurance. Please note: these prices should only be treated as a rough guide as of January 2023 and are subject to change. If you're looking for the most up-to-date cost of dog insurance in North Dakota we suggest getting a quote directly with Figo or Lemonade.
Mixed Breed – $19.93/ mo
Labrador Retriever – $27.13/ mo
Golden Retriever – $27.06/ mo
German Shepherd – $29.27/ mo
Goldendoodle – $23.54/ mo
Chihuahua – $12.38/ mo
Siberian Husky – $27.19/ mo
Yorkshire Terrier – $17.10/ mo
American Pit Bull Terrier – $30.11/ mo
Australian Shepherd – $18.73/ mo
Dachshund – $17.67/ mo
Shih Tzu – $15.74/ mo
French Bulldog – $37.24/ mo
Boxer – $37.39/ mo
Labradoodle – $23.54/ mo
Not finding your specific dog breed? Lemonade pet insurance is our #1 recommendation for North Dakota and they'll be able to give you a quick quote for your exact needs.
North Dakota Dog Insurance FAQs
Why do I need dog insurance in North Dakota?
Dog insurance in North Dakota is important because accidents and illnesses can impact your dog at any time. Insurance helps you prepare financially for those unexpected moments.

When you start your dog insurance search, you'll need to sign your policy and pay monthly fees with a dedicated dog or pet insurance company. After your insurance policy has started, and in the event your pup has an accident or gets sick, you'll pay for treatment up front. Later, you will submit a claim for reimbursement from your insurance provider.

One thing to note is that insurance companies are notorious for excluding certain pre-existing conditions. If possible, you should obtain insurance for your dog while he is still a puppy, after he turns eight weeks old.

Insurance allows you to take care of your dog, without costing you a fortune. No one knows your financial situation better than you, if you can afford a large bill you may not need pet insurance, if you would be stuck having to pay thousands in case of an emergency but can easily afford a monthly payment of around $50 or less, dog insurance would make sense.
Why does my puppy need to be eight weeks old for insurance?
Eight weeks is the minimum age policy of most insurance companies. After eight weeks, dogs of any age can obtain insurance coverage; however insurance for younger dogs is typically more affordable. We recommend getting insurance for your dog before their first birthday.
Is dog insurance worth it in North Dakota?
Animal care, just like medical care for humans, is rarely straightforward. Hidden costs and sticker shocks are the names of the game. Dog owners often end up spending as much as $3,000 for a visit to the vet. I believe insurance is worth it because despite having to pay a monthly fee, the potential for reimbursement makes paying the bill much less of a headache.
What will my dog insurance cover or exclude?
Your specific coverage will vary depending on which insurance company you're using. Generally, any injury or illness deemed "sudden and catastrophic" is covered—for example, your dog breaks his leg.

Some illnesses and injuries may be considered pre-existing conditions. If your dog already has an established, long-term disease when you try to sign up for insurance, this would generally be known as a pre-existing condition, ineligible for reimbursement.

Several insurance companies feature wellness packages that include deworming, spay/neuter, yearly shots, and more savings to offset the costs.
How do I get reimbursed?
Your reimbursement amount is determined by: your yearly deductible, annual coverage limit, and your reimbursement percentage.

Here's an example of how it works:
Your deductible is $350 and your reimbursement percentage is 70%.
You pay a bill to your veterinarian for $800.
$800 minus your $350 deductible = $450.
You receive reimbursement for 70% of $450, totaling: $315.
One insurance company, Trupanion, works slightly differently by providing direct payments to vets in their network. In this case, you don't have to pay the vet yourself.
Do I want a low deductible or a high deductible?
$250 or $500 are the deductible amounts most people choose. There's no such thing as the perfect deductible for everyone since we all have different financial circumstances.

A low deductible = bigger monthly payments, but a smaller bill at the vet.
A high deductible = smaller monthly payments, but a bigger bill at the vet.

Do the math on your finances to find what deductible works for you. While getting insurance quotes, be sure to check if your provider offers a calculator to help.
Any restricted dog breeds for homeowners insurance in North Dakota?
If you have a dog, this is something you should prepare for if you're thinking about getting homeowners insurance. North Dakota homeowner's insurance, like most states, does restrict certain dog breeds. Restricted breeds may include:
Akitas
Boxers
Bull Mastiffs
Chow Chows
Doberman Pinschers
German Shepherds
Pit Bull Terriers
Rottweilers
Wolfhounds
Because this isn't a comprehensive list, we recommend contacting your home insurance provider for the latest policy information. You may need to add a liability rider to your policy to keep a restricted dog breed.
5 Top Health & Safety Tips for North Dakota
1. Stay Calm in the Cold
North Dakota is known for unpredictable weather, such as harsh winds and freezing winters. Too much exposure to wintery weather can harm our dog friends. Here's how to keep your furry pal safe during the cold season:
After time spent outdoors, towel dry your dog immediately upon coming inside. We also recommend having a humidifier, since homes can become excessively dry during the winter.
Don't shave your furry friend down to the skin, as his natural longer coat provides warmth. If your dog has short fur, you may want to consider having him wear a sweater for extra warmth.
Do not leave your dog outdoors for excessive periods of time. If it's too cold for you, it's too cold for him.
Don't leave your dog alone in a car when it's cold. Just as cars can become excessively hot in the summer, they can become freezing cold during the winter.
2. Ice Isn't Always Nice
Speaking of a North Dakota winter, many residents like to go ice fishing, skating, and even snowmobiling. It's important to practice ice safety, especially if you're thinking of bringing your K9 with you:
Not all dog breeds are suited for winter activities. Huskies and arctic breeds may love it, while on the other hand, a dachshund or corgi is going to have a miserable time. Older dogs with arthritis or other mobility issues should stay home as well.
Get the right gear. Ice is more complicated than snow. Outfit your dog with an insulated, waterproof coat and dog booties.
Supervise your dog at all times. He can fall through weak spots in the ice or into holes left by ice fishers.
3. Don't Get Twisted in a Tornado
Although not as common as in some other midwestern states, tornadoes are a real risk in North Dakota. Although a tornado typically happens with little to no warning, you can still take steps to protect your pet:
Make sure your dog is microchipped and wears a collar. In the event of separation, this is the best way to make sure you're reunited with your canine companion.
Practice bringing your dog to a "tornado safety" location. Every few months, practice leashing your dog and taking him to the basement or another safe location to protect from tornadoes. This way, when the real thing happens, your dog will be less likely to freeze, hide or run.
Know where to search if you get separated from your dog. Lost animals often end up at shelters. Keep the locations and phone numbers of local animal shelters handy.
4. Little Rattlesnake on the Prairie
North Dakota is home to the venomous prairie rattlesnake encountered in many remote areas. While spending time in nature is always recommended, you should practice precautions to ensure a good time for all:
While hiking, stay on designated trails. Snakes love to hide.
Keep your dog on a leash and by your side at all times.
Avoid prairie dog colonies. Rattlesnakes often claim abandoned prairie dog holes for themselves.
Rattlesnakes like to be left alone, they won't harm unless they have to. Don't let your dog get too close.
If you happen to come across a snake, back away calmly and quietly. Don't try to go around it or even over it. A snake can strike up to six feet away.
If your dog is bitten, take him to a vet immediately!
5. Buffalo and Elk and Moose, Oh My!
Many amazing animals and creatures call North Dakota home. While encountering wildlife up close can be an unforgettable experience, it can also be perilous. Keep you and your dog safe:
Make sure there is no trash in your yard and never leave food outdoors.
Supervise your dog while he is outside, especially at dusk and dawn when wildlife is most active.
Keep your dog's vaccinations up-to-date, especially rabies, as that is the biggest risk your dog faces from other animals.
While walking your dog, keep him leashed and near you.
If a wild animal gets close to you, face the animal, slowly back away, and make loud noises.
Avoid areas known for wild animal sightings.
5 Need-to-Know North Dakota Dog Shelters
Bring home your next canine companion from one of these great North Dakota animal shelters. We always recommend adoption as the best way to find your next furry friend.
---
---
---
---
---
Conclusion
Purchasing dog insurance is easy once you understand the basics. Remember to sign up once your pup is at least 8 weeks old. However, you can still sign up at any age; the sooner, the better for the fewest restrictions and most savings. After researching several insurers, we've found that Lemonade pet insurance performs best with maximum value.
SwiftScore Ranking Methodology for North Dakota
We ranked the best pet insurance policies in North Dakota based on a variety of important factors including the following:
Average monthly price for a 2-year-old Labrador Retriever with a $500 deductible located in North Dakota with a 58104 zip code
Coverage and benefits
Key policy details including accidents and illnesses, surgeries, annual check-ups, cancer treatment, lab tests, and more
AM Best rating of the underwriter
Reimbursement percentage
Annual benefit amount
Technology and user experience

Ease of sign up

Policy language clarity
User reviews
Other state dog insurance resources
AL | AK | AZ | AR | CA | CO | CT | DE | FL | GA | HI | ID | IL | IN | IA | KS | KY | LA | ME | MD | MA | MI | MN | MS | MO | MT | NE | NV | NH | NJ | NM | NY | NC | ND | OH | OK | OR | PA | RI | SC | SD | TN | TX | UT | VT | VA | WA | WV | WI | WY