6 Best Illinois (IL)
Dog Insurance

Plans Compared in 2023

Updated on by Matthew H. Nash – Licensed Insurance Agent

As a devoted dog parent and licensed Illinois insurance agent, I know that our canine friends can experience medical emergencies anytime and how costly they are. Pet insurance can shield you from many of these expenses, but knowing where to start is often hard. Therefore, I have researched the best Illinois dog insurance plans to keep it simple for you. Whether you're in Chicago, Claremont, Aurora, Peoria or anywhere between, this article gives you insight into the top providers, monthly premium costs and dog insurance basics. Read more about our unbiased ranking methodology and advertiser disclosure.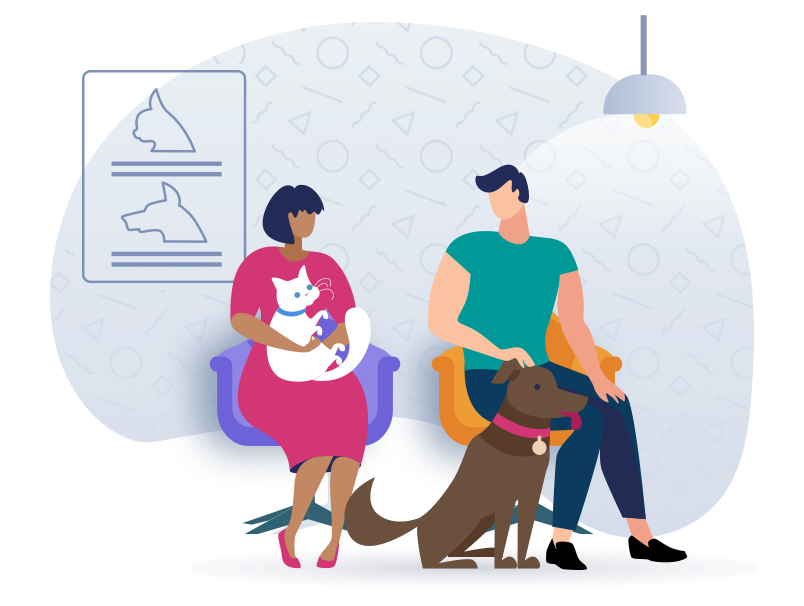 Top IL Dog Insurance Scored, Ranked & With Cost
Use our below table to quickly compare the best dog insurance providers in Illinois. The average monthly Illinois-specific prices shown are based on a healthy 2-year-old Labrador Retriever with a $500 deductible and 90% reimbursement amount who is located in Illinois with a 60630 zip code. Costs may vary based on age, location, coverage amount, and depending on the breed of your puppy. Prices are accurate as of May 2023 and are subject to change. For the most up-to-date information, please visit the provider website.
---
How much does dog insurance cost in Illinois for the 15 most popular breeds?
The price for Illinois dog insurance varies depending on where you live. To give you an idea we've collected prices for three cities shown below. The prices will also vary based on the age, health, and breed of your puppy.
All prices shown below are based on a 90% reimbursement rate with a $500 deductible and a $5,000 annual benefit from Figo pet insurance. Please note: these prices should only be treated as a rough guide as of July 2023 and are subject to change. If you're looking for the most up-to-date cost of dog insurance in Illinois we suggest getting a quote directly with Figo or Lemonade.
Mixed Breed

Chicago – $34.03/ mo
Peoria – $33.53/ mo
Cairo – $32.35/ mo

Labrador Retriever

Chicago – $46.36/ mo
Peoria – $45.66/ mo
Cairo – $44.05/ mo

Golden Retriever

Chicago – $46.25/ mo
Peoria – $45.56/ mo
Cairo – $43.97/ mo

German Shepherd

Chicago – $50.00/ mo
Peoria – $49.25/ mo
Cairo – $47.53/ mo

Goldendoodle

Chicago – $40.24/ mo
Peoria – $39.63/ mo
Cairo – $38.25/ mo

Chihuahua

Chicago – $21.17/ mo
Peoria – $20.85/ mo
Cairo – $20.12/ mo

Siberian Husky

Chicago – $46.48/ mo
Peoria – $45.78/ mo
Cairo – $44.18/ mo

Yorkshire Terrier

Chicago – $29.22/ mo
Peoria – $28.78/ mo
Cairo – $27.77/ mo

American Pit Bull Terrier

Chicago – 51.46/ mo
Peoria – $50.69/ mo
Cairo – $48.91/ mo

Australian Shepherd

Chicago – $31.99/ mo
Peoria – $31.53/ mo
Cairo – $30.42/ mo

Dachshund

Chicago – $30.18/ mo
Peoria – $29.74/ mo
Cairo – $28.69/ mo

Shih Tzu

Chicago – $26.89/ mo
Peoria – $26.49/ mo
Cairo – $25.57/ mo

French Bulldog

Chicago – $63.64/ mo
Peoria – $62.69/ mo
Cairo – $60.49/ mo

Boxer

Chicago – $63.89/ mo
Peoria – $62.95/ mo
Cairo – $60.72/ mo

Labradoodle

Chicago – $40.24/ mo
Peoria – $39.63/ mo
Cairo – $38.25/ mo
Not finding your specific dog breed? Lemonade pet insurance is our #1 recommendation for Illinois and they'll be able to give you a quick quote for your exact needs.
Illinois Dog Insurance FAQs
In Illinois, how much will dog insurance cost me?
For a small dog's primary insurance plan, your average monthly payment will be around $30 for a puppy and $40 for an adult. For a large dog's basic insurance plan, the average will be around $50 for a puppy and $60 for an adult.

By location, Aurora, IL seems to have higher monthly rates for pet insurance than areas like Chicago and Springfield.
How do I know which vet will take my pet insurance?
The neat thing about pet insurance is that there is no direct exchange between your insurance company and your veterinarian. Instead, you pay your vet and then submit a claim to your pet insurance provider. This frees you to pick your favorite choice of a vet for you and your pup.
What does dog insurance cover?
Typically, you can expect that your dog insurance will cover emergency surgeries, infections, allergic reactions, broken bones, and related ailments. However, basic dog insurance plans usually do not cover things like routine wellness exams, spay/neuter procedures, and vaccinations, though they may offer add-ons to your plan that cover these types of expenses. Further, basic pet insurance policies do not cover any pre-existing health conditions your dog may have.
How does my insurance determine that my dog has a pre-existing condition?
Because your veterinarian keeps a medical record for your dog, your pet insurance company can access this information to see if your dog has any pre-existing health issues. If any pre-existing condition remains after the waiting period for your pet insurance has passed, your pet insurance will not cover it.
Which is better, a high or low deductible?
Deciding between a pet insurance policy with a high or low deductible comes down to you considering your current financial situation and which will be more affordable for you in the long term. When purchasing pet insurance, you will be expected to pay consistent payments every month. Should you go with a low deductible, you will be paying a little more per month but less in the case of an expensive veterinary emergency.
How long do I have to wait before I can use my pet insurance?
There will often be a two-week waiting period or longer before you can submit a claim to your pet insurance. Something to consider when deciding to finally purchase pet insurance, any expenses that come before your pet insurance is active will be solely paid for by you.
Are there any restricted dog breeds for homeowners insurance in Illinois?
Because Illinois requires owners of dogs deemed dangerous to have liability insurance, pet and homeowners insurance companies are not allowed to restrict the breeds for which they offer insurance protection. However, most homeowners insurance companies in states other than Pennsylvania often exclude or limit these dog breeds:

Some homeowners insurance companies in Illinois prohibit some dog breeds, there may be general restrictions concerning the following breeds. Additionally, some homeowners insurances may mandate possession of insurance in the case of one or more of these breeds:
Akitas
Chow Chows
Doberman Pinschers
German Shepherds
Great Dane
Pit Bull
Rottweilers
Siberian Husky
Wolf Hybrid
Because each insurance company may have different requirements for each particular dog breed, we suggest that you contact your leasing and insurance companies with any questions. Further, you may ask if there are any specific liability riders that your insurance requires.
5 Useful Strategies for Keeping Your Dog Safe & Healthy in Illinois
While we must look out for our pets in severe emergencies, our beloved dogs' everyday health and safety still require constant attention. Here are five strategic ways you can help protect the health of your dog during your day-to-day:
1. Be aware of Illinois spiders and insects
While some range from extremely painful to deadly, Illinois has a few spiders, you'll need to watch around you and your dog, including the black widow and brown recluse.
2. Similarly watch out for snakes
Snake bites are rare but, if they happen, can cause tissue and nerve damage so you'll want to steer clear of these four snakes: copperhead, cottonmouth, timber rattlesnake, and the massasauga, especially in central and southern Illinois.
3. Ticks are a very likely problem
Don't forget tick and mosquito repellants when going for your evening walks with your dog! Mosquitoes in Illinois can carry the West Nile virus, which is not commonly transferred to dogs, but it has happened.
4. Get your puppy microchipped
Keep your dog's collar and tags updated just in case your pup ever happens to plot an escape and consider getting your dog microchipped as well.
5. Keep chemicals out of Fido's reach
Make sure that all your household cleaners stay tightly packed away and out of any curious doggy nose's reach.
5 Unique Dog Rescue Shelters in Illinois
If you want to introduce a new furry member to your family, we believe animal shelters are the best place to go! Shelters work hard to provide homes for animals that would otherwise be homeless, hungry, or injured. We recommend checking out one of these five unique Illinois animal shelters when adopting your next canine friend:
---
---
---
---
---
Conclusion
No matter what age your puppy or dog is, buying dog insurance can help protect you from overwhelming financial strain, and your dog from needless euthanization. After thorough research, we found that Lemonade pet insurance provides the best combination of services with the lowest monthly rates amongst the policies we reviewed.
SwiftScore Ranking Methodology for Illinois
We ranked the best pet insurance policies in Illinois based on a variety of important factors including the following:
Average monthly price for a 2-year-old Labrador Retriever with a $500 deductible located in Illinois with a 60630 zip code
Coverage and benefits
Key policy details including accidents and illnesses, surgeries, annual check-ups, cancer treatment, lab tests, and more
AM Best rating of the underwriter
Reimbursement percentage
Annual benefit amount
Technology and user experience

Ease of sign up

Policy language clarity
User reviews
Other state dog insurance resources
AL | AK | AZ | AR | CA | CO | CT | DE | FL | GA | HI | ID | IL | IN | IA | KS | KY | LA | ME | MD | MA | MI | MN | MS | MO | MT | NE | NV | NH | NJ | NM | NY | NC | ND | OH | OK | OR | PA | RI | SC | SD | TN | TX | UT | VT | VA | WA | WV | WI | WY