6 Best Tennessee (TN)
Dog Insurance

Plans Compared in 2023

Updated on by Matthew H. Nash – Licensed Insurance Agent

Finding the best Tennessee dog insurance plan can be an absolute chore between deciphering confusing policy jargon and determining which provider to choose. As a devoted dog dad and nationally licensed insurance agent, I can offer some helpful insights that will simplify your search. Whether you call Memphis, Nashville, Knoxville, Chattanooga or another part of Tennessee home, this article will help you determine the right plan for your furry friend. Read more about our unbiased ranking methodology and advertiser disclosure.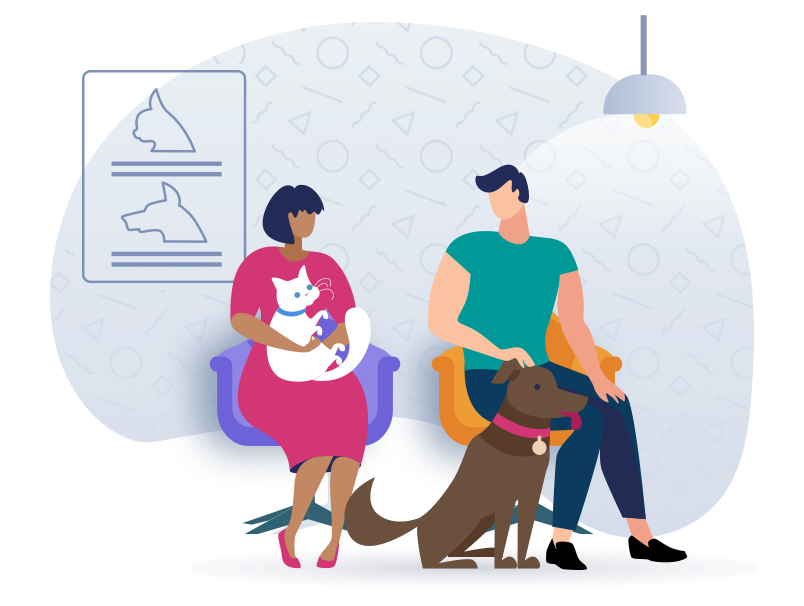 Top TN Dog Insurance Scored, Ranked & With Cost
Use our below table to quickly compare the best dog insurance providers in Tennessee. The average monthly Tennessee-specific prices shown are based on a healthy 2-year-old Labrador Retriever with a $500 deductible and 90% reimbursement amount who is located in Tennessee with a 38111 zip code. Costs may vary based on age, location, coverage amount, and depending on the breed of your puppy. Prices are accurate as of May 2023 and are subject to change. For the most up-to-date information, please visit the provider website.
---
How much does dog insurance cost in Tennessee for the 15 most popular breeds?
The price for Tennessee dog insurance varies depending on where you live. To give you an idea we've collected costs for three cities shown below. The prices will also vary based on the age, health, and breed of your puppy.
All prices shown below are based on a 90% reimbursement rate with a $500 deductible and a $5,000 annual benefit from Figo pet insurance. Please note: these prices should only be treated as a rough guide as of January 2023 and are subject to change. If you're looking for the most up-to-date cost of dog insurance in Tennessee we suggest getting a quote directly with Figo or Lemonade.
Mixed Breed

Nashville – $27.17/ mo
Knoxville – $23.59/ mo
Memphis – $23.59/ mo

Labrador Retriever

Nashville – $37.02/ mo
Knoxville – $32.14/ mo
Memphis – $32.14/ mo

Golden Retriever

Nashville – $36.91/ mo
Knoxville – $32.06/ mo
Memphis – $32.06/ mo

German Shepherd

Nashville – $39.91/ mo
Knoxville – $34.67/ mo
Memphis – $34.67/ mo

Goldendoodle

Nashville – $32.13/ mo
Knoxville – $27.90/ mo
Memphis – $27.90/ mo

Chihuahua

Nashville – $16.90/ mo
Knoxville – $14.68/ mo
Memphis – $14.68/ mo

Siberian Husky

Nashville – $37.11/ mo
Knoxville – $32.23/ mo
Memphis – $32.23/ mo

Yorkshire Terrier

Nashville – $23.32/ mo
Knoxville – $20.26/ mo
Memphis – $20.26/ mo

American Pit Bull Terrier

Nashville – $41.08/ mo
Knoxville – $35.67/ mo
Memphis – $35.67/ mo

Australian Shepherd

Nashville – $25.55/ mo
Knoxville – $22.19/ mo
Memphis – $22.19/ mo

Dachshund

Nashville – $24.10/ mo
Knoxville – $20.92/ mo
Memphis – $20.92/ mo

Shih Tzu

Nashville – $21.46/ mo
Knoxville – $18.64/ mo
Memphis – $18.64/ mo

French Bulldog

Nashville – $50.81/ mo
Knoxville – $44.12/ mo
Memphis – $44.12/ mo

Boxer

Nashville – $51.01/ mo
Knoxville – $44.30/ mo
Memphis – $44.30/ mo

Labradoodle

Nashville – $32.13/ mo
Knoxville – $27.90/ mo
Memphis – $27.90/ mo
Not finding your specific dog breed? Lemonade pet insurance is our #1 recommendation for Tennessee and they'll be able to give you a quick quote for your exact needs.
Tennessee Dog Insurance FAQs
Dog owners in Tennessee often ask me these questions about pet insurance. I hope that these answers help you decide which pet insurance is best for your dog.
What is dog insurance, and why is it important in Tennessee?
To get your dog the protection it deserves, you'll want to sign up with a good pet insurance company and make sure that you're paying the monthly premium every month. If your dog has an accident or comes down with an illness, you'll generally need to cover the entire vet bill yourself. But don't worry, because when you submit your claim to the pet insurance company, they will reimburse you for some costs.

One significant thing to know is that most pet insurance companies won't cover medical expenses stemming from pre-existing conditions your dog has. The best way around this is to sign up for a pet insurance plan for your dog when it's still a puppy (once it's reached 8 weeks old).

But does having dog insurance in Tennessee pay off? The short answer is, yes. The long answer is that the veterinary bills for illnesses like cancer treatment can be overwhelmingly high. We're talking well over $10,000. With costs of that magnitude, it's sadly familiar for dog owners facing the realization that they can't afford to help their pets. It doesn't have to be this way. Enrolling your dog in a good pet insurance policy keeps this scenario from ever happening at all.
Why Is Getting Dog Insurance in Tennessee Important?
Imagine your pup getting sick or having an accident is the last thing you want to do. Most people avoid thinking about these things very purposefully. But the reality is, sometime in your dog's life it will likely have a medical situation that creates stacks of veterinary bills.

On a much more positive note, if you take preventative measures by finding your dog a good vet and detecting any illnesses early on, you'll be able to deal with any health issues before they get out of hand. Choosing the best dog insurance policy doesn't just ensure your pup is happy and healthy – it also protects you against the ultimate worst-case scenario: having to euthanize your beloved pet because the vet bill is too high.
What age does my puppy need to be to get insured?
Most of the best pet insurance companies for dogs require that your puppy is at least 8 weeks old before it can be covered. On the other end of the spectrum, most insurance companies don't have an age limit for the dogs they'll cover. The best advice I can give you is that you purchase pet insurance for your dog before it turns 1 year old because it often costs less to insure a younger pup.
Is it worth getting dog insurance in Tennessee?
We can't predict the future, but it could have an injury or illness at some point of your dog's life that adds up to thousands of dollars in veterinary bills. It's common for dog owners in Tennessee to have to pay $3,000 or more if they need to take their pup for an emergency vet visit.

When it comes to the crunch, it's your decision. On the one hand, you'll have to pay a monthly pet insurance premium, while on the other hand, there's a risk of unbelievably high out-of-pocket costs if an injury or illness occurs. Veterinarians in Tennessee are often more costly than vets in other states, so it's an excellent decision to purchase dog insurance if you live in Tennessee.
What is covered in dog insurance, and what's excluded?
What's covered by your dog insurance is going to vary based on the pet insurance provider. Dog insurance will include most accidents and illnesses unless the policy specifically states otherwise. As a general rule, any disease or injury under the "sudden and catastrophic" rubric will be covered by your dog insurance.

To give you an idea, some examples of covered items are ear infections, broken bones, skin allergies, or swallowing dangerous foreign objects like cooked chicken bones. If your pup is already diagnosed with cancer when you sign up for dog insurance, the insurance provider won't accept claims related to that pre-existing condition.

Many of the best pet insurance companies offer an optional "wellness" package with your dog's insurance policy. If this type of package covers your pup, the costs of preventative healthcare will be covered, like vaccinations, yearly exams, or tick prevention.
How does reimbursement work?
Let's imagine a scenario. You've purchased pet insurance for your dog, which has a 90% reimbursement amount, a $250 deductible, and a max benefit annually of $20,000. Then your furbaby has a severe illness or injury that brings your vet bills up to an amount of $10,000.

In this not-too-uncommon example, your dog's insurance provider would reimburse you for $9,000 of your veterinary bills, minus the amount of your $250 deductible. So right there, instead of paying $10,000 in medical costs for your dog, you'll be paying a total of $1,250.

The only difference to this rule is Trupanion because they pay the bill directly to your dog's in-network veterinarian. In this case, your out-of-pocket expenses would be zero.
Is a dog insurance policy with a lower deductible a better choice?
If your dog's pet insurance policy has a low deductible amount, you'll typically find that your monthly premium amount is higher. You'll be paying a bit more each month, but you can rest easy knowing that you won't run into astronomically high vet bills if a doggy health crisis happens.

It's a good idea to sit down and do some calculations based on your unique financial situation. Many of the best pet insurance companies offer a helpful calculator tool to help you figure out what deductible amount is best for you. The most commonly chosen deductible amounts are $250 or $500.
Are any dog breeds restricted from homeowners insurance in Tennessee?
Certain breeds of dogs are excluded from homeowners insurance coverage in Tennessee. It comes down to which insurance provider you choose. It's an excellent idea to speak with your local homeowner's insurance company and find out about your coverage's specific breed restrictions.

You may need to purchase a special liability rider to ensure your home insurance covers your pup properly. If they consider your dog as having a higher risk profile, standard coverage could exclude your dog. The breeds that are commonly excluded from coverage are:
Rottweilers
Pit Bulls
German Shepherds
Staffordshire Terriers
Doberman Pinschers
Akitas
Alaskan Malamutes
Siberian huskies
Certain wolf breeds
5 Valuable Tips for Keeping Your Dog Healthy and Safe in Tennessee
The best way to avoid high vet bills is to prevent illnesses and injuries from ever happening. Here are some ways you can make sure your dog is not at risk when living in Tennessee.
1. Make Sure Your Dog Stays Cool
Boy, those Tennessee summers. With temperatures rising into the triple digits and humidity levels through the roof, the heat risk for dogs is no joke. Keep your pup inside with you where there's air conditioning, or if the AC goes out, invest in a powerful fan to beat the heat.
2. Watch Out for Ticks
With the long grass and wooded areas in most parts of Tennessee, there's a very high risk of your dog getting ticks. Not only are they pretty gross, but they can transmit lime disease to your pup. Take measures to protect your dog by making sure it's current on flea and tick prevention.
3. Provide Plenty of Water
Because of the intense heat factor in Tennessee, dogs need access to a lot of clean drinking water to stay hydrated. Keep your pup's water bowl filled at all times. If you think you might forget, try filling a bucket of water for them at a time.
4. Keep Your Dog's Vaccinations Current
Annual rabies vaccinations are vitally crucial in Tennessee because of the amount of wildlife that lives here. Infected raccoons and opossums are just some of the mammals that could unexpectedly come into contact with your dog at any time. Rabies is almost always fatal for dogs, so it's not worth taking any risks.
5. Give Your Dog Lots of Exercise
For your dog to be healthy and happy, you must provide lots of exercise opportunities. Playing fetch, throwing a Frisbee, or even walking twice a day can keep common issues like heart problems from occurring. If it's raining outside, you could play tug-of-war with your pup using a rope toy.
5 Amazing Dog Shelters in Tennessee
If you're looking to add a furry family member, consider rescuing a dog from a shelter. There are so many beautiful pups just waiting for their forever home, and you'll be their hero for life if you adopt one. These are our absolute favorite dog shelters in Tennessee.
---
---
---
---
---
Conclusion
Finding your dog's best pet insurance plan isn't too hard when you know all the facts. I always recommend signing up your dog for pet insurance when it reaches 8 weeks of age. The sooner you can get your dog insurance; the less likely your pup will develop health issues that could be excluded as pre-existing conditions.

If your dog is older, it's still an excellent time to purchase pet insurance for its protection. This kind of thoughtful planning will ensure that if your pup gets sick or injured, there will always be a way to give them the healing they deserve. Dog insurance can even assist with the costs of routine wellness. Our extensive research found that Lemonade pet insurance came out on top overall and also had the lowest monthly premiums.
SwiftScore Ranking Methodology for Tennessee
We ranked the best pet insurance policies in Tennessee based on a variety of important factors including the following:
Average monthly price for a 2-year-old Labrador Retriever with a $500 deductible located in Tennessee with a 38111 zip code
Coverage and benefits
Key policy details including accidents and illnesses, surgeries, annual check-ups, cancer treatment, lab tests, and more
AM Best rating of the underwriter
Reimbursement percentage
Annual benefit amount
Technology and user experience

Ease of sign up

Policy language clarity
User reviews
Other state dog insurance resources
Alabama | Alaska | Arizona | Arkansas | California | Colorado | Connecticut | Delaware | Florida | Georgia | Hawaii | Idaho | Illinois | Indiana | Iowa | Kansas | Kentucky | Louisiana | Maine | Maryland | Massachusetts | Michigan | Minnesota | Mississippi | Missouri | Montana | Nebraska | Nevada | New Hampshire | New Jersey | New Mexico | New York | North Carolina | North Dakota | Ohio | Oklahoma | Oregon | Pennsylvania | Rhode Island | South Carolina | South Dakota | Tennessee | Texas | Utah | Vermont | Virginia | Washington | West Virginia | Wisconsin | Wyoming