6 Best
Saint Berdoodle

Pet Insurance Plans Compared in 2023

Updated on by Matthew H. Nash – Licensed Insurance Agent

Saint Berdoodles are gentle giants who are generally easy-going, very affectionate, and wonderful for families with children. Dog breeders are careful to choose healthy parents, and crossbreeds are generally very healthy, however, some dogs can be prone to health issues that affect the parent breeds. Saint Berdoodle dogs are no exception; some health conditions known to affect Saint Bernard dogs or Poodles can also sometimes be found in Saint Berdoodle dogs, including hip dysplasia, ear infections, Wobbler syndrome, von Willebrand's disease, and bloat, which can be very serious for large dogs. Your veterinarian will monitor for these and other health conditions at your dog's annual physical exams, using x-rays, ultrasounds, or blood tests to help diagnose. Treatments for these breed-specific problems could include medication like corticosteroids, physical therapy, surgery, or, in the case of von Willebrand's disease, blood transfusions. Although you want the best for your pet, you might be concerned about your ability to pay for expensive veterinary care. Many dog owners enroll in dog insurance to help cover out-of-pocket costs for diagnostic procedures, medicine, and preventative care, among other things. In the following article, you will find general information on dog insurance and breed-specific tips on grooming and nutrition, which I hope you find helpful as you care for your Saint Berdoodle. Read more about our unbiased ranking methodology and advertiser disclosure.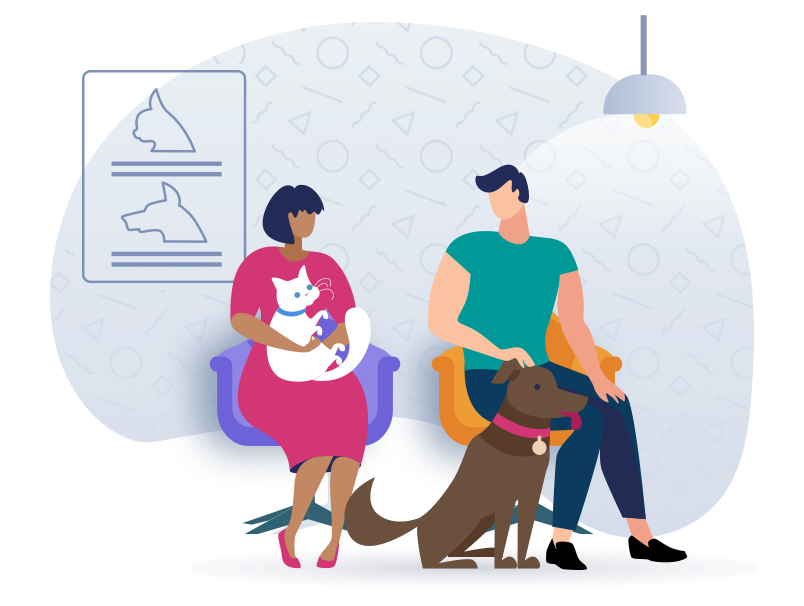 Top Saint Berdoodle Pet Insurance Scored, Ranked & With Cost
Use our below table to quickly compare the best Saint Berdoodle pet insurance providers. The average monthly specific prices shown are based on a healthy 2-year-old Saint Berdoodle with a $500 deductible and 90% reimbursement amount who is located in California with a 90210 zip code. Costs may vary based on age, location, and the coverage amount. Prices are accurate as of May 2023 and are subject to change. For the most up-to-date information, please visit the provider website.
---
Saint Berdoodle Pet Insurance FAQs
Is dog insurance useful even if my Saint Berdoodle is healthy?
Even healthy dogs can benefit from dog insurance. Many dog insurance providers provide coverage for preventative care like dental cleanings, which are recommended for dogs of all breeds. In addition, even though your Saint Berdoodle might not suffer from any breed-specific issues like hip dysplasia or bloat, even healthy dogs can sometimes have unexpected injuries or common illnesses, and dog insurance can help defray some of the out-of-pocket costs for veterinary care your dog might need like diagnostic procedures or medication.
Can I get insurance coverage for my Saint Berdoodle puppy as soon as I bring him home?
Most insurance providers do not cover puppies until they are at least eight weeks old. Breeders and veterinarians alike recommend waiting until at least this age before bringing your puppy home, so that's a good time to check with your chosen insurance provider about any specific age requirements they might have.
How are breed-specific issues for Saint Berdoodle dogs treated? What procedures should I get coverage for?
One of the most serious issues affecting many large breeds, including Saint Berdoodles, is bloat, a serious medical condition in which the stomach expands with gas, fluid, or food and then rotates, trapping gas and preventing blood flow. Veterinarians generally diagnose this condition with a physical exam, an x-ray, and a blood test, and treat it with medication and, in serious or drawn-out cases, surgery.

Hip dysplasia, which is a common issue for many dogs, especially large breeds, is diagnosed via physical exam and x-ray and usually treated with a combination of anti-inflammatory medication, physical therapy, diet changes, and/or surgery as needed.

Some large breeds can suffer from Wobbler syndrome, a disease where the spinal cord and spinal nerve roots are compressed. If diagnosed, your veterinarian will likely recommend medication with activity restriction and corticosteroids to reduce swelling.

The bleeding disorder von Willebrand's disease, which affects the blood's ability to clot, sometimes afflicts Poodles, so, unfortunately, it is sometimes also found in Saint Berdoodle dogs. Blood tests can help diagnose this disorder, which might require regular blood transfusions or treatment with a synthetic hormone.

As the owner of a Saint Berdoodle dog, you might be interested in dog insurance plans that cover diagnostic procedures like x-rays or bloodwork, medication, and surgery. Most insurance providers exclude coverage for pre-existing conditions, much like health insurance plans for people, so it's recommended that you enroll your Saint Berdoodle puppy as soon as he is eligible.
How do I use my dog insurance once I've enrolled my dog?
Based on a reimbursement model, dog insurance is very simple to use since you don't need an insurance card and your veterinarian does not need to be "in-network." Just take your Saint Berdoodle dog to your regular veterinarian as needed. Pay your bill directly to your veterinarian's office, usually at the time of service. Finally, submit a reimbursement request to your insurance provider. Based on your chosen plan's rates and coverage, your insurance provider will review your request to determine the correct amount of reimbursement to send you.
Is there a recommended deductible for Saint Berdoodle dogs?
There is not a recommended deductible for Saint Berdoodle dogs. Deciding on the best deductible option for your dog insurance plan will largely depend on your unique circumstances. For instance, you might choose a high deductible plan when you are just starting out or if your Saint Berdoodle is young or very healthy because you will likely not need a great deal of veterinary care and might want the lower monthly premiums that often come with this type of deductible. As dogs age, though, they generally need additional care like regular medication and sometimes surgery, so, in that case, you would likely do better with a lower deductible plan even though the monthly premiums would be higher.
5 Useful Strategies for Keeping Your Saint Berdoodle Dog Safe & Healthy
With an average lifespan of 8 to 12 years, Saint Berdoodle dogs can bring joy to your family for many years, especially when they are healthy. Making the most of your time with your beloved companion means grooming, feeding, and exercising them as well as doing your best to understand their needs. The following are some breed-specific tips that might help you as you care for your Saint Berdoodle and keep him happy and healthy:
1. Grooming
Your Saint Berdoodle dog's coat might be wiry and curly like a Poodle or longer and smooth or rough like a Saint Bernard. If they take after their Saint Bernard parent, they will require a bit more attention, with weekly brushing. During shedding season when their coats change for the weather in spring and fall, you will need to brush daily to minimize shedding. Curly coats like the Poodle parent don't require frequent brushing, but should be trimmed regularly at the groomer.

Because ear infections can occur in Saint Berdoodles with their long, floppy, fluffy ears, be sure to keep the ears clean and dry, using a warm washcloth with a gentle cleanser or specially-formulated ear wipes, and check regularly for signs of infection.
2. Nutrition
As you might expect, Saint Berdoodle dogs need a lot of food. Although they can range in size, this breed typically weighs between 100 and 200 pounds and generally requires anywhere between 4 and 10 cups of food per day, split evenly between two meals. A good diet for your dog should include food formulated for a large breed with medium energy, although you might need to adjust higher or lower, based on the energy of your specific dog. To avoid complications with bloat, which can be a problem for very large dogs who eat too fast or overeat, it's best to feed them large size kibble at specific times.
3. Keep it Cool
Your dog will most likely be generally well-equipped for cold weather, especially if the coat takes after the Saint Bernard side. If you live in a warm climate, you should be careful when exercising your Saint Berdoodle in hot weather since they tend to overheat quickly. Never leave your dog outside unsupervised too long, especially if the temperature is over 90 degrees.
4. Exercise
Generally speaking, Saint Berdoodle dogs are not a high-energy breed. They do need time to exercise, play, and explore outside every day, though, and will thrive if that time is spent with you. Several shorter sessions are better than one long walk to ensure they don't overheat. This breed's stocky build makes them unsuitable as a running, hiking, or biking companion.

Exercise should be one to two hours before or after a meal, never around feeding time, to avoid complications with bloat.
5. Love and Affection
Saint Bernards have earned the nickname of "nanny dogs" because of their protective, loving, gentle natures. These traits have been passed on to Saint Berdoodle dogs who are very social and love being a part of a family and do not do well if left alone. Although they are wonderful with children, you might need to supervise their play with very small children just because their large size might lead to injuries for the child.
Conclusion
Providing food, shelter, and love for your Saint Berdoodle is just part of being a good dog owner. You know that you must also ensure your companion receives appropriate veterinary care to ensure the best and healthiest life possible, even if that treatment includes expensive medication or surgery. If you're looking at your bank account and worried about your ability to pay for veterinary bills if they start to add up, you should consider enrolling in a good, basic dog insurance plan. As you research various dog insurance options, I recommend taking a look at Lemonade pet insurance. A reputable insurance company that offers a variety of insurance plans with a range of coverage at reasonable rates, Lemonade is a great place to start your search. Once you've picked the coverage that works best for you, your family, your dog, and your finances, Lemonade makes it easy to enroll. After you've taken that first step toward greater peace of mind that you will be able to provide your dog the care he needs without breaking the bank, pay your monthly premium to keep your coverage active. Knowing that financial help is there when you need it is great.
SwiftScore Ranking Methodology for Saint Berdoodles
We ranked the best pet insurance policies for Saint Berdoodles based on a variety of important factors including the following:
Average monthly price for a 2-year-old Saint Berdoodle with a $500 deductible located in the 90210 zip code
Coverage and benefits
Key policy details including accidents and illnesses, surgeries, annual check-ups, cancer treatment, lab tests, and more
AM Best rating of the underwriter
Reimbursement percentage
Annual benefit amount
Technology and user experience

Ease of sign up

Policy language clarity
User reviews
Other state dog insurance resources
Alabama | Alaska | Arizona | Arkansas | California | Colorado | Connecticut | Delaware | Florida | Georgia | Hawaii | Idaho | Illinois | Indiana | Iowa | Kansas | Kentucky | Louisiana | Maine | Maryland |
Massachusetts | Michigan | Minnesota | Mississippi | Missouri | Montana | Nebraska | Nevada | New Hampshire | New Jersey | New Mexico | New York | North Carolina | North Dakota | Ohio | Oklahoma | Oregon | Pennsylvania | Rhode Island | South Carolina | South Dakota | Tennessee | Texas | Utah | Vermont | Virginia | Washington | West Virginia | Wisconsin | Wyoming