7 Best
Pomchi

Pet Insurance Plans Compared in 2023

Updated on by Matthew H. Nash – Licensed Insurance Agent

The Pomchi is a mixed breed dog that blends all the Pomeranian's cuteness and the Chihuahua's spunkiness into one furry little pooch. Don't be fooled, she may be small, but she packs a lot of personality into that pint-sized pup. She's stubborn but smart, sassy, but independent, loving and loyal. All the traits you could ever want in a dog. This toy dog has a lifespan of 12-15 years. Still, there are health issues that should be on your radar, namely progressive retinal atrophy (a deterioration of the retina that causes vision loss and potentially blindness), cataracts, hypothyroidism, epilepsy, oral health issues and legg calve perthes disease. Yes, that looks like a long list, and it is in fact a long list of potentially expensive health issues, but this is exactly why pet insurance is around and available. Dog insurance will help cover the costs of expensive healthcare coverage that your Pomchi may face. As an enthusiastic dog person, my goal is to help you navigate all the pet insurance options available to you and your Pomchi. Read more about our unbiased ranking methodology and advertiser disclosure.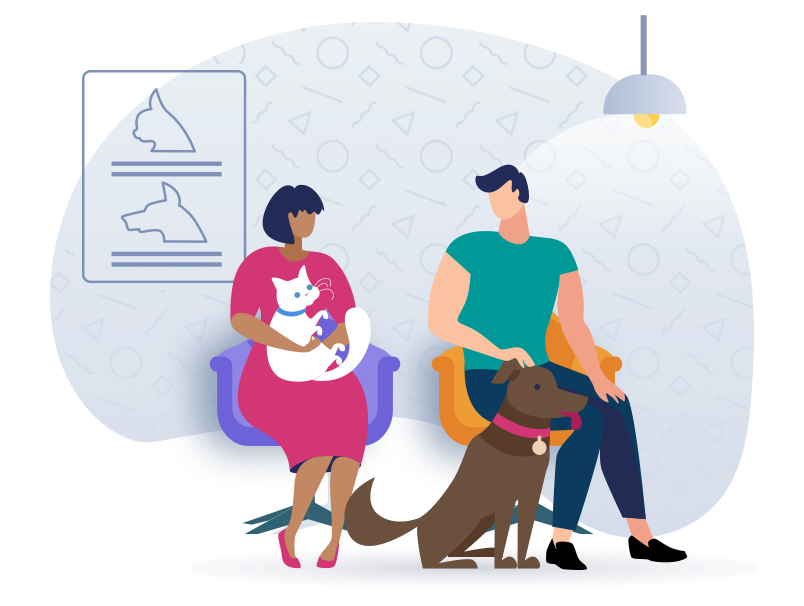 Top Pomchi Pet Insurance Scored, Ranked & With Cost
Use our below table to quickly compare the best Pomchi pet insurance providers. The average monthly specific prices shown are based on a healthy 2-year-old Pomchi with a $500 deductible and 90% reimbursement amount who is located in California with a 90210 zip code. Costs may vary based on age, location, and the coverage amount. Prices are accurate as of January 2023 and are subject to change. For the most up-to-date information, please visit the provider website.
---
Pomchi Pet Insurance FAQs
What is dog insurance and why is it useful for Pomchi Dogs?
Pet insurance is a policy you can use to help protect your purse-sized Pomchi Dog from that long list of health problems that may become part of her life. Adding dog insurance as part of your overall support system for your pooch is key to helping your four-legged family member to live a long and healthy life. Purchasing dog insurance is nearly as simple as buying a little purse for your pooch to be carried around all the time in. Just select and purchase a plan, make the required monthly payments to keep your policy active and, done, easier than any Black Friday sale, no fighting for a parking spot or battling others for the best deal. If the time comes and you need to utilize your pet insurance policy for your Pomchi, you'll submit the vet receipts to your insurance carrier, who will then reimburse you for a portion of your bill.

Dog insurance is really that extra layer that protects your Pomchi against the unexpected. While the list of potential issues seems long, your Pomchi is generally a healthy mixed breed. That said, your little ball of fur will barely tip the scales anywhere from 5-12 pounds, and that tiny four-legged cutie faces potential issues such as progressive retinal atrophy, cataracts, hypothyroidism, epilepsy, oral health issues and legg calve perthes disease. Dog insurance will help keep her as healthy as possible and part of the family for many years.
How old does my Pomchi need to be insured?
It's best to start her on dog insurance when she's young. Usually, dog insurance providers will allow puppies to be at least eight weeks old before starting a pet insurance policy coverage, but you should think about starting the process of a policy for your Pomchi as soon as possible. It's important to note that pet insurance premiums are based on age, so the younger you can enroll your pup in a plan, the better.
What are common insurance claims for Pomchi Dogs?
Spending your life with a pet can be one of the most rewarding experiences around, so protecting her from anything that wants to harm her is one of the most important things you can do as a dog person. Some insurance claims that may pop up for your Pomchi are vision issues such as cataracts and progressive retinal atrophy, a progressive deterioration in the retina that causes vision loss and potentially blindness. Other issues may include hypothyroidism, when your dog's thyroid gland fails to produce enough hormones, leading to hair loss, reduced activity and weight gain, epilepsy, oral health issues, and Leg calve perthes disease when the ball and socket joint in the hip begins to degenerate. These conditions will need ongoing medical treatment and monitoring by a veterinarian, so pet insurance is key to a happy and healthy Pomchi.
What services for my Pomchi are covered by dog insurance? What services are excluded from coverage?
Your Pomchi Pet Insurance policy can take care of many issues such as surprise injuries or accidents. Pet insurance policies can also include surgery, medication, medical tests, emergency care and exam fees. Some dog insurance plans will also cover hospitalizations and preventative care.

Some issues may be excluded in your plan as well. Most dog insurance policies will not cover the cost of care for pre-existing conditions, which is why it's so important to enroll your Pomchi in a policy as soon as possible.
How does reimbursement work?
You as the dog policy owner are responsible to pay the pet's medical bill upfront. You'll then submit the vet bill for reimbursement to the insurance provider and they will pay you back a certain percentage of that bill. Your insurance company will determine how much money you'll receive back based on your deductible and reimbursement rate.
Should I enroll in a high deductible or low deductible plan?
The advantage of pet insurance is that there are so many options to fit any budget. Choose a high deductible plan, and you'll have a low monthly payment, but expect to pay a higher amount in the deductible when it's time to use your policy. Choosing a lower deductible means you'll be paying a higher monthly payment, but a lower deductible will be due during that time of a stressful emergency.
5 Tips for Keeping Your Pomchi Dog Safe & Healthy
Your Pomchi is the combination of two high-spirited, intelligent and stubborn little dogs with very large personalities. Your feisty pup is energetic and lively and will be happy to spend as much time with you as possible. In addition to your pet insurance, here's a few tips to make sure your pint sized pooch lives a long and happy life.
1. Regular Exercise
Despite all that energy, your Pomchi doesn't need endless hours of exercise. Time spent running around the house or the yard will go a long way. For these small fur balls, heading out on a daily walk of about 30 minutes is about right. Many words describe your Pomchi like stubborn and sassy, so be sure to keep her on a leash while out on those walks as you never know when that stubborn, sassy side will kick in and decide she wants to go in an entirely different direction.
2. Training and Socialization
Like all dogs, your Pomchi will respond well to reward-based positive reinforcement training, including lots of praise and treats. Be sure, if she responds best to food-based positive training, that you swap out the difference for her daily meals, as Pomchi Dogs can plump up very quickly. Barking can become an issue with your Pomchi, so it will be important to train her early to control the noise and keep peace with your neighbors. Making sure your Pomchi is stimulated with physical activity and mental puzzles is a good way to keep her from getting bored (a bored Pomchi will only lead to trouble). Starting puppy socialization classes will also be important to helping her become familiar with other dogs, which can curb any barking issues. Your Pomchi doesn't like to be alone and suffers from separation anxiety. You should try to avoid situations where she's by herself for long periods.
3. Family Time
When Pomchi Dogs are with their family, they are very caring and affectionate. It's important to note that Pomchis will tolerate adults much better than children. Your mixed-breed pooch will be happiest in a home with older children rather than little ones. In most cases your little gal will spend her time curled up on the couch by your side. Like most dogs, she just wants to be near you, whether that's curled up on the couch binging a few TV shows, or cleaning up in the garden, she's going to be right next to you.
4. Nutrition
One thing your Pomchi will likely inherit from her Pomeranian and Chihuahua parents is that she will be a picky eater. Finding a type of food that fits her finicky taste buds may take some time. Be sure to work with your vet on the best diet for your pup. Also, keep an eye on the amount of food she eats as it's very easy for a small dog to pack on the pounds. You should avoid feeding her table scraps as that's where the extra calories can sneak up on her, also making it more difficult to monitor how much she's actually eating.
5. Regular Grooming
Your Pomchi, with that gorgeous fur coat, will love being pampered with regular brushing, which will also help that fur to remain matt free. Check her ears and eyes regularly, especially since we know Pomchis are prone to eye issues. Pomchi Dogs will need their nails trimmed in order to keep them from scraping on the floor and don't forget to brush those teeth too. Like many small dogs, Pomchis can have dental issues, including bad breath and tartar build up. Regular brushing of those pearly whites is a must.
Conclusion
Your Pomchi Dog is cuter than any designer purse, and can easily fit in one while you're out and about. When adding a dog insurance policy as part of your overall support and care plan, keeping her safe and healthy is easy. Many insurance options are available, and the enrollment processes can be confusing. You must select the best plan for you and your dog, pay the monthly premium, and then your Pomchi is covered. There are, unfortunately many reasons that your Pomchi may need veterinary care. Having coverage means your little pup can receive the necessary treatment without the stress of figuring out how you'll pay for it all.
After extensive research, we conclude that Lemonade pet insurance offers the best dog insurance policy at the lowest monthly price for the Pomchi.
SwiftScore Ranking Methodology for Pomchi Dogs
We ranked the best pet insurance policies for Pomchi dogs based on a variety of important factors including the following:
Average monthly price for a 2-year-old Pomchi with a $500 deductible located in the 90210 zip code
Coverage and benefits
Key policy details including accidents and illnesses, surgeries, annual check-ups, cancer treatment, lab tests, and more
AM Best rating of the underwriter
Reimbursement percentage
Annual benefit amount
Technology and user experience

Ease of sign up

Policy language clarity
User reviews
Other state dog insurance resources
Alabama | Alaska | Arizona | Arkansas | California | Colorado | Connecticut | Delaware | Florida | Georgia | Hawaii | Idaho | Illinois | Indiana | Iowa | Kansas | Kentucky | Louisiana | Maine | Maryland |
Massachusetts | Michigan | Minnesota | Mississippi | Missouri | Montana | Nebraska | Nevada | New Hampshire | New Jersey | New Mexico | New York | North Carolina | North Dakota | Ohio | Oklahoma | Oregon | Pennsylvania | Rhode Island | South Carolina | South Dakota | Tennessee | Texas | Utah | Vermont | Virginia | Washington | West Virginia | Wisconsin | Wyoming