7 Best
Norwegian Elkhound

Pet Insurance Plans Compared in 2022

Updated on by Matthew H. Nash – Licensed Insurance Agent

Among Europe's oldest dogs, the Norwegian Elkhound dog was bred to hunt large game such as elk and moose, once sailed with Vikings, and is featured in Norse art and mythology. This friendly, high-energy, loyal breed was mostly found in Norway until the 19th century when they began to appear in other countries around Europe as well. Although they are generally very healthy as a breed, some health issues to watch out for include: hip dysplasia, hypothyroidism, a kidney disease called Fanconi syndrome, and some eye conditions. Veterinarians generally diagnose these conditions with physical exams, x-rays, urinalysis, and blood tests as needed. Veterinary treatment can include anti-inflammatory medication, hormone therapy, physical therapy, nutritional supplements, or even surgery in some cases, which can be expensive. If you're concerned that you might not be able to afford appropriate veterinary care for your Norwegian Elkhound, you might consider enrolling your pet in dog insurance. Many dog insurance policies provide some coverage for medications, surgery, and diagnostic procedures, among other things, which could end up saving you thousands of dollars. Keep reading for some basic information about dog insurance in general to help you get started. I've also included some breed-specific tips to help you care for your Norwegian Elkhound dog. Hopefully, you will find some useful information in this article. Read more about our unbiased ranking methodology and advertiser disclosure.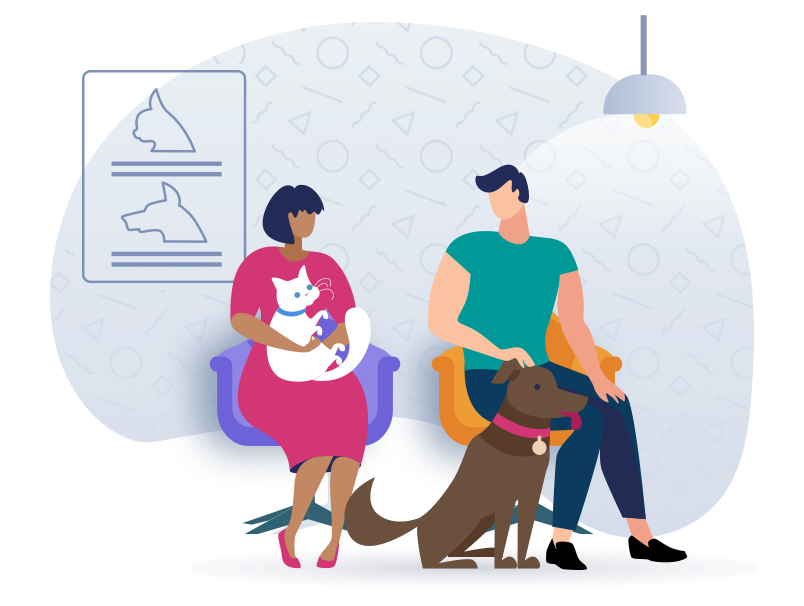 Top Norwegian Elkhound Pet Insurance Scored, Ranked & With Cost
Use our below table to quickly compare the best Norwegian Elkhound pet insurance providers. The average monthly specific prices shown are based on a healthy 2-year-old Norwegian Elkhound with a $500 deductible and 90% reimbursement amount who is located in California with a 90210 zip code. Costs may vary based on age, location, and the coverage amount. Prices are accurate as of January 2022 and are subject to change. For the most up-to-date information, please visit the provider website.
---
Norwegian Elkhound Pet Insurance FAQs
What is dog insurance, and who is eligible to use it?
As you might guess from the name, dog insurance is basically health insurance for dogs, and it helps defray some of the out-of-pocket costs for veterinary care. Any dog owner is eligible to use dog insurance and can benefit from it. Although your Norwegian Elkhound might be very healthy and might not be prone to any of the breed-specific issues mentioned previously, dog insurance is still recommended because any dog can face unexpected illnesses or injuries that might require costly medication, diagnostic procedures, or surgery, and dog insurance can provide some much-needed financial help.
How old does my Norwegian Elkhound need to be to enroll?
Generally speaking, puppies should be eight weeks old or older to be eligible for insurance coverage. This practice is in line with breeder and veterinarian recommendations that you wait until that age to bring puppies home. Always check with your specific insurance provider, however, to make sure that your puppy is eligible; different insurance providers might have specific age requirements or other restrictions for eligibility.
What specific procedures should I make sure are covered to address health issues that affect Norwegian Elkhound dogs?
For Norwegian Elkhound dogs, hip dysplasia, where the hip joint is not properly developed, leading to looseness in the joint and wearing down of cartilage, can sometimes be a problem. Your veterinarian will likely prescribe a combination of anti-inflammatory medication, physical therapy, diet changes, and/or surgery to address hip dysplasia, if it occurs.

Although rare, Fanconi syndrome, where tubules in the kidney do not properly reabsorb water, electrolytes, and nutrients and instead expel them in urine, is diagnosed through urinalysis and a blood test. If your Norwegian Elkhound develops Fanconi syndrome, your veterinarian will help you manage the disease with potassium supplements and nutritional management, but your dog will likely need recurring blood tests to check the level of nutrients in his blood.

Hypothyroidism, in which normal hormone levels are decreased, might require regular hormone therapy, whereas eye conditions can be treated by a veterinary ophthalmologist.

Many insurance providers offer coverage for diagnostic procedures like x-rays, medication, and surgery, which can be useful for owners of Norwegian Elkhounds. You might also look for plans that cover preventative procedures like dental cleanings, which are recommended for all dogs.

Since most insurance providers exclude coverage for pre-existing conditions, it's recommended to enroll your Norwegian Elkhound dog as soon as possible, especially since some conditions, like Fanconi syndrome, can begin to affect puppies as young as 11 weeks.
How does dog insurance work?
Fortunately, dog insurance is easy to use. It works on a reimbursement model, which means that you pay for treatment initially and then your insurance provider reimburses you based on the plan you choose. Any time your Norwegian Elkhound needs to see your veterinarian, pay your veterinarian's office directly for services rendered, whether your dog is sick, injured, or just needs a checkup. After you have paid your bill, send in a reimbursement request to your insurance provider. Your insurance provider will then review your request and compare it with your plan's rates and coverage and then send you the appropriate amount of reimbursement, taking all the guesswork out of the process for you.
What types of deductibles are available for dog insurance plans? Which should I choose for a Norwegian Elkhound?
As with other types of insurance, most dog insurance providers offer plans with different deductible options. There is no specific type of deductible recommended for a Norwegian Elkhound dog, or any other breed, but there are several factors you can consider when choosing the type of deductible you want. If your dog is young and healthy, you might feel comfortable with a higher deductible plan, anticipating minimal veterinary care, because the lower monthly premium might be what you're looking for or need. Younger people just starting out or anyone whose budget is more constrained might also want a higher deductible plan with a lower monthly premium. As your Norwegian Elkhound dog ages, though, he might start to suffer from breed-specific or other health issues, so you might choose a lower deductible plan instead, especially if you know your dog might need regular care or medication.
5 Useful Strategies for Keeping Your Norwegian Elkhound Dog Safe & Healthy
In general, healthy Norwegian Elkhound dogs can live anywhere between 12 to 15 years, providing you and your family many years of loving and loyal companionship. Below are some breed-specific tips on grooming, nutrition, exercise, and other areas that might help you make the most of your time with beloved Norwegian Elkhound dog:
1. Grooming
Bred for cold, harsh conditions in Norway, the Norwegian Elkhound has a thick double coat with a soft, wooly undercoat and coarse, straight top coat. As you might expect, the undercoat sheds heavily, especially during shedding seasons in spring and fall. To help minimize shedding, you should brush your dog's coat for at least two minutes every day using a technique called back brushing, in which you brush against the direction that your dog's coat grows in. This technique removes more fur than traditional brushing. Daily brushing and warm baths help control shedding during shedding seasons.

In between shedding seasons, you should still brush your Norwegian Elkhound several times a week. The texture of their coat means that this breed does not usually build up the traditional dog smell, so they don't need a lot of baths.
2. Nutrition
Most Norwegian Elkhound dogs are known to love food and excel at begging for human food and treats, eating anything they're given. As a result, this breed tends to struggle with obesity. To check that your Norwegian Elkhound maintains a healthy weight, watch him eat. You should be able to see the area just behind the ribcage sink in when they eat. If you can't see this motion, your dog is likely overweight. Overweight Norwegian Elkhound dogs also develop a rolling gait of the dog's back or sides when he trots. Check with your veterinarian for recommendations about high-quality food and amounts to feed your Norwegian Elkhound dog to stave off obesity.
3. Hunting
If you're a hunter, the Norwegian Elkhound makes a wonderful companion. Originally bred to hunt large game like elk, moose, bears, and wolves, this breed is fearless and confident enough to corner large game. They then dart at the prey and dodge its attacks. In addition, they bark a lot when the prey is stationary to help you locate the game.
4. Exercise
In their native Norway, Norwegian Elkhounds were developed to track and follow moose and other game, often roaming far ahead of the hunter. Today's dogs still need a moderate amount of exercise, at least thirty minutes a day, but you should not allow your dog to run around unsupervised since they are independent and love to travel and seek out prey. Most Norwegian Elkhound dogs do well in agility and obedience courses and also tend to love swimming, so it's ideal if you can incorporate those into your dog's exercise routine.
5. Temperament
Not every Norwegian Elkhound dog is the same, of course, but as a breed these dogs are generally people-loving and friendly to both family and strangers, although they will bark at strangers initially. They do not have aggressive natures with people and can be a good playmate for children. Given their history as hunting dogs, it should come as no surprise that Norwegian Elkhound dogs are very vocal. You can train them at an early age when barking is acceptable and when they should stop.
Conclusion
You want the best of care for your Norwegian Elkhound dog to ensure many happy years with your beloved companion. Should veterinary bills start to add up, though, you might be worried about your finances. Paying for surgery or ongoing treatment or medication can be a daunting prospect. Doing a little research into dog insurance options and choosing to enroll your pet is an easy first step toward giving you peace of mind.
After extensive research, we conclude that Lemonade pet insurance offers the best dog insurance policy at the lowest monthly price for the Norwegian Elkhound. Consistently offering a variety of insurance plans and coverage at reasonable rates, Lemonade is a great resource for all dog breeds, including Norwegian Elkhound dogs. Simply pick the plan that works best for you, your family, and your finances, and then enrolling your dog is easy. To keep your coverage active and make sure it's there whenever you need it, all you have to do is pay your monthly premium on time. It might even make sense to set up an autopay option so you don't ever have to worry. Every responsible and loving dog owner can benefit from dog insurance.
SwiftScore Ranking Methodology for Norwegian Elkhounds
We ranked the best pet insurance policies for Norwegian Elkhounds based on a variety of important factors including the following:
Average monthly price for a 2-year-old Norwegian Elkhound with a $500 deductible located in the 90210 zip code
Coverage and benefits
Key policy details including accidents and illnesses, surgeries, annual check-ups, cancer treatment, lab tests, and more
AM Best rating of the underwriter
Reimbursement percentage
Annual benefit amount
Technology and user experience

Ease of sign up

Policy language clarity
User reviews
Other state dog insurance resources
Alabama | Alaska | Arizona | Arkansas | California | Colorado | Connecticut | Delaware | Florida | Georgia | Hawaii | Idaho | Illinois | Indiana | Iowa | Kansas | Kentucky | Louisiana | Maine | Maryland |
Massachusetts | Michigan | Minnesota | Mississippi | Missouri | Montana | Nebraska | Nevada | New Hampshire | New Jersey | New Mexico | New York | North Carolina | North Dakota | Ohio | Oklahoma | Oregon | Pennsylvania | Rhode Island | South Carolina | South Dakota | Tennessee | Texas | Utah | Vermont | Virginia | Washington | West Virginia | Wisconsin | Wyoming