6 Best
Mixed Breed

Pet Insurance Plans Compared in 2023

Updated on by Matthew H. Nash – Licensed Insurance Agent

Finding the right pet insurance for your Mixed Breed can be overwhelming. As a proud dog owner and nationally licensed insurance agent, I understand your challenges. Sometimes, there is nothing more frustrating than deciphering policy language and determining the best dog insurance company for Mixed Breeds. I have done extensive research on this topic to save you time and effort. This article has everything you need to know regardless of how old your dog is or which state you live in. Read more about our unbiased ranking methodology and advertiser disclosure.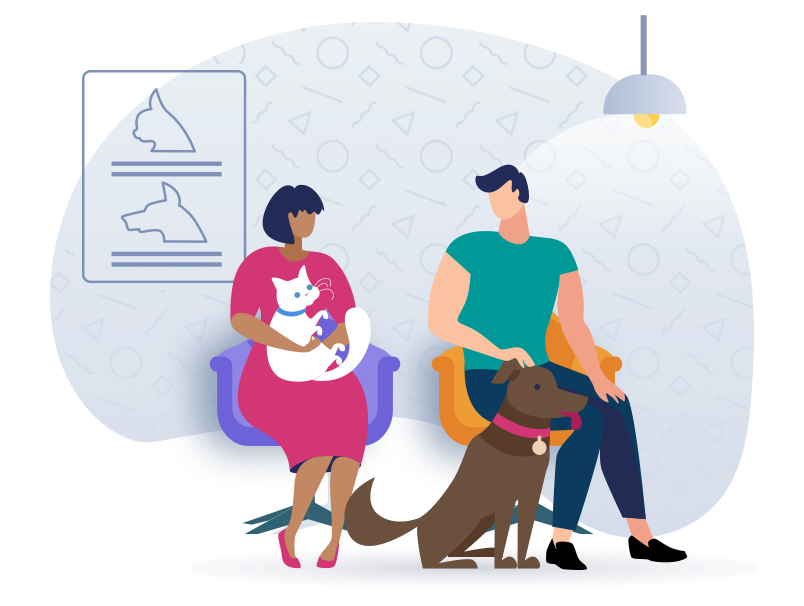 Top Mixed Breed Pet Insurance Scored, Ranked & With Cost
Use our below table to quickly compare the best Mixed Breed pet insurance providers. The average monthly specific prices shown are based on a healthy 2-year-old Mixed Breed with a $500 deductible and 90% reimbursement amount who is located in California with a 90210 zip code. Costs may vary based on age, location, and the coverage amount. Prices are accurate as of May 2023 and are subject to change. For the most up-to-date information, please visit the provider website.
---
Mixed Breed Pet Insurance FAQs
What is dog insurance? How is it useful for Mixed Breed dogs?
To protect your dog with insurance, apply for coverage with your preferred insurance company and pay the monthly premiums to keep your policy active. Should your dog get sick or get in an accident, you will need to pay the total bill at the time of service. After which, you can apply for reimbursement from your provider. Remember that insurance companies tend to exclude pre-existing conditions from coverage, so we encourage people to get dog insurance while their puppy is between 8 weeks and 1 year.

Dog insurance is beneficial for Mixed Breed dogs because veterinary emergencies tend to incur expensive bills. For example, treatments for the sudden onset of cancer can exceed $10,000. Uninsured pet owners are often confronted with the horrible decision of putting their dogs down because they do not have the resources to pay for the necessary care and procedures. Insurance eliminates this devastating possibility.
Are there age requirements for getting pet insurance?
The great news is that there are no age limits for getting your dog insured. However, if you have a puppy, they will need to be at least 8 weeks old. Younger animals tend to be cheaper to insure, so it is a good idea to buy insurance before your pup's first birthday.

An exception is Pawp, which protects as many as 6 pets in any given household under an "Emergency Fund" for only $24/month. It is worth noting that Pawp only provides coverage for emergencies as qualified by their virtual team of veterinarians, and this "Emergency Fund" only covers one of your pets for a single vet bill for up to $3,000 once per year. Their services also include telehealth and pet expert consultations.
Is it worth it to get Mixed Breed dog insurance? What are the most common reasons for claims?
Dog insurance is beneficial for all dogs, including Mixed Breeds, since emergency veterinary services are typically expensive.

A common reason for claims amongst Mixed Breed dogs is hip dysplasia. Hip dysplasia occurs when the ball and hip socket do not develop normally, which results in a grinding down of the cartilage and the bone. When this happens, your dog will experience severe arthritic pain that will progressively worsen with time. While some medications can help alleviate the pain, they do not treat the root cause. This is why many dogs end up needing hip replacement surgery, which can cost upwards of $7,000.

Another condition that plagues Mix Breed dogs is cataracts. Cataracts appear as a white, cloudy film over your dog's eyes. Cataracts prevent light from entering the eyes. Your dog's macular health will continue to degenerate if this is not resolved quickly. Your dog will need to undergo surgery that can cost as much as $4,000 or more to remove cataracts.
What does dog insurance include and exclude?
Dog insurance coverage differs from one provider to the next. However, a good rule of thumb is that any veterinary event deemed "sudden and catastrophic" will be covered. Such events may include allergies, eye infections, lacerations, and urinary blockages. Should your dog have an ailment or disease before applying for insurance, it will be listed as a pre-existing condition and not eligible for reimbursement via the claims process. It is worth mentioning that many providers have "wellness packages" that you can tack on to your policy. These packages cover routine care such as physical exams, heartworm detection and prevention, and vaccinations, to name a few.
How does the reimbursement process work?
Total reimbursement will depend upon the cost of the procedures and the policy you chose for your dog. Imagine your policy has a $250 deductible, a 90% reimbursement rate, and a $20,000 annual maximum benefit. Should your dog suddenly need an urgent $10,000 surgery, you can expect your insurance company to reimburse you $9,000 minus the $250 deductible. In this case, your total out-of-pocket expenses would be only $1,250 instead of the $10,000 total bill. That said, if footing the entire bill upfront and waiting for reimbursement is not financially feasible, then you may want to consider Trupanion. They buck the conventional insurance model by paying the veterinarians in their network directly, thereby saving you from a great deal of financial stress.
Is it better to have a higher or a lower deductible?
In general, there is not one specific answer to this question. What works for someone else may not work for you and vice versa. Which deductible you choose will depend upon your personal preferences and financial circumstances. A lower deductible will get you higher monthly payments but lower out-of-pocket costs when it comes to emergencies. The reverse is true for higher deductibles. We recommend running the numbers before choosing a deductible. Most dog insurance providers have calculators on their websites that you can use when requesting a quote. It is worth mentioning that we have seen most dog owners opt for either a $250 or $500 deductible.
5 Useful Strategies for Keeping Your Mixed Breed Safe & Healthy
1. Keep your Mixed Breed dog hydrated
Summer or winter, it does not matter. There is no doubt that keeping your dog well-hydrated every day is one of the most significant contributing factors in maintaining excellent health. Always keep a bowl of fresh water available for your furry friend at all times. Remember to wash your dog's bowl out frequently to prevent bacteria from building up. Another way to ensure your dog stays hydrated is to feed them juicy, whole foods. In addition, you can mix in a bit of water with their meals. When consumed with the food, your dog's body can easily absorb the moisture.
2. Train and socialize your Mixed Breed dog early
The best time to train and socialize your Mixed Breed dog is while they are still a puppy. Establishing yourself as the leader, teaching them appropriate indoor and out behavior, and getting them used to other people and animals are going to be your three points of focus. The keys to success are to hold fast in your rules, be consistent in your commands and tones, speak firmly but not harshly, use positive reinforcement (treats and praise), and redirect undesirable behaviors into desirable behaviors.
3. Feed your Mixed Breed dog a high-quality diet
Feed your dog the highest quality food you can manage in order to keep your dog's digestive tract healthy and robust. Homemade or raw diets tend to be the most nourishing, but the quality of the ingredients plays a major role in this. Avoid grains if possible, and fill your dog's diet with meats, fruits, and vegetables. And when it comes to snacks, pieces of carrot, handfuls of berries, or beef jerky are much better options than packaged dog treats, which are loaded with additives and carbohydrates, which can contribute to obesity. Consult your vet for the appropriate protein and fat ratios for your Mixed Breed dog at different ages.
4. Groom your Mixed Breed dog regularly
Brushing your dog at least three times per week seems to be the bare minimum, though ideally every day. First and foremost, you'll need to determine which type of fur coat they have–single or double-layer–and then consult your local groomer for the best brush or brushes for your dog's coat.

Bathing your dog is an essential component of grooming. You'll need to use your best judgment as to how frequently to bathe your dog. Whether they smell (or not) is a good starting point. When you're ready to bathe your dog, there are a few things to keep in mind. First and foremost, only use dog-specific hair and skin products. The human equivalents are toxic for dogs and can cause severe damage to their skin and its natural oils. Second, brush them before and after each bath to loosen and remove dead hair. Third, only ever use warm or tepid water. Your dog's skin is highly sensitive and does not take well to hot or cold baths. Once finished, wrap your dog in a warm towel and rub them dry. Only use dog-safe hair dryers to dry your dog's coat, and always do so on low.

Whatever you do, never shave your dog's coat. It helps them regulate their body temperature in both hot and cold weather. Once you shave it, it may never grow back perfectly, and your dog will forever struggle to stay cool in summers and warm in the winters.

Three other components of helping your dog maintain good hygiene are nail trimming, teeth brushing, and ear cleaning. When it comes to your dog's nails, a good rule of thumb is to trim them once per month or sooner if you hear their nails clicking on the floor. You'll need to be diligent about sticking to this schedule as long nails can adversely affect your dog's gait and cause them intense pain. Do not trim them more frequently, though.

As for your dog's ears are delicate and should only be cleaned once you've learned the appropriate technique from your veterinarian. Another technique you will want your vet to demonstrate for you is how to brush your dog's teeth. Make teeth-brushing a part of your dog's daily routine to prevent the buildup of tartar and plaque. Poor oral hygiene can lead to the loss of teeth, the onset of gum disease, and potential kidney, liver, and heart problems.

Lastly, some dogs need their anal glands expressed. Be sure to consult your vet as to whether your Mixed Breed is one of them. If so, ask them to teach you the appropriate techniques for doing so.
5. Give your Mixed Breed dog plenty of exercise each day
All dogs need exercise each day, but how much is the question. High energy, medium-sized dogs seem to need the most, especially those who are a mix of breeds bred for hunting and herding. Two separate outdoor exercise or play sessions of 1-hour is ideal for these dogs. On the other hand, toy dogs will need much less, and most of the larger breeds will need more moderate exercise. Whatever you do, avoid exercising your dog during the hottest or the coldest hours of the day.
Conclusion
With all of this information, choosing the best dog insurance for your Mixed Breed is much easier than you may have thought. We suggest getting dog insurance when your puppy is more than 8 weeks old. The earlier in their lives, the better the prices you will get and the fewer the restrictions when it comes to pre-existing conditions. Nevertheless, purchasing dog insurance at any point in your best pal's life will be helpful in catastrophes and promote wellness.
Ready to get started? After countless hours of research, we've found that Lemonade pet insurance consistently performs the best with the lowest monthly premiums.
SwiftScore Ranking Methodology for Mixed Breed
We ranked the best pet insurance policies for Mixed Breed based on a variety of important factors including the following:
Average monthly price for a 2-year-old Mixed Breed with a $500 deductible located in the 90210 zip code (Please note: prices will vary greatly based on your location)
Coverage and benefits
Key policy details including accidents and illnesses, surgeries, annual check-ups, cancer treatment, lab tests, and more
AM Best rating of the underwriter
Reimbursement percentage
Annual benefit amount
Technology and user experience

Ease of sign up

Policy language clarity
User reviews
See dog insurance prices in your state
Alabama | Alaska | Arizona | Arkansas | California | Colorado | Connecticut | Delaware | Florida | Georgia | Hawaii | Idaho | Illinois | Indiana | Iowa | Kansas | Kentucky | Louisiana | Maine | Maryland | Massachusetts | Michigan | Minnesota | Mississippi | Missouri | Montana | Nebraska | Nevada | New Hampshire | New Jersey | New Mexico | New York | North Carolina | North Dakota | Ohio | Oklahoma | Oregon | Pennsylvania | Rhode Island | South Carolina | South Dakota | Tennessee | Texas | Utah | Vermont | Virginia | Washington | West Virginia | Wisconsin | Wyoming