7 Best
Labrador Retriever

Pet Insurance Plans Compared in 2023

Updated on by Matthew H. Nash – Licensed Insurance Agent

At first glance, the process of acquiring pet insurance may seem rather complicated. It is easy to become discouraged between the confusing policy language, pricing, and varying coverages. As a lifetime dog owner and licensed insurance agent, I know exactly how you feel. Therefore, I have written this article to help you navigate this process and make the best decision for you and your furry friend. Regardless of your Labrador Retriever's age or current health, this article will tell you everything you need to know about dog insurance! Read more about our unbiased ranking methodology and advertiser disclosure.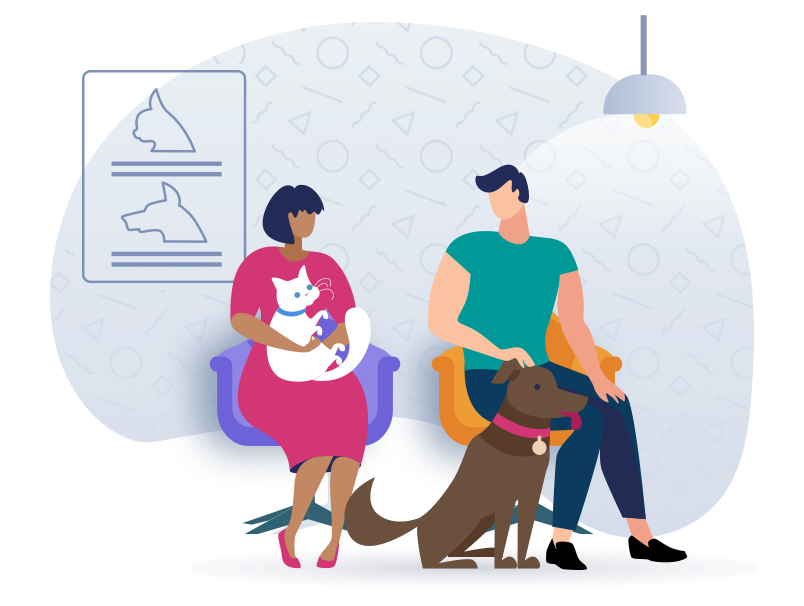 Top Labrador Retriever Pet Insurance Scored, Ranked & With Cost
Use our below table to quickly compare the best Labrador Retriever pet insurance providers. The average monthly specific prices shown are based on a healthy 2-year-old Labrador Retriever with a $500 deductible and 90% reimbursement amount who is located in California with a 90210 zip code. Costs may vary based on age, location, and the coverage amount. Prices are accurate as of January 2023 and are subject to change. For the most up-to-date information, please visit the provider website.
---
Labrador Retriever Insurance FAQs
What is dog insurance, and why is it beneficial for Labrador Retrievers?
Dog insurance is health care coverage for our canine companions on a fundamental level. Whenever your dog has to go to the vet, dog insurance can help pay for it. In truth, an uninsured pet owner can spend thousands of dollars on treatments and operations to save the life of their loyal canine companion. For this reason, we recommend that all dog owners strongly consider purchasing dog insurance.

When it comes to Labrador Retrievers, dog insurance is especially important. This particular breed is prone to ear infections, joint and gastrointestinal problems, and even nervous system complications. By purchasing dog insurance early on, you can rest assured that your pup will always have the treatment it needs immediately and at much more affordable costs.
How do I sign up for dog insurance?
The process of signing up for pet insurance is relatively straightforward. First, you will need to perform independent research and compare different providers and policies. Your goal is to identify known health issues for the breed, in this case, Labrador Retrievers, and then choose the insurance provider that best meets your needs.

Next, you will contact the insurance company and ask any remaining questions. If you decide it is a good fit, all that remains is to sign an agreement with them and begin making your monthly premium payments! Keep in mind that you must stay up-to-date on premium payments to prevent your policy from lapsing!
How old does my puppy need to be to get insured?
Generally, insurance providers will require that your Labrador Retriever is at least eight weeks of age before it becomes eligible for puppy insurance. However, most companies do not have an age limit in place for dog insurance. Therefore, we recommend obtaining dog insurance before your canine reaches its first birthday.

One exception to the rule is Pawp, who protects up to 6 pets, regardless of age, on one "Emergency Fund" for a flat fee of $24/ month. However, Pawp only covers veterinary emergencies. For this reason, these coverages must first be approved by their virtual vet team. Also, their plan only covers one pet for one vet bill per year and only up to $3,000.
What are some of the most common dog insurance claims for Labrador Retrievers?
1. Chronic Ear Infection
Like other floppy-eared breeds, Labrador Retrievers are prone to chronic ear infections. It is best for this breed of dog to clean their ears regularly. If you are unsure about how to do this, we advise asking your veterinarian to demonstrate. Many vets will also perform this service for you periodically and offer medication to help treat the infection.
2. Bloat
Bloat, or "gas," is a prevalent health issue in Labrador Retrievers. Essentially, the stomach gradually twists and begins to trap food and gases within, which causes rapid swelling of the abdomen. Untreated, bloat can lead to severe pain and even death.
3. Hip Dysplasia
"Dysplasia" refers to a gradual misalignment of the joints that occur either through genetics, day-to-day activities, or both. Labrador Retrievers are especially prone to this condition due to genetics. Over time, hip dysplasia makes even the most common joint movements painful for canines, which worsens with age.
4. Osteoarthritis
Labrador Retrievers are very likely to develop osteoarthritis at some point in their lives. On a basic level, this is the breaking down of the cartilage around the joints, which can cause increased stiffness and pain as it progresses.
What is covered, and what's excluded with dog insurance?
Most providers offer coverage for any vet treatments regarding injuries or ailments considered "sudden and catastrophic." A few examples of this are infections, broken bones, or accidental ingestion of a toy or poison. In addition, some insurance companies offer "wellness packages," which are, as the name suggests, intended to help maintain the overall health of your pet. Things that may fall into this category are routine exams, heartworm prevention medication, vaccinations, and more.

Things that will not be covered by insurance include anything listed as exemptions in their policy, as well as pre-existing conditions. For example, if your pup has been diagnosed with something prior to your insurance start date, it will not be covered for ongoing treatment.
How does reimbursement work?
Let's say you have dog insurance with a 90% reimbursement amount, a $250 deductible, and a $20,000 annual max benefit. Your dog is hit by a car, and you rush it to the vet. The veterinarian informs you that your pup requires a $10,000 emergency vet surgery. Your insurance company reimburses you $9,000 minus your $250 deductible in this scenario. This means that you pay only $1,250 out of pocket instead of $10,000. As you see, insurance may cost a little money over time, but it can save you a lot of money in these unfortunate circumstances.

One company that offers an exception to this rule is Trupanion who offers payment directly to veterinarians in their network. This way, you won't have to pay out of pocket.
Is it better to have a lower deductible – what's the sweet spot?
As you may already know, a lower deductible generally results in a higher monthly payment. However, you will pay much less out of pocket during an emergency vet visit in exchange for this increased premium. There is no real "sweet spot," as it depends entirely on you. We advise personally assessing your finances and deciding what is best for you and your pup. Many providers offer an easy-to-use calculator to compare different deductibles when getting a quote. In our experience, most people choose a $250 or $500 deductible.
5 Useful Strategies for Keeping Your Labrador Retriever Safe & Healthy
1. Mind the Temperature
Labrador Retrievers are beloved family dogs who are well-known for their gentle and yet playful nature. It is not uncommon for families with kids to spend entire days having fun in the sun with their Labs. However, we advise that you remain mindful of the temperature and make sure you are not allowing your dog to overheat. Your pup must get time in cool, well-shaded areas between bouts of play on hot summer days. If you notice a change in behavior or excessive panting, take your dog to see a veterinarian immediately, as these are early signs of heat-related illness.
2. Water is Essential
Adequate water intake is essential for your Labrador Retriever to maintain good health. We recommend never letting your dog's water bowl go empty. Adequate hydration provides good immune support for your pup and plays a significant role in helping it stay cool.
3. Schedule Regular Vet Appointments
One tip that is often overlooked is making sure to take your canine to regular vet appointments. Many people make the mistake of assuming nothing is wrong with their dog, so a vet visit is a waste of time. However, unlike us, veterinarians can identify health issues early on and immediately begin treatment. Not only will this save you money, but it may also save your furry friend's life.
4. Keep Dangerous Foods out of Reach
Labrador Retrievers tend to spend a lot of time in the home as family dogs. They are great with kids and easy to train, so most people don't have any issue letting them have free reign of the house. However, with that in mind, you must ensure that no foods or other consumable items that are a danger to your canine are left out. If your dog is still in the early stages of training, it may very well eat something toxic. On that note, research before feeding your pup anything off your plate. Many safe foods for humans are actually poisonous to our four-legged friends.
5. Keep Your Dog Enclosed
The modern world presents many dangers to domesticated dogs. Traffic, artificial structures, electricity, and heavy machinery have caused avoidable canine deaths. We recommend always keeping your dog safely in an enclosure when off the leash to prevent it from wandering off and being hurt or killed.
Conclusion
Labrador Retrievers are some of the most loved dogs in the nation – and with good reason! Few breeds can match their affectionate play style or gentleness with children. To most, they quickly become a member of the family and matter much more than a simple pet. The best way to keep your Lab happy and healthy is to invest in dog insurance. That way, you can thoroughly enjoy your time with your pup, knowing that you are ready for anything!
Ready to get started? After countless hours of research, we've found that Lemonade pet insurance consistently performs the best with the lowest monthly premiums.
SwiftScore Ranking Methodology for Labrador Retrievers
We ranked the best pet insurance policies for Labrador Retrievers based on a variety of important factors including the following:
Average monthly price for a 2-year-old Labrador Retriever with a $500 deductible located in the 90210 zip code (Please note: prices will vary greatly based on your location)
Coverage and benefits
Key policy details including accidents and illnesses, surgeries, annual check-ups, cancer treatment, lab tests, and more
AM Best rating of the underwriter
Reimbursement percentage
Annual benefit amount
Technology and user experience

Ease of sign up

Policy language clarity
User reviews
See dog insurance prices in your state
Alabama | Alaska | Arizona | Arkansas | California | Colorado | Connecticut | Delaware | Florida | Georgia | Hawaii | Idaho | Illinois | Indiana | Iowa | Kansas | Kentucky | Louisiana | Maine | Maryland | Massachusetts | Michigan | Minnesota | Mississippi | Missouri | Montana | Nebraska | Nevada | New Hampshire | New Jersey | New Mexico | New York | North Carolina | North Dakota | Ohio | Oklahoma | Oregon | Pennsylvania | Rhode Island | South Carolina | South Dakota | Tennessee | Texas | Utah | Vermont | Virginia | Washington | West Virginia | Wisconsin | Wyoming