6 Best
Great Dane

Pet Insurance Plans Compared in 2023

Updated on by Matthew H. Nash – Licensed Insurance Agent

Great Danes are larger than life in every sense: body, bark, and heart. However, big dogs often comes hefty veterinary bills, which is not something any Great Dane owner wants to hear. This is especially true if your Great Dane develops chronic health issues requiring regular veterinary attention.

Despite the reality of how expensive treating your Great Dane can be, there is no need to panic. Dog insurance is available to Great Danes across the country to prevent high out-of-pocket costs by their owners. To assist dog owners in enrolling in dog insurance, I have compiled a list of the most important aspects of dog insurance that Great Dane owners need to know. So, if you are considering dog insurance, this article may help you out.   We may receive compensation when you click on the affiliate links below.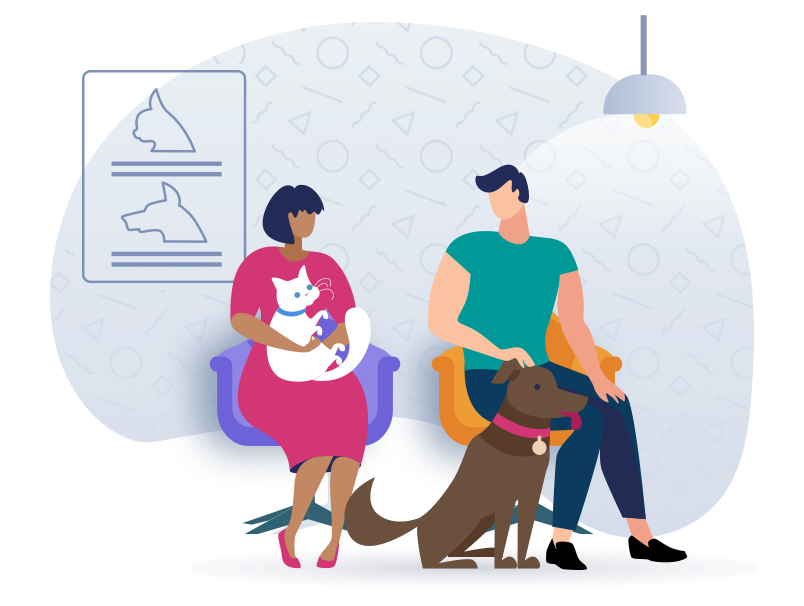 Top Great Dane Pet Insurance Scored, Ranked & With Cost
Use our below table to quickly compare the best Great Dane pet insurance providers. The average monthly specific prices shown are based on a healthy 2-year-old Great Dane with a $500 deductible and 90% reimbursement amount who is located in California with a 90210 zip code. Costs may vary based on age, location, and the coverage amount. Prices are accurate as of January 2023 and are subject to change. For the most up-to-date information, please visit the provider website.
---
Great Dane Dog Insurance Frequently Asked Questions
What is dog insurance and why is it useful for Great Danes?
Dog insurance is medical insurance coverage for dogs. Dog insurance coverage assists dog owners with paying for veterinary care by reimbursing dog owners a portion of the incurred costs. All you need to do is enroll in a plan, pay the monthly premium, and then you can request for reimbursement, depending on the terms of your plan.

Dog insurance is beneficial for owners of Great Danes because of the high cost of veterinary care. Veterinary care tends to be expensive in general, but chronic health issues can contribute to the hefty cost of care.
How old does my Great Dane puppy need to be eligible for dog insurance?
While specific age requirements may vary by dog insurance plan, most dog insurance plans ask that puppies be at least 8 weeks old in order to enroll in a dog insurance plan.
What are the most common dog insurance claims for Great Danes?
As a purebred breed, Great Danes can be prone to inheriting various conditions and diseases that may require ongoing veterinary treatment. The most common chronic conditions that Great Danes experience are hip dysplasia, dilated cardiomyopathy, and gastric dilatation-volvulus. Each of these conditions may cause severe symptoms and require medical attention.
What veterinary services are covered by dog insurance? Are any services excluded from coverage?
In general, dog insurance will cover any veterinary care that is needed to treat unexpected illnesses or injuries. This includes any of the common chronic conditions that Great Danes can develop, and other communicable diseases and broken bones.

It is important to be aware that it is uncommon for dog insurance plans to cover the costs related to treatment for pre-existing conditions. For this reason, it may be a good idea to enroll your pup in dog insurance as soon as you can.
How will I be reimbursed?
Most dog insurance plans work is that providers will reimburse dog owners for a portion of their veterinary bills. Typically, after a vet treats your dog, you will receive a bill from your vet's office, which you must pay in full. Then, you are able to submit a reimbursement request to your provider. The amount you will be reimbursed depends on your reimbursement rate and deductible (if applicable).
Is a lower deductible better than a higher deductible?
A lower deductible plan is not necessarily better than a higher deductible plan because the plan you choose should align with what is best for your monthly finances. For example, a higher deductible plan may be better if you decide that a lower monthly payment is ideal for your finances.
5 Useful Strategies for Keeping Your Great Dane Safe & Healthy
In addition to enrolling in dog insurance, there are other important steps that you can take to keep your Great Dane healthy and strong.
1. Use a Slow Feeder to Prevent Bloating
Great Danes are among the large dog breeds that are prone to bloating and other gastrointestinal problems. If Great Danes eat too much too fast, they can become severely bloated, which may require medical attention. One tip is to use a slow feeder, such as a kong, to prevent your Great Dane from eating too quickly and to provide your pup with small meals more often throughout the day.
2. Daily Exercise
Taking your Great Dane for a daily walk is essential for promoting optimal health. Even a short jaunt around the neighborhood can help to support healthy joints and strengthen the heart and lungs.
3. Practice Healthy Hygiene Habits
Even though Great Danes are relatively low maintenance when it comes to grooming, proper hygiene habits are still important to prevent unwanted pests (ie. ticks and fleas) and also to monitor for skin infections.
4. Training and Socialization
Great Danes are generally sweet and affectionate dogs. However, teaching them basic commands and encouraging healthy socialization with other dogs can help ease anxiety and prevent any hostility with other dogs.
5. Routine Visits to the Vet
Regular vet visits can help detect emerging health complications, which, when treated early, can ensure that your Great Dane lives as long as possible. A general rule of thumb is to bring your dog to the vet annually, at minimum.
Conclusion
Great Danes truly are gentle giants. Despite their large size, these dogs love and care for their humans and can make excellent family dogs. Enrolling in dog insurance is a perfect way to ensure that your Great Dane lives as long and as healthy as possible. In addition to diseases and conditions common among all breeds, Great Danes are also prone to developing other chronic health issues that could warrant substantial veterinary care. Dog insurance can help to cover the cost of veterinary care so that your pup can receive the necessary care without causing you financial stress.
Ready to get started? After countless hours of research, we've found that Lemonade pet insurance consistently performs the best with the lowest monthly premiums.
SwiftScore Ranking Methodology for Great Dane
We ranked the best pet insurance policies for Great Dane based on a variety of important factors including the following:
Average monthly price for a 2-year-old Great Dane with a $500 deductible located in the 90210 zip code (Please note: prices will vary greatly based on your location)
Coverage and benefits
Key policy details including accidents and illnesses, surgeries, annual check-ups, cancer treatment, lab tests, and more
AM Best rating of the underwriter
Reimbursement percentage
Annual benefit amount
Technology and user experience

Ease of sign up

Policy language clarity
User reviews
See dog insurance prices in your state
Alabama | Alaska | Arizona | Arkansas | California | Colorado | Connecticut | Delaware | Florida | Georgia | Hawaii | Idaho | Illinois | Indiana | Iowa | Kansas | Kentucky | Louisiana | Maine | Maryland | Massachusetts | Michigan | Minnesota | Mississippi | Missouri | Montana | Nebraska | Nevada | New Hampshire | New Jersey | New Mexico | New York | North Carolina | North Dakota | Ohio | Oklahoma | Oregon | Pennsylvania | Rhode Island | South Carolina | South Dakota | Tennessee | Texas | Utah | Vermont | Virginia | Washington | West Virginia | Wisconsin | Wyoming