7 Best Golden Labrador
Pet Insurance

Plans Compared in 2022

Updated on by Matthew H. Nash – Licensed Insurance Agent

Take what are arguably two of the most popular dogs on the planet, put them together and you get the Golden Labrador. This cute canine is not a purebred, rather a cross between a Golden Retriever and a Labrador Retriever. As you no doubt know, the Golden Labrador is a large friendly dog who always wants to be part of the action. As you're cuddling with your awesome pet, you're trying to figure out how to take care of her for the long haul. One way to be sure she has all the help she needs is to purchase a pet insurance policy. While the Goldador is generally healthy, there are issues where a dog insurance policy can help. A few issues to be on the lookout for include Hip and Elbow Dysplasia, Cataracts, Diabetes, and Progressive Retinal Atrophy (PRA), which is an eye disorder than can cause blindness, not to mention any number of hazards that could result in a broken bone or strained muscle. Any of these issues means spending a lot of time and money in a veterinarian's office. One way to curb those vet bills is with the help of pet insurance. As a licensed insurance agent and happy dog person, I am here to help you with all the dog insurance options available to you and your Golden Labrador. Read more about our unbiased ranking methodology and advertiser disclosure.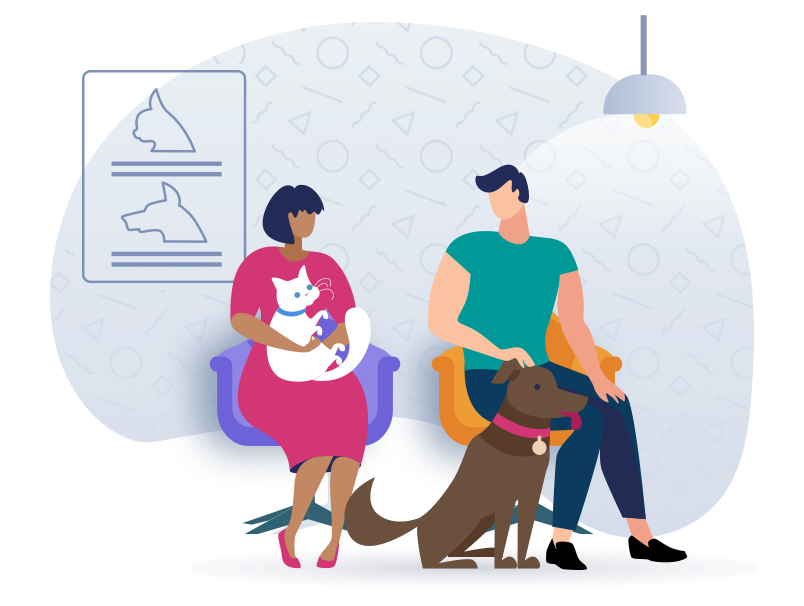 Top Golden Labrador Pet Insurance Scored, Ranked & With Cost
Use our below table to quickly compare the best Golden Labrador pet insurance providers. The average monthly specific prices shown are based on a healthy 2-year-old Golden Labrador with a $500 deductible and 90% reimbursement amount who is located in California with a 90210 zip code. Costs may vary based on age, location, and the coverage amount. Prices are accurate as of January 2022 and are subject to change. For the most up-to-date information, please visit the provider website.
---
Golden Labrador Pet Insurance FAQs
What is dog insurance and why is it useful for Golden Labradors?
Dog insurance helps cover the expensive cost of all that it takes to keep your four-legged friend healthy and happy. Like insurance for humans, pet insurance may not cover the entire cost of your medical bill, but it will save you a significant amount of money when it comes to the total of what you will need to pay overall. Purchasing and utilizing dog insurance is simple, you'll need to select a plan, make the monthly payments to keep the policy active, and that's it. When needed, you'll submit receipts for reimbursement from your insurance provider.

Pet insurance is truly an important part of managing your Golden Labrador's health as it gives you that extra layer of protection to prepare you for the twists and turns life will throw your way. The good news is your Golden Labrador is known to be generally healthy, but that doesn't mean there aren't issues that may still come along and surprise you. Potential health issues such as Hip and Elbow Dysplasia, which are both common in large dogs, Cataracts, Diabetes, Progressive Retinal Atrophy (PRA), an eye disorder than can cause blindness, not to mention any number of hazards that could result in a broken bone or strained muscle. All of these issues will require you to spend some time with a vet, where costs will add up quickly. Purchasing a pet insurance policy means your Golden Labrador will receive any necessary treatment without breaking your bank account.
How old does my Golden Labrador need to be insured?
Get them insured while they're cute… meaning, your Golden Labrador must be insured as soon as possible (and she's always cute). Pet insurance providers will want puppies to be at least eight weeks old in order to begin insurance coverage, but you should consider enrolling your Goldador in a dog insurance policy the moment you bring her home for the first time. Most, if not all, pet insurance policies use the age of the pet to determine the premium, so the younger you can enroll your puppy in a plan, the better.
What are common insurance claims for Golden Labradors?
In the grand scheme of all dog breeds, the Golden Labrador is a relative newcomer. At the moment, there's not a lot of hereditary history, so generally speaking, she's known as a healthy dog. That said, she's not immune issues, including Hip and Elbow Dysplasia, Cataracts, Diabetes, Progressive Retinal Atrophy (PRA). You may easily find yourself in a veterinarian's office with one of these as a diagnosis, where pet insurance will swoop in to save the day, or at least your wallet.
What services for my Golden Labrador are covered by dog insurance? What services are excluded from coverage?
Just like the Golden Labrador itself, coverage for your Goldador with her own dog insurance policy can take on many different forms. Your policy will likely cover surprise injuries or accidents. It also typically includes surgery, medication, medical tests, emergency care and exam fees. Some dog insurance plans will cover hospitalizations and preventative care as well. Almost any issue your Golden Labrador may face in her lifetime, including infections, broken bones, and strained muscles.

On the flip side, excluded services may also vary by plan. Most dog insurance policies will not cover the cost of care for pre-existing conditions, which is why it's so important to enroll your Golden Labrador in a policy as soon as possible.
How does reimbursement work?
Similar to any insurance policy, you are responsible to pay the pet's medical bill upfront and then submit the vet bill for reimbursement to the insurance provider. Your Golden Labrador insurance provider will then pay you back a certain percentage of that bill. Your insurance company will determine how much money you'll receive back based on your deductible and reimbursement rate.
Should I enroll in a high-deductible or low-deductible plan?
There's a lot of options when it comes to insurance policies, one to fit every budget. You can purchase a high deductible plan or low deductible plan. Once you determine your budget for your Golden Labrador's health management, you can start to figure out which plan works best for you and your Goldador. While the multitude of options can be confusing, I'm here to help you make sense of it all. In general, the higher the deductible you pay means the lower your monthly payment will be, but in turn, that also means you'll pay a higher cost during those unexpected emergencies. If you'd prefer to not have a large bill in the form of a deductible during an emergency, then choosing a lower deductible plan may be the right course for you. You'll have a higher monthly payment as a result, but less of a financial surprise during a stressful medical emergency.
5 Tips for Keeping Golden Labrador Safe & Healthy
By researching and choosing a pet insurance policy, you've already taken the right step in making sure your Golden Labrador has the best care possible. Here's a few more tips to make sure that your Goldador is around for the long haul.
1. Activity
Like all dogs, your Golden Labrador needs a fair amount of activity to keep her healthy. You should plan on at least 30 minutes a day of exercise along the lines of walking, or better yet, jogging, hiking, biking and even swimming. Ideally you have a home with a fenced yard, but your Goldador will thrive in an apartment as well, just as long as you commit to that daily exercise routine. A trip to the dog park will literally make her day. She's friendly with other dogs, so hanging out and playing with a pack will be like winning the lottery every day, especially if there's a ball involved. As your Golden Labrador moves into her senior years, you may notice that she becomes more of a couch potato, which is still fine, but you should be sure to entice her on those daily walks to keep her healthy.
2. Training
Your Golden Labrador is very eager-to-please and loves to work with people. If you have children at home, then starting training early is a must, especially if toddlers are around. Your Goldador responds best to reward-based training methods. Positive reinforcement goes a long way with this one, rather than negative punishment. It's important to keep your Golden Labrador engaged and active, otherwise she'll start getting into trouble. Try teaching your Goldador to fetch your slippers, or practice obedience training regularly. Keep her mind occupied with an interactive dog toy. One thing to note, your Goldador is alert enough to be a good watchdog, but her instinct is to befriend everyone, so don't count on her to do that job very well.
3. Nutritious Diet
Golden Labradors like to eat, and eat a lot! They can pack on the pounds quickly if they over eat and/or don't get enough exercise. The recommended daily amount of food for a Goldador is about 3-4 cups of food daily, divided into two meals. Of course how much she eats all depends on her size, age and build. Be sure to work with your vet on the right diet for your pooch. Clean, fresh water should also be available at all times.
4. Love and Affection
For the Golden Labrador, love and affection probably comes more naturally than it does for a lot of dogs. They're described as good-natured, loving and even goofy. She'll make a great addition to your family as they're good with kids and other pets. Remember, they have a lot of energy and need equal exercise to keep their body moving. They also need attention as leaving her alone for long stretches of the day can lead to boredom and destructive behaviors.
5. Regular Grooming
That beautiful coat on the Golden Labrador may seem like it sheds on an endless basis, and it does. You should plan on a good brushing at least once a day to remove tangles and help keep all that fur from finding its way all over your house. Bathing is only necessary when she needs it. While going through your brushing process, check in her ears for dirt or debris that could cause an infection. You can simply wipe them out with a soft cloth if you find anything. Brushing her teeth a few times a week will help prevent dental disease and be sure to trim her toenails as needed.
Conclusion
Your Golden Labrador is easily on the short list of the friendliest dog breeds. Pet insurance is one of the many tools you can use to help keep her around as a happy member of your family for as long as possible. There's lots of insurance options available and the enrollment processes can be confusing, so I'm here to help. Once you've selected a policy for your Golden Labrador, you then pay the monthly premium, and as easy as that, your Goldador is covered. There's many reasons that your Golden Labrador may need veterinary care. Having coverage will provide your pup with the necessary treatment and lessen the stress of dealing with a huge vet bill.
After extensive research, we conclude that Lemonade pet insurance offers the best dog insurance policy at the lowest monthly price for Golden Labradors.
SwiftScore Ranking Methodology for Golden Labradors
We ranked the best pet insurance policies for Golden Labradors based on a variety of important factors including the following:
Average monthly price for a 2-year-old Golden Labrador with a $500 deductible located in the 90210 zip code
Coverage and benefits
Key policy details including accidents and illnesses, surgeries, annual check-ups, cancer treatment, lab tests, and more
AM Best rating of the underwriter
Reimbursement percentage
Annual benefit amount
Technology and user experience

Ease of sign up

Policy language clarity
User reviews
Other state dog insurance resources
Alabama | Alaska | Arizona | Arkansas | California | Colorado | Connecticut | Delaware | Florida | Georgia | Hawaii | Idaho | Illinois | Indiana | Iowa | Kansas | Kentucky | Louisiana | Maine | Maryland |
Massachusetts | Michigan | Minnesota | Mississippi | Missouri | Montana | Nebraska | Nevada | New Hampshire | New Jersey | New Mexico | New York | North Carolina | North Dakota | Ohio | Oklahoma | Oregon | Pennsylvania | Rhode Island | South Carolina | South Dakota | Tennessee | Texas | Utah | Vermont | Virginia | Washington | West Virginia | Wisconsin | Wyoming