6 Best
Blood Hound

Pet Insurance Plans Compared in 2023

Updated on by Matthew H. Nash – Licensed Insurance Agent

Purchasing pet insurance for your Bloodhound can feel overwhelming. As a nationally licensed insurance agent and proud pet owner, I understand how challenging it can be for people to decipher policy language and determine the best dog insurance provider for Bloodhounds. I have done extensive research on this topic. Regardless of your canine friend's age or where you live in the U.S., this article has all the information you need. Read more about our unbiased ranking methodology and advertiser disclosure.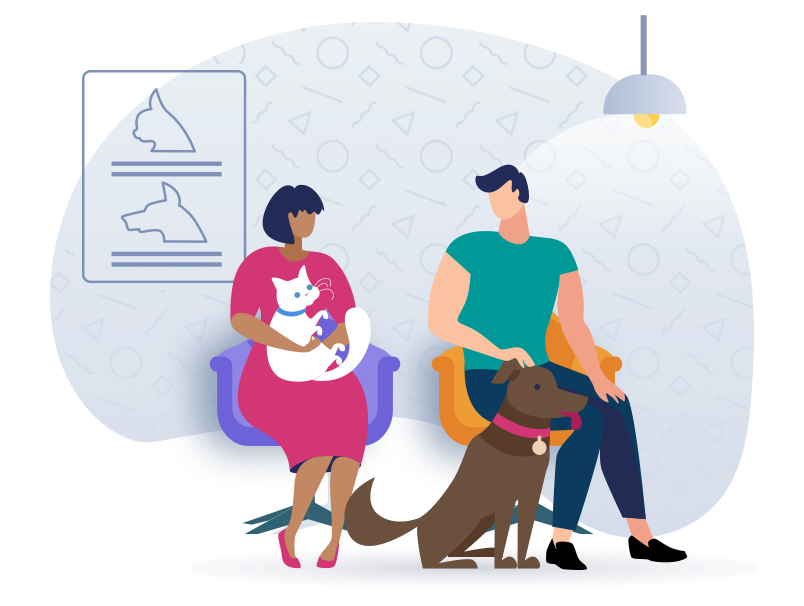 Top Bloodhound Pet Insurance Scored, Ranked & With Cost
Use our below table to quickly compare the best Bloodhound pet insurance providers. The average monthly specific prices shown are based on a healthy 2-year-old Bloodhound with a $500 deductible and 90% reimbursement amount who is located in California with a 90210 zip code. Costs may vary based on age, location, and the coverage amount. Prices are accurate as of May 2023 and are subject to change. For the most up-to-date information, please visit the provider website.
---
Bloodhound Dog Insurance FAQs
What is dog insurance? How is it useful for Bloodhounds?
To protect your dog with insurance to the fullest, sign up with the insurance company of your choice and pay the monthly premiums to maintain an active policy. Should your canine pal become ill or get involved in an accident, you will need to pay the vet bill up front. After which, you can submit a claim to your provider for reimbursement. It is worth noting that insurance companies usually exclude pre-existing conditions, which is our primary reason for recommending that you get dog insurance while they are still a pup (after 8-weeks-old).

Dog insurance is helpful for Bloodhounds because, like all dog breeds, they inevitably face medical emergencies at some point in their lives. Treatments for diseases such as cancer can exceed $10,000. Uninsured pet owners often have to make the heartbreaking decision to euthanize their dogs because they cannot afford the necessary procedures or treatments. Pet insurance keeps this from becoming a reality.
How old does your dog need to be to get insured?
Most pet insurance companies do not have age limits for when you can get your dog insured. However, they tend to require your pup to be over 8-weeks-of-age to get a policy in place. Remember that younger animals are cheaper to insure, which is why we suggest getting your dog insurance before they turn 1-year-old.

An exception to this is Pawp, which offers an "Emergency Fund" plan that covers up to 6 pets of any age for a mere $19 monthly fee. This plan covers one of your pets for a single veterinary bill up to $3,000 once each year. Keep in mind, this "Emergency Fund" only covers actual emergencies as qualified by Pawp's virtual veterinary team.
Is it worth it to get Bloodhound dog insurance? What are the most common claims?
Bloodhounds are a fascinating breed of dogs. They are strong and sturdy, but that doesn't mean they don't face hereditary medical challenges.

The first and most common health condition for Bloodhounds is hip dysplasia. Dysplasia of any sort occurs when the ball and socket joint do not develop normally. As a result, a grinding effect occurs whenever the dog moves, leading to the cartilage and bone wearing down. This can cause acute pain in dogs. Depending upon the severity, vets will prescribe anti-inflammatory medications or acupuncture. However, hip replacement surgery seems to be the only way to alleviate pain in the worst cases. This sort of surgery can exceed $5,000.

Another condition seen in Bloodhounds is gastric dilatation-volvulus (GDV). This is when your Bloodhound's stomach becomes distended with air and then twists. When this happens, the blood supply to the stomach and many organs gets cut off, worsening the condition. It also reduces blood flow back to the heart and can be fatal. This is one of the most frequent reasons for death amongst Bloodhounds. Your dog may be more susceptible to this if they eat too quickly, are underweight, overeat, eat only once per day, exercise too soon after eating, have restricted water intake, eat a diet of only dry food, or are stressed.

You will know your Bloodhound is experiencing GDV if their abdomen rapidly increases in size, or they begin to salivate more than usual, pace back and forth, start heaving and vomiting, or cry when you touch their belly. If you notice this, rush your dog to the vet immediately, as it can be fatal within a few hours. Treatment for this is expensive and laborious. First, a vet will remove gas from the stomach using a stomach tube and then treat your dog for shock. After which, your Bloodhound will undergo surgery to reposition their stomach and attach it to the abdomen (gastropexy), so they never have to experience GDV again. Costs for these procedures can cost more than $7,500.

While Bloodhounds are not known for being as physically vulnerable as other breeds, the few hereditary issues they suffer from are very costly to treat. Dog insurance makes affording these expensive surgeries possible.
What does dog insurance include and exclude?
Insurance coverage differs from one dog insurance provider to the next. However, any medical situation considered "sudden and catastrophic" will generally be covered. Examples of such ailments or conditions include ear infections, urinary issues, broken bones, allergies, and more. That said, if your dog has a condition before applying for an insurance policy, it will be labeled a pre-existing condition and not eligible for reimbursement via the claims process. It is also worth mentioning that many pet insurance providers offer "wellness packages," which extend coverage for preventative care measures such as physical exams, heartworm prevention, vaccinations, and more.
How does the reimbursement process?
Let's imagine your dog needs an urgent surgery that costs $10,000. If your insurance policy has a $250 deductible, a 90% reimbursement amount, and a $20,000 annual maximum benefit, your provider will cover $9,000 minus your $250 deductible. Therefore, after reimbursement, your out-of-pocket costs would only be $1,250 instead of the original $10,000 vet bill.

If covering the costs of such expensive veterinary services upfront and waiting for reimbursement sounds stressful, Trupanion may be a good alternative as they pay veterinarians in their network directly. This will save you a lot of trouble when it comes to covering vet bills upfront.
What is best: a lower or higher deductible?
There is no one-size-fits-all answer when it comes to dog insurance deductibles. Whether you choose a lower or a higher deductible will depend upon your financial circumstances and personal preference. Regardless of what you choose, it is essential to know what you're getting. With a lower deductible, you will pay higher monthly premiums and have lower out-of-pocket costs in emergencies. However, you will have lower monthly premiums but higher out-of-pocket costs for catastrophic situations with a higher deductible.

Be sure to run the numbers and decide what best suits your financial situation. Many providers have calculators on their websites that you can use when requesting a quote. We have seen most dog owners choose either a $250 or $500 deductible with that in mind.
5 Useful Strategies for Keeping Your Bloodhound Safe & Healthy
1. Learn how to stop your Bloodhound from howling
The main reason Bloodhounds bark incessantly is because they have a lot of energy they need to expend. Exercise is always a good solution. However, it is also necessary to train your Bloodhound from a very young age not to howl every time a trigger appears, such as a visitor arriving at the house. Reward your dog's calm behavior with treats and praise. Remember your Bloodhound is a natural pack dog, so socializing with other dogs will relieve some of your dog's anxiety, and thus, the howling. Lastly, some owners opt for good behavior-calming collars, which release pheromones as rewards. A combination of these strategies will help maintain your Bloodhound's good mental health along with your relationship with your neighbors.
2. Clean your Bloodhound's ears, eyes, and jawline regularly
It is crucial to clean your Bloodhound's outer ear each day–the area where the head and ear canal meet (not outside of their floppy ears). Since their ears are so long and block the canal, it is easy for moisture to collect and bacteria to form. Therefore, wiping them down using a clean, warm, and slightly damp towel each day will help stave off infections. Bloodhound owners are also encouraged to use dog ear cleaning solutions each week. Follow your veterinarian's advice as well as that listed on the product box. Remember, you will need to wipe your dog's ears with cotton pads or balls until no residue or buildup collects on them. Never penetrate the inner ear canal, as you can cause irreversible damage and pain to your dog.

That said, you will notice eye "goop" forms in the corners of your Bloodhound's eyes. Wipe these away with a tissue or cotton pad. Should you notice that the goop has hardened, add some mineral oil to the pad and rub until the goop comes away. Do not attempt to do this with a dry cloth. You can also use mineral oil or eye ointment if your dog's eyes dry out. And don't forget, all that drooling your Bloodhound means you have to wash around their jawline with warm water each day as well. Consult your vet for more detailed advice, specific to your dog, before treating.
3. Groom your Bloodhound regularly
Just because Bloodhounds have short hair does not mean they are low-maintenance when it comes to grooming. In fact, their wrinkles and the skin in between them need to be wiped down daily with a warm cloth to prevent the development of bacterial or fungal infections.

When it comes to their coat, a rubber hound mitt will serve your Bloodhound well. Brushing them at least once a week will keep their fur shiny and healthy. Do not use any sharp brushes made for dogs with two-layer coats such as Akitas or Samoyeds, as these can be painful for your Bloodhounds. Your vet or local pet store can advise you further. That said, a grooming routine would not be complete without nail trimming and dental care.

Nail trimming should be done weekly. Keep in mind that Bloodhounds are not a fan of this. Having another person help you is a good idea. Praise and treats will go a long way in this process. It is important to note that trimming should be minimal–approximately 1/16th of an inch–each time. This prevents potential nail overgrowth as it can cause serious pain and harm to your beloved pooched.

Brush your Bloodhound's teeth at least 3 times per week to keep tartar and plaque buildup at bay. If you can manage to do so daily, your dog will have substantially improved oral health. Be sure to use dog-specific toothpaste since the human equivalent is unsafe for your canine friend. Twice annual professional cleanings are an essential and added line of defense against oral infections and cavities.
4. Ensure your Bloodhound exercises vigorously each day
Bloodhounds are high-energy hunting dogs that need at least two hours of outdoor activity every day. They may seem quite happy to lounge about at home, but long walks will keep them strong. Daily walks allow them to do what they do best: follow their noses. Bloodhounds also enjoy running, so you can always enlist your dog to be your jogging partner. Ensuring they get the exercise they need will help reduce the chance of destructive behaviors surfacing.
5. Train your Bloodhound as young as possible
Bloodhounds are a scent-driven breed raised for hunting. Their often one-track mind makes keeping their attention quite a challenge. Socializing and training them while still being puppies can keep them from becoming too stubborn and set in their ways. They quickly take to scent-based sports, which are great for their mental well-being and physical fitness. Just don't expect them to excel at trick learning or obedience training.
Conclusion
As you can see, finding the best dog insurance for your pup or adult Bloodhound is much easier than you may have thought. We suggest getting dog insurance as soon as your pup is older than 8 weeks. The earlier in your dog's life that you get a policy in place, the better the prices you will get and fewer restrictions for pre-existing conditions. Nevertheless, buying dog insurance at any point in your dog's life will be beneficial in emergencies and wellness-related care.
Ready to get started? After countless hours of research, we've found that Lemonade pet insurance consistently performs the best with the lowest monthly premiums.
SwiftScore Ranking Methodology for Bloodhounds
We ranked the best pet insurance policies for Bloodhounds based on a variety of important factors including the following:
Average monthly price for a 2-year-old Bloodhound with a $500 deductible located in the 90210 zip code (Please note: prices will vary greatly based on your location)
Coverage and benefits
Key policy details including accidents and illnesses, surgeries, annual check-ups, cancer treatment, lab tests, and more
AM Best rating of the underwriter
Reimbursement percentage
Annual benefit amount
Technology and user experience

Ease of sign up

Policy language clarity
User reviews
See dog insurance prices in your state
Alabama | Alaska | Arizona | Arkansas | California | Colorado | Connecticut | Delaware | Florida | Georgia | Hawaii | Idaho | Illinois | Indiana | Iowa | Kansas | Kentucky | Louisiana | Maine | Maryland | Massachusetts | Michigan | Minnesota | Mississippi | Missouri | Montana | Nebraska | Nevada | New Hampshire | New Jersey | New Mexico | New York | North Carolina | North Dakota | Ohio | Oklahoma | Oregon | Pennsylvania | Rhode Island | South Carolina | South Dakota | Tennessee | Texas | Utah | Vermont | Virginia | Washington | West Virginia | Wisconsin | Wyoming