6 Best
Afghan Hound

Pet Insurance Plans Compared in 2023

Updated on by Matthew H. Nash – Licensed Insurance Agent

A glamorous coat and long limbs make Afghan Hounds a beautiful and distinctive breed, but, like all dog breeds, they can be susceptible to developing chronic medical conditions and contracting illnesses. Specifically, health problems in Afghan Hounds can include hip and elbow dysplasia due to their height, as well as juvenile cataracts and thyroiditis. Treating these conditions can be expensive. However, pet insurance can help make necessary veterinary treatment more affordable. As a licensed insurance agent and lifelong dog owner, I have some helpful tips to guide you through securing insurance for your dog, giving you peace of mind that you're doing the best you can to care for your furry friend. Keep reading to learn more. Read more about our unbiased ranking methodology and advertiser disclosure.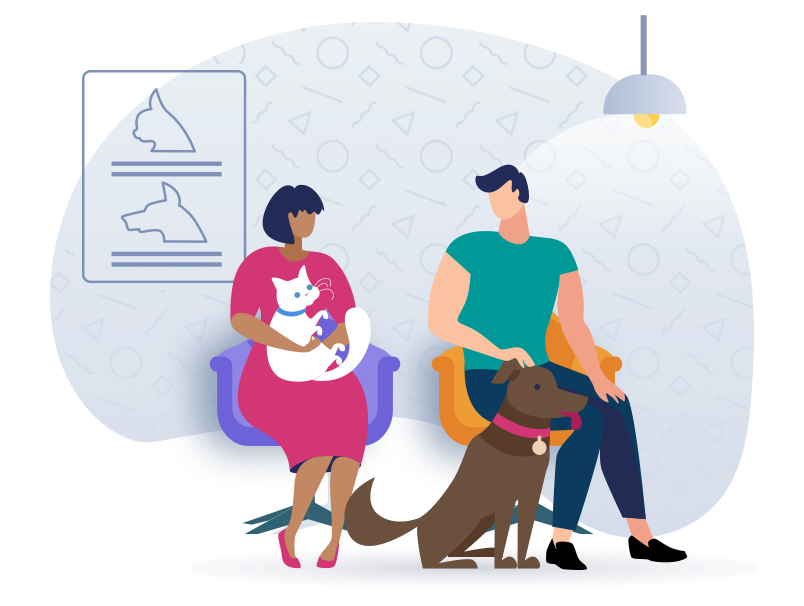 Top Afghan Hound Pet Insurance Scored, Ranked & With Cost
Use our below table to quickly compare the best Afghan Hound pet insurance providers. The average monthly specific prices shown are based on a healthy 2-year-old Afghan Hound with a $500 deductible and 90% reimbursement amount who is located in California with a 90210 zip code. Costs may vary based on age, location, and the coverage amount. Prices are accurate as of March 2023 and are subject to change. For the most up-to-date information, please visit the provider website.
---
Afghan Hound Pet Insurance FAQs
What is dog insurance and why is it useful for Afghan Hounds?
Just like health insurance helps you cover expenses when you are sick or need medical care, dog insurance is medical insurance coverage for canine breeds. Veterinary care can be expensive, so dog insurance plans provide support to dog owners to help with unexpected costs. Although your chosen insurance plan might not cover the entire bill from your veterinarian, it will often pay a significant portion, saving dog owners thousands of dollars. Just select the best plan for you, continue making monthly payments to keep the policy active, and then submit your veterinary bills to the insurance provider for reimbursement when applicable.

Afghan Hound owners know that this breed is prone to certain genetic conditions like thyroiditis. This autoimmune disease destroys the thyroid gland, as well as bleeding disorders like von Willebrand disease. These genetic conditions can become quite expensive to treat, so dog insurance is very helpful to have if you own an Afghan Hound. Dog insurance coverage gives you the security of knowing you'll be able to afford the treatment your pup needs.
At what age can my Afghan Hound be insured?
Typically, dog insurance providers require that puppies be at least 8 weeks old in order to begin insurance coverage. This age is also usually when you can bring a puppy home from a breeder, so when you're making a list of new puppy gear to buy, like bowls, beds, and toys, go ahead and put insurance coverage on the list.
What are common insurance claims for Afghan Hounds?
As mentioned previously, Afghan Hounds are prone to developing certain chronic health conditions, mostly due to their size. Some of the most common illnesses for this breed include elbow and hip dysplasia, juvenile cataracts, and thyroid and bleeding disorders. These conditions may require ongoing medical treatment and monitoring by a veterinarian.
What services are covered by dog insurance? What services are excluded from coverage?
Although the actual services covered by dog insurance vary by plan, generally speaking, care associated with unexpected illnesses and injuries is usually covered. These illnesses and injuries include any condition that your Afghan Hound may develop throughout their life, including viral infections and broken bones. In addition, some dog insurance plans also cover medications, hospitalizations, and preventative care.

As with included services, excluded services also vary by plan. However, most dog insurance plans will not cover the cost of care for pre-existing conditions, so we recommend enrolling your pet as soon as you bring them into your home.
How does reimbursement work?
Most dog insurance plans use a reimbursement model, meaning the dog owner pays for the veterinary services upfront and gets reimbursed later. Your vet will bill you for services, usually at the time of service, and you will pay directly. Then, submit a reimbursement request to your insurance provider, who will determine how much you will be reimbursed.
Should I enroll in a high deductible or low deductible plan?
There are many different dog insurance plans out there. Some are high deductible plans, some are low deductible plans, and you can even find some plans with no deductible at all. When selecting a plan, there isn't really a "right" plan or "wrong" plan; each has its own benefits and drawbacks, depending on your preferences and finances. For example, enrolling in a high deductible plan usually means that you pay a lower monthly premium, which can be ideal for some pet owners, especially if they have younger, healthy dogs. As your pet gets older, it might make sense to switch to a low deductible plan in anticipation of needing more care.
5 Useful Strategies for Keeping Your Afghan Hound Safe & Healthy
In addition to enrolling your pup in dog insurance, there are numerous other ways to ensure that your Afghan Hound lives a long and healthy life. The following list provides just a few tips for dealing with this unique breed.
1. Regular Exercise
All dogs need exercise, but Afghan Hounds were bred to hunt over the rough terrain of Afghanistan, so they have a strong instinct to run and chase, reaching a speed of up to 40 miles an hour, and require a significant commitment to meeting their exercise needs. Once those needs are met, though, this breed is known to be calm and quiet, preferring soft beds and couches to being kept outdoors. Two great choices for exercise for Afghan Hounds are agility courses and lure coursing, where the dog chases a mechanically operated lure. Afghan Hounds excel at both of these, although training can be somewhat challenging unless you start them young since this breed is also known for its independent streak.
2. Grooming
Known for their long, thick hair, which is also silky and fine, Afghan Hounds need to be thoroughly brushed and combed at least three times a week. Grooming is essential to prevent and remove mats and tangles and help keep shedding to a minimum. The more you brush, the less you have to clean up hair on your clothes, floor, and furniture. Besides hair care, you should also try keeping the long, hanging ears clean and dry to prevent infections. For mealtimes, you might even consider investing in a snood, which is a head covering that gently holds long ears back to prevent them from dangling in food or accidentally getting chewed.
3. Nutritious Diet
A well-balanced diet is important, including food with a healthy balance of protein and grains to stave off obesity. Afghan Hounds often have big appetites due to their hunting nature and increased exercise needs. That large appetite, combined with their fairly impressive height, measuring anywhere from 25 to 27 inches at the shoulder, means that you need to keep food well out of reach, not just on the counter where they can find people food with just a little bit of effort.
4. Love and Affection
Although Afghan Hounds generally come across as aloof and dignified, they bond deeply with their families, are good with children, and respond well to affection. They are not the type of dog to run up and lick your face and, in general, they are more of a companion dog than a playmate, though they can also have a silly and dramatic side that they sometimes show to those closest to them. Some people have described Afghan Hounds as the cats of the dog world; they appreciate love and affection on their own terms and with a very small circle of people. Once an Afghan Hound feels comfortable with its owners, it will be extremely loyal and loving and have difficulty adjusting to a new home. So you should only get an Afghan Hound if you plan to keep it for its whole life.
5. The Great Indoors
Despite their size, Afghan Hounds thrive in an indoor environment, even making great apartment dogs, as long as they get regular exercise daily. Even though they are relatively tall, they are not bulky dogs, usually weighing between 50 and 60 pounds, which is very manageable. Given their natural instinct to chase prey, they are known to chase cats or cars if kept outdoors, so outdoor exercise should always be in an enclosed area or on a leash.
Conclusion
Enrolling your Afghan Hound in pet insurance is important to ensure your beloved companion's health. When first researching pet insurance policies, you may be overwhelmed and confused by both the range of policies and the enrollment process; however, just focus on picking the best plan for you and your dog, paying the monthly premium to make sure your coverage stays active and then relaxing because you know your pet is covered. Besides the chronic health issues common to all Afghan Hounds, your dog can get sick or injured at any time. Having pet insurance in place before that happens helps alleviate the financial burden of getting your pet the necessary care to keep them around for a long time.
After extensive research, we conclude that Lemonade pet insurance offers the best dog insurance policy at the lowest monthly price for the Afghan Hound.
SwiftScore Ranking Methodology for Afghan Hounds
We ranked the best pet insurance policies for Afghan Hounds based on a variety of important factors including the following:
Average monthly price for a 2-year-old Afghan Hound with a $500 deductible located in the 90210 zip code
Coverage and benefits
Key policy details including accidents and illnesses, surgeries, annual check-ups, cancer treatment, lab tests, and more
AM Best rating of the underwriter
Reimbursement percentage
Annual benefit amount
Technology and user experience

Ease of sign up

Policy language clarity
User reviews
Other state dog insurance resources
Alabama | Alaska | Arizona | Arkansas | California | Colorado | Connecticut | Delaware | Florida | Georgia | Hawaii | Idaho | Illinois | Indiana | Iowa | Kansas | Kentucky | Louisiana | Maine | Maryland |
Massachusetts | Michigan | Minnesota | Mississippi | Missouri | Montana | Nebraska | Nevada | New Hampshire | New Jersey | New Mexico | New York | North Carolina | North Dakota | Ohio | Oklahoma | Oregon | Pennsylvania | Rhode Island | South Carolina | South Dakota | Tennessee | Texas | Utah | Vermont | Virginia | Washington | West Virginia | Wisconsin | Wyoming