6 Best
Miniature American Shepherd

Pet Insurance Plans Compared in 2023

Updated on by Matthew H. Nash – Licensed Insurance Agent

Purchasing pet insurance for your Miniature American Shepherd can seem overwhelming. As a lifelong dog owner and nationally licensed insurance agent, I understand the challenges people face interpreting confusing policy language and determining the best dog insurance company for Miniature American Shepherds. I have done extensive research on this topic to make your life easier. So no matter where in the US you live or how old your dog is, this article has everything you need to know. Read more about our unbiased ranking methodology and advertiser disclosure.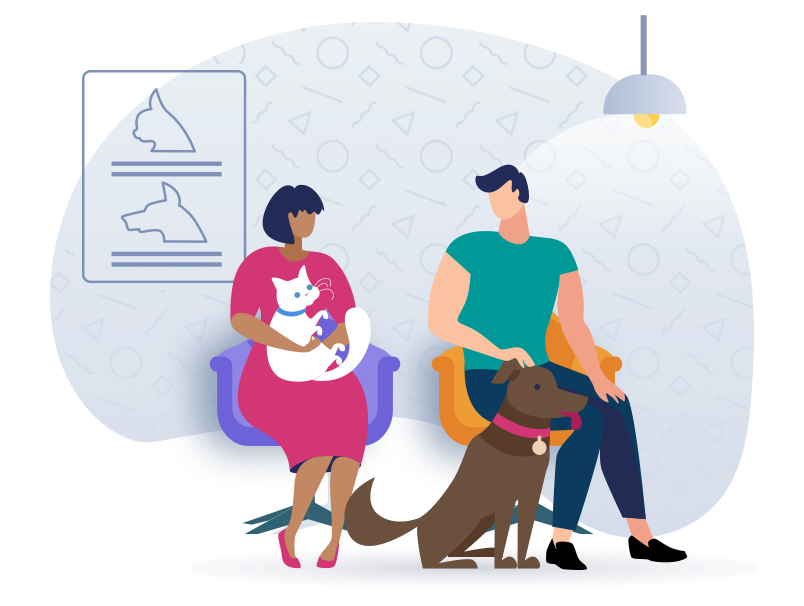 Top Miniature American Shepherd Pet Insurance Scored, Ranked & With Cost
Use our below table to quickly compare the best Miniature American Shepherd pet insurance providers. The average monthly specific prices shown are based on a healthy 2-year-old Miniature American Shepherd with a $500 deductible and 90% reimbursement amount who is located in California with a 90210 zip code. Costs may vary based on age, location, and the coverage amount. Prices are accurate as of July 2023 and are subject to change. For the most up-to-date information, please visit the provider website.
---
Miniature American Shepherd Pet Insurance FAQs
What is dog insurance? How is it beneficial for Miniature American Shepherds?
To protect your dog to the fullest with insurance, apply for coverage with the insurance company of your choice and pay the monthly premiums to keep your policy active. Should your dog become sick or get involved in an accident, you will need to pay the entire vet bill up front and then submit a claim to your provider for reimbursement. Keep in mind that insurance companies tend to exclude pre-existing conditions. This is the primary reason we encourage dog owners to get insurance while their dogs are still puppies (from 8 weeks to 1 year).
How old does my puppy need to be to get insured?
While there are usually no age limits for getting dog insurance, the majority of providers will require your puppy to be at least 8-weeks-old. Remember that younger animals are almost always cheaper to insure. Therefore, getting a policy in place before your pup's first birthday is the easiest way to maximize their coverage potential.

An exception to the traditional pet insurance model is Pawp. Pawp offers an "Emergency Fund" that will protect up to 6 pets of any age within your household for only $19 per month. This "Emergency Fund" only extends coverage for actual emergencies as determined by their virtual team of veterinarians and only applies to one pet's single vet bill up to $3,000 within a given year. Additional services that Pawp extends to their customers are telehealth and remote consultations with pet experts and behaviorists.
Is it worth it to get Miniature American Shepherd dog insurance? If so, what are the most common reasons for claims?
Miniature American Shepherds are known to suffer from similar hereditary conditions as their larger counterparts, American Shepherds. While they are surmountable, they can be expensive. Dog insurance is highly beneficial in covering the costs of these inevitable veterinary emergencies.

One such condition is hip dysplasia. This occurs when the ball and socket of the hip joint do not develop normally. Over time the bone and cartilage grind down, causing deep arthritic pain. A bad case of hip dysplasia usually requires hip replacement surgery, which can cost as much as $7,000.

Another ailment that plagues this breed is cataracts. Cataracts appear as a cloudy white film that forms over the cornea, blocking out light. If not dealt with, cataracts eventually result in complete blindness. Cataract surgery can cost as much as $4,000.

These may be only two of the many conditions known to affect Miniature American Shepherds, but they are costly. Dog insurance would make the financial aspect of these situations much more bearable and guarantee that your best buddy gets the care and treatment they deserve.
What does dog insurance include and exclude?
Coverage differs from provider to provider. However, a good rule of thumb is that any accident or illness deemed "sudden and catastrophic" will be covered. Examples of such incidents include broken bones, urinary blockages, infections, and allergies. If your dog has an ailment or disease before you apply for insurance, it will be considered a pre-existing condition and excluded from coverage. This means you will not be able to submit claims for reimbursement on any treatments or procedures necessary for this condition throughout the life of your dog. For broader coverage, pet insurance companies now offer "wellness" packages that you can add to your basic policy. Such a package would cover preventative care such as physical exams, heartworm detection, vaccinations, and more.
How does the reimbursement process work?
Let's imagine that you have a dog insurance policy with a $250 deductible, a 90% reimbursement amount, and a $20,000 annual maximum benefit. Should your dog need a $10,000 emergency surgery, you could expect your insurance provider to reimburse you $9,000 minus the $250 deductible. As a result, you would pay only $1,250 out-of-pocket instead of the entire $10,000 bill.

However, if covering the entire bill and waiting for reimbursement feels overwhelming, you might be interested in Trupanion. They eliminate the whole reimbursement process by paying veterinarians within their network directly.
Is a lower or higher deductible better?
The deductible you choose will depend upon your personal preference and financial circumstances. A lower deductible will get you higher monthly premiums but lower out-of-pocket costs in the event of a catastrophe. For a higher deductible, you can expect the opposite. You are better off running the numbers and seeing what will suit your situation. Many providers have calculators on their websites you can use when requesting a quote. With that in mind, it is worth noting that most dog owners prefer either a $250 or $500 deductible.
5 Useful Strategies for Keeping Your Miniature American Shepherd Safe & Healthy
Miniature American Shepherds are loyal, intelligent, and energetic dogs. They make for great companions, but need plenty of love and care. Below are 5 tips to help make life easier for proud dog owners.
1. Ensure your Miniature American Shepherd gets plenty of exercise
This high-energy breed needs exercise multiple times per day. 2-3 long walks combined with some outdoor games make for the perfect combination of physical activities to keep your Miniature American Shepherd physically fit. At the absolute minimum, be sure they get 1-hour of exercise daily. If they don't get this opportunity, you can expect their unspent energy to be channeled into destructive behaviors.
2. Keep your Miniature American Shepherd hydrated
It can be easy for your Miniature American Shepherds to become dehydrated with all that exercise. The two best ways to keep them adequately hydrated are to keep a clean bowl of fresh water out for them at all times and to add water to their meals. You will need to refill their bowl frequently throughout the day. Putting water in their meals works well with canned, homemade, and raw food. Only add as much water as it easily mixes in. You can do this with dry food, but you will need to reduce the amount of water. A couple of spoonfuls should do. Allow the kibble to absorb the moisture for a few minutes before feeding it to your dog. Do not drown their food, or your furry friend will turn their nose up at it and walk away.
3. Groom your dog regularly
With their thick, double-layered coat, Miniature American Shepherds adapt well to various temperatures and weather conditions. On the other hand, they demand a significant amount of grooming. Daily brushing is a must. Use a pin brush to get through both coats and a metal comb to tackle any mats that may have formed on their legs, neck, or chest. These daily brushes will vastly reduce the amount of hair they shed all over your house and sofa.

The good news is that bathing is a far less frequent affair with this breed. Once every 2-3 months should be adequate unless, of course, your furry pal bolts off on a mud-filled adventure. Bathe them with gentle, warm water and dog-specific hair care products. Never use the human equivalents since they are toxic for canines. Be sure to towel dry them afterward, and then blow-dry their coat on low (using a dog-safe blow dryer) until fully dry. Moisture left in their coats will lead to an unpleasant odor within a few hours.

The last but equally important element of grooming Miniature American Shepherds is to trim their nails. You will need to do this at least once per month or sooner if you hear their nails clicking on the floor as they walk. Nails left to grow too long can cause your dog foot pain and adversely affect their gait.
4. Give your Miniature American Shepherd lots of attention
Miniature American Shepherds demand a lot of attention. Include your pup in your daily routine. Whether running errands, exercising, cleaning, or looking after the kids, they will want to join you. Giving them tasks, playing with them, showering them with affection, and making sure they get time with you outdoors will be critical to their mental and emotional wellbeing. If left alone for more than 3-4 hours at any given time can result in highly destructive behavior such as the chewing of furniture, shoes, pillows, and more, along with incessant barking. Never leave them alone outside for more than a few minutes, though, or you will regret it!
5. Train your dog early and consistently
With their seemingly boundless supply of energy and their need for attention, Miniature American Shepherds take well to training. Starting while they are still puppies is crucial to their becoming well-adjusted adult canines. Training is one of the fundamental ways to give your dog the attention they crave while establishing yourself as their leader. Give them tasks, be consistent in your commands, and reward them for good behavior (whether independent or directed by you). Positive reinforcement goes a long way with Miniature American Shepherds.
Conclusion
Ultimately, finding the best dog insurance for your Miniature American Shepherd is much more straightforward than you may have initially imagined. We suggest dog owners get pet insurance once their puppy is 8-weeks or older. The earlier in your dog's life that you get them insured, the better the rates you will get along with fewer restrictions on pre-existing conditions. Nevertheless, purchasing dog insurance at any point in your little pal's life will provide the needed support in emergencies and extend coverage to preventative care.
Ready to get started? After countless hours of research, we've found that Lemonade pet insurance consistently performs the best with the lowest monthly premiums.
SwiftScore Ranking Methodology for Miniature American Shepherd
We ranked the best pet insurance policies for Miniature American Shepherd based on a variety of important factors including the following:
Average monthly price for a 2-year-old Miniature American Shepherd with a $500 deductible located in the 90210 zip code (Please note: prices will vary greatly based on your location)
Coverage and benefits
Key policy details including accidents and illnesses, surgeries, annual check-ups, cancer treatment, lab tests, and more
AM Best rating of the underwriter
Reimbursement percentage
Annual benefit amount
Technology and user experience

Ease of sign up

Policy language clarity
User reviews
See dog insurance prices in your state
Alabama | Alaska | Arizona | Arkansas | California | Colorado | Connecticut | Delaware | Florida | Georgia | Hawaii | Idaho | Illinois | Indiana | Iowa | Kansas | Kentucky | Louisiana | Maine | Maryland | Massachusetts | Michigan | Minnesota | Mississippi | Missouri | Montana | Nebraska | Nevada | New Hampshire | New Jersey | New Mexico | New York | North Carolina | North Dakota | Ohio | Oklahoma | Oregon | Pennsylvania | Rhode Island | South Carolina | South Dakota | Tennessee | Texas | Utah | Vermont | Virginia | Washington | West Virginia | Wisconsin | Wyoming