7 Best
Yorkipoo

Pet Insurance Plans Compared in 2023

Updated on by Matthew H. Nash – Licensed Insurance Agent

Even though you want the best for your Yorkipoo dog, the prospect of potentially expensive medication or surgery might make you worry about paying for that care. The good news is that dog insurance can help defray some of these out-of-pocket costs since many dog insurance plans offer coverage for diagnostic procedures, medicine, and preventative care, among other things, which could end up saving you thousands of dollars. In the following article, I've gathered some information about dog insurance in general that will hopefully help you understand the process better. Following the section on frequently asked questions about pet insurance, I've also included some breed-specific tips to help you care for your Yorkipoo. Read more about our unbiased ranking methodology and advertiser disclosure.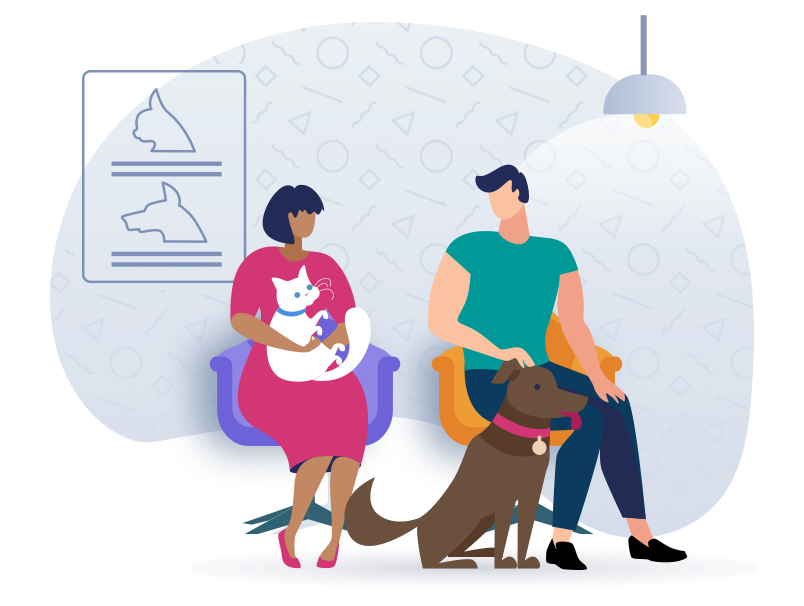 Top Yorkipoo Pet Insurance Scored, Ranked & With Cost
Use our below table to quickly compare the best Yorkipoo pet insurance providers. The average monthly specific prices shown are based on a healthy 2-year-old Yorkipoo with a $500 deductible and 90% reimbursement amount who is located in California with a 90210 zip code. Costs may vary based on age, location, and the coverage amount. Prices are accurate as of January 2023 and are subject to change. For the most up-to-date information, please visit the provider website.
---
Yorkipoo Pet Insurance FAQs
My Yorkipoo seems very healthy, so why would I need dog insurance?
Even healthy dogs, regardless of breed or age, can benefit from dog insurance. Your Yorkippo might never face any of the breed-specific issues noted above, but any dog can be subject to common illnesses like ear infections or dental disease as well as occasionally suffer from unexpected injuries. When you start looking into dog insurance plans, you'll notice that many dog insurance providers provide coverage for diagnostic procedures like x-rays, for surgery, for medicine, and for preventative care like dental cleanings, which are recommended for dogs of all breeds.
If I choose to enroll my Yorkipoo, how old does he need to be?
Most dog insurance providers require your Yorkipoo puppy to be at least eight weeks old before enrolling. Veterinarians and breeders alike recommend this age as the minimum before bringing a new dog into your home. No matter what age your Yorkipoo is, though, you should always check with your chosen insurance provider about any specific age or health requirements they might have before enrolling your puppy.
What are some breed-specific health issues for Yorkipoo dogs that I should watch out for? Will dog insurance cover them?
Patellar luxation, where the kneecap pops out of place, and Legg-Calve-Perthes Disease, which leads to disintegration of the hip joint, will both require physical exams and x-rays for diagnosis, and your veterinarian will likely treat your dog with anti-inflammatory medication, physical therapy, and sometimes surgery.

If your Yorkipoo experiences epileptic seizures, your veterinarian might prescribe certain medications or diet changes but recommend additional tests or treatments.

Hypothyroidism, underactive thyroid, and hyperadrenocorticism, when the adrenal gland makes too much cortisol, respond well to medication. Still, your dog will need to remain on the medication for the rest of his life.

With a portosystemic shunt, an abnormal connection develops between the portal vein and another vein, bypassing the liver, which leads to urinary problems like recurring kidney or bladder infections or stones. Urinalysis, blood tests, and ultrasounds might help diagnose, and treatment generally consists of medication and diet changes.

Based on these breed-specific health concerns, if you have a Yorkipoo dog, then, you might be interested in dog insurance plans that cover diagnostic procedures like x-rays, ultrasounds, urinalysis, or bloodwork, medication, and surgery. Since coverage for pre-existing conditions will usually be excluded by most insurance providers, you should probably enroll your Yorkipoo dog as soon as possible before any of these long-term issues start to affect your dog.
What if my veterinarian doesn't accept pet insurance?
Fortunately, since dog insurance is based on a reimbursement model, you don't have to worry about whether or not your veterinarian accepts your insurance. Instead, you will pay your veterinarian directly for annual check-ups, follow-up visits, medication, sick visits, and emergencies, as needed, and then submit a reimbursement request to your insurance provider. You don't have to try to figure out what parts of your bill are eligible for reimbursement, based on your plan; your insurance provider does that for you, reviewing your request and comparing it to your chosen plan's rates and coverage to determine the correct amount of reimbursement to send you.
I'm not sure what type of deductible I need. How do I decide?
As with other types of insurance, pet insurance offers a few different options regarding deductibles. While there are no specific recommendations for deductible type based on breed, keeping a couple factors in mind might help you decide the best deductible option for your dog insurance plan based on your unique circumstances. Higher deductible plans are great because they usually also have lower monthly premiums. This type of plan might be good for you if you are on a tight budget and anticipate a limited amount of veterinary care for your Yorkipoo dog. However, if you are more concerned about the possibility of breed-specific problems requiring long-term medication, or if your Yorkipoo dog is older, you might be better off with a lower deductible plan.
5 Useful Strategies for Keeping Your Yorkipoo Dog Safe & Healthy
Your Yorkipoo might live anywhere from 10 to 15 years when healthy and properly cared for. The following are some breed-specific tips to keep in mind to help you make the most of your time with your dog:
1. Grooming
The Yorkipoo crossbreed is known for its silky coat. Whether it takes after the Yorkshire Terrier side or the Poodle side, your dog's coat can be straight, wavy, or curly. Although grooming needs will vary based on the coat type, Yorkipoo dogs need regular brushing, sometimes daily, to reduce shedding and prevent mats and tangles. If your dog has a curlier coat, you might also consider regular trips to the groomer every four to six weeks.
2. Nutrition
Some Yorkipoo dogs weigh only 3 pounds or so, and the largest usually only weighs 14 pounds, so you will only need to feed your dog between a quarter cup to a cup of dry dog food split into two meals daily. Even though they are small, they have a surprising amount of energy, so you might need to adjust their food intake to feed them a little more if they burn a lot of calories daily.
3. Training
Depending on how much Yorkshire Terrier personality comes out in your Yorkipoo, you might have difficulty training your pet, so it's a good idea to start as young as possible. You'll have the most luck if you keep lessons interesting by adding new commands or tricks to avoid boredom. Stay patient, gentle, and positive, providing treats and praise to reinforce good behavior. As with many other small breeds, Yorkipoo dogs bark a lot. If this behavior is problematic for you, start obedience training early and keep it consistent with curbing excessive barking.
4. Exercise
Generally, Yorkipoos are energetic and playful and love to show off any tricks you teach them. Even though they are small in size, they do need plenty of time outdoors either playing fetch, running around, or going for at least one long walk with you daily. If they do not have enough opportunities to burn off energy, they might begin to engage in destructive behavior or incessant barking. Due to their small size, Yorkipoos should be inside dogs only and should not be left outdoors unsupervised.
5. Love and Affection
Most Yorkipoos are very people-oriented and love to be the center of attention. They make wonderful companions and lap dogs when they're not running around or doing tricks. They do best in families and will suffer from separation anxiety if left alone for too long.
Conclusion
Your dog is an important part of your family, and you want to provide him with the best of care. However, proper veterinary care can sometimes be more expensive than you would like, especially when faced with unexpected illnesses, injuries, medication, or surgery. Instead of worrying about your ability to pay for veterinary bills if they start to add up, you can enroll in a good, basic dog insurance plan. Whether you've just begun researching dog insurance or you have already decided to enroll, I recommend looking at Lemonade pet insurance. A reputable insurance company offering various insurance plans with a range of coverage at reasonable rates for all dog breeds, including Yorkipoos, Lemonade makes it easy to pick the coverage that works best for you, your family, your dog, and your finances. Enrolling is easy too. Then all you have to do is pay your monthly premium to keep your coverage active so that you can relax, knowing that financial help is there when you need it to help give your Yorkipoo dog the best possible life.
SwiftScore Ranking Methodology for Yorkipoos
We ranked the best pet insurance policies for Yorkipoos based on a variety of important factors including the following:
Average monthly price for a 2-year-old Yorkipoo with a $500 deductible located in the 90210 zip code
Coverage and benefits
Key policy details including accidents and illnesses, surgeries, annual check-ups, cancer treatment, lab tests, and more
AM Best rating of the underwriter
Reimbursement percentage
Annual benefit amount
Technology and user experience

Ease of sign up

Policy language clarity
User reviews
Other state dog insurance resources
Alabama | Alaska | Arizona | Arkansas | California | Colorado | Connecticut | Delaware | Florida | Georgia | Hawaii | Idaho | Illinois | Indiana | Iowa | Kansas | Kentucky | Louisiana | Maine | Maryland |
Massachusetts | Michigan | Minnesota | Mississippi | Missouri | Montana | Nebraska | Nevada | New Hampshire | New Jersey | New Mexico | New York | North Carolina | North Dakota | Ohio | Oklahoma | Oregon | Pennsylvania | Rhode Island | South Carolina | South Dakota | Tennessee | Texas | Utah | Vermont | Virginia | Washington | West Virginia | Wisconsin | Wyoming