6 Best
Wolfdog

Pet Insurance Plans Compared in 2023

Updated on by Matthew H. Nash – Licensed Insurance Agent

If you have a Wolfdog at home, then you already know that a Wolfdog is the hybrid of a domestic dog and a wolf (typically a gray wolf, eastern wolf, red wolf or Ethiopian wolf). Wolfdogs are often described more as companions rather than pets. They can be smarter than your average dog, which also means they can be more of a challenge to train, depending on how much wolf vs dog he has in him. He's a healthy dog with a lifespan of 13-16 years and, luckily doesn't face many genetic health issues that many common dog breeds face. That said, he's not immune to all canine diseases, including parvovirus, coccidia, and giardia or of course, physical injuries from his highly active lifestyle. Ensure that he stays in good shape by adding pet insurance to your overall pet care routine. As a dog person and licensed insurance agent, I am here to help you make sense of the dog insurance options available to you and your Wolfdog. Read more about our unbiased ranking methodology and advertiser disclosure.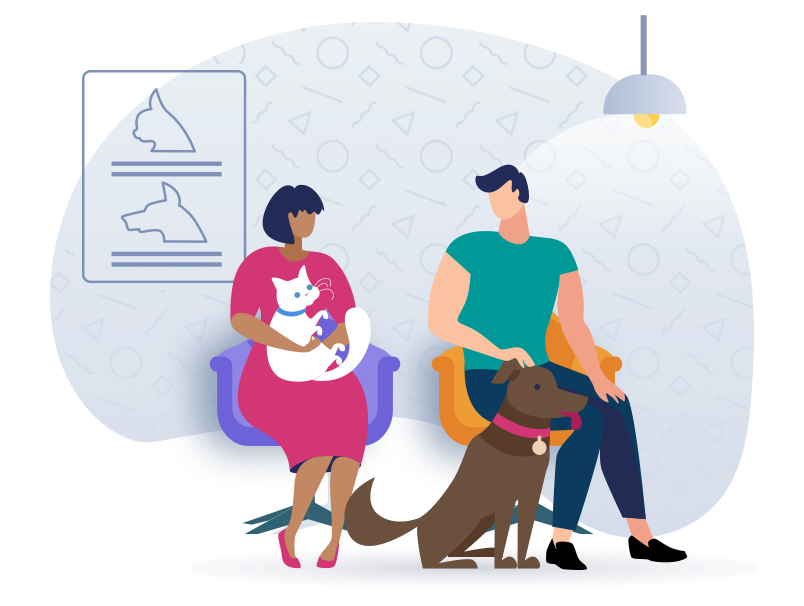 Top Wolfdog Pet Insurance Scored, Ranked & With Cost
Use our below table to quickly compare the best Wolfdog pet insurance providers. The average monthly specific prices shown are based on a healthy 2-year-old Wolfdog with a $500 deductible and 90% reimbursement amount who is located in California with a 90210 zip code. Costs may vary based on age, location, and the coverage amount. Prices are accurate as of January 2023 and are subject to change. For the most up-to-date information, please visit the provider website.
---
Wolfdog Pet Insurance FAQs
What is dog insurance and why is it useful for Wolfdogs?
Dog insurance will help take care of medical expenses for your pet. Your policy supports you with the financial costs of the veterinary care that's required as part of your dog's upbringing and overall health. While dog insurance may not cover the entire cost of your dog's medical bills, it will save money by covering a significant portion of those vet visits. Adding a dog insurance policy is simple, just select a plan, make the required monthly payments to keep the policy active, and you're done. When needed, you'll submit receipts for reimbursement from your insurance provider.

Pet insurance helps when you have a Wolfdog as it prepares you for the unexpected. Potential issues may include parvovirus (CPV), coccidia (causes severe diarrhea, weight loss, dehydration and lethargy) and giardia (an infection leading to weight loss or diarrhea). Any one of these, if not properly treated, will mean ongoing trips to the vet and medication, but pet insurance is one way to help with the cost of those vet bills.
How old does my Wolfdog need to be insured?
Most dog insurance providers want your Wolfdog to be at least eight weeks old to start insurance coverage. Plan on enrolling your pup in a dog insurance plan as soon as you bring him home for the first time. Most pet insurance premiums are based on age, which means the younger you can enroll your Wolfdog in a plan, the better.
What are common insurance claims for Wolfdogs?
Your Wolfdog is generally healthy, but he may have a few issues that pop up. Some insurance claims may include parvovirus (CPV), coccidia (causes severe diarrhea, weight loss, dehydration and lethargy) and giardia (an infection leading to weight loss or diarrhea), all of which can be prevented with proper vaccinations. The more likely claims for your Wolfdog will be from his very active lifestyle and active dog injuries with broken bones, scrapes and torn muscles. Pet insurance is so important because any of the items on this list will mean a trip to the vet and ongoing medical treatment.
What services for my Wolfdog are covered by dog insurance? What services are excluded from coverage?
Your Wolfdog policy will likely cover surprise injuries or accidents and includes surgery, medication, medical tests, emergency care and exam fees. Some pet insurance plans also cover hospitalizations and preventative care. A lot of what your Wolfdog may come across in his lifetime can be covered.

Some issues may be excluded in your plan. Dog insurance policies will typically not cover the cost of care for pre-existing conditions, which is why it's so important to enroll your Wolfdog in a policy as soon as possible.
How does reimbursement work?
Like many insurance plans, you are responsible to pay the medical bill upfront. After payment, you'll submit the vet bill for reimbursement to your insurance provider. Your Wolfdog insurance provider will then pay you back a certain percentage of that bill. Your insurance company will determine how much money you'll receive back based on your deductible and reimbursement rate.
Should I enroll in a high deductible or low deductible plan?
Pet policies work like most insurance plans; the higher the deductible, the lower the monthly payment typically, but that means you'll pay a higher cost during those unexpected emergencies. The lower deductible means you'll pay a higher monthly payment, which will equal less of a financial surprise during a stressful medical emergency.
5 Tips for Keeping Your Wolfdog Safe & Healthy
Your Wolfdog is very distinctive and different from nearly every other dog, and will certainly draw a lot of attention when you're out and about with him. That wolf-like appearance and muscular physique make him stand out from just about every other dog around. Purchasing pet insurance is a smart way to make sure he's in good health for his lifetime. In addition to your insurance plan, here's a few tips to make sure your Wolfdog is happy and healthy for as long as possible.
1. Regular Exercise
Hopefully, you're ready to spend a lot of time making sure your Wolfdog gets a lot of exercises as well as mental stimulation, this is no hands-off dog. To give you an idea, a "rest day" is about three hours of outdoor activity, a normal exercise day should consist of about five hours. That active time can be running, training, working (think pulling a cart). If you do venture out on a walk, plan on two leashes, one that's attached at his collar or harness and another as a slip leash as a safety back up in case he gets spooked and tries to bolt. Having a large enclosed yard will also be key to giving your large dog plenty of space to play and run free. Plan on having plenty of toys to play with (and switch those toys out often to keep him from getting bored) and things to climb on as well as spaces where he can hide and take shelter so he can feel safe if he's spooked.
2. Training and Socialization
Training your Wolfdog as early as possible, within the first few weeks of his life, will really be the secret to setting up any kind of social environment. Introducing all of the "normal" aspects of what may spook him, including workers, such as the postman, vacuum cleaners, spray cans, street noises, etc… Your Wolfdog will form attachments to safe places as well as safe people.
3. Nutritious Diet
It should come as no surprise that your Wolfdog comes with a unique diet. Plan on a raw diet to help maintain his muscular build and provide the much needed energy to keep up his active lifestyle. That raw diet will mean feeding him a variety of raw meat, bones and a mix of fruits and vegetables. Check with your vet for what diet will work best. Always have clean, fresh water available as well.
4. Love and Affection
Be prepared that your Wolfdog may not be best suited for a family with children, it just all depends on the level of wolf to dog in your particular Wolfdog. Small pets such as cats may be viewed as prey, so be sure to think about what other animals are around. That doesn't mean that your Wolfdog needs any less attention or love, he'll take all the time and hugs he can get.
5. Regular Grooming
Your Wolfdog has a double coat, which will become very thick in the winter months, no surprise, of course as this is what keeps him warm when he's outside in the snow. When that coat is shedding away, springtime is when the grooming will be needed. Rake-style brushes are best for taking out that old fur. For the rest of the year, general brushing is usually good enough. Don't forget about his tail and behind the ears as they can become tangled.
Conclusion
Your Wolfdog is not for everyone. He's strong both physically and mentally and needs lots of special attention. Thankfully he's also strong on the health side with really only a few issues to worry about and his high-energy temperament means you'll be in tip-top shape yourself as you work to get all of that exercise time in for the day. Including a pet insurance policy is a great way to ensure that your Wolfdog has all the care he needs to stay healthy. I'm here to help ensure you know all the dog insurance options available to you. Once you select a plan for you and your dog and pay the monthly premium, your dog is covered for many of the potential reasons why he may need veterinary care. A company that I suggest looking into is Lemonade pet insurance, they consistently offer the best combination of price and coverage for your Wolfdog.
SwiftScore Ranking Methodology for Wolfdogs
We ranked the best pet insurance policies for Wolfdogs based on a variety of important factors including the following:
Average monthly price for a 2-year-old Wolfdog with a $500 deductible located in the 90210 zip code
Coverage and benefits
Key policy details including accidents and illnesses, surgeries, annual check-ups, cancer treatment, lab tests, and more
AM Best rating of the underwriter
Reimbursement percentage
Annual benefit amount
Technology and user experience

Ease of sign up

Policy language clarity
User reviews
Other state dog insurance resources
Alabama | Alaska | Arizona | Arkansas | California | Colorado | Connecticut | Delaware | Florida | Georgia | Hawaii | Idaho | Illinois | Indiana | Iowa | Kansas | Kentucky | Louisiana | Maine | Maryland |
Massachusetts | Michigan | Minnesota | Mississippi | Missouri | Montana | Nebraska | Nevada | New Hampshire | New Jersey | New Mexico | New York | North Carolina | North Dakota | Ohio | Oklahoma | Oregon | Pennsylvania | Rhode Island | South Carolina | South Dakota | Tennessee | Texas | Utah | Vermont | Virginia | Washington | West Virginia | Wisconsin | Wyoming